Joanie's NJ and PA Vacation
August 2021
For past vacations - Click Here
Okay, it's not Europe and it's not even the US road trip I wanted to take, but between things still being unsure with Covid when I asked for time off and the lack of rental cars and jacked up prices in the States, I decided let's take the Elantra on an easier road trip. Started fairly early on Wed. and stepped foot in New Jersey for the first time at our lunch stop at the infamous Rutt's Hut in Clifton for some "rippers" (hot dogs thrown in the fryolator for a minute) then down to kitschy Wildwood for a couple days on the Jersey Shore. It lived up to expectations, tons of cool 50/60's looking motels and signs, a Doo Wop museum, a long ass boardwalk, music on the bandstand, it was great. We paid more for that just serviceable motel than almost any other place on the trip but it was in the thick of things and worked out well. Went in the ocean quickly but it wasn't way warmer than Boston which surprised me. Had some good food and drink, especially the apple fritters from Britton's bakery and crab gnocchi at Duffinetti's. We ended up there after walking all over trying to find the perfect place to eat but not having luck for various reasons (and the start of the 72 miles of walking during 9 days). Ended up at this old school place and the entertainment got especially goofy when the dude sang "Proud to be an American" while the owner of the restaurant went to the dance floor area and waved a flag around. How I didn't get a picture of this I don't know.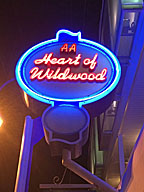 Wildwood
Fri. we rolled into Philly fairly early, was there once before around 2004 when I saw the Explosion at a church and TV Smith at a small club. No music this time sadly but we did make it to the Mutter Museum of weird scientific oddities. We drove straight down 22nd St. for about 2 miles and got to our South Philly Air BnB. Oof, I was wondering what I'd gotten us into cuz that street was funky with a capital F, but the people were all super nice and the place itself was as advertised and a great deal. And we weren't charged any stupid parking fees if we'd stayed at a hotel (and the car was safe for two nights). Got our cheesesteak at Philip's just a few minutes away then walked into the Italian section of town which was happening and our entertainment area. More walking heading into town for a great happy hour at Sidecar Bar, back to regroup and out again. Sat. we visited the famous Reading Terminal which has so many options for food, it's not even funny. The Boston Public Market will never hold a candle to it. Our roast pork/rabe/provolone sandwich from Dinic was amazing. Hit South St. (lots of empty storefronts sadly) and the Magic Gardens art area, more walking, more eating, packing a lot into two days.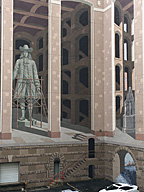 Philly
Sun. we headed to Pennsylvania Dutch Country. It's a pretty drive and the hotel in Lancaster had quilts and was across from a cornfield. We wandered around town but being Sunday and the 4th of July, it was a little quiet. Did manage to find a wine tasting and some mini golf by a very cute petting zoo and pond. But try as we might, we couldn't find CI Records who I once had a connection with. And more importantly, couldn't find a place to eat later cuz things were either crowded, closed or didn't look good. We hung our heads and went to Longhorn Steak House out on the commercial strip and were lucky to find two seats at the bar. Not cuz it was so crowded but because they were so short on help, they couldn't open up parts of the restaurant. It was kind of a shitshow but the food and drink were actually good.
Long drive to Pittsburgh on Mon. which I had only visited briefly about 22 years ago. The nice Hampton Inn has free parking and there was a great view of the river and some of the bridges (Pittsburgh is known as the City of Bridges BTW). It was hot as hell but we walked around (as usual) and got some food along the Strip (not at the famous Primanti Brothers whose line was too long), then hit happy hour at the gorgeous Grand Concourse which was their train station in the old days. Even the grumpy bartender didn't deter from the drink, snack and surroundings. Went to the Mt. Washington section for the view (not realizing there was a funicular) and a nice dinner overlooking the city. On Tues. we discovered the north side area across the river walking by the baseball park and the statues of famous players to the Mexican War Streets, over to Squirrel Hill for the awesome Jerry's Records (but bring cash), happy hour at Osteria 2350 by our hotel, then to the south side that night for dinner. Cool funky part of town, glad we explored different neighborhoods.
| | |
| --- | --- |
| Pittsburg | More Pittsburg |
Now it's Wed. and we drive to the Poconos and the old time town of Jim Thorp. But first I insisted on stopping at Sheetz, this roadside store/restaurant chain I'd read about. For $3.99 I got a grilled cheese w/ tomato, fries and a drink and it was surprisingly good. Bring Sheetz to Massachusetts! We stayed at the Inn at Jim Thorpe built in 1849. The whole town still looks like 1849. Lots of people go for white water rafting but we just did a zip line which was fun. Visited the Old Jail Museum, tried some local wine, had a good happy hour in our hotel and the big fancy dinner on the final night was at Moya, owned by Peter O'Halloran's sister-in-law. Excellent all around. Fairly long drive back with a break at the tasty New Holiday Diner in Danbury CT. So while this was nothing too off the beaten path, it was somewhere outside of New England and fun to discover new places and revisit old ones. Next stop - Greece.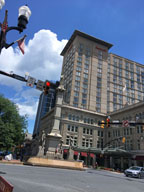 Lancaster Jim Thorpe PA
---