Joanie's Ontario/Upstate NY Vacation
June 2017
For past vacations - Click Here
I wish I had time to take more road trips. It's so nice to travel on your own schedule, not having to schlep to an airport 2-3 hrs in advance, cramming yourself into those seats and staying awake on flights to Europe. I'd wanted to see the Finger Lakes, drink the wine around there, return to Toronto and visit Buffalo for a long time so that was the trip in June. Left immediately after radio on Thurs. and drove straight to Buffalo with a stop for a diner lunch. Some really bad storms made part of the drive a drag (literally ass clenching driving) but all was well once we rolled into the Allentown section of Buffalo around 8:15PM. Stopped at Allen St Hardware where we had a fun bartender (who likes Tom Brady) and tasty jambalaya (food reports here: Chowhound One and Chowhound Two. We then went to the Old Pink, a cool dive bar down the street w/ excellent music. Ended with a fresh donut from Donut Kraze and checked into our perfectly fine, super cheap hotel on the outskirts. Fri. we had a 10AM tour of the Darwin Martin House, a Frank Lloyd Wright structure. That was my 4th Wright building and I'm not sure I'm so into his squat style but it's definitely interesting. We got a great brunch, wandered around the North Park part of town then drove to Toronto.
| | |
| --- | --- |
| Buffalo | More Buffalo |
No delays crossing into Canada so we arrived at the Air BnB around 2:30. I could not have chosen a better location, it was a carriage house right next to a park but only 5 min from main drags on either side. We immediately walked to CN Tower and rode up that elevator. Got happy hour at Northern Belle close to our place then later wandered thru an Italian fest before our nice dinner at Boralia. After, it was a stop at the Done Right Inn dive bar watching Canadian football. Sat. we visited St. Lawrence Market, the huge building w/ food stalls where we stopped at Carousel for the Canadian specialty of a peameal sandwich (http://www.seriouseats.com/2011/02/peameal-bacon-sandwich-at-carousel-bakery-.html). I'm not sure this is worth the hype but had to try it. We hit a couple record stores and stopped in Chinatown for lunch where lo and behold, I ran into Simon who I hadn't seen in 20 years. He actually stayed at my house in the glory days of alt.punk and alt.music.hardcore on usenet. We shopped at Black Market and Kopps, grabbed a beverage and went back to regroup.
| | |
| --- | --- |
| Toronto | More Toronto |
Started w/ a drink at Squirly's then hit the big rock show. I had seen that Cauldron were playing, who Andrew loves, so I bought tix in advance. On the bill was another Toronto band who had actually played at O'Briens a couple years ago, Diemonds . But what interested me most was the band closing out the night on their special extended 4AM hours (oh joy) called Midnight Towers. They had a member of Black Haloes and their bandcamp sounded excellent. It was at the Bovine Sex Club, the whole vibe there was like being at the Scrap Bar on Bleecker St. back in 1990. Lots of rockers, scrap art on the walls, a couple came in chained to each other, it was pretty funny. While it was a decent show, I was reaching my saturation point but it was well worth sticking around. Midnight Towers were the perfect kind of rock, even at 2:30AM. I reminded Jay of when the power went out at the Central Sq. Elks when BH played w/ the Marvels way back, and met Mark the singer who's a cool guy. One day they'll get to Boston (and 6 people will show up). Sun. I wandered around town, esp. the Kensington Market area then did some record shopping at Faith/Void and Rotate This. Our original plan of Portuguese food didn't work, we ended up at a Scottish pub then the awesome dive bar Lipsitck & Dynamite.

Niagra Falls
The drive was quick to Niagara Falls (on the Ontario side) where I had an amazing Groupon deal at the Sheraton on the Falls (we did pay extra for a falls view). It came with a free bottle of wine, beer tasting, two free wine tastings, two $25 off vouchers for restaurants in the hotel and some spa stuff. Obviously you can only do so much in 24 hrs but we took advantage of much of it. And the view was definitely worth paying for. After a great burger called the Manowar, we went for the boat tour of the falls. The weather totally cooperated, can't imagine getting soaked like that any other time of the year. Niagara Falls is still pretty impressive. We also went up the Skylon Tower, a mini CN Tower, had a nice dinner in the fancy hotel restaurant overlooking the falls and the nightly fireworks, and wandered around the Disneyland like area (so many rides, fun houses, etc). Tues. morning we got a donut and drove to Inniskillin for a free wine tour then zipped into cute Niagara-on-the-Lake (that lake being Ontario, very pretty) before going back to Buffalo.

On the road
Buffalo has a lot of great architecture that I wanted to see, deco buildings and grain elevators on the river, we could have could easily spent more time there. We drove straight to the long standing Gene McCarthy's for Buffalo classics of wings and beef on weck, very cool place and they're right by some of the grain elevators. Then we went to the huge Record Theater, a store that's closing after many years (always sad). Also stopped in the lobby of their city hall which is gorgeous, the security guard joked that I wasn't allowed in with my Patriots shirt. We got a nice cocktail at Buffalo Proper, wandered around the waterfront (the Gold Medal building is cool) where they have movies and concerts, and ended up eating in a former Masonic lodge across from our hotel, the downtown Hyatt. We ended the night at the divey Tudor Lounge. Got there shortly before closing and a few locals joined us at the bar where we had some amusing football discussions (one guy was a statistician for the Bills).

Finger Lakes
Wed. we took the long way to Watkins Glen via scenic Rt. 20, with a stop at Marie's in Alden for a great breakfast. Got to the top of Lake Seneca and walked around Geneva then drove down the west side to our hotel in Watkins Glen at the bottom of the lake, after our first NY winery stop at Glenora. The Anchor Inn ain't gonna win any awards, unless it's for amazing view of Seneca. That made the kind of less than swanky accommodations worth it. This was the relaxing part of the vacation, something I never do; it was nice hanging around a small town on a lake for 3 days without too many things crammed in. We walked downtown and shared a flight of beer and deviled eggs at Rooster Brewery, strolled around, then back later for some food on the lake of Seneca Station then to the Crooked Rooster to close out the night. Thurs. was a schooner ride around the lake, visits to wineries and breweries and my favorite, Finger Lakes Distillingc where the excellent McKenzie gin I'd tasted last year is made. Had a great German meal, a drink at a townie bar then chilled (!?). Fri. we climbed the gorge falls at Watkins Glen State Park, got donuts out of the "donut robot" at Donuts Done Right, breakfast at a diner in Penn Yan, great coffee at the cool Publick Coffee Bar (wine/beer served too), a sausage at FLX Wienery then more wineries and great bbq at Nickels that evening.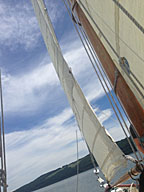 Watkins Glen
Sat. was a longish drive to Rhinebeck via interesting Owego (deep in Yankee/Giants country) then cute Kingston for another good diner lunch and a visit w/ Bob Maloney's brother Paul at his bar, the Stockade Tavern. In Rhinebeck we hit a couple nice restaurants and on Sun. visited the Wilderstein grounds. Drove to Great Barrington MA for breakfast, saw a horrible car fire on the Pike then the long traffic clogged trip back to Boston. Traffic notwithstanding, it was a great road trip.