Joanie's Portugal Vacation
October 2016
For past vacations - Click Here
Man getting on Instagram has made me lazy with the trip report. 3 months later, let's get this done. I had wanted to return to Portugal for 20 years so this time it was Lisbon and some cities to the north. Flew into Porto but had to go thru customs in Lisbon, the hugest line I've ever seen. They did pull us out to make the connection but then the plane was delayed, oh well. We found our way to the Gallery Hostel which was a combo hotel/hostel that had some good features except for the ants in our room. And the fact that it was kind of damp so things were even worse after getting poured on one nite. In any case, my immediate need was to find black shoelaces for my Docs which I could tell were on the verge of breaking but instead, the right shoelace tied itself into the tiniest knot you've ever seen. This is not the easiest thing to do in a foreign country, esp. when the shoe stores don't carry laces. Some man at the sushi shop knew where to send us but the dude was on an extended siesta so we got lunch across the street at Taberna do Keitas where the folks were super nice. We tried the famous Francesinha sandwich, a specialty in Portugal of ham, cheese, heavy gravy, fries; eh theirs wasn't that good or it just wasn't my thing. But the Superbocks redeemed the meal. Checked out Mercado do Bolhão, a food/souvenir flea market that thankfully had laces and wandered around Porto. Shopped at Louie Louie Records then hit a nice happy hour at Castelo, the first of many extremely cheap glasses of wine at only 2€. Ended the night at the smokey Cave 45, which the Louie Louie guys recommended. It was a cool scene there but we didn't go downstairs for black metal which hadn't started yet.
| | |
| --- | --- |
| Porto | More Porto |
Sat. walked across the bridge to where we checked out the train station for our next journey, then some random churches, took a long walk to crappy Vandoma flea market (but had good pastries on the way) then tried to shop at Bunker records but they were on break too. We walked across bridge to where all the Port houses are ending up at Burmester for a tasting (with chocolate). Got a nice shot of some guy jumping off the bridge on our way back for our first octopus dish of the trip (w/ some squid and cod croquettes). More shopping and a beverage, more Portuguese specialties at Taberna do Largo (tinned sardines), more great prices. But the rain later put a damper on things (pun half intended).
I had booked a wine tour on Sun. to the Douro Valley, this included three Port wineries and a big lunch. Our van was filled with travelers who made me look like a podunk VT girl. Can only take so much port after a while but we enjoyed Croft, Quinta do Pa and Quinta do Tedo and had a nice guide.

Coimbra
Mon. we took the train to Coimbra, where the university is a world heritage site. Hotel Vitoria was in a great location and only 55€. Saw churches (and helped a little lady down the steps), the university and the outside of the monastery across river. We had a great dinner at A Cozinha da Maria two min from the hotel then off to see fado music for my first time at A Capella (from Wiki: Fado is a form of music characterized by mournful tunes and lyrics, often about the sea or the life of the poor, and infused with a sentiment of resignation, fatefulness and melancholia). 10€ w/ drink seemed like a decent deal. Could have been a better deal cuz some guys were so thankful that I took a photo of them all together that they wanted to buy us drinks (always like to help out w/ the photos).
| | |
| --- | --- |
| Sintra | More Sintra |
Tues. was the train to Sintra. The hotel was right by the station (Sintra Bliss Hotel great breakfast and let us check out late). Piddled around town, ate some famous pastries at a famous pastry place then that evening was my travel agent dinner. We started with crazy huge drinks at Palace and chatted w/ nice Israeli folks (who we ran into the next day). Dinner at Icomum across the street from our hotel was excellent and it was nice to just walk 2 min so we could get up early on Wed. and explore before we left for Lisbon. Walked to the Moorish Castle which was a nice mellow time then over to the Pena Palace which was a zoo of tourists. Another pastry then got the train to Lisbon where we stayed at the Residencial Florecente, the hotel I stayed at in 1995 (and conveniently close to the train station which I didn't remember). Immediately set off to Carbono Records a short walk away, so many records there. Could spend at least half a day there but had to keep moving. We regrouped and went out for food then ended up at Wasp bar in the infamous Bairro Alto section of town. She played some good stuff (better after I made my requests) like Maiden, Dio, Airbourne, etc. The whole area is kind of crazy but a few gems to be found.
| | |
| --- | --- |
| Lisbon | More Lisbon |
Thurs. we took the bus to the Jerónimos Monastery. It was a very pretty building but more importantly, I ran into a fellow Patriots gear wearing person (we high fived of course). We then went to the Belem Tower but after standing in line forever, we saw that there was another long line inside to go to the top, so we skipped that one but did see another Pats shirt (missed high fiving this guy tho). We saw some interesting art at the Berardo Museum, got lunch at the Time Out Market, hit Groovie records where the owner was super friendly and gave me good garagey stuff for the station. Really enjoyed Fabrica down the street from our hotel where you could get a real iced coffee (not easy in Europe), super nice kid working there. Before dinner that evening, we went to Red Frog speakeasy. Cute dark spot with a long list of interesting cocktails, great service and cool music. Talked to some folks from Brazil then had dinner at Lisboa ha Mesa in our hotel where we finally had great grilled octopus (was served different ways at other spots) and a super funny waitress. Tried to see music at Lounge but the dude was playing art metal in his bare feet so we ended up on the patio of Larguinho bar were playing The Cramps were heard. Did I mention it was 80 degrees a couple days in Lisbon and there was lots of outdoor dining going on?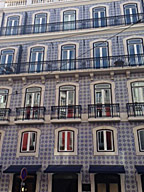 Bopping around town
Friday we took the famous 28 tram, saw the saw the Castle of Saint George, Se Cathedral and others, beautiful views, stopped at random shop A Tendinha de Santa Luzia for a great pastel de nata and hot dog in bread w/ egg. We hit the excellent daily Mercado do Baixa not far from our hotel for a plate of various sausages and bread at Minhofumeiro. Up to Discolecçao Records and had a beer at the awesome bar Duque. But don't get a Pisco sour at the place behind train station. Dinner was split between Os Bons Malandros and Versiculo for octopus and split wine sitting outside in the crazy Bairro Alto. Indie Rock bar wasn't really open so we saw decent jazz of all things at Paginas Tantas then back to Wasp who was playing new wave to appease a drunk group then back to metal.

On the Streets
Our last morning we hit the huge Feira de Ladra flea mkt then I wandered around the Alfama section, hopped on the metro to the big El Corte Ingles department store which was close to record store Glamarama. Super nice guy working there, let me hear a bunch of Portuguese stuff and gave me a t-shirt. Sat outside for lunch then got a nice galão (basically a latte) outdoors on the main drag, the Avenida de Liberdade. Found a cool tapas place Champanheria do Lago for the last dinner then a hike out to RCA Club for some Portuguese metal. Glad the music wasn't that great cuz I got confused about which stop to get off and we were really late but didn't miss much. Nice to catch a show tho. One last drink outside (had soak that in while we could) and that was the time in Portugal. Nice sites, good weather, good prices, good food, what's not to love?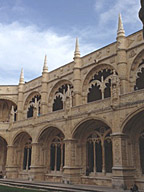 Random shots of Lisbon