Joanie's Quebec Vacation
April 2015
For past vacations - Click Here
Decided Patriots Day weekend was a good time to revisit Quebec City. It's a haul to get up there, 8 hrs with a food stop and filling the tank in VT before crossing into expensive Canadian gas. Thought we were gonna get excellent donuts at Brother's in Franklin NH but they went on vacation! Bummer. Next door was Ralph and Joe's Café where we had a good breakfast, then a piece of pie at the Miss Lyndonville Diner then still 3+ hrs to QC. We checked into the wonderful Manoir Victoria in the old city which is a great hotel, comfy, good location and Bernard at the front desk was awesome. Walked immediately to the Aviatic Club for their happy hour (not so successful) then started the marathon eating at the bar of Chez Boulay in our hotel. Tasty bison cheeks then off to the famous rabbit restaurant which wasn't as successful and that was pretty much it for the first day (food reports here: http://chowhound.chow.com/topics/1010005; http://chowhound.chow.com/topics/1009662).
Click on thumbnail pictures to bring up another page of pictures.

Quebec City
Sat. we started at the Marché du Vieux-Port which is a food oriented market but got our excellent croissants at Le Croquembouche on one of the main drags, St. Joseph. Wandered around, stopped at a flea market in an old church where the records were plentiful but not so interesting and/or well priced, then walked thru Battlefield Park to the Musee Nationale de Beaux Arts where Bryan Adams had a photo exhibit. He does nice work and besides the celebrity portraits, there was a moving exhibit on soldiers injured in the Iraq War. It was record store day so we stopped at a few places along St. Jean including CD Melomane who were offering wine, beer and smoked trout, nice touch. Hit a few more stores, got a snack, regrouped before fancy cocktails at the Chateau Frontenac (very famous, swanky hotel) then walked to L'Affaire est Ketchup for a wonderful meal (decided on this place even before seeing it was an Anthony Bourdain favorite). Ended the nite w/ a drink at Pub St. Patrick who had live music, a fiddle and guitar who were good at what they did I guess. Left as they were playing Charlie Daniels.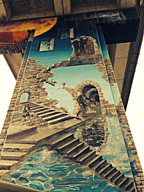 Around town
Sun. was the Jean Talon market but it's mostly off priced stuff, so we returned to Le Croquebouche for croissant #2 then drove to the Parc de la Chute-Montmorency to check out waterfalls that are supposedly bigger than Niagra Falls. The day was gorgeous but the wind at the falls was cold, thankfully gone when we got back to town so we sat outside for a drink and a snack. Walked around another park with more cannons (have never seen so many cannons), got some souvenirs, rested a little then back out for more good food and drink that evening. If a place wasn't showing the Canadiens' playoff game, it was pretty quiet like Le Cercle where he made a nice Negroni. The next morning got croissant #3 at Paillard then started the long drive back, unfortunately much of it in pouring rain. Good lunch in Tilton NH and back in time to watch E! News haha. QC is a cool city (esp. for food) where you feel like you're far from Boston, even with lots of tourists around.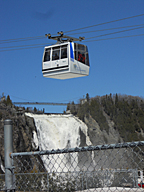 Parks and things
---
home | interviews | photos | features |BGN issue list | reviews
links | contact us
Copyright © 2015 Paul Lovell. All rights reserved.