Joanie's Russia/Finland Vacation
October 2013
For past vacations - Click Here
So it took a lot of planning but the trip to Russia and Finland went smooth as could be, even after hearing bad stories (a friend of a friend was drugged at a bar and thrown in jail). We had the bonus of figuring out (and paying for) visas to Russia but the stamps came thru and off we went to St. Petersburg. I'd arranged with the hotel for a car to pick us up at the airport and he zipped us crazily to the Nevsky Contour which was super convenient on the main drag, Nevsky Prospekt. Took a quick nap then walked around the area stopping in the train station where I was surprised the gals in the tourist office didn't speak a word of English. On the other hand, the bartender at the first pub we went to, Rom Baba (playing deep cut 70's rock) spoke great English and gave good recommendations for bars and a record store. That night I wanted to eat at a traditional restaurant that was recommended and supposedly right by our hotel, Yolki Palki, but we couldn't find it. Wandered around trying to find a quick easy meal, bypassed many hookah places (a popular thing in St. Petersburg) and ended up with a Mediterranean meal. Felt like an idiot the next day when we saw Yolki Palki was literally right next to the walkway to our hotel.

St. Petersburg
Architecture
We had more issues with directions on Friday when we thought we were walking to the Hermitage but went the wrong way. After seeing a few cool churches but not figuring out where to go, I asked a man and he offered us a ride but Andrew wasn't having that. I was slightly tempted but we declined and got some nice pastries and coffee then checked out more churches in another part of town. We then saw that a boat tour of the city was ready to leave and took it even tho it was all in Russian. Who knows what we saw but it was okay. We then went to Imagine Records, really nice guys working there who tried to find me some good Russian punk rock and let me listen to bands on the computer. I gave him my card and he asked if I'd visited before cuz he thought he knew my name, and he wasn't confusing it with the Norwegian electronic dude Lindstrøm. Who knows. We got our dinner at Yolki Palki this nite, some tasty solyanka soup and beef stroganoff with traditional dancing girls for entertainment. I had found an English language arts paper and saw some music options during our stay. We tried to find the Karma to Burn show but couldn't figure out where the club was so walked to the long-standing club, Fish Fabrique. There's a separate bar so we thought we'd just missed some early music but the bands were actually playing across the alley. I think it was Zombie Cops who we saw at that insanely smokey place. They were kind of a cross between New Order and Thee Oh Seas with tons of reverb, decent stuff.
| | |
| --- | --- |
| Food and music | Churches |
Sat. we got to the Hermitage and only made the tiniest dent. So huge, so many pieces of art. But just seeing some of the ornate rooms of the building was pretty cool. Unfortunately, museums are like an opiate to me and I want to sleep after 45 min. We plugged along for a bit but missed major pieces. The plan to walk to the next destination was thwarted cuz the bridge in front of the museum was closed off so we splurged for a cab to bring us to a restaurant I had on my list. Boy did we splurge (aka got ripped off), it cost more than the long airport ride. And the restaurant was nowhere to be found but we ended up with a really good lunch of sausage and dumplings. In the meantime, my friend Lasse had put me in touch with his St. Petersburg friend Kirill who mentioned a show happening with the Austrian band the Dee Cracks who I like. But since the Dee Cracks have toured the States and might come back and I'd just bought The Pauki's LP, we went to their show. Of course, we started heading in the wrong direction again but got there in time for some Oi craziness. Nice people working the door and you could take a CD out of a box they had, I got a good comp. The singer of the Pauki was very excited to hear I was from Boston, the land of the Dropkick Murphys in many people's minds. Whatever, the bands were decent and it was just like being at a drunken Boston show. After we hit a kebab stand run by sweet kids from Pakistan then a stop for dessert at one of the many late nite places in town (this city is truly 24/7).



Bridges, parks,
water and subways




Music and food
in St. Petersburg
Sun. I met Sergey who played with this guy Nikita who recently had sent his powermetal CD to the station. He was a sweet guy and took me around to some of the sights, Church on Spilled Blood, Summer Park, etc. It's funny cuz I know more about the clubs in the city than he does; he's one of those music guys who spends his time writing and recording but not hanging out. He did bring me to a cool rock store tho, Castle Rock, and it was nice hanging out with a local. Most importantly, he clarified that the first train station we'd seen just down the street was NOT the one we'd need to go to Helsinki. That would have been a drag trying to find someone to explain that situation at 6:30 in the morning. That evening was my first travel agent meal (this trip was a pain in the butt to plan) and rather than going nuts at super expensive but beautiful Tsar, we had a nice meal at Ribay then checked out a bar on Dumskaya St. called Fidel. It was pretty quiet so we were able to talk to the super nice bartender Dimitry who lived in the states when he was younger. Perfect English. Plus Alexei, a concierge from a nearby hotel who's originally from Siberia joined us. Then there was the drunk Russian guy sitting next to me who wanted to show me around town the next day but he knew so little English and kept asking Dimitry to translate (and he kept asking the bartender who knew even less English to translate too, it was funny). Fidel played rock and rockabilly and Dumskaya St. is pretty happening but there'd recently been a shooting so some liquor licenses were reduced and an article in that paper wondered if there would be large scale changes.

Historic sights and miscellaneous
Mon. was our last day so we walked all over town cramming in more churches, the Mariinsky Theater, bridges, etc. I insisted on going to the McDonalds of Russia, Teremok, for lunch. They're known for blini, crepes stuffed with all sorts of fillings. It was fine and the cream of mushroom soup was great. Another swing by the Church on Spilled Blood (that place is amazing). Never did get to meet Kirill but after dinner at a Georgian restaurant (the country Georgia of course), we stopped at a cool metal bar called Stoker who were showing videos of Accept, Ozzy, etc. Our friends at the kebab place were happy to see us. Actually slept well that nite (this was not a vacation for sleeping) but got up early for the train station at 6:40AM. Unfortunately it smelled like garbage at the station but it was an easy three hour express train to Helsinki where Lasse met us for breakfast and got us on the bus to the airport for the trip up to Lapland.
Click on thumbnail pictures to bring up another page of pictures.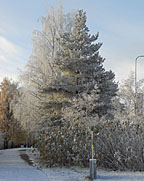 Lapland
Rovaniemi is the home of Santa Claus which they advertise all over the place. The one baggage carousel had presents and sleighs and taxidermied animals on it. Wandered around the cute little town, found Arnold's Donuts inside a mall, got a cappuccino in the hotel café then over to Bull Bar for an early snack before our venture to see the Northern Lights. The pork sandwich was surprisingly great and even more surprising was when "Black Wind Fire and Steel" by Manowar came on. Nice. Markus the bartender was a cool guy. We even heard the Hellacopters in our hotel lobby where we got picked up then met 6 other folks to see the lights. I was worried cuz it had snowed earlier but we got dressed in these crazy (but warm) snowmobile looking outfits and boots, drove an hour to the camp, climbed up to a tee pee and waited. We grilled sausages over a fire inside in the tee pee and I came back out to hopefully see something. Our guide then pointed to the tiniest bit of light saying there it was. I was a little bummed but about 20 min later, it really came out in lots of green swirls. Not the super colorful ones that sometimes show up but definitely worth waiting in the cold. After a nice buffet breakfast on Wed., we hit the Korundi Art Museum, got lunch (so happy to get free ice water everywhere in Finland), walked around and met at Paha Kurki Rockhouse which played rockabilly and metal and served Trooper beer and Motörhead wine. That nite was an amazing dinner (reindeer, mmm) at Restaurant Nili who were celebrating their 7th b-day and giving free glasses of cava to start and Murphy's beer for dessert. Ended the nite playing pool at this bar called Grande where she played my Backyard Babies and Hellacopters requests and we met a kid from Indiana going to school there. Before our flight on Thurs., we hit the Arktika Museum which was very interesting.

Around Helsinki
Okay, we're down to the wire for the last three nights in Helsinki. When I was here 7 years ago, the weather didn't really cooperate but no problem this time. Helsinki is a fun town that's both modern and old. Our Scandic Hotel was very modern and super convenient, esp. since there are awesome food stands set up in back every day. Walked to the Sea Horse for dinner then caught some music at On the Rocks where openers Unshine played gothy druid rock and the 2nd band, Emphasis, rocked a bit more but the Kate Bush vocals and progressive leanings sent me home. We met Lasse the next day to see some sights, hit the big food market and shop the record stores. Good stuff at Music Hunter, Combat Rock and Black & White where I met a kid from Albuquerque. We also hung at Lasse's favorite bar Heinähattu with some of his friends then came back to our area for dinner at Virgin Olive Oil who also have shows so caught locals Shitler, Ratface and Rytmihäiriö. I didn't turn on my DJ 'schmooze a record' button to get stuff for MBR tho.

Music and Food
The last day I took the tram around town to look at some sights then visited the Finnish Architecture Museum which was a disappointment, but did see some cool stuff in the area known as the Design District. And got a great dish of salmon paella at the market by the water. We went to Ateljee Bar in a nearby hotel who charge even higher than usual Scandinavian prices cuz of the view then to Zetor restaurant which is owned by that old band the Leningrad Cowboys. They've got a farm/tractor motif going on and lots of people dancing to Finnish disco. The Arctic cloudberry wine and reindeer were good. After we went back to On the Rocks cuz it was closer than the club by Lasse's where the Juggling Jugulars were playing, who I like, but we made a good choice. Both cuz this band Nale from Sweden rocked it out plus the show was free for some reason. Other than the 3 euro coat check that they gouge you for all over town. We then got up super early again for the flight home, noticed another O'Leary's bar in the airport (total Boston sports team bar who also have a location in Oslo), got pulled aside by security at the connection in Paris for some reason but all was in order and thus ends another cool trip. I already want to go back to Helsinki and need to revisit Copenhagen but who knows when. But have to visit Detroit first.
---
home | interviews | photos | features |BGN issue list | reviews
links | contact us
Copyright © 2013 Paul Lovell. All rights reserved.