Joanie's Seattle/San Diego/LA Vacation
March 2014
For past vacations - Click Here
So this was an easy, super affordable trip due to an amazing airfare and staying at friends' houses. And it was awesome to get away from the neverending winter of 2013-2014. After a hellish day of work (arrived at 5:15AM), I took a 6:30PM flight arriving in Seattle late and stayed with former Bostonian Chris Porter (who many of you know from his booking clubs around town). It was gorgeous out the first full day in town, walked all over hitting some of my favorite spots like Top Pot Donuts, Capitol Hill and Singles Going Steady (lots of good deals). Met former alt.punker Amy for early happy hour; I'm obsessed with happy hours since Massachusetts doesn't allow them. The bartender at Lost Pelican made a great cocktail, food was just eh. Later on met another former Bostonian Shannon for a nice dinner at Branzino then a show at Chop Suey where they had a tribute to Swami Records/John Reiss. We only saw bits of a couple bands and one full set from Steel Tigers of Death. Not positive who they covered, The Sultans maybe, but they had a unique look (check the photos) and were really fun.
Click on thumbnail pictures to bring up another page of pictures.

Around Seattle
On Saturday the weather wasn't great but fine enough for wandering around Pike Market and Pioneer Square. Ran into present Bostonians Jill and Josie downtown while walking to the Experience Music Project where I met former Bostonian Cliff (there's a theme here) who drove up from Portland to see the Jimi Hendrix and Nirvana exhibits. It was decent but they got rid of their awesome Northwest music section unfortunately. We got some pork products at Kau Kau BBQ in the International District then a stop at Mecca in Chris's neighborhood, one of the many cool, old school places in Seattle with a great sign. That evening I took Chris out for a thank you dinner, starting with great drinks at Percy's in the Ballard section then dinner down the street at Staple & Fancy then further down the street at the divey Smokeshop. Sunday was the flea market in Fremont but the weather was semi miserable. I still wandered around, got pie at Pie, stopped at Jive Time Records where the kid working knew lots of Boston stuff, then across the street to Fremont Vintage who also had great records (so many $1 and $2 singles). Chris drove me by Lake Washington then we hit at a good happy hour at Le Zinc. After we met his friends at Spitfire Grill where ex-Bostonians gather for sports and ended with a stop for dessert at long time fave Dahlia Lounge then watched the end of the Oscars. Monday I left early for the next segment of the trip.
| | |
| --- | --- |
| Cool Signs | Music and Food |
Curtis from Taang, another former Bostonian of course, picked me up at the airport and showed me some of the San Diego/La Jolla sites. Got Mexican food at Ortega's in Ocean Beach, saw where the seals lay around, plus a house that one of the midgets from the Wizard of Oz lived in, then all the record rooms at Curtis's home. After regrouping we went to meet Taang employee/MBR supporter Miggs and his girlfriend Ellie for dinner (not former Bostonians!). One of the guys from The Dragons had a new band called Saint Shameless playing at the Tower Bar so we went there and those guys DJ'ed a bit (I passed even tho I had about 25 records on me now but just as well since only one turntable was working). It was a fun time; super nice owner Mick gave me a t-shirt. The next day Curtis dropped me off at the beach house and Miggs and his 3 year old Melody picked me up for a day of checking out San Diego. After a donut stop (of course), we wandered thru Balboa Park, got amazing food at Carnitas Snack Shack and a drink at Mr. A's with a gorgeous sunset. Later Miggs, Ellie and I met former Bostonian Galeb (who drove down from LA) for fancy cocktails, cheap Mexican (my first calamari taco) then a couple cool bars, Lancers and Live Wire (both with good jukeboxes).
| | |
| --- | --- |
| San Diego sights | Beaches |
On Wed. Galeb and I walked around the Gaslamp District, got Mexican (cuz that's what you do in San Diego), walked thru the Hillcrest and North Park sections then hit Polite Provisions for their $5 drink happy hour. Very nice cocktails there. Back to the beach house to regroup, a stop at the old school Saskas Steakhouse down the street then back to the cool North Park area to Urban Solace for Galeb's thank you dinner. Ended the nite meeting Miggs and Ellie at Toronado where they serve a million beers. Thurs. we had a great breakfast at Mission Café, wandered around Ocean Beach (where I finally found Hendrix's song Highway Chile on CD at Cow Records) then after retrieving my underwear from Curtis's handyman (funny story), headed to LA for the donut and burger tour.
Click on thumbnail pictures to bring up another page of pictures.

| | |
| --- | --- |
| more sights | SD music and food |
Thurs. evening in LA started with happy hour (of course) at Rascal on La Brea, not far from Galeb's. Nice food, drinks and owner. Later we ended up at Formosa Café, which I hadn't been to since 1996. Long time bar that often has industry folks hanging out. Good cocktails then went across the street to Jones which also has an old school vibe and get this, late nite happy hour! I had to go off the HH menu tho for the Hendrix drink since Jimi had figured so prominently into this trip. Good discounted pizza and a funny conversation with a couple valley girls seated next to us. Friday was a day when things didn't quite fall into place, although we did start off okay at SK Donuts. Couldn't find the way to the Hollywood reservoir for a walk around so went to the Hollywood sign instead. We stopped by Record Parlour and Amoeba where I got a couple good things but the burger place that sounded awesome was no longer in existence so we got sausages in the arts district instead. The mango jalapeno sausage at Wurstkuche was really good and I hadn't seen that area before. Happy hour drink and burger at Suede in a downtown hotel was okay but the vibe of the place left something to be desired. The evening got messed up too cuz after driving out to the Valley to pick up former Bostonian Jef to hit Beverly Hills for dinner, he said he couldn't go so we hung out at his t-shirt shop before going back to Hollywood and meeting former Bostonian Sandy at Velvet Margarita for some snacks, then ended the nite at the Frolic Room which would be cooler if the jukebox were playing better stuff.




LA bars/music/food

Saturday was a beautiful day and I thankfully stayed out of the car for much of the day. Walked or rode the bus with the plebes of LA which was just fine. After a walk around MacArthur Park and a donut stop at K & K, I met former Bostonian Mark at Red Hill in Echo Park for brunch to catch up and talk shit. Stopped in the new Blue Bag Records owned by former Bostonian/Bullet LaVolta drummer Chris who wasn't working but I saw him last trip at a record show (I was "just" in LA 3 years ago, that story is here: http://www.bostongroupienews.com/JoanieLosAngeles.html). Then to Vacation Records where I ran into former Bostonian and Hydrahead records dude Mark. Back to Hollywood and the sidewalk sale Amoeba was having then Galeb picked me up for a drink at the super cool Laurel Hardware. That evening we had an awesome diner dinner at the very old school Astro Family Restaurant with Sandy then over to Sonny's Hideaway in the Highland Park section of town, a cool area I'd never seen. We met Sandy's friend there, former Bostonian Jen (the last former Bostonian) then to Café Nela for Pat Todd (former Lazy Cowgirls singer) and The Dogs (long time LA/Detroit band). Fun divey spot, good show, brought back their CDs for the station. Too bad we had to set the clock ahead that nite.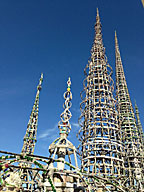 Around LA

Sun. I walked down to Magees donuts, a tasty start to the day. Then we made our way down to Watts driving through Compton, South Central and the streets you hear about on TV and movies, to visit the Watts Towers. An Italian guy decided to build these towers about 60 years ago, an odd sight in the hood. First we tried to get soul food at Carolyn's but the line wasn't moving so we went to plan B, a burger at Hawkins. I can't believe this place isn't listed in the LA Weekly's top burgers. Very cool joint, crazy huge, cheap burgers and an extra burger was given to us cuz of a small screw up with the order. While we were eating in the little outdoor area, one of the local ne'er do wells (aka crackwhore) says to us "how are those burgers", we said great then she goes "nothing like a Nword burger huh". We laugh and now she comes over asking for food and since there were a ton of fries, Galeb gave her a little packet. She sticks her face into it grabbing at fries with the three teeth she has left in her mouth. Then she turns around to the road and starts asking if anyone wants a blowjob. It was an amusing time. The person cooking saw Galeb give her the fries so gave us another order. Definitely worth checking out. We ended the day wandering around Melrose a bit and after another beverage and stop for donuts, headed for the red eye flight back to Boston. I was the only one with a light on.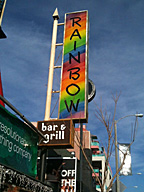 More music, food and bars
Could have easily spent more time in each city but it was a fun getaway. Thanks to Miggs and Galeb for their photos.
---
home | interviews | photos | features |BGN issue list | reviews
links | contact us
Copyright © 2014 Paul Lovell. All rights reserved.