Joanie's Spain Vacation
April 2012
For past vacations - Click Here
So ever since seeing photos of all the crazy modern architecture of various Valencia museums, I've felt the need to go there and when some Norwegian friends told me there was also a garage rock fest going on just north of Barcelona, it seemed like a good time to go back to Spain. Started the trip in the seaside town of Pineda de Mar, hopping on the train as soon as we landed. It was a pretty ride along the gorgeous coast with the bonus of seeing random nude men on the beaches. Our hotel was nice and convenient and after dropping off our bags, we went to get some lunch, the first of many not so successful meals for me (Tom's luck was much better). He needed to crash but I walked around the town and the beach and I'm glad I did cuz the sun never came out in full force again the two days we were there. After regrouping we had a relaxing drink on the beach (the first of many mojitos, they love those things in Spain), a doner kebab (not as good as Germany but better than the US) and played pool at a Dutch bar. Our pool playing started out okay but quickly deteriorated.
Click on thumbnail pictures to bring up another page of pictures.

| | |
| --- | --- |
| Pineda de Mar | Bars and Munster Raving Loony Party |
Piddled around town the next day (and another unsuccessful lunch, food report here: CHOWHOUND SITE) then that evening was nite 1 of the Munster Raving Loony Party. I'd switched our plans around to make sure I saw the Hollywood Sinners and they didn't disappoint but I esp. liked the Italian band The Barbacans who were a bit like a younger, livelier Lyres. Was fun to see my new friends from Norway Bjorn and Kjartan and a million people who were doppelgangers of Boston people. Drinking as heavily as some Boston folks too, pretty funny watching everyone. I'm sorry to have missed a few of the bands the next 2 days but one nite may have actually been enough.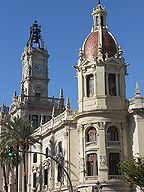 Valencia architecture
The next day we had to check out fairly early and the sun didn't cooperate for some beach weather before taking a long train ride to Valencia. The weather greeting us there wasn't good, which makes it tricky on the tiled streets around our hotel, but things cleared up and we headed to some recommended tapas bar for dinner. They were packed but we stopped at a bar for the first sangria of the trip (and sadly my only sangria, many places won't serve just one glass) and just picked a random place for dinner that turned out quite well. Little did we know that Valencia makes Boston seem like NYC transportation wise cuz we got into the subway station only to realize the trains stopped by 10:30, on a Sat. nite! I would have walked out to this bar but Tom wasn't up for it and somehow taking a cab didn't cross my mind so all my planning to be in Valencia on a weekend nite was for naught. We'd slept like shit the previous evening so just as well cuz Sun. morning brought us to the big flea market where I bought a ton of singles for 1.50€, some classics like Sweet and some random Spanish stuff that I took a chance on (not so lucky). I then wandered around, checked out the Museo de Bellas Artes and that evening we got to a couple of the bars I'd planned on hitting the previous nite. Kraken wasn't so exciting but Tasca Cat was pretty fun with good music. The rain started again as we walked home, I got us twisted around and went into a bar to ask directions. It was the bartender and one man in there, I'm pretty sure I put the map down and said "Donde estamos?" and the bartender started trying to help me. The man comes over and says in perfect English "Oh look at you, just walk in here speaking English …", which I didn't do and never do at all. I said I didn't and tried to get directions from the bartender but he starts in again "You people expect everyone to know English etc." and I just said "You're an asshole, you know what that means?" It actually shut him up and the bartender took me outside where Tom was wondering what was going on. Have never had that happen in all the years I've been traveling.
| | |
| --- | --- |
| More Valencia | Food and music |
The last day was a walk down to the City of Arts and Sciences where all those crazy modern buildings are. Very impressive, esp. combined with all the beautiful old buildings. I then walked all the way to the beach and had yet another shitty lunch. That nite was supposed to be our nicer meal so we started with another mojito in a beautiful old building then dinner at a recommended place where Tom enjoyed his veal and I had a bummer of salty lamb chops that were so tiny with barely any meat. Super nice server tho who had lived in Somerville and gave Tom an after dinner drink on the house, which he also got at an Italian restaurant the next nite. After going to a bar called Glop and playing pinball.
| | |
| --- | --- |
| Gaudi architecture | Miscellaneous photos |
Took the train to Barcelona on Wed., Tom didn't feel well but rallied that nite starting with drinks at Rockarolla where nice people worked (but drinks surprisingly cost more than 'nicer' places). Grabbed an overpriced sandwich on the main drag of La Rambla then walked to Hell Awaits where lots of metalheads were hanging after the Michael Schenker show around the corner. Cool place. Wed. we went to the Sagrada Familia which Tom quickly looked at and I toyed with standing in the ridiculous line to go in but just hung around for a while. Should have bought a ticket in advance. I did stand in line on Thurs. for the Picasso Museum then wandered down to the beach neighborhood, Barceloneta and had lunch outdoors. That nite we went to the apartment of a friend of a friend where some Dutch people were also visiting. Then it was time for my "travel agent" dinner at a Michelin starred restaurant called Hisop. It was a great meal although Tom said he could have gone for a doner after. Walked over to this 60's oriented club Barbara Ann for a nightcap.
| | |
| --- | --- |
| Music and food | More architecture |
Fri. we switched hotels from a nice super great located hotel to a modern hotel in a swanky neighborhood that wasn't as convenient, but kind of nice to have the contrast. Did lots of wandering around, taking in the sights in this very confusing city. Sometimes I got really annoyed with not being able to find my way from point A to point B. Hit the big market, shopped more than usual (I was in too many Zara's for too long), found a couple good record shops, all the usual stuff. Fri. evening was drinks on the roof of the Barcelo Hotel then tried to eat at Bar Ramon which everyone recommended, but even tho only about 4 people were seated at 9:30, we had to have a reservation. We walked around and ended up at a dive for a huge mojito then a good home cooked meal ending up at a new bar called Psycho and another stop at Hell Awaits. Sat. something I had at the market was off cuz I felt sick doing my last touristy thing, hitting Gaudi's Park Güell. Had the chills, thought I was gonna throw up so no nice last meal in Barcelona. I did drag myself to go to the bar Crusader listening to metal music with the bartender and one other guy there. I somehow liked the trip to Madrid (and Marrakech) two years ago better but both cities were beautiful and had lots of cool stuff and if I were a woman of leisure, I'd go back and hit all the places I didn't get to.
---
home | interviews | photos | features |BGN issue list | reviews
links | contact us
Copyright © 2012 Paul Lovell. All rights reserved.