Joanie's Tennessee/Kentucky Vacation
March 2016
For past vacations - Click Here
So who goes to Louisville when you don't care about horses or the Kentucky Derby, Memphis when you don't care about Elvis and Nashville when you don't care about country? That would be me, your avid traveler. I was in Nashville 20+ years ago when I hung out w/ my roadie friend, which meant going to the strip bar w/ Pantera and Type O Negative, a once in a lifetime experience. The airfare was cheapest to Nashville so I flew there (after taking my first Lyft ride at 4:10AM, worked great AND got the expedited TSA line), immediately got my Pricelined car ($14/day) and headed to Louisville with a stop in Bowling Green for a fantastic country breakfast at Judy's Castle. Down the street were some caves so I took that tour but should have waited for Mammoth Cave cuz these were kind of lame. The combination of no sleep, food and dark caves made for dangerous driving so I pulled into a rest area and slept for 5 min and finally got to my Air BnB mid afternoon. Bob and Mike were in the middle of business calls so I just dropped things off and walked about 2 miles to one of the main drags, Bardstown Rd. This part of town gets quite crazy, all sorts of bars, restaurants, shops, a few record stores, etc. Ended at a well established place Jack Fry's (one of Jennifer Lawrence's faves!) for an old fashioned and shrimp/grits dish. Nice people working there and sitting at the bar. Spent some time in Underground Sounds across the street and left when the rain stopped to hit the dive bar Seidenfaden Café, a short walk away. This place had an awesome jukebox and had that great 50's look that nowhere in Boston has anymore. Walked back to the house and chatted w/ Bob and Mike while their two old dogs sniffed me (one of them is missing a leg).

Louisville
Since I'd woken up at 3:15AM, I went to bed at 10:30 and slept fairly well until a headache set in. I felt kind of like dry heaving in the morning and sure enough, I threw up, twice. All old fashioned. So much for the Bourbon Tour of 2016. Between throwing up, being exhausted and a cold gray day, I was very unmotivated and skipped the 45 min drive to see Civil War stuff. Wandered around Frankfurt Ave. starting with a scone from Blue Dog Bakery (another J Law fave), shopped, talked to people at Guest Room Records who were super nice trying to find me something to do. They suggested the art at the 21C Hotel and there was some super cool stuff there including a guy who makes things out of bullets and casings. Got a coffee from a guy who used to live in Somerville, had a late snack at the bar of the very old Brown Hotel and hoped for a better day on Sat. Luckily it was nice and sunny, a good flea market was going on, I did the Evan Williams Bourbon tour, walked across the bridge into Indiana, and just enjoyed the day. That evening I met Bob and Mike and two of their friends at a cool restaurant called Decca. I then cut out early to catch some hard rock at a downtown bar called 3rd Street Dive. It was decent, one of the singers had an eye patch.

Between the cities
Sun. I was out of their house at 8AM for the long drive to Memphis. Made a bit longer because I wanted to go to Missouri and Arkansas, two states I'd never been to. In Sikeston, MO I had lunch at Lamberts, home of the 'throwed roll'. The place is huge and kitschy and the young kids working there literally throw you the rolls (maybe you've seen this on the Travel Channel). The rolls were good and they give you lots of free extras, which may have been better than the actual lunch I ordered. I started getting drowsy on those flat roads again so my stop in Arkansas was at a welcome center trying to sleep in the car but I just walked around a bit and made it to Memphis with no accidents. Checked in to the downtown Comfort Inn which was quite decent, but Memphis itself is a little down on its luck. Main St. has lots of empty storefronts and can be pretty darn quiet. Went straight to Sun Studios which wasn't too exciting a walk and got the last tour of the day. It's a small place jammed with interesting stuff and we had a good guide. Stopped at Dyer's on Beale St. back in town and realized as soon as I ordered the burger is cooked in grease from when they first opened 100 years ago. Haha, too late. No repercussions and I felt better than I did after my old fashioned and pricey shrimp dish. Went back out for a drink at the bar of the fancy Peabody Hotel then walked around Beale St., one of the few lively areas downtown. At the top of Beale was the Ernest Withers Museum. He was MLK's photographer and did lots of cool old music and sports photos so that was interesting, and different from the craziness of the rest of the street.
| | |
| --- | --- |
| Memphis | More Memphis |
Monday I got a good donut at Don's, saw Graceland from a distance, talked a jeweler into changing my watch batteries for half price (how can I pay $5 in JP and desolate Memphis charges $10?), visited the Civil Rights Museum (could have been there even longer), had a fair lunch at the long-standing Arcade Restaurant but an excellent iced coffee from Qahwa, and hit Goner Records. What an awesome record store. I only made a tiny dent that day (and the next) but those with more stamina could really go nuts. Also got some good info from one of the employees. I went to The Cove, a cool 50's looking place not far away and while the bartender was super nice, he didn't really know what he was doing. Tried Central, one of the main BBQ places in town. Ended the evening at the Blind Bear downtown talking to some fun people who live in the neighborhood. Tues. I wasted time until the 11AM march of the ducks at the Peabody Hotel. This is an odd tradition that's obviously more exciting for kids but it's kind of cute (http://www.peabodymemphis.com/ducks-en.html). Then I went to the Stax Museum in a section of town that made me think of Detroit (that I guess used to be even scarier). Stopped at Shangri-la Records then back to Goner , had a happy hour drink around the corner at Alchemy then met a former roommate of a bandmate of a listener at an indie film event. Haha, how far removed is that? But Mike and his movie collaborators were fun. Later back downtown I grabbed a seat at the bar of this nicer restaurant Flight and had a great meal and chat w/ Jessica, another resident of the neighborhood.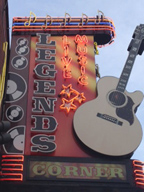 Nashville
On Wed. I drove to Nashville where I stayed at a B&B in hip E. Nashville. Just up the street I tried some hot chicken, a local specialty. It was indeed pretty hot, my poor lips were kind of hurting but it was tasty. I walked across the bridge into downtown Nashville and took in the action of Broadway. Wandered around a bit then back to my home base neighborhood and a stop at the dive Duke's where the bartender asked if I had played Audacity before, the t-shirt he was wearing. I said yes and he goes "Yeah I remember when I had this on before and you said Oh, I've played those guys". I said "Here or in Boston?" Obviously it was someone else but it was kind of weird that I had indeed played that band before. I then watched "Nashville" in Nashville. Thurs. I stopped by Third Man Records which is a cool space but limited selection (of Third Man stuff only pretty much). Grimey's Records a little further out was better. Went to Biscuit Love and tried their "bonuts" passing up "The Lindstrom" on the menu. Broadway is where a million musicians play for a passed hat and I stopped into Robert's Western knowing that Rich Gilbert (of Human Sexual Response and The Zulus) had an afternoon gig. Didn't talk to him since he had another hour to his set and I don't have an hour of country music in me. So I hit a fried green tomato happy hour and had a nice chat plus an old fashioned that didn't make me throw up. Fri. I had most of the day before my flight so I hit the Country Music Hall of Fame where they had a nice exhibit on Dylan and Cash. Walked around, got a pulled pork at Peg Leg Porker, checked out Groove Records, got a pulled pork to go from Drifters BBQ close to the B&B and then dropped the car at the airport.

More Nashville
So I've pretty much hit the whole south now on solo trips. My biggest conclusion is that BBQ up here is now as good as down there, at least pulled pork sandwiches. And the sides here kick their ass.
While there's some cool stuff and the prices are way better, I'm not sure I could live down there