01/06/2014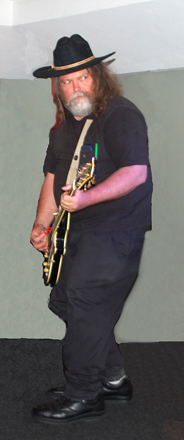 12/23/13: Saturday after work I was in bed ALL DAY AND ALL OF THE NIGHT with the "rockin' pneumonia and the boogie woogie flue", so i spent two days in bed, Radio ON (just like a roadrunner!) and shows I like: Saturday WUMB (91.9 fm) -has Celtic, then blues; 6 am Sunday Skippy White WRCA (AM 1330) has some awesome gospel that helped spark my gospel career (woooooo!), followed by the debbil music (blues on WHRB 95.3 fm),then i kinda veg out with football (Pats whupped Baldamore, so please drive gently! Crosswinds!), then WROR (105.7fm) Barry Scott Lost 45s and Lil Steven Garage. If you're REALLY nuts, WRKO has the 1am-5am conspiracy/paranormal show, tonight's topic was REINCARNATION! after that crawled to work....if i felt better, I enjoyed Holbrook's Monday night jam at President's Rock Club quincy AND Wierdo Records has "wierdo" music 8:30 pm; hey they sell the Gizmos and Crawlspace, so convince Gulcher Records to fly Eddie Flowers to Boston!
12/26/13: A last minute phone call made a VERY nice surprise Giz-mas Eve; I was at my neighbour Connie Sargent (or as i call her "the widder Coughlin" as in Joey Ray),first Gizmas without Joe, a LOT of stories BUT the ar-chives (as in the spice, chives),a virtual Milk Crate Takeover: letters from GG Allin to Joe from prison, Joe's GG bio manuscript; Joe's ARTWORK, look for an exhibit at Midway (?),guess I'm playin', "Kenne are you playin' Joe's memorial in May?"; sure! with Ken Highland's OLD band! Always nice to read about Jesus Christ Allin on his holiday.....
12/27/13: went to Tavern at End of World, but was closed, so no Natalie Flanagan BUT talked with Dave from Vic Morrows; we're forming an acoustic trio (two Vics/one Giz) doin' MC5 and Nuggets covers! inspired by Barance and Smithereens live at Grapevine, Salem, unplugged. Friday 27 december Rocklahoma comes to Club 58, Quincy, mass. (Anderson Mar books her School of Rock there); Poison cover band, guns and roses cover band and motley crue cover band! Saturday, free all-ages show Midway, Waltern Noons at Cantab (saw him '81/Cantone's with JARED! and look for me and Count to cover white light/white heat album when Fox Pass play Cantab 18 Jan!). Sunday Pete's Bar in Quincy has good jam with "Scoop" Davis.
12/28/13: Blues Hangover, WHRB 95.3 fm truly awesome this morn playin' Sonny Boy Williamson and John Lee Hooker; worked on my John Lee version of Stooges "Down on the street" PLUS, thanks to my Pilgrim Jubliees gospel tape, now have a gospel version of "No Fun"! BUT, at Downtown Crossing, sits an ole black feller, plays acoustic left-hand, droning away on a D to a G and "oh, lawd, oh lawd" and how "Lil Richard was a child o' God"; I've sang spirituals with him that I learnt Antioch Baptish Church, Do'chester, blue hill ave. He's a cross between Leadbelly and Capt. PJ, REAL manic today, James Brown's cousin was the doctor at his house (?), his daddy said take the rattle off a rattlesnake, put it inside the guitar, "I got ALL kindsa relatives black/white/Indian, they Irish like you!" (I got "tura lura loora" for this); allegedly some ancestor left the land to the black AND white descendants; me: "you from south carolina, right"? think i also confirm he was a marine, though I got a chorus of "soldier boy" before or after "Peter Gunn".....puppet/blues, man, it IS a genre!
12/30/13: after meeting Miss Lyn at Algiers and she pointed out a Brattle street place was Cardell's a cafeteria which had Texas Toast at Buddy's Sirloin Pit...and was last tyme i talked to Jon Richman ca. '81 (?);saw Umbrellas of Cherbourgh at the Brattle, very sad tale and the theme was like an Englebert Humperdinck MOR classic. Plus being set in '57-'58, the wimmen had BOTH my father's wives' hairdos!
But New Year's eve musings: 40 years ago academy of music saw Blue Oyster Cult/the Stooges/Teenage Lust/Kiss; all but Kiss is my Facebook friends. Choices tonight: Moose/Mudbugs-O' Briens; Gang Green-President's rock club-Quincy; First Night has Patti Smith AND Five Blind Boys Alabama. But am opting for Brattle double feature of The Thin Man
New Year's Eve: met Rae Marie at Algiers, then we watched a Thin Man movie at Brattle; she went on to the Independent to hear John Funke; I took a rain check and caught other Thin Man movie (starring Asta the Dog!) picked up the Compass, which I recommend for all-ages shows! good listings! A Hank Williams hit was twanging out of the Border about 11 pm, saw Jay from Red House jammin' on "Party People" with a Hendrix-meets-James Brown lick; SUCH a great player!
Hogmanay Day, beware of dark haired strangers being your First Footer, like 1988, bringing you GOOD luck; ....I hope 2014 is as much fun as 1974 was! Returned to Brattle for FOUR Marx Brothers films,$20, funnier'n hell....
Jan, 2, 2014: Donna Lethal reads from her book at Zeitgeist Gallery, Lowell, but if "There's a storm comin'" (first Standells lp),I am totally hibernating in Quincy and they cancelled the reading but she read on Sunday 1/5 since her flight to LA got canceled.
Jan. 5, 2014: ok, so i been hibernating lissenin' to college football bowl games on WEEI-FM BUT last night got a call from the Count and Saturday 18 jan at the Cantab,we got a Third Rail bassist in two bands, Fox Pass 10 pm and at midnight: Kenne/Count AND MJ Quirk cover white light/white heat! "sister ray" Rat Beach Party Hull was wicked sick but the whole album! Count Joe has some VERY flamboyant tricks up his sleeve and i ain't tellin' you scoopies! So Mark that date! it's martin luther king weekend, TWO days to recuperate!