01/13/2014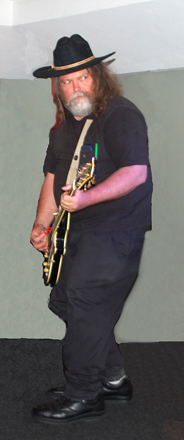 January 6, 2014: Saturday at The Brattle caught A Touch of Sin, Chinese movie, brutally violent, lotsa corruption, sex/violence; gripping! then hibernated in Quincy with radio BUT new disscoveries:
AM 1410 outta Dedham is both a "memories" and a "jazz" station! wierd hearin' jazz on the AM....also found a Worcester talk station airing old Twilight Zone radio episodes! hearin' old-tyme radio on AM now...deja vu with my parents being children in the 1930s! And Coast to Coast discussed the Book of Revelations.....nuthin' like a lil fire-and-brimstone doomsday to start your week!
also found an Afrika Korps practice tape with Solomon Gruberger's wife singing "cherry bomb"...Miss Lyn was there! Funny hearing us all argue, since 1/2 of us are dead BUT KENNETH KAISER IS alive and on Facebook!
January 10, 2014: review of last night: thursday 9 january, Micky Bliss had called to fill Bob Colby's second thursday slot. so: Highland Clan 8 pm, Jody Moore stuck in F.L.A., so Boston's BEST power trio: me, MJ Quirk, Matt Burns did a Michigan Rocks theme set in honour of the cold weather; "ramblin' rose" (MC5),"TV Eye" (Stooges) "Inside lookin' out" (Grand Funk) and almost all Brownsville Station's Yeah album...til Micky gave us the hook. Man of the match: MJ Quirk with 75% of the vocals (I had severe larnygitis but REFUSE to cancel, of course)....a lil different set this tyme!
also following was Grave Dancers (two ex-Harlequin and one Voodoo Dolls drummer) they did "Sucker" by Mott, a toon 'bout Mr. Butch and I kinda helped sing "under my wheels" but Alice Highland was kinda hung out to dry...
GrimeWave were kinda like hardcore Afrika Korps, Afro-punk bassist who played like Jay Gruberger (RIP) and it DID sound Afrika Korps; lead singer/guitarist told me he used ta go out with Rebecca Carr and knew Matt Gilbert from Harlequin also; me: "you mighta played a few shows at Chet's, eh?" due to illness, missed Mike Weddle and Climate Change but this Rat Beach Party bill WILL continue Til we DIEEEEEE!!!!!!!!!