01/27/2014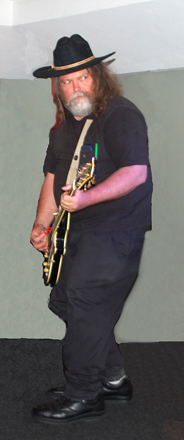 1/21/14
"Cantab: Marty White's birthday bash; he was in Zen Armada, which covered two Morphine songs (?!) and Beatles "you cant do that"; Fox Pass was SUPERB (using Stompers rhythm section),2 & 3 part harmonies ala Eberle Brothers/Byrds; Jon Macey went into "sister ray" AND "roadrunner" and band members wore White Light/White Heat and/or Rat t-shirts.....as i left, Funeral Barkers with Phil Kaplan/Men and Volts were starting up.....Monday 1/20, holiday, is Chris Toppin residency at Midway and I DO recommend this! caught the Wishes, kinda Highland/Moore meets Velvets, dude with harsh voice, gurl with melodic voice (Ken and Jody!),drummer plays with Thalia Zedek.....AND Thalia's band backs up Chris Toppin! Been a fan since Ex-Gurlfriends Chet's Jan. '87 with Highland Clan, but Love Love is her BEST outfit yet; "alt-country" and I HATE that term! call it Stones-y country, traces of bluegrass, Let It Bleed, Chris and a band of VERY talented dudes....I play the next one, details as they come!"
1/22/14
"two random thoughts on a snowy day of Wodin: EVERYBODY check out Sonic Daze out of Bari, Italy!! (where my dad has exact DNA matches),bassist Max is currently in Bloomington, Indiana, which is like a Beatles fan being in Liverpool if you like Gizmos, which he does, plus Korps and Cables. GREAT cd, thanks to Baracudas AND Peter and Melissa Greenberg; imagine Music to Kill By with Gemini on full Moon production, plus some DMZ Relix and Dictators ca. '78. I'm helping promote this and WMBR WOULD play this on a saturday, so contact me for "press copies"
….also sad about Bobby Edwards, Thundertrain drummer BUT today I had a vision that he was playing "i gotta rock" and "hot for teacher" with the Gruberger Brothers and Cub Koda and they were beckoning me like Tales of Brave Ulyseses, sirens sweetly singing.....either way, in a better place and ole Mag 11 and 1/2 sounded REAL good with them guys.....(and whose been spikin' my Dunkin' Donuts coffee? it's like trippin' at the Ararat in Holliston, Mass. 1972 wearing my clogs while my VW won't start for the Ten years After concert, man........"
1/24/14
"yet another splendid night of Natalie Flanagan at The Tavern at the end of the world; this MIGHT read like a Brett Milano Phoenix column coz we had Mr. Best Bette, Mr. Best Brett, Mr. Fireking and Mr. Trick Wallace all at one table; in walks Moose Mudbug and, in his Groucho Marxist way, "hey! look at all the big shots sittin' here!" a Yalta conference of Boston Rock! Other South Dakota icons were Eric Martin of the Neats and Chris Toppin, ex-Girlfriends, both of whom played. I only caught Eric Martin before high-tailing it to Gee Julie's on train BUT what a set: opening with Gordon Lightfoot's "early morning rain","today" by Jefferson Airplane! (LOVED the Monterey version!),ending with Velvets' "New Age".....Kenne is there next week 30 Jan (Ma's birthday) and Martin/McLachlan return 6 Feb (and Dad's birthday was 8 Feb!); I've ate fish-n-chips and bangers-n-mash there, so if yu want some fine British food and the ole vinegar on the chips, Tavern at end of world is place to be!