6/13/2022
Tuesday, June 7, 2022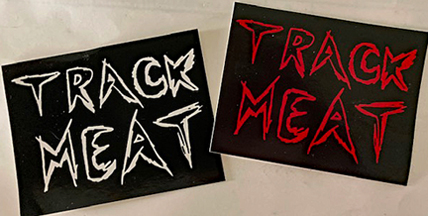 "Freitag 3 June 2022. Sonntag 3 June 73 I first jammed with O. rex and played bass and sang with O. Rex whilst Biggie Ratt wowed the medway mofos. 49 years later I sing and play bass NOT in the Beatles but mad painter. riding out with drummer Al Hendry and guitarist Schmel Herbie Hind as Grand Funk Live Album cranked, we have a gig in rural Sunderland Mass. and saw a roadhouse ala Blues Brothers where they were 'the good ole boys". In back was some jammers on the patio doing Bob Seger songs; rural biker bar, but that is SO Brockport NY. This is The O's Music Bar,Sunderland mass, like 'em on facebook! VERY nice folks,no Big City attitude. 21 plus, no cover, please tip and we made $40.75 which is $163 in tips for four bands WAY the fuck more than I EVER made playing new York City with Glider in rural conditions that I prefer. 8 pm was Track Meat (I have stickers!): Their bandcamp says "vaguely depressing post-punk" and though I thought the Gin Blossoms song echoed Husker Du, Dinosaur Jr. IS an influence on these UMASS kids (Indiana university punk 1976 with Gizmos; Childern of the Ken!). Track Meat FB page.
Mad Painter has a YouTube of show, so watch it and dig it! 10 pm Lives of Crime says spotify "is a rock band from western mass. formed 2015." I referenced The rusty nail and bassist's grandfather had took him there! recent history was also good rock; Lives of Crime facebook page. "do we have any graduates?"; class of 2022; born in 2000! this was like old blooze guys playing da blooze for young college crowds about 1968! Ride home we sang along with the Doors and at 0100 tuned into Coast to Coast and it was George Noory's birthday! subject; ancient Egypt! A full day and a fun tyme!"....

| | | |
| --- | --- | --- |
| | Track Meat | Lives of Crime |
Wednesday, June 8, 2022

Monntag 6 June 2022. After brunching at Mr Crepe, I picked up Harvard Film Archives calendar and it's MONTHS of Fellini! Thus, I bought a senior pass for fiddy bucks which gets me into a year of movies five bucks per versus ten bucks a pop. 7 pm. Forgotten French New Wave movies, also: Le Reflux, 1965, france, never released (though it also played Moma in New Netherlands!) Three shipwrecked sailors in Tahiti, whom enjoy Polynesian wimmen like a Gaughin painting and the folk music very similar to Hawaiian! EVERYBODY plays guitar....last but not least, among others, is Roger Vadim, whom not only married Bridgitte Bardot BUT, also, GG Allin's mother's cuzzin, Jane Fonda! (YES! GG has Fonda ancestry! in case you don't care)...Best of all, according to Wikipedia, ALL five of Vadim's wives showed up at his funeral! My dad only had TWO Mrs Highlands! Is Fellini's City of Women playing soon?.. (YES!!! Friday July 22nd at 7PM!! go see it people!! ... oh and you HAVE to see Satyricon on the big screen!! That's Saturday Aughust 6th- ed)

Thursday, June 9, 2022

day of Wodin 8 june 2022. here was a two dollar/two CD bargain I got at Somerville Grooves. Leila Pinheiro, a Brasil bossa-nova singer/piano/composer. Industria Brasiliera; $79.33 on Amazon! also listed in "discos raros" (I can translate that!) and she is on YouTube. So this Series Bis- EMI 2000 is kind of a gretest hits of her three EMI albums. 1994's Isso E Bossa Nova; 1996- catavento E Girassoc and 1998's Na Ponta Da Lingua. This last corresponds to my Gemini on a Full Moon cd on dinorecords.net but I enjoy this double bossa nova cd as it is, indeed, music to read By. Ray davies got me into bossa nova through "No return" off Something Else. And I DO wonder whom pawned this splendid cd? Hope to find more World Music at Somerville Grooves!"

Friday, June 10, 2022

"day of Thor 9 June 2022. Surfin' on YouTube (versus "Heroin"), found Joy Division: The Poster Children of Post-Punk/amplified. I took I Gotta Rock/Saint Mach Bell notes just to tell you what I and Thundertrain was doin' "meanwhile back in the states"...Tuesday 20 july 76 Manchester UK: Sex Pistols play Manchester, the Joy Division lads form a band. gizmos recorded Saturday 20 march 76 and were in creem in June, but I'd been in parris island since 28 April (right after ramones album came out, the first) so PUNK NEVER HAPPEND! I grauated Parris Island Sunday 25 July 76 and during my leave back in Brockport NY, I was still classically rockin' buying used Queen and Amboy Dukes albums at the local record store. saw Ramones in Cali, ass-end of August '76, so I had a Amerika First Joy Division ephiphany; September '76 O.Rex and Live at the Rat (with Thundertrain!) was recorded.This doc says WARSAW (pre-Joy Division) did a first demo tape July 1977; I made lance corporal and Music to Kill By was in my hands Friday 19 aug 77 (Afrika Korps live at cantones sunday 21 Aug 77 WITH THUNDERTRAIN!!!! and a Gulcher cd, this is, me). Lastly June 78 first Joy Division e.p. released right about tyme Korps Hello World was finishing up at Twain recording studios with James Brown's engineer engineering : ME! Good God!). last quote before it gets too '80s, "Ian Curtis was like a jim Morrison character"; so....will you please turn the page....my father and Jimbo's mother both descend from the Block island Rhode island rathbuns whom in 1600s hailed from ditton, lanchashire...thus, reinforcing that Liverpool-Manchester soccer rivalry that I would GLADLY bring up to New Order! (That and "ah whupped yo ass in TWO wars", revolution and 1812; First to Fight dressed up like paul Revere and the Raiders!".

Saturday, June 11, 2022

day of Frigga! 10 June 2022. A mad painter practice, a new song I enjoyed was like jazz-y '70s Traffic (Mach Bell in barn with artist friend Linda lissenin' to Welcome to the Ararat) and "whippin' post' (I had colonial ancestors both sides whipped for: fornication/preaching Quakerism and "filthy dalliances' in new Haven, predating my Lizard King kuz and "peace frog" by 300 years!); song also had some Zombies chords, but that jazz-jam, Alex Gitlin admits was inspired by Wishbone Ash! MY '70s/punk HADNT happened YET tail was watching Ash on the mean Screen with Jailbait Janet's boyfriend early '74, State Street Brockport NY near the train tracks! "Take me back home", schmel herbie hind plays "Frederick" off Jefferson Airplane's Volunteers album and we were digging on Jorma's wah-wah on some long Plan Nine-style jam; The Jefferson Air Force? Speaking of, let's do June happenings...father's day, 19 June 2022 COULD be busy! Al Hendry drums with leon Rich at noon at the Jungle and the randall Gibson memorial is 3-9 pm at French club, Waltham...Culture Clash? Culture Club! Captain PJ's kin from Chetticamp Nova Scotia built that club, his dad got BANNED in '60s with Country Playboys for "turn down!" "stick it up your ass!": LARRY LEBLANC; A true PUNK! BEFORE PUNK! and on saint john's day, don't go freebasin' with a freemason, go up to geno's in Portland maine and catch Tiger Bomb/ gene dante and Kenne Highland's Air Force! Alta kaka rockin' headlinin' over Chris Brood and gene dante? LOOK for special guest stars at that gig too! (Fuck Aeroshit; Thundertrain doin' "I'm Not talkin'", such a great yardbirds b-side). Figuring the backline, gene Dante HAS offered up his amp, which I'm swappin' to use for a "special" guest appearance! Crown Electric got nuthin' on us! mad Dogs and Highlanders!