7/3/2018
Monday, June 25, 2018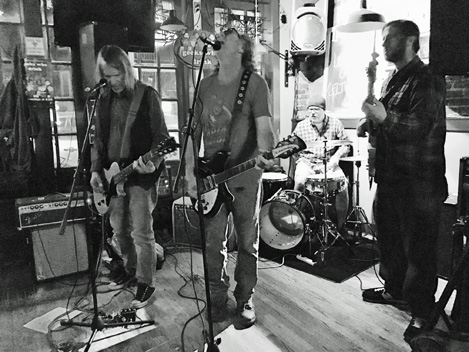 The Stigmatics
Photo: Lucille Mutty

Friday 22 june 18, jeannie johnston pub jamaica plain mass. well i cant say enuff great things about this place: Midway west; O'Brien's south. a pub with food! (the Irish hoagie is bangers on a hoagie and there IS bangers and mash!) Simone Berk will ill, so Kid Gulliver went on as a trio, the guitarist singing. Playing by window, on floor, then p.a. it WAS cantone's '78, so with guitarist singing, imagine 1978 cantone's J wendell angel singing "My little girl". He writes the toons, Simone sings 'em, so I go "you're peter townshend, she's Roger Daltry!". Next up was Stigmatics, again, Pete MacCormack tilts his head and plays a Rickenbacher, all neo-Felice (kinda like "neo-beat"); maybe the Neo-Kids? But Bob Roos did some good riff to chords riffs (Kenne and kasuals "journey though tyme" with Roger the engineer Jeff Beck licks) and/or James Williamson playing "sympathy for the Stooges" (you gotta be a serious record collector to grok this mishegas, or else a blieb alien!). Lastly, club linehan-a -go-go and who else opens with hawkind's "silver machine", a promo 45 Greg Shaw at united artists sent the Rock On crew back in '72?! Pete macCormack, like Mach Bell, got "So Excited", I invited him up to harmonise on "last tyme" so i could concentrate on getting Keith Richarrd exact; birth of the CLAGGmatics! John Keegan used TWO saxophones, but only singularly, he wasnt Rahsann Roland Keegan.....yet! Joe Quinn and Kevin Linehan were such a tight rhythm section, as was all the bands; you aint got a rhythm section, you aint got shit and the Yardbitds "aint got you"! we got TWO encores....maybe "last time" but then Pete's friend Lucille (born 17 Nov!) and i were discussing Lil Richard so I threatened to sing "Lucille" so we learnt it ONSTAGE and I surely got to "Be More Flamboyant", running out of words and morphing to "tutti frutti".....WHOOOO!!!!!! how come all Penniman's songs sound like "jailbait janet"? answer...he stole from me! whoo!!!! lastly, look at the MUSCIANS whom came to pay tribvte to his Royal Highlandness: Hi Ends/stop calling me frank....did i mention stigmatics did "dont talk to me" (GG Jabbers!)/"waitin' for lou reed" and fucken Thunders "born Giroux (to lose; same thing!)"....Cantonian prservation society in full force and me morphing from the King into colonel tom parker: "if y'all like us so much let's do a gig!" or lissen to Fear's "let's have a war!

Tuesday, June 26, 2018

saturday 23 june 18. Ken Kaiser ended up doing two gigs in 24 hours, club linehan-a-go-go did THREE, "I wanna burnout!" (Gruberger Brothers version!). A bloke kevin linehan, drummer, worked with had a quincy mass porchfest: highlights: Kev's son was in a teen combo (age 16) with music teacher on bass, Jimmy Page Jr. on guitar using a marshall he kindly lent me backline, and a young lady could sing "dazed and confused" as well as young Linehan (playing since age 3,16 now; a Jay Gruberger on drums!) and "Page Jr", age 16 and Berklee-bound DID nail the solo! Club Linehan-ago-go rocked but was Quincy ready for Hawkwind covers and John "Eno" Keegan twirling a wind machine above his head (or mask nozzle; BGN staff SHOULD see this!) Mike quirk and Joe quinn holdin' it down on guitar and bass and with that Marshall, I was Rockin' the Fillmore! ("we go 'ome on monday"....)....Runaways After Dark, young Aiden in a teen "punk" band (they damn sure looked like the Runaways!),all North Shore kids,16-17,talented,singer very dramatic....I encourage these REAL Kids to play music all i got was "well kenneth are you making any money?" aye, a penniless minstrel, I! The Disquiets LOVED us doing "Bo Diddley" so opened with "blue moon of kaintuck" done Bo Diddley style through a Brian Setser guitar that sounded like Ted Nugent with full distortion. MAGGY'S in quincy, a club they played, MJ Quirk swapped contact info. lastly, a band of older gents doing '70s r&b like "how long"-ace,"right place wrong tyme"-doctor john and that Chris Isaak hit that sounds like Roy Orbision. onto Granite Street Cafe for Yukiko's birthday! c/o MJ Quirk, i know John Keegan saw me buy her a shot of albanian raki (schnapps). which is truth serum: "no, kenne, you are not as good as Ace Frehely because you need higher shoes" kampei! after that she sang a whitesnake song with Lindsey and Masa. "Gonna Find Me a substitute" drummer was Al hendry, Satoru from tokyko tramps let me borrow his fuzzbox, I sounded like Leslie WEST, "missippi queen" was soundcheck! there's probably more, but reality check is I must start my day job! Future/Gigs: rib-a-geddon,south boston and geezer's bbq,stoguhton mass. contact me for details: Stalkers invited!"


Thursday, June 28, 2018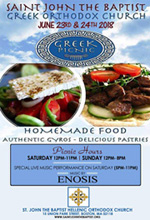 Sunday 24 june 18. saint john the baptist southend greek picnic 2018. Ken and Gee Julie never been to this' [un,around corner from south end's eliphant walk but they were very welcoming, gave tours of icons etc. big ass lamb plate $20. band was good: drums/guitar/keyboards/mandolin; male/female vocals. worth pondering; infleunce of traditional Greek music on Aphrodite's Child (answer: just add Procol Harum/Moody Blues/Vanilla Fudge!). AND in strange synchronisity, hearing that Chris Isaak hit that sounds like Roy Orbison at quincy porchfest, I'm not AT LARGE southend GREEKfest and the greek band sings it in english! very comfortable couch in the cuisina/taverna, band was so soothin' that.....I'm usually SNOORY til 0100 and George Noory!!!!

Friday, June 29, 2018

Thor's Day,28 june 18. Janet Connerney, whom i somehow met through Natalie Flanagan at tavern at end of world, sent me an invite for acoustic solo set, mix of songs and covers at The Bebop, 1116 boylston street, boston mass. go where Loony Tunes was, then Lil Steven's pizza (1968) where when I roadied for Dave bass at Channel ca. '81-'82 (Young Snakes?) "let's like have a SLAB, man!!!!" thus "slice" begat 'slab". No Giztotircal monument there this BeBop is alright. VEGETARIAN shepherd's pie, $15 ,$3, english brekkfast tea (past tea tyme but england in bluidy world cup, so cheers, then)...There's a lotta different music here, Berklee kids, but it wont beat Young Snakes TC's Lounge friday 13 march 81 as i snuck in some vodka to drink with my soda....wicked shitfaced and Aimee mann!)....there is a bluegrass jam and music even during brunch. kinda like middle east bakery but Berklee. Janet's covers and she played them left-hand, but took it too far: flettwood mac's 'landslide", "daydream believer","these boots are made for walking","you dont mess around witrh jim" and "build me up buttercup"; I can imagine me and Jody URBATI (cuzzins through same mayflower descendant) playin' 'round cambridge/somerville ca. 2001. My weekends so far seem kinda open, no gigs til Rib-a-geddon in two weeks maybe BUT walkin' through Boston Garden and trains this morn ran into Rockin' Bob Cenci! 11 minute KENversation (my mother is good for a half hour non-stop) but I even will get to the point: friday 20 july 18 Jerry's Kids/Moving Targets (with Kenne Chambers!) middle east, I may even go, though I have greeedy Geezer's cookout next day WHICH Rockin' Bob played once or so with me plus his "folk-punk' band battle Green whom I enjoyed....Al Hendry on drums in THAT also! or, my final quip "ya live the north shore, yer ruhts (roots) are th' south shore!' that would be cars' 'all mixed up" b/w "get back to where you once belong"!