7/18/2016
Monday, July 11, 2016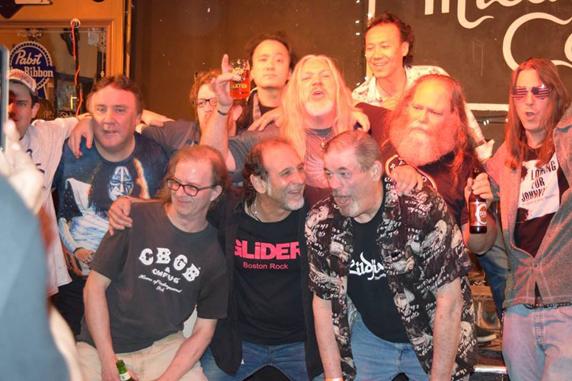 Geezers reunion at the Midway
Photo: Cal Cali
sunday 10 july 16 midway café afternoon show. Granite Rail Geezers Garage Quincy Mass. reunion, of sorts! opening was Brian Doherty's Crooked Mirror. I think five years ago did a lot of shows with Meteromite, which was a trio where Brian and bassist switched off instruments. this lineup, Brian added keyboards, kinda Doors-y, Ken Kaiser liked it. good rhythm section and I really enjoyed Brian's 1968 leads: Quicksilver/Amboy Dukes; clean on the chords, fuzz on the solos.
Right as Portugal scored their ONE point, me frantically texting Miguel D'Amour, Ken Kaiser and I agreed that Glider sound like 1977 Afrika Korps (a compliment): Solomon Gruberger Ramones chords, "Heart Full of Soul", Yukiko on bass = their Martha Hull! So if Solomon Gruberger woulda liked this band, jay Gruberger woulda loved the heavy, bluesy Robin Trower Live! sounding Tokyo Tramps (domo arrigato for offering us the gig!). sometimes they also reminded me of when SLIDE would channel Little Feat at the ole Kirkland. I know it aint punk-rock but DAMN! are they good musicians!
But the Hopelessly Obscure had to play the Super Bowl with SUPER inflated balls and Ken Kaiser's set list was "the best of kenne"; opening with "best bette", then slowing it down for the psychedelic numbers (replete with my sci-fi marathon RAY GUN!!! yes: 1980: vote for RAY GUN!!)...Brian Young of WMFO had played Gizmos "cavewoman" Saturday so we tossed THAT in, no practice; we may play on crash course for ravers soon! "new" songs included me doing my cousin Martha Hull's parts on "NY Punk" AND a cover of johnny and jumper cables "kielbasa" (MJ Quirk/Matt Burns rhythm section shined on this; John Keegan on sax/percussion embellished everything RIGHT)...mental insanity was diving into the crowd like it was a hardcore show to have crowd sing on Kiss's "Strutter"....$13 for the whole band at door (you missed it! come see hopelessly obscure at frank rowe's birthday at midway!) plus the ole german Plate at Doyle's with Rick Berlin-the Waiter...again thanks to satoro of Tokyo tramps for this gig offer!"....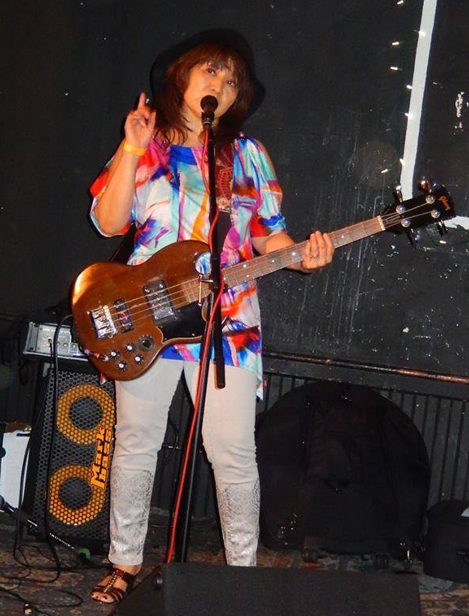 Yukiko Fuji - Tokyo Tramps
Photo: Cal Cali

Tuesday, July 12, 2016

heard from michael weddle of climate change; he WAS a state rep so now that my palm has been MacGreased: RAT BEACH PARTY!!! nantasket beach motel and i SHALL be living where the Mary and John landed with ancestors of me and Johnny Black (we were on the mary and John). if saturday is 1 october, THAT is the Boston Groupie News sponsored day as the MC2 is that comedy team of Kenne and Keegan! though Ken Kaiser's komments at last gig sounded like Bo Diddley's "say man back again" with the Kennes as Bo and Jerome Green ("you that thing i throw peanuts at!") ONLY MJ Quirk knows set tymes but club linehan-ago-go open at noon;6 pm maybe that Ken/Q/Keegan trifecta does velvet underground with the Count and then the night closes out with....KEN KAISER! (Mark Davis, lyres/real kids/neats soundman: "you know ken kaiser is very overrated; i hear a lot of tommy white in his playing"); kenny is in moose and mudbugs and hopelessly obscure; Matt Burns drums with H.O.s and some of the Sunday bands; fourth annual, Gizmos aint at Gonerfest, so like michael jackson before he died "I'll be there" (though i also liked Mariah Carey's remake...does this make me lose my new wave cool or am i morphing into a metal Mike Saunders clone? READ VULCHUR! it's out!)"....

ken Kaiser's 115th dream come true; the Nantasket beach resort Hull mass. is SOLD OUT Friday 30 sept 16 (one year after Fable Grazer at Lily pad!) PLUS also Saturday 1 October 16 when you see the Highland/quirk/keegan trifecta play in THREE bands AND MC and watch Ken Kaiser open for himself as Matt Burns headlines! so, being Mr. Cheap's Nantasket, Nantasket Hotel on the Beach DOES have rooms and Saturday 1 October 16, when you get Kenne Highland from noon till headliners, the rates go DOWN!! as it's "end of the season";a Kinks song AND as long as I known Frank Lima (fall '71) did NOT know he knew Jeffrey Hyman the drummer = was asked post-Tommy to audition for the Ramones but Mark Bell of DUST got the job...and to think I was lobbying for him to join O. Rex! as the Gruberger Brothers threw cymbals at each other, Frank and I woulda gone "this is just like the Kinks!". ''course if we had Frank, we wouldn't have got Tommy Bonham whom we replaced with....KEN KAISER!!!! (alpha AND omega of this thought!)"..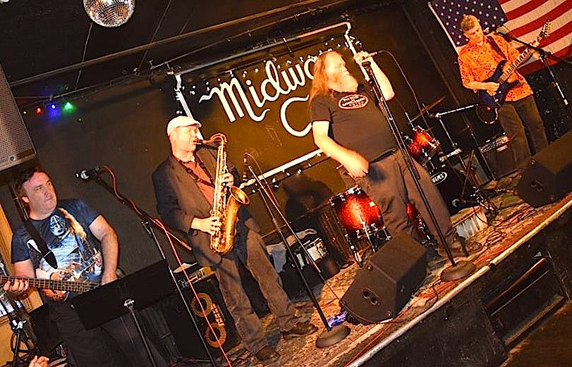 Hopelessly Obscure at the Midway
Photo: Cal Cali

Wednesday, July 13, 2016

"coast to coast FM from 0300 til 0500 had a good'un on and I checked out shows on my I-phone/MC-5 app; all about the Knights Templar! go to the coast to coast facebook page. and how is this rock? I was recording a Pee-cocks 45 with James Mathew Burns of NIGHTLAND produced by JOE HARVARD who rattled off all kindsa facts, all kindsa facts about the Knights Templar, thus reinforcing why he IS Joe Harvard; he's one smart mofo! attention friends and lovers of WJIB: send money to Bob Bittner ONLY so you can hear John Denver's "here's to spiro agnew and all the things he has done" (silence then RECORD skips at end! that snap! crackle! vinyl noise over my lil AM radio at 0600!). I only KNEW of this John Denver song, i know it's the last cut on a pre-"hit" album; THIS should be BGN TRIVIA!!!!!!".....

"let's not forget Gizmos World Tour, there's a , send money...what a month! Gizmos, then Hopelessly obscure in portland the next week, then Rat Beach Party the week after! also there's a hopelessly obscure gig at hotel vernon in worcester; whatever is the saturday after 21 august;poor Ken Kaiser; THAT will be THIRTY NINE years of me onstage!"...

more reasons why Chris Needs, BBC Wales, is bloody brilliant: a Mink Deville song, Kiss "I was made for loving ewe" (sheep, Wales, get it?!?! hey my dad was 1/16 welsh, i kin make th' jokes!) AND elvis's "the wonder of ewe"! (hmm, too much you=ewe!)...now guess the year, playing an eddie grant version of his old equals toon "baby come back"...this IS party music down the pub having the finest wine known to humanity! a Ron Robin for Swansea (wales that is!)".....

Thursday, July 14, 2016

Club Linehan-a-go-go was a marathon Mike QUIRK record collection practice but what sticks out in my mind is: "PSYCHO DAISIES"!!! drummer Kevin Linehan played that Yardbirds b-side on his phone, all 1:45 of it, the Mighty Quinn followed on bass and we basically just JAM on it...friday is a cantab gig, a couple cookouts in august, and Rat Beach Party NOON saturday 1 october who opens up the mishegas but: CLUB LINEHAN A-GO-GO! In between reminisces about Southie (MUCH more exciting than me and Ken Kaiser talkin' 'bout the Gruberger Brothers!), a long, but good practice plus since John Keegan is watchin' the Grateful fucken Dead or some fucken thing, we are A-SAX-ual for cantab gig so i had to improv a solo in E for Stones "citadel"..."E is the way?" E-sexual? E-coli? almost as excitin' as seein' two Rocky Racoons in the backyard this morn!"....

Friday, July 15, 2016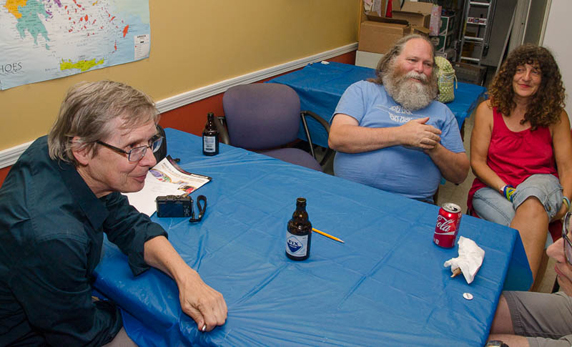 Part of team "Shit for Brains"
Photo: John Keegan
"so when i got to the Greek american social club somerville, for the WMBR Late Risers Club Rock'n'Roll Trivia Party, it was all "popous" sittin' 'round playin' cards; Grecian echoes map on wall, that's WNTN 1510 AM, facebook page, i donate every year. National Geographic with baby animals on the Mean Screen and subtitled in Greek! But the minute the punks came in, out went the popous!
questions were quite difficult Team BGN came in fourth, losing to #3 Ken Kaiser and his team! at least i knew Dee Dee Ramone's real name was Douglas Colvin (born army brat, german mother fort lee virginia, so the childe harold, friday 16 oct 76, ramones, was almost a homecoming! dig the folks born near DC: Dee Dee, ron and scott asheton and me! three of the best bands! ramones/stooges and any band i'm in!). prizes were WMBR clothing, fun tyme, caught 10 pm bus whch "took me back 'ome" (Slade 1972!) and i lissen to danny stiles WRCA 1330 AM playing early Frank Sinatra and Nat King Cole on 78 with surface noise!!! much better than what the fuck is CC Deville's real name: who the fuck cares?!?!??!!?!?!?".....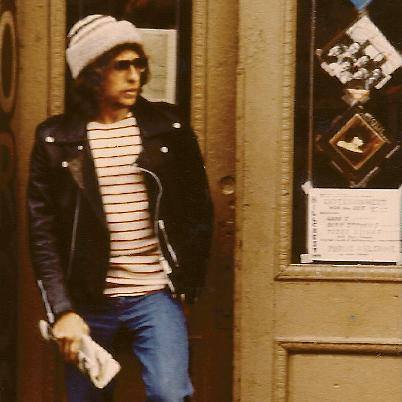 Bob Dylan at the Wax Museum 1978
"here's a gud closer, from my wall; Tiger Balm manager "Geets Romo" had a store in Portland Maine called the Wax Museum and Bob Dylan visited once! ok, cool, Jimmy Page at in your ear, robin amos of the girls was clerk... "Jimmy, I hear you" BUT turns out Geets had copies of Music to Kill By and slickee boys separated vegetables in window! Zimmerman bought a barbarians album...I woulda gone for Moulty also!"....
"MORE breaking news! Iggy accepted my friend request! well, i hope it's him"...