8/12/2019
Monday, August 5, 2019

FRIGGA! 2 August 2019; in eight months "will you still need me/will you still feed me?". Hull, MA!! woke up in my rock star hotel (hey! Dr John on NCIS: New Orleans!) at 1030 pm and 'woke up got out of bed"...no comb 'crost my head! (ok that's two Sgt pepper references; played the dogshit outta it summer '69 which was Woodstock/manson/on the Moon and Hee Haw with my cuzzins! ALL my influences!). At the C Note, Climate Change had my twin J. Bruce Scott on lap steel "we're Scots, we NEVER forget!) and if you ever heard GLENN Campbell play lap steel in the Misunderstood (before Juicy Lucy!), fucken 20 minutes on Yardbirds covers! (it was in an Ugly Thangs issue). With Mike Wheddle's West Coast '60s sound, Matt Gilbert was maybe a wee bit more psychedelic; that is if Eddie van Highland jammed on Quicksilver's "Who Do you love" for 20 minutes (both Virgo guitarists now RIP). I saved the Club Linehan-a-go-go set list, so.....Lady Caroline sang Blondie's "the tide is high" which went "normal" reggae to Bunch of Jerks-type ramones. "I know it's only rocknroll", MJ Quirk has that Keith Richard solo down, solid rhythm section of Joe Quinn-bass and Kevin Linehan-drums. "How do i make you"-a linda Rondstadt 45 i owned in mah south carolina trailer! sung by Caroline, I find adding a Chuck Berry-ish B and a "roadrunner" riff in E equals: the NY Dolls! "circle sky"-Monkees,sung by Kev, I riff on Yardbirds 'what do you want". "Of yesterday"-lady Caroline b-side of Mo Tucker "will you still love me tomorrow" (VArulven!) Since my week in Dee-troit, I been doin' lotsa Amboy Dukes fills. "Born to Be Wild"-j'adour les loup des Steppe! "chevy Van" sung by Kev and I add Southern rock licks, then ASSOCIATION "NEVER MY LOVE" superb harmony by Kev and Caroline, my solo is Lynyrd Gyzmo's "Til Tuesday's Gone". "Tallahassee Lassie" is Flamin' groovies version and "dont pass me by" (Beatles) is Lynyrd Gyzmo's "gimme three steps" solo. Lastly, I sang Stones "empty heart" and (NOT printed!) Joe Quinn sang "honky tonk man" in the middle of chuck berry's "it wasnt me". MC5's "black to comm" had everything but Kitchen sink (which I think was a wierd-ass "burnt out freaks blow your mind" '60s psychedelic dumbass stoned-out looks from crowd band name). Thank you Michael Wheddle, sorry I missed the high school bands earlier ("well, the joint was rockin'".....I saw fucken SLAM DANCIN' to Climate Change!). also (wheddle): "everbody gets $38 apiece!" (ok, scottish joke: Matt Gilbert owed J. Bruce Scott money; he would say "hey Kenne how you doin'?" hoping Bruce would forgive the debt....again, a quote from Clan Scott: "we're Scots, we dinna forget".......FREEDOM!!!!!!!!!!!!!!!!)"...

Tuesday, August 6, 2019

"day of Saturnalia 3 aug 19. Ken and gee Julie drive from Hull to Geezer's Hillbilly ranch for Paddy O' Keys on piano one pm. solo piano, sang a lot of oldies. 2 pm was Bubba loaf, Al hendry also on drums, lotsa stop-start Beefheart rhythms and Sylvia adding some very soulfuil vocals. 245 pm lew Bones, solo acoustic doing neil Young and "i'd love to change the world": "My Head's in '72!" In attendance: Dan MacCormack-Mighty Ions, Alex Piandes-WMFO and AJ Wachtel-the Beat! Uncle Joey Fingers band, piano and bass, highlight was Dylan's 'when i paint my masterpiece" off the band's CAHOOTS (now "my head's in '71!" Just call me GIRTH Hudson!). 515 pm Tokyo Tramps- I paid attention that Satoru uses a pick when he plays Robin Trower-ish, but fingerpicks when he uses slide. 615 pm-Club Linehan-ago-go, Hull was rehearsal for bbq. Special guests were Sarah Billinglsey (who sang well with Lady Caroline) and Cal Cali on "born to be wild" and more and Jon from Butterscott on Monkees "circle Sky"....dang! back in '69 i bought a Steepenwolf album and my sister bought a Monkees 45! A Highland setlist! There were more people onstage than the '77 Gizmos or Human Sexual Response! i was merely Rich Gilbert though I wanted to be Larry Bangor or at least Musty Chiffon.....715 pm Bayou Boy Orchestra and that was loads of fun, dancing cajun music....Geezer threatening to do another garage Night in Quincy come September! Stay tooned!".....

Wednesday, August 7, 2019

Til Tuesday 6 Aug 19. I played the Lily pad 30 Sept 15 with Grex and Fable Grazer! Grex are California band but through facebook have kept in touch. Karl Alfonso Defensor Evangelista had been messsaging me about this Til Tuesday at O'Briens so onct I got out of work late, Gee Julie and I went. Opening was Brown lasers. Wicked lou all-instrumental trio, so if you longed for the Volcano Suns sans vocals, you'd love this! As for me: Blue Cheer meets Mission of Burma sans vocals! Guitar and bass do some intricate loud complex chords, but perhaps "man of the match" is the Ginger drummer whom made me hallucinate that i WAS seeing Ginger baker! Yeah, he was THAT good. Gee Julie became a Grex fan; to their facebook page "far out sounds, subject matter and virtuosity from avant-garden duo, Grex at O'Brien's tonight. I cant wait to hear their cd, "TAGLISH" which is partially about growing up Filipino in the USA". Did she usedta write for the UMass Colegiate? But I'll pretend I'm 19 and WIUS tipsheet, IU,Bloomington Indiana. From the first NOTE karl kept doing some awesome John Maclaughlin riffin' and Margaret Rei Scampavia Evangelista has sultry vocals whilst hitting Bitches Brew electric keyboard licks and drumming on electric drum. That's "oakland California "art-rock" band Grex". Again to me I heard Bitches Brew and Mahavishnu Orchestra musically. Karl did an unrecorded song about the political situation in Phillipines which "could get me killed over there". Fucken excellent! Dictatorships usually try to "off' the creative folks or "free thinkers", but i shant get into world history or Gizstory on this; karl IS a stone-cold Gizmos fan! So Margaret had a merch deal: cd and t-shirt $20. ALWAYS glad to help out touring musicians! So Gee Julie chose the TAGLISH cd; Margaret explains "it's like Spanglish" and i first heard tagalog when i was station at Camp Pendelton (like LEE HARVEY OSWALD!) before i saw the Ramones from marines whom had "liberty" in manila et al. Hope to catch next Boston tour date and Soaked in Strange (headliners) get a shoutout; nice guys but work loomed it's head".....

Thursday, August 8, 2019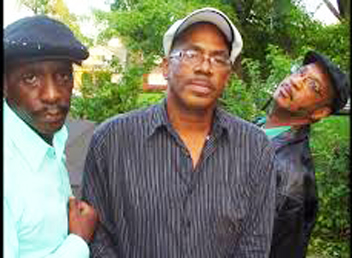 on the day of Wodin, the Norse God slept late. Since they opened for Gizmos in hamtrammack, I been researching Ultimate Ovation. These bruthas I met backstage at Out Limits Stroh's fest. "Hello baby" b/w "Chameleon Man" by Ultimate Ovation on Aquarius Record Corp. label. (this info from Discogs which Alex Gitlin of mad painter tells me I'm on). 'The Aquarius label operated out of the Highland Park district of Michigan'....north of Motown museum which is in NW Goldberg. In 1935 and 1940 my granddaddy mcBee and his brother harold Darling McBee ("dark complexion, black hair, brown eyes" just like Dad!) lived about five blocks or so from Motown museum. North of there is Virginia park,where two brothers and a cousin formed Ultimate Ovation right before the 1967 riots (my dad was dead and his folks lived at 12708 hartwell NW Detroit, now a vacant lot). wiki detroit.org talks about the "highly coolectible....."soul-stomper "chameleon man""....EBay sold this 45 for $35.76. Soul Source.uk (this is for Jimmy Boticelli and HIS vintage soul 45 show WMFO Friday 900-1100. ) has a lot of chatter about the Aquarius label (some folks feel same way about Gulcher!) and I love British soul collectors "for all you soul nutters out there"...clevescene.com: "the single's bottom deck, the fuzz-funk classic "Hello baby" is the latest Aquarius side to be picked up by RABID djs"....Imagine if O. Rex had released "Feel my Love" back in '74".......
Friday, August 9, 2019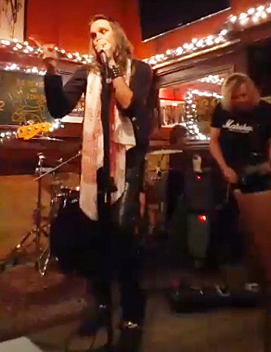 Thigh Scrapers at Plough

" "tHOR'S dAY! 8 august 19. plough and stars Mass Ave. the supper set 6pm-8 pm was a splendid bluegrass trio whom did the DEAD"S "Friend of the devil" and Hank Sr. "Ramblin Man". 930 pm or so was Thighscrapers; Simone Berk from Kid Gulliver in audience! "Scrapers" did a splendid glam/punk/Dolls/Stones set but here is a new tail! (ONO!) Guitarist J. Christopher James mentioned Mike Collins of Thrills (and Merle Allin's mother had just died this day, lotsa family photos on his page). Seems J. Christopher replaced Rafe Mabry in the Blackjacks in the '90s. J. Angel Wendell "show me your two best Johnny Thunders licks"...."stop! you're in!"; the "kid" is a good guitarist! Me; "I just came from work"; J. Christopher "I just came from Rhode island'....that IS hardcore! Glider performed their new record, Ohan Heghenian did a superb job separating the "spaghetti" that was mike cables. That Ramones-y "record" only took a half hour so we played til midnight doin' cool covers like "tired of waitin'","96 Tears","time wont let me",velvets's "what goes on" (not an AM hit but still fun of course!) Cal Cali rounded up the troops with two day notice, due to a cancellation. cant forget WMFO dj Brian Young dressed like NY Dolls in '73 meets Stones '69 American tour fashion singing "Dead Flowers"! Just to make this a Glider-centric paragraph: THIS wednesday Aug 14 is SCAT tv, Glider on heavy Leather Topless and Thor's day next, Glider at Jungle! And that Glider roller coaster is NOT slowing down!"