9/16/2019
Monday, September 9, 2019
day of THOR! 5 sept 19. Halloween at Jasper's, I mean, Thunder Road Cal Cali doing "tribute bands" that actually jasper's woulda dug! So I'm doing Cal's Dylan tribute (he's on wig and harmonica!) and rhythm section is me and Clark from The Dark! YES! Ken Kaiser and I did a gig with the Dark at Cantone's Nov '80! Yes! Claudia Perry is on facebook. Great "olde-tyme chat" but what a fucken rhythm section! Clark plays at the tempo of "Maggie's farm" live at Newport with Pete Seeger ready to "roll over and Hit 'em wid da axe"! Meaning Jerome Arnold (brother of "I wish you would" Billy Boy Arnold!) and Sam Lay! Kooper/Bloomfield would be Captain Easychord (and Dylan DOES have some easy Chords!) and Schmel Herbie Hind! From the first note of "like a rollin' stone" (considering i'd never played with Clark Dark YET) I knew it "was da fockin ballz" (schmel herbie hind phrase as he drives backwards past Groupie Towers II! "pizza delivery move"!) but what was REALLY "da fockin' ballz" was "Tombstone Blues" played at same tempo as Mouse and the traps "made of sugar made of spice". If you DONT catch this "punk-Dylan" tribute there WILL be "A Public Execution"!"......
Tuesday, September 10, 2019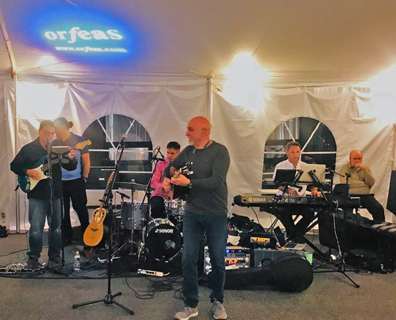 freitag 6 Sept 19. greekfest at Dormition of the Virgin mary greek Ortodox church, 29 central street, somerville mass. Get off the bus at Once, have betsy badges ask if youre going to neil hamburger (fuck that shit! pepsi! pepsi!) and walk down the hill. "the joint was jumpin'/goin' 'roud and 'round"....long food lines but for $20 LAMB SHANK plate and the bones looked like Fred Flinstone had been a Neanderthal Garbage Disposal. A beer named Opa Opa and a "well-juiced" crowd dancing to Orfeas band. they're on youtube and like them on facebook! youtube footage of their last weeks gig in Lynn REALLY had a packed floor; great band! gee Julie thought the singer was fantastic, some old popous demonstrated the old dances; one popou had a shirt "100% Greek". Micelf, I go for (Ida May) THE FOOD and watching the bouzouki player. Hadnt made it to this parish yet but GreekBoston.com has "gig listings', so.....if you ever get tired of the clubs and want fresh air and live music.....or if you'd rather stay inside stoned and listen to Quicksilver's "Fresh Air'.....as my distant cuzzin Linda Garreau Highland always said "I like options" she also liked buffets, which maybe killed her, though her last post on facebook was pro-bernie, so I'm still angling for a right-wing Junta D'Amour!)"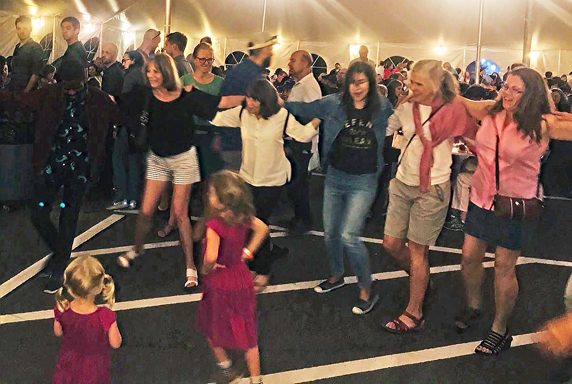 Greekfest Dancing

Wednesday, September 11, 2019 saturday 7 sept 19. Boylston schul-verein (like them on facebook!) Oktoberfest. gee Julie and i had been there before but I'd done some gene genie-alogical research on where her great-great grandparents wuz from; there was a map where i also took a language quiz (Goethe Institute) and Absolute Beginner ("why are you always the rock star and I'm always the roadie?") i won a children's book (hardcover!) on Kat und maus. For $10.00 picked up a bag with German flag from Podhale Deli (like them on facebook!) in Stoughton; polish deli ala Salem.....there were about five merch tables but I discipline micelf to ONE item! Bavarian folk music under tent with bell ringing and two guys in lederhosen; since my great-great grandmother Mcbee was a Youst, I've traded in MY kilt for leiderhosen! Gee Julie and i had sausage plate/spatzel plate and some kinda dessert....I'm in fucken WALPOLE but cheaper'n Bronwyn in Union Square, Somerville! There's a lot of events coming up, but no Viking reenactors (so authentic they ripped a door off!) In the woods so like my great-great-great-great John Youst von bavaria (near Austria!). they had guns/bows and arrows/cigars and big steins of beer! A lotta manly men and even cigar smokin wimmen! I been tryin' to tell Gee Julie "why travel to Europe when all these festivals DONT need a passport!" No pat down either....looking forward to attending another event there when not gigging!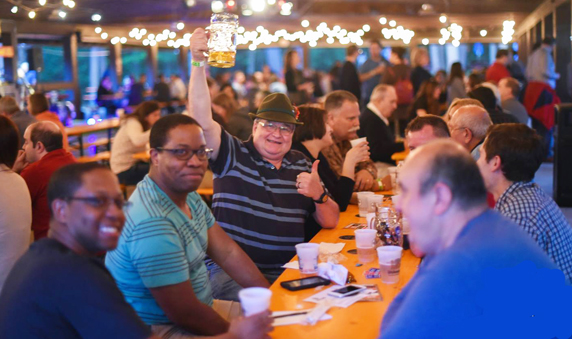 Oktoberfest drinkers

Thursday, September 12, 2019

Sonntag 8 Sept 19 1100, coolidge corner thee-ate-er. Balloon: Goethe German Film Series. Gee Julie found this very gripping and I didnt fall asleep! Youtube has trailers and clippings; wikipedia: East German balloon escape (known as: Der Ballon!). "0200 16 sept 79....two families....escape communist east germany crossing border to west germany in a homemade hot air balloon". wikipedia also has a list of other ways folks escaped over Berlin wall, my favourite being walking a tightrope into west Berlin! I'll tell a few jokes that only Pierre le Coutre and Alex Gitlin will "get"; There's a Stasi neighbour unaware that his electrician neighbour wants to defect; "can you fix my television so I can watch Charlie's Angels from the west'....then he invites neighbour over for Charlie's Angels! Frank Rowe once told me: "If the Classic Ruins dont want to practice it's "fuck you I'm watching Charlie's Angels!" maybe farrah Fawcett was a double agent...Since the Korps is of Bavarian descent, the balloon lands...."are we in the West?" "no you're in Bavaria"....titters of laughter from German ex-pats! (I am six generations and four hours south, closer to Austria where my revolutionary War ancestor john Youst ist von; pipes and drums playing "Amerika,First!"). Another bit of Flensburg humour: why did the Thurigians want to to defect? answer: Rough Trade only had the Korps lp in WEST Berlin, comrade!" har de har har, drink another Claustenhaler!".....

Friday, September 13, 2019

Sonntag 8 sept 19. mad painter had Schmel Herbie Hind on guitar jamming on the mad Painter album on youtube. The theme from "Umbrellas of Cherborg" was played by Alex Gitlin, also a Michel Le grande fan but I want to do it really bombastic like first Vanilla Fudge album or maybe deep Purple's "and the address". Also jammed on was "Mamy Blue"....ok, so in the States, I knew Stories version; growing up in the USSR (he dont know lucky he is, boy!) Alex Gitlin liked the Spanish version (The Pop Tops) and also Deutschland's james last (Pierre le Coutre, mein freund von Flensburg, Deutschland mentioned another rare version, I think).....as an aside Flynn Young was in a leg brace due to falling onstage dancing at heroes (no kick drum for that lad THAT day) and now, to close out the week, my Stories story....my 1973 Brockport NY fanzine got a submission from Andy Schwartz (from Rock On to NY Rocker....why was he wasting his tyme on stoner redneck high school kids?) about hearing guitarist and drummer from Stories doing a Cream/hendrix trio in his neighbourhood. Let's say 1987-8-9, Green Street Condos, Quimby magazine benefit, 1-4-5 go on after unplugged Kenne. August '73, last tyme I saw Dad's mother alive in Detroit (12708 hartwell!), "Brother Louie" was all over the car radio in a white '67 Chevy ("look what I picked up in the riots" quipped Ma; my sense of humour and DNA AND cuzzin!). So 145's drummer "hi, I'm Brian Madey"....I was verklemp! This dude was a fuggin' rock star! opening for me? Opening with Slade's "do we still do it"? (Stories outsold Slade like, a lot!) He was drinkin' a shot of somethin' and talkin' 'bout the irish curse....nice guy! To END this borin' ass tail (my long winded tail c/o my grandaddy McBee's Appalachian heritage!) I'm at Club Bohemia kinda 2012. Ian Lloyd, singer of "Brother Louie" and "Mammy Blue" sittin' at a Kirkland table....looks over to me: "how's the sound" (of the p.a.).....THUS he WAS the rock star and I WAS the roadie....or least soundman! and seein' him sing "Brother Louie" and probably "mamy Blue"......holy George Noory! last tyme Mad painter played cantab, we covered "Mamy Blue" and had the GLiDER boys singin' along! maybe I stood in same spot as ian LLoyd....even better than playing Sir Morgan's Cove, Worcester and "Keef stood here"!!!!!"...........