9/25/2023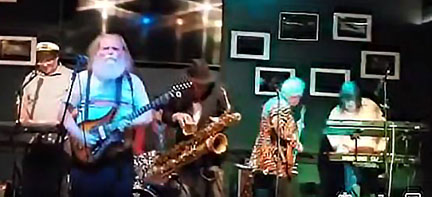 Kenne H Airforce at The Square Root
Monday, September 18, 2023
freitag ides of september 2023. captain easychord presents; Alex Gitlin's 53rd and third birthday party Square Root. Larry newman opened with some excellent roots-rock originals with Shel Pierce of the Runes blowing some excellent harp! Captain easychord's brit-op is So goddam catchy that gee Julie and i were GLADLY dancin' to "My Blind Shrink".
| | |
| --- | --- |
| Larry Newman | Shel Pierce |
Mad painter was stoppin' on a dime with the Heep Purple keyboards of birthday boy Alex Gitlin; "lookin' at you' was members of the Runes/the lines and Stormbringer!
lastly, Gee Julie did some videos of kenne Highland's Air force (check it out here!!)and, as usual, i sang like iggy channeling Jim dandy magrum at a baptist revival, John Keegan blowing Funhouse-style sax, double keyboards of captain easychord and alex gitlin, larry newman/Al hendry. ALSO cant forget (Sharon) needlez and (Julie) Pinz singin' with mad painter and shakin' those tambourines like a gospel revival during mad painter set.
Small group, but ALL in Square Root loved it; I'd rather play in front of 13 people that GET it instead of a buncha bon vivants ANY modda-fockin day of the week. If you missed it, that is YOUR problem; I'm "part of the solutuion!" james kicked out, mofos!"....
Tuesday, September 19, 2023
Sonntag 17 sept 2023. Jungle five pm: Leon Rich! solo acoustic but wanting to add a drummer wid brushes ala J. Richman and D. Sharp. Leon's lyrics are as bizarre as John Richman wid da acid-dazed Syd barrett. Leon posed like Alfred hitchcock and also covered Byrds/Dylan "my back pages" and Beatles "she loves you'.
| | |
| --- | --- |
| Lon Rich on stage | Rich as Hitchcock |
Followed by Renegade Cartel whom I enoyed. there was a grunge influence that delved back to the 1971 hard rock of Dust and cactus. This power trio did a blues/ballad about deceased grunge heroes that echoed Grand Funk's "Heartbreaker" with bassist singing somwhere between Mark Farner and geddy Lee from Rush (good high range!). Drummer had his Zildjian symbols pointed down in a most metal way and guitarist had ZoFo stencilled on his amp. You can "like" Renegade Cartel on facebook, "loud in your face ROCK!"...the kind I like since i Am loud and in yer face, iggy-style"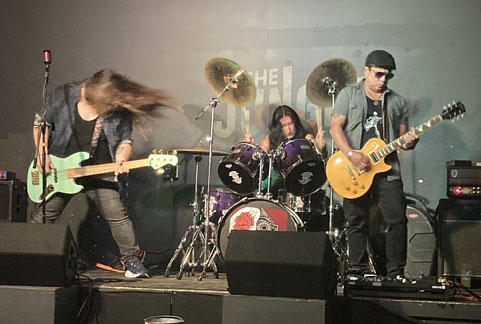 Renegade Cartel
Wednesday, September 20, 2023
Monntag "3 AM or nearer" Coast to Coast AM WRKO 680 AM. Byrds "Mr Spaceman" in MONO! Yes, David Crosby is my great-grandmother Highland's distant cuzzin, but more important off, I DO remember recording a cover of this Lowell street Studios with Tom Hamilton whom did my "Fiasco" album on stanton park (PO Box 58, Newtonville,mass) and Lt Larry Newman USMC whom had played Bookie's in detroit with Hoi Polloi wednesday 10 sept 80, the night after I played with BIG WORLD at the Underground Til Tuesday 9 sept 80...Larry had to drive Willie Loco home (he also on this session), so I and I overdubbed bass on the Kenne Highland Air Force cover of the Byrds "Mr Spaceman"....MUST be a slow newz day if I'm tellin' this tail!".....
Thursday, September 21, 2023
til dienstag 19 sept 2023. 0656. if six was nine. wmbr. rik 'biskit' roth. he played THE Hopelesly Obscure version of Chris Hillman's "thoughts and words' off the STEREO byrds album Younger than YESTERDAY. I LOVED THE beatlesque middle eight of the tune AND I own a MONO Younger than yesterday bought at Somerville Grooves during lockdown. DO shoppe at Green Street Grooves, melrose, only a mile from John Keegan! (see, grooves ALWAYS has a store near BGN staff!"....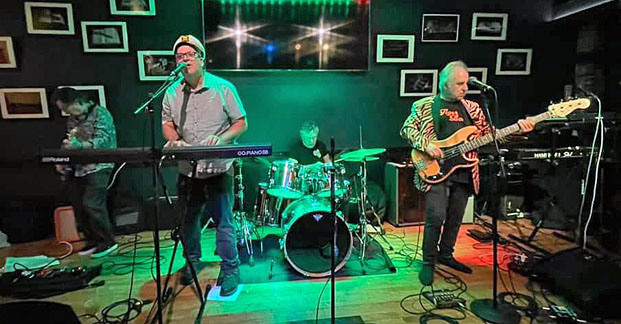 Easychord at The Square Root
Friday, September 22, 2023
Dienstag 19 Sept 2023. WMBR. 7-8 pm. Near and Far. "your home for japanese hip-hop and more". playlist and past show are archived; Some pretty intersting stuff! Checj it out!"....
Saturday, September 23, 2023
when's your next gig muthafuka?"-Saint Justina Covault.
saturday 30 sept 23; kenne highland air force wookiestock.
sunday 9 oct 23. mad painter at Jungle.
anklin dan tour! kenne highland air force - thursday 26 october 23- erie, pa. Chelsea Curve already warmed up the stage. friday-27 oct 23, syracasue ny. saturday 28 oct 23 back again parkside lounge, lower east side NYC!
There's more; remember: you DEMAND rock, I'll supply it! 'Til then, back to Mountaineer football, WAJR 740 AM, Morgantown WV coz college football IZ da ballz!"....