10/9/2023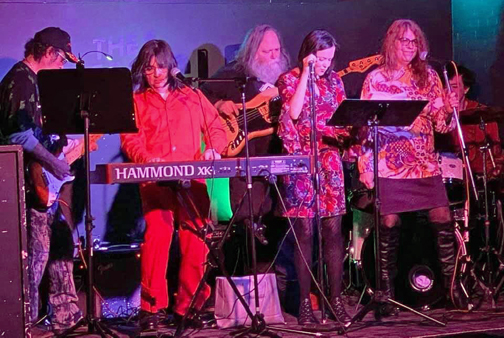 Mad Painter
Tuesday, October 3, 2023
"Sonntag 1 October 2023. mad painter recording with Tom Hamilton, whom engineered that orange Kenne record on Stanton Park. Alex Gitlin-keys, me-bass, Al Hendry-drums; Gee Julie and Sharon Crumrine add vocals at another session along wid Schmel herbie Hind-guitar. "An e.p.'s worth of toons; "Debt Collector"- slow and bloozy; "Nektarized" has a "white rabbit" bass line by me, then goes into Squeeze's "Cool for cats" (says Tom hamilton; I know naught of said 1979 song; too current!); "Suit of worries" iz a kissin' cuzzin' of Deep Purple"s "Lazy" and "Ventilator' is Stones Exiled on Lowell Street. great session all for NEXT mad painter album!"....
| | |
| --- | --- |
| Tom H and Alex G | Al Hendry in studio |
Wednesday, October 4, 2023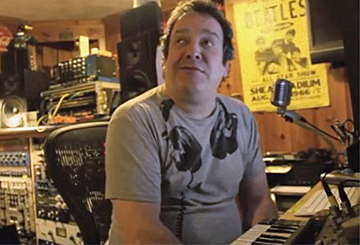 Ducky Carlisle

day of Wodin, 3 October 2023. Maybe it was Til tuesday, schmel herbie hind told me of the demise of Ducky Carlisle. Ducky is on discogs, first record Syracuse NY's The Ohms from 1979, i was guardin' the country in Charleston SC drinkin' 3.2 beer and jammin' on Southern Rock. Ducky did engineer my Gemini on a Full Moon cd, buy it on Dino; my last recorded drunken vocals! 1998 maybe. I was married to Taylor Swift's cuzzin Trailer Swift. I saw him play with 145 Pop Overthrow at P.A.'s Lounge 2017 maybe and 2019 recorded a GLiDER cd with Schmel, of course. I played with dog Ronson and sat on a couch Nora Jones had slept on (it's in BGN!) but, as fitting tribute to greeat man, I was hittin treble strings playing lead bass on "For You" maybe and Ducky says "ok, that's good but play it with more sac"; played bass notes like it was a Motown record, it was a take and then Covid hit! RIP Ducky!

Thursday, October 5, 2023

day of Wodin 4 oct 2023. gee julie was at DJ's Polish market in Dorchester. behind the counter serving "The kilebasa" was Jordan Hislop and as Gee sez "he's in a band!" Dwelley also them on YouTube: went to Jordan's facebook page; interesting chap. Has played O'brien's/great scott/charlie's kitchen, music is "indie" but his "other" persona is the Polish deli AND he HAS put on shows at the Polish club in Dorchester! What a CAPITAL idea, old chap; i know the hall! ok, that was MY excitement on Hump day; "Do the Hump" by the Invicatas!"...

Friday, October 6, 2023

day of Thor 5 October 2023. 947 PM. In my slumber, NonStop Ecstatic Screaming, WMBR was playing Miles Davis. Checked the ole trackkblaster and it was "Moja (part two) " off Dark magus: Live at carnegie Hall. " wikipedia says said album recorded saturday 30 march 74. "well,I was Just 17/and I know what I mean", coz 2 april, I played "18" 18 tymes, 8452 Ridge Road and saturday 6 april 74 had met Adny Shernoff at the Coventry in Queens and heard "back to afrika" plus Richard Blum sang "Wild Thing". To do a final quote, from the BGN's own John Keegan "I LOVE electric miles!" (as do i having bought Bitches Brew in Brockport NY 4 July 70"....

Satuday, October7, 2023

"saturday 7 october 2023. As my distant cuzzin Justine Covault asked "when's your next gig modda focka?"

monday, John Lennon birthday Mad painter at Jungle 630 pm and

Anklin Dan just called me: Syracuse 27 oct 2023 and parkside lounge lower east side saturday 28 oct 2023.

And I'm SURE there shall be more, as Saint Justina blesses us with gigs"...