10/16/2023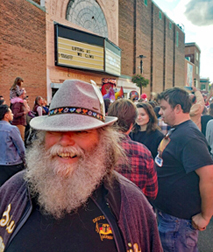 Kenne @ OktoberFest
Tuesday, October 10, 2023
"Freitag 6 October 2023. mad Painter practice sans Gee Julie, who be illin' while I chillin' wid Alex Gitlin, Schmel Herbie Hind, Al Hendry AND, fresh from playing Honk: Sharon Crumrine. By the loo of the upstairs of the regent Thee-ate-er, I heard the Cowsills, whom were da ballz singin' Hollies "Bus Stop" (dose harmonies!) and Susan Cowsill on "To Sir wid Love"....Saint Justina WILL forgive me for not attending her tribute thang! Sharon Crumrine DID admit to her Partridge Family fandom and "I wanted to be Susan Dey". Deep People Fact from Mr. Crepe: My great-grandmother Highland and Susan Dey BOTH descend from Bigod Eggleston, buried in Palisado cemen-Terry in Connecticut where both Laura Soul Cake Sativa hails from AND my great-great-grandmother Highland's Eno ancestor is buried! I AM overdue for another visit to Hartford, a town founded by mine and GG Allin's ancestors! (Justine Coalt too! and THAT is Abrahan Covault's original Glastonbury Ct. spelling!)"......
Wednesday, October 11, 2023
Montag October 9 Ken and Gee Julie went to a crowded Harvard Square OktoberFest! and we ran into Sharon Crumline and a couple of her friends coming from Honk!
got a call from Anklin Dan how the Erie Pa. show was cancelled but "I'm gonna be on Crash Course for the Thighscrapers". Heard Muck and Mires unplugged (Mr. Muck singin' like Ken kaiser on hello World available from Gulcher Records!) and Anklin mentioned the Syracuse and Lower east Side gigs with 145 (they use "to be The Most!) and Kenne Highland's Air Force (Brian Young DID chime in "of the Gizmos!" and we almost do have an octet like da Moddas of Invention)...Brian played other great music to: TOON in! (or watch TOONs on MeTV; "boop Boop Be Doop" ....
| | |
| --- | --- |
| Sharon & friends | Kenne & Gee Julie |
Thursday, October 12, 2023
Monntag 9 Oct 2023. Mad Painter 630 pm set at Jungle. I go "Mad Painter in da house" and Astro (bar/sound) was PSYCHED! "I walked in and you were wearing the orange Moses robe...did you have the hat?" Mad painter got a GREAT reaction from the other two bands, full sextet of me and Al hendry rhythm section; Schmel herbie Hind and I lockin' in like '60s Jorma and jack, Alex Gitlin LORD (Jon) of da keyboards and Needlez (Sharon Crumrine) and Pinz (Gee Julie) on angelic vocals. Floricane followed and Gee Julie said "sounds like a darker Amanda palmer" (Julie's mother DOES have Dresden ancestry and i'm her KEN DOLL). "Fiction inspired post hardcore" says their bandcamp thang. Voided Shape closed the night "cream-o hardcore", "some Mission of Burma guitar", "slam dancin' too"...an O'brien's bill, but they loved mad painter. Voided Shape bassist let me use his rig (drummer borrowed Al hendry kit) and for soundcheck I riffed on "if you want me to stay". "How's it sound" ask Voided Shape. Me; "I sound like Larry Graham' (and I;m a Cracker!). A fun night but age 67 I was one tired Alta kaka! lastly, wade's BBQ be openin' up acrost the way, so I got me a new eatin' place!".....
| | |
| --- | --- |
| Floricane | Voided Shape |
Friday, October 13, 2023
Earlier this week Emily Grogan of Inky Spoon had posted about RIP of Mark Davis, soundman and Ducky Carlisle of 145. Monntag Artie "Button" Freedman had showed up at mad Painter at the Jungle and asked "have you heard about Mark Davis". So I guess it's true and let's start with the Alpha; Til Tuesday 9 Sept 80 Ken kaiser and I played with BIG WORLD at the Underground, sound by Michael Whittaker (RIP). End of night, wasted, mark was offering us a gig at Uncle Sam's in nantasket. I always busted his ballz throughout the years: "where's my gig at nantasket?". Michael Wheddle (RIP) DID get me many gigs where my dad's Mary and John ancestors landed in 1630. HAS Mark gone to rocknroll heaven? Hell YEAH! According to the Gospel of Saint Mach, for all the sound he did for Mitch Cerulli, at the door to Heaven's Gate musta been happy to let him in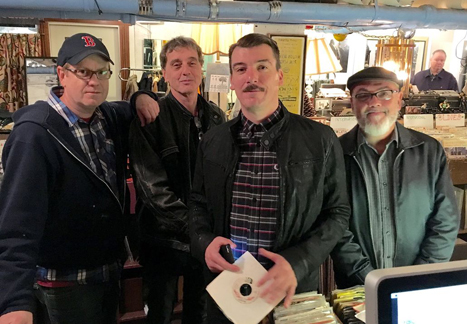 Eric Law, Mark Davis, Mark Francis and Brother Cleve - photo by Wayne Viens
Saturday, October 14, 2023
as my tenth cuzzin once removed Justine Covault (RIP) DID ask: "when's your next gig moddafocka?"
And THAT is through Skanklin Anklin Dan! ("Skanklin/with Dan Anklin/ you know we like Anklin too, mon")...Kenne Highland's Air Force - Friday 27 Oct 2023 in Syracuse and Saturday 28 Oct 2023 Parkside Lounge, Lower east side, New Netherlands.
Mad Painter has a Lowell gig about December; no gigs in November! On the 11th month, I rested! Lastly, Sharon Crumrine of Ginger Ibex/Mad painter/Honk giving adult piano lessons, so suport her, support local music, support all the arts, yeah,yeah,yeah".....