10/24/2016
Monday, October 24, 2016
IDA MAY: PERSONAL postcard from BOB BITTNER thanking me for donating to WJIB (they STILL need money! like them on facebook!) and reminisced about WADD Brockport, NY.
Friday 21 October 16, raining like hell in Worcester, eatin' a Ralph's burger in a very dark room. Thought the show would be canceled but the Boston boys made it, so a review: Hopelessly Obscure did afrika korps "make her know"; kid that sang lead in If We Go At All givin' me tribute on basically being MISTER DYNAMITE! (hey, Bob Both produced both Kenne Highland AND James Brown!) this REAL kid was as old as Hello World....since there was nowhere to go BUT up from O. Rex forty years ago, you KNOW I did a good set and have a good band so let me tell you 'bout Him (John Funke) and the Others....Ten Dollar Mistake is WMBR dj John Funke and Henry III on drums (he drummed on me as Roky in Triple Thick practices). Funke has a red fender mustang like I recorded the O.Rex maxi-45 with and posed with in Rock Scene (Malpractice on adjoining page; those Granite State rockers had an Allin brothers rhythm section!). John's tone is like a 1976 Rockabilly Yobs Ken Highland channeling Tony Joe White and Lou Reed and '60s garage and Henry drums like Ken Highland and Miriam Linna's lovechild...in fact, thinking back now as Monday evening quarterback, pick up that Rockabilly Yobs record on that Italian label and you hear a kindred spirit; DO see these guys! (why: they sound like me 40 years ago!). sounding like me THIRTY NINE years ago is the Afrika Korps-ish Glider; Cal and Al from Jetset (Jordan and half-transplants and Jetset at johnny d's allston February '85, same month V-66 went on the air and UNLIKE Lizzy Borden and Axes, NO hairspray in either band!). Yukiko from Tokyo Tramps is their Martha Hull, singing "heart full of soul" (afrika korps live at cantones 21 aug 77, Gulcher cd) AND "venus", which was Shockingly...awesome! (I was NOT shockingly blue, hearing it; quite happy actually!). Lastly, If We Go at all had their faces painted white like Hello People but music was 1981 UK psych cf. echo and bunnymen/cure/smiths, british sound, with haircuts that Miss Lyn WOULD like! They even had some kinda '80s synth but Ken Kaiser had them ALL beat in his 'fluffy do-dah" haircut and casio, Hopelessly Obscure '83"....
"also let me add, GENESEE BEER in cans at Ralph's! Ken Kaiser drinkin' genesee; Bob Both produced Hello World, we drank Genesee...but I don't think James Brown drank Genesee recording BLACK CEASAR
Tuesday, October 25, 2016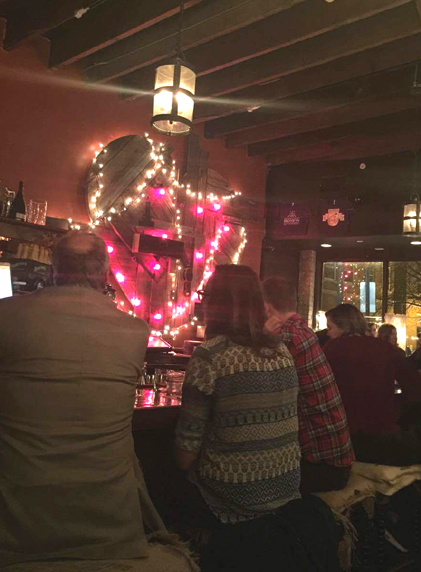 Inside Bronwyn
"Boston Foodie News, saturday, 22 oct 16, Ken/Gee Julie/Miss Lyn go to Bronwyn in union square, somerville, german and eastern European food. My quote: "a hipster version of Jacob Wirth"; same Kraut food, but cheaper, "mystery beer' is Hopelessly Obscure Polish brands. Like the Faces, "we all had a real good tyme".
| | |
| --- | --- |
| | |
sunday 23 oct 16, 435 pm, my "movie roulette" at the kendall (cheap passes from work and me: "what's the next movie playing". HELL OR HIGH WATER. Wikipedia has the plot but it DOES have antecedents; Jeff Bridges as an aging Texas ranger =John Wayne, True Grit; two brothers robbing from bank foreclosing on their land = Robin Hood and one good brother, one bad....how about Cain and Abel? a lot of colourful west texas phrases like "ah gotta shit like an ole goat" and others I heard whilst stationed down south as a young marine; lots of bullet holes in vehicles a la Bonnie and Clyde as Texans do their 'open carry" thing; even if you're NOT a gun nut, some sumbitch try to rob me I'd be GLAD somebody shot back! But nary a penny will ye find wi' this poor Hee-lander....lastly, a GREAT cowboy Gothic soundtrack and credits read: NICK CAVE!! so imagine his Tupelo album made into a film...it's dark, tragic, "broke folk" etc. and I aint kenplaining about my "eight dollar surprise"! (some movies HAVE been a Ten Dollar Mistake!"......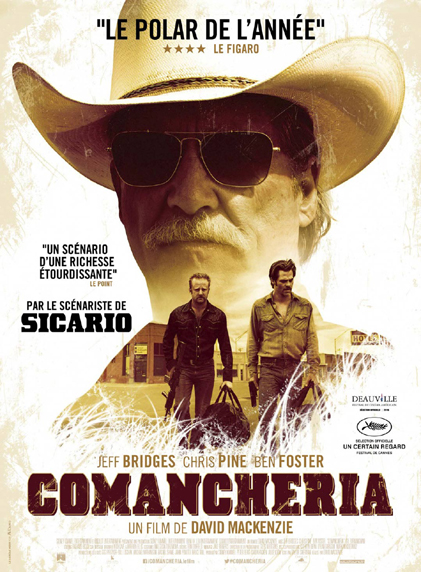 Thursday, October 27, 2016

caught an episode of criminal minds on ION right up my alley...guy in sky Saxon's Utah was ritually killing folks and Matthew Gray Gubler, tall, skinny, blonde genius figured it out coz there was the Stoughton coat of arms on the victims. the Penelope Garcia nerd in her outlandish mod clothing sent him ALL William Stoughton descendants via email....William Stoughton was THE head Salem Witch trial dude and had a town named after him. The nerd doctor found ONE descendant who didn't match (had gotten adopted) and wacko librarian nerd thought he WAS Judge Stoughton, condemning Utans for "sins"...I thought this was an excellent episode and glad my dad descends from convicted felons and is cousin to vampires....Ma was the Puritan or as she always said "the Blodgetts were probably supplying the wood" (my Blodgett ancestor actually a Woburn, Mass. selectman then). and let's NOT forget Miss Lyn's grandmother, descendant of the Thorndikes that founded Ipswich and had an uncle in John Proctor (all Wikipedia) of whom the Crucible is based. and happy All Hallow's Eve!"......

Friday, October 28, 2016

"again, no gigs til 22 December Neon Night, so this is a gud reason to hibernate and play Gee Julie's Epiphone acoustic. Jay Allen does HIS MESSAROUND but this was Ken Highland's Mess Around; Beatles "yes it is" b-side sped up to where it sounds like "all kindsa gurls"; I went online on learnt "waterloo sunset" finally and lastly, yes, Bobby Vee, RIP, figgered out the chorus of "take good care of my baby" and "rubber ball"; they're both "blitzkrieg bop" and/or "I wanna be your boyfriend" in G, so until Ken Kaiser scoops Cal Cali and Glider on these brilliant same-vein-as "my girl" rearrangements; like Ray Charles, keep on "doin' the Mess around"!"...