11/6/2023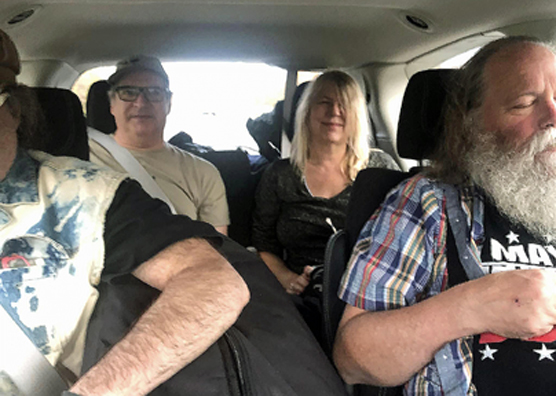 Road Trip!!!
Monday, October 30, 2023
day of Thor 26 October 2023. Gizmo's World Tour with Kenne Highland's Air Force commenced takin' the New York through all the way to Rochester NY. I had us drivin' east into Webster NY and I told Schmel herbie Hind "Wendy O. Williams ghost is calling us!" Though we finally made it to my sister's 1851 land. She had cooked up some supper and in attendance was Ken/Tom/Julie Highland plus Gee Julie Highland/Lt larry Newman USMC/ schmel herbie hind/captain easychord/al hendry plus my sister's husband John Pruss and son. got lotsa photos but highlight was my brother Tom talkin' 'bout HIS experiences with Crytids to which Schmel asked if he listened to Coast to Coast Am and he DOES! must be in the DNA...Julie Highland said "come back anytime" which equals "y'all come back now" which equals Beverly Hillbillies though Julie likes Petticoat Junction more! And then we left Hooterville for Greece NY where LYDIA LUNCH had lived when I was in high school"..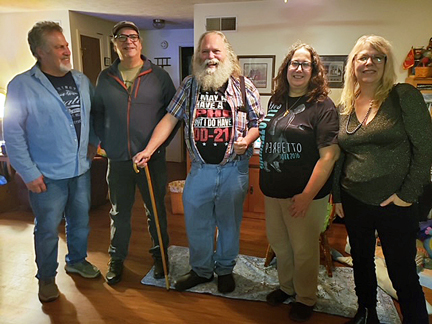 Tom, Tom, Kenne, Julie, Julie



Highland sibs- Tom, Kenne, Julie





USMC Alums Julie's husband John. Kenne,
Larry, Julie Highland Pruss
Tuesday, October 31, 2023
"Frigga's Day; Lt Larry Newman and Gee Julie accompanied the Highland Clan to a rehab in Brockport NY where my mother Helen was. Larry noted Ma's sense of humour (G-rated version of me) and she sang "dont get around much any more"(inherited her love of books and music too). Then "we got our act together, takin' this show on the road" (Captain easychord toon) to the Lost Horizon Syracuse NY.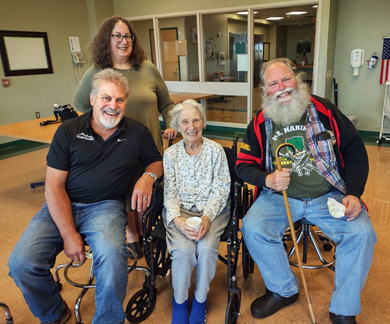 Tom, Julie, Helen, Kenne
At the gig I was told Kenne Highland's Air Force sounded like 13th Floor Elevators/NY Dolls/Doors/"it was garage but you left the garage door open" ("who is Iggy Pop"?) and a fellow who had the Gizmos 12 inch on Hate (Italy) said I reminded him of old Syracuse punk, the Penetrators (formed in 1976 and sounded like we BOTH listened to Raw Power). Preacher followed, ending with Zimmerman's "Absoutely sweet Marie" done Patt Todd/Bottlerockets "cow-punk" style. The Gripweeds was like Bowie's PinUps on steroids! a Who medley/"i love you"by Zombies/"journey to center of mind"-amboy dukes and Beatles b-side "the inner light"; Schmel Herbie Hind was overjoyed to hear this after returning from a strip club with captain easychord and "what goes on in the "Cuse/stays in the "Cuse"! Perilous from Buffalo were Thrills-ing to hear; Barb Kitson klone singing Ramones "Cretin Hop" and it WAS Cantone's 1978! 145 dedicated "here today gone tomorrow" (Ramones) to Ducky Carlisle (RIP) and THEN came the Johnny Thunders Orchestra! (Mad Dogs and Highlanders). A Supa Group of 145/Preacher/Periolous/ the Antionettes/Nikki and the Corvettes and the Gizmos! "do you love me"/"born to lose"/"chinese rocks"/"i just wanna have somethin to do"....did I mention Paul 4 5 (of 145) said "Kenne youre coming up after we do "God save the Queen"? Old skool punk man in a Rat-like structure that Elf and the Dolls had played! ('70s,man...). Anklin Dan did a smashing job on a excellent bill BUT the highllight as we wuz loadin' out wuz meeting Meredith Mancini, NOT kin to Henry or Boom Boom BUT sister to Hilken! It made me feel all FUZZY inside (photo)"....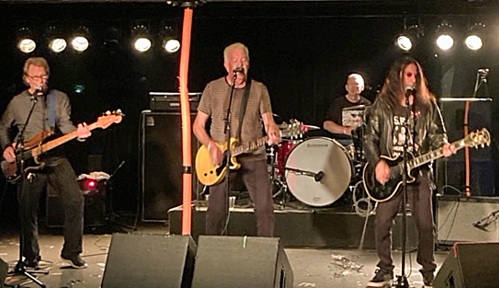 1.4.5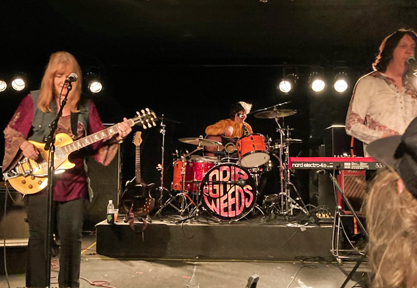 Grip Weeds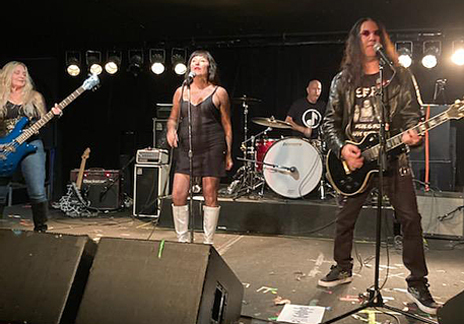 Perilous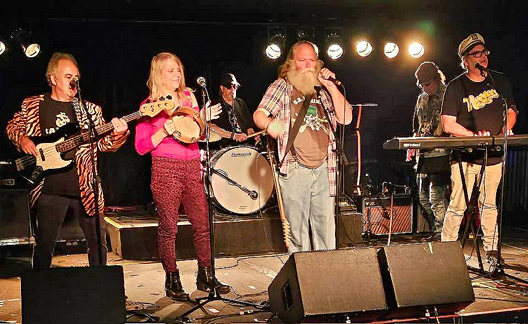 Kenne Highland Air Force
Larry. Meredith Mancini, Kenne

Wednesday, November 1, 2023

Dienstag und Halloween, 31 October 2023. Double Feature horror fest at Somerville Thee-ate-er but I wuz 'in Syracuse, singin' Thunders wid da Most". BUT Psycho was 7 pm, directed by Leon Rich clone, Alfred Hitchcock. This 1960 film came out when Dad was stationed at Camp lejeune NC and I "loved that Dirty water". I took a wee bit of a snooze coz Bates Motel/shower scene...been there, done that...BUT the gem of this $18 double feature was Alice Sweet Alice 15 Nov 76 (with my steel-trap memory, THAT week, the Slickee Boys played Max's Kansas City, NYC debut, I sent the Gruberger Brothers to meet them and they (Slickees) ended up on Music to Kill By; Jayne County was dj and jay Gruberger; "He was a nice guy!" (Wayne back then). set in 1961 New Jersey (I wuz in kindergarten in good ole Camp lejeune!) this low-grade horror movie "borrows" from John waters/Rosemary's baby/exorcist/ the Omen, Catholicm, Satan, evil etc. Only this has a serial-killing knife-wielding lil ole lady gaslighting a 12 year old kid...ok I'll spoil it! stabbing a priest during Mass! What a bloodbath. youtube has a trailer; this movie be fugged up! Lastly, the 12 year old allegedly stabbed her lil sister played by a VERY (first movie role) Brook Shields, whom descends from Rhode Island founder John Sweet, as does Lucille Ball, as does my great-grandmother Highland TWICE, due to colonial cuzzin marriage. Twice related to Brook and Lucille; whooo!!!!!(in a lil richard way!)".....

Thursday, November 2, 2023

day of Thor 2 Nov 2023. age 67 and five months and facebook newz feed I get carlcafarelli.blogspot.com whom Lt Larry neman (Nikki and korvettes) gave asa brebner volume two to, since he has a radio show AND he DID play "I'm in love"! met some great Syracuse folk at that Anklin Dan gig and Carl IS "one of the boys". he "studied english language at SUNY brockport" class of '80, so larry and i defended "Amerika First" so he could be joe College. Our converation began about my hometown of Brockport NY! Skunk (Kronilogically Speaking): he DOES remember when Brockport NY had a disco at the ole A and P! Miss Lyn and I sat there october '78 with "Jailbait janet"'s boyfriend acrost from the BARGE INN whilst I looked like This Year's Model (fashions by Miss Lyn). He met his "future bride/walkin' down the street"; all I had was "Teenager in love' with "cavewoman" and "winner by elimination". lastly march '80 whilst all I got was "Hey Giz; let's play "Freebird"" coz "ah caint hang with no brown bread", Carl DID bring the Most to Brockport Ny and the Roxbury Inn (Joe College; barge Inn was the townies...there ARE other redneck bars nearby!) for "New Wave Night'; I ALMOST regret leavin' in '75 coz i missed this! (plus '78, Willie Loco/elvis costello SUNY Brockport AND december 75; the kinks!) and in '74 i wuz jammin' and partyin' with biker dudes in trailer parks on "american Woman""....

Friday, November 3, 2023

"day of Thor 2 Nov 2023. WMBR. The Pontoon palace 0745, Monkees "listen to the band'. What a flashback! 26 April 69 release, so that means in May, perhaps, my lil sister in kindergarten bought this 45 WITH picture sleeve b/w "Someday Man" at Big N department store Brockport NY. I bought a mono copy of first Steppenwolf album (BIG leap between kindergarten and seventh grade!) Across the road was the macDonald's that Carl cafarelli worked at about ten years later as a SUNY Brockport student. AND in early '69 future Gulcher records Giz-Mogul Bob Richert was in junior year SUNY Brockport along with famed folk singer Christine Lavin. I'm ready for the Time tunnel!"....

Saturday, November 4, 2023

saturday 4 Nov 2023. 10th cuzzin once removed Justine Covault (RIP) asked: "when's your next gig moddafocka?"

Answer: Anklin Dan has mad Painter at worthen tavern in lowell 4-7 pm sunday 10 dec 2023.

Lastly, my mother, like Lydia Lunch, is/was in Greece NY, only Ma in a new rehab, and my sister encourages everyone to send cards! Me too! Ma has met everyone from Mr Butch to Jeff Conolly to Preacher jack PLUS more, so like Aerosmith said on first album (and THAT was fiddy Brockport NY years away!): "Write me"!": Helen (Highland) Massar, 1404 Long Pond Rd., Rochester, NY 14626.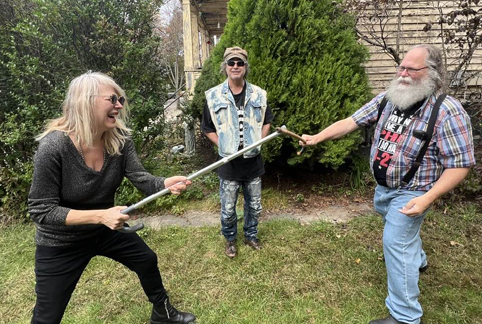 Ken and Gee Julie jousting outside Schmel Herbie Hind house pre-take off.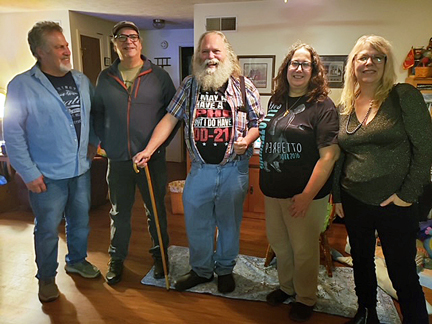 Tom, Tom, Kenne, Julie, Julie