11/13/2023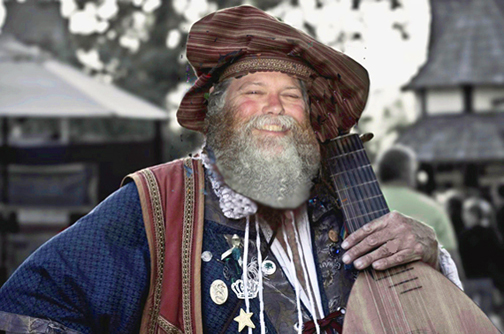 Kenne's just a traveling minstrel
Monday, November 6, 2023
Freitag 3 Nov 2023. Mad painter practice. in attendance: Alex Giltin-keyboards/vocals; Schmel herbie Hind- guitar; me-bass, Al hendry-drums and vocals was Gee Julie and Sharon Crumrine. Alex decided to "expand" the sound and have him and Sharon on DOUBLE keyboards (and I was JUST watchin' the Commodores on youtube doin' the 1974 "Machine Gun"!) AND Sharon on flute. 2019 buskin' at Leon's Rich's Outpost thursday night I did a jam of me doin' John Lee Hooker's "My first wfe left me' (stay on the I!) with captain easychord on upright piano and sharon on Blues Project flute. With mad painter, her flute skills favour Bloodrock channeling Jethro Tull on their fourth album and/or Chris Wood of traffic on hendrix's electric ladyland. I think this expermient will work out fine"
Tuesday, November 7, 2023
"saturday 4 Nov 2023, 2-4 pm. I COULD have listened to harvard football WHRB 95.3, but opted for Squeaky Wheels on crash course for the ravers WMFO. Squeaky Wheels is Matt Gilbert of Harlequin,guitar, J Bruce Scott, Beachcombers bass and Al hendry drums (Bob Cenci's Battle Green). Good power trio, guitar and drums sounded like Hendrix's are you expierienced mixed with Grand Funk's On Time, traces of Mountain, too, maybe. Brian had Matt introduce band and he goes "Al Hendry; plays with Kenne Highland!" disography: asa volume two and mad painters cds. Matt didnt want to stop playing but Brian said :"No! time for the Boston Groupie News concert report!" Maybe you'll see an Alta kaka rocka hobblin' on on a cane."
Wednesday, November 8, 2023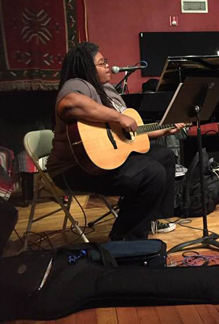 Melika Fitzhugh at Lilypad

Sonntag, "Remember the fifth of November" 2023. lilypad 4-7 pm. The Bald bastards of Hugh opened up. Mel Fitzhugh is also in Ginger Ibex and was in Sans Nomenclature (RIP Anderson Mar). This duo starts out with two bass fiddle sounding lke Charlie Mingus jamming with John Cale (bowed fiddle ala "black angel's death song"). Mel also played piano/guitar and bass with the bassist and lastly was a cover of leonard Cohen's "Hallelujah" where she sang high notes I cant hit. "In Held 'Twas I". I am also a Ginger Ibex fan and all-female multi-instrumentation is a plus. Classical rock like New York rocknroll ensemble and/or Ars Nova. Piano/ violins, multiple instruments left my head spinning like Linda Blair Highland. Last number pianist Sharon Crumrine brought out her flute for a toon called "catnip" (she likes cats) which had a progression from the verse of "sympatrhy for the devil": I-VII-IV. Afterwards micelf/Gee Julie/Leon Rich/Sharon and a couple Mad painter/Somerville thee-ate-er fans adjourned to the ole Ding Ho (now Ole) and the ENCORE: was me singing Queen's "Bohemian Rapsody" on (Buffalo) Springfield street with (Sharon) Needlez and (Gee Julie) Pinz harmonising exquisitely. Gonna go to more Lily Pad performances soon! They have seating!"....

Thursday, November 9, 2023

"day of Wodin 8 Nov 2023. lilypad. 8 pm. Gill aharon trio. Normally "normal" jazz, piano, upright bass and drums but tonight; The Fourth Man is a Claude Rains clone in floresecent green head wrap playing an assortment of socket wrenches and other percussion. "What the heck?" queries Miss Lyn, distant cuzzin of Jack kerouac. Started out with FOUR people in audience whom were handed a glass with a rubber mallet/ a tin can and mallet (The Invisible man sez "this'll make more noise") AND one of them wind tubes John keegan has played during a cover of hawkwind's "Silver machine".

Gee Julie showed up and played with the percussion toys too; I kept a neanderthal 4/4 beat on the used tin as the drummer did all these jazz paradiddles. Fun was had by all! Gee Julie, like the Lovin' Spoonful gives me the "Night Owl Blues", as she heard some superb seissun coming out of the Druid at ten pm. We drank coffee and Monkeed around "Listening to the band"..Inman Square was hoppin'! You'd think things were "(Not too shabbey) at the abbey"!".
| | |
| --- | --- |
| The Fourth Man | Session at the Druid |
Friday, November 10, 2023
"day of Thor 9 Nov 2023. Lilypad Inman, 730 pm, Brittany karlson. ten dollars seniors! place to sit! "More jazz?" asks Miss lyn, whose mother was distant cousine to jack kerouac (I bought On the Road about Oct '69 in-between Woodtock and Altamont); yes!
Everybody SHUTS DA FUCK UP! serious consentration as i curmudgeonly lean on my cane lissenin' to jazz ala my idols/Lester bangs/R. meltzer. Notes: "She plays like Mingus. Drummer has Bitches Brew-type percussion. thelonius Monk piano". "She playing African thumb piano'. "Windup chattering teeth". More from my "Not fade Away" memory; Brittany attacks the big ole upright fiddle with her now/sound tube like John keegan has/other assorted toys and when she wound up the chattering teeth toy and placed it on the floor...she was so frantic playing even her glasses flew off! ('AINT THAT glass NOT?")..."tHINK ABOUT IT" (Yardbirds b-side): the Invisible man from the day of Wodin was on drums! playing a snare with kitchen knifes/ running the knives around metal bowls....if hr wore a turban and played free jazz it'd be Sam the Sham and the Pharoah Sanders! More fun in Inman Sqaure on a weeknight!"....
| | |
| --- | --- |
| Brittany Karlson & Friend | The Chattering Teeth!! |
Saturday, November 11, 2023
saturday veteran's day 2023. Dad's father John Wilbur McBee woulda be in the Meuse-Argonne 11 Nov 18 and I, Justine Covault's tenth cuzzin once removed, as in trenches as veteran Alta kaka rocka with Mad Painter sunday 10 dec 23, worthen attic, lowell 4-7 pm. Sharon Crumrine offering adult piano lessons: SHARONCRUMRINE at GMAIL.COM . Also, DO write to my mother, whom has met many Boston rock luminaires: Helen B. massar Elderwood Village @Greece. 1404 long pond road rochester ny 14626. My sister says send postcards/cards etc. Das ist alles fur dis week!"....