11/20/2023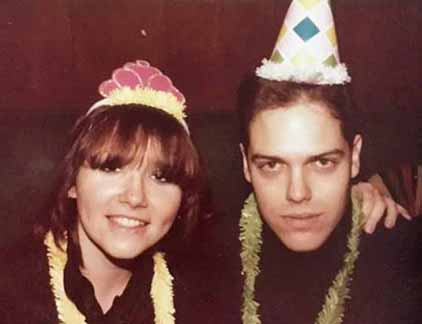 Miss Lyn and Kenne celebratin'
Monday, November 13, 2023
Freitag 10 Nov 2023, marine Corps birhday and mad painter practice. Alex Gitlin-vocals/keyboards, Schmel herbie Hind-guitar; me-bass, Al hendry-drums, Gee Julie-vocals; Sharon Crumrine-vocals/keyboard/flute/tambourine. My favourite part is jamming frivolity and THAT would include "Sunny"/"Put your hand in the hand"/"afternoon delight"; though those last two are TOTALLY Captain and schmeil! Another fun practice..."
Tuesday, November 14, 2023
"saturday 11 Nov 2023. veterans day. "Train Kept A-Rollin'" to Union Square, Somerville, so I didnt take Inman Square bus to Kris Nisei Period Thompson birthday at Lilypad, opting for the Indepenndent joined by Miss Lyn for SUPPER! As if watching West Virginia Mountaineers losing at college football (Dad's distant cuzzin Fielding Youst played for them in 1890s), outside, the music, I heard the Cure's "Boys Dont Cry" NOT recognised by Miss Lyn! "we'll have a trial separation to be sure/ sometimes I feel so depressed, I'll wear black and listen to the Cure!"-me on the Be More Flamboyant cd PO Box 58,Newtonwville, mass. stanton park records or bought for $1.99 at Savers by Schmel Herbie Hind".....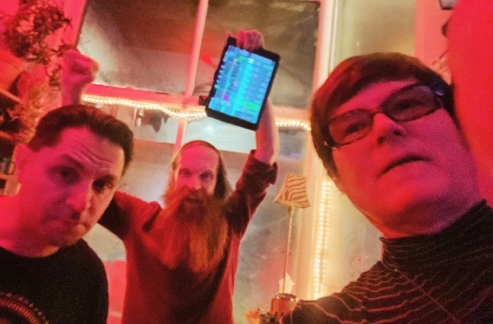 Kris Thompson and friends at his sold out birthday party!
Wednesday, November 15, 2023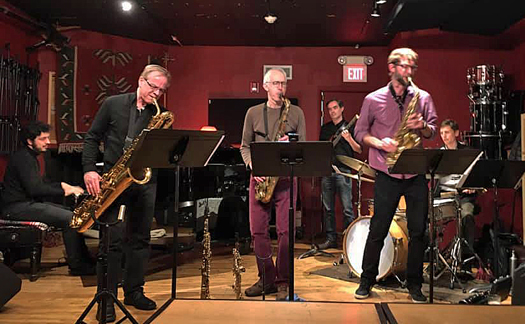 Macuco Quintet at Lilypad

Sonntag 12 Nov 2023. 430 pm. lily pad. Macuco quintet with special guest Yulia Musayelvan. Brazilian jazz, it says, check the Facebook page, with some very obscure Brazilian jazz artists covered and my favourite drug IS Hopelessly Obscure music. Three saxes, baritone/tenor and maybe soprano (where was John Jazzbo Keegan?) plus rhythm section and Yulia played three types of flute, including BARITONE flute. At tymes three saxes in unison sounded like "Peaches en regalia" Frank Zappa's 1969 Hot Rats recording (AND bumper music on Coast to Coast AM AND Brian Young WMFO!). rhythm section was like Jack bruce/Ginger Baker when they's with Graham Bond organization: bass player from South America was FLYING all over fretboard and drummer paradiddled like a Ken kaiser klone in his college jazz band Dr. saturn and the men from Mars. SO, I Facebooked these folks; sax players all know Ken Field of Skin and Yulia, von Moscow, knew Vlada Brofman, whom opened for Mad Painter at a Russian festival in New York and I did record with. Ten dollar cover/ ten dollar cd and I WILL be researching this splendid band more!"

Thursday, November 16, 2023

"Montag 13 Nov 2023. had supper at all star sandwich bar, inman square, a BIG-ASS $11 chili dog and Music to Dine By was "Lovesong' by the Cure, a 21 aug 89 release. I believe there is a 1988 photo of me doing real kids songs at Middle east with my Robert Smith hairdo; Felice in Italiano DOES mean "happy". As for 1989; a few months before "Love song", Johnny and Jumper cables LOST to a Til Tuesday spinoff band at Rumble at paradise and the rest of 1989 is a drunken blur with records on Stanton park, PO Box 58, Newtonville,Massachusetts"....

Friday, November 17, 2023

Freitag 17 Nov 2023. Miss Lyn birthday and the https://www.geni.com/ people...says Miss Lyn direct descent of Francois Leroux dit cardinal born Senille, France 1637 died 1691 Hotel-Dieu de Quebec, Quebec, Noveau France. occuptation: immigrant, soldat Carignan-Saliere,cie Lafouille. Famous kin says this is a ancestor of Jim carrey; and THAT is no "I laffed out loud" matter!"..... ww.geni.com

Saturday, November 18, 2023

"saturday 18 Nov 2023. tenth cuzzin once removed Justine Covault DID ask: "when's your next gig moddafocka?"

and that IS Mad Painter at Worthen Attic sunday 10 december 2023 4-7 pm; "it's gonna be Epic sez anklin Dan (same label as Hollies "King Midas in reverse"). Sharon Crumrine giving adult piano lessons! SHARONCRUMRINE@GMAIL.COM.

Drop my mother a line in rehab at Elderwood Village at Greece, 1404 Long Pond Road, Rochester NY 14626. Near the mall I bought Terry Knight and the Pack's Reflections album back in '72! Sorry to hear Cal Cali's mother has passed, Mama Gina; had many a GREAT meal there for Cal Cali practices! doing an interview with It's Psychedelic baby! (on wikipedia). Klemen Breznikar, living in Slovenia two hours north east of where Micky Dolenz father was born in Trieste. 23 questions, one per day, I got a quota to meet!"....