Interview with
Kids Like You And Me
on the occasion of their
10th Anniversay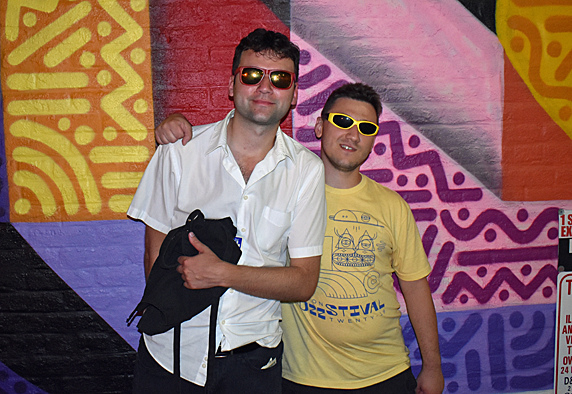 Glen and Chris
Photo: Blowfish
BGN- KLYAM is Chris and Glen…..Give us a fast rundown on both – Are you from Boston and if not how did you come to be here?
Chris- I think Time Warp Weekends describes us best: "Getting past their pre-pubescent adolescent looks they are actually greasy sleazy freaks of the unknown kind." - Time Warp Weekends website
Glen- We're from Wakefield, a suburb just a bit north of Boston. I moved to Boston in 2010 for college.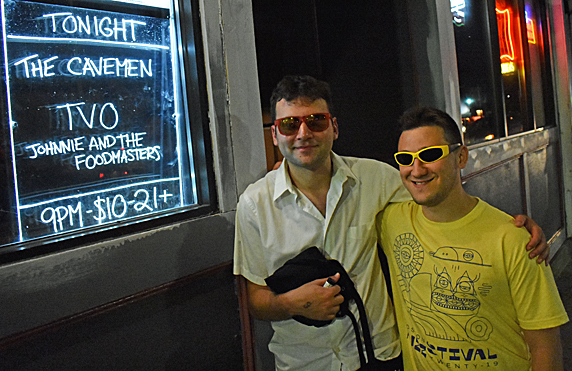 Glen and Chris
Photo: Blowfish
BGN-You started as a blog in 2009 – were you going to shows before that or was that when you started? What bands were you seeing?
Chris- We wrote about what we felt like, which was mostly music reviews, announcements, show reviews. It was a fan site without any creepy crawlers poking at us telling us to write this or that. We were just really excited about some of the garage punk bands of the time. It was refreshing.
I grew up loving old school rock 'n' roll, but I felt like it was dead. In my teens, I attended suburban metal, emocrapcore shows and I hated most of it back then (hate all of it now). We hadn't been exposed to the kind of rock 'n' roll we enjoy now.
A major turning point for us was hearing the Black Lips for the first time. I didn't know people still made music like that. "Garage" to me was simply 60s rock 'n' roll that came before punk like The Kingsmen or The Sonics or whomever. I didn't know people took that same style/aesthetic and put their own spin on it after that. Hearing and eventually seeing the Black Lips as well as Jay Reatard, The King Khan & BBQ Show, Nobunny, Hunx and His Punx to name a few felt refreshing. Rock 'n' roll from our generation. And it was loose, wild, freaky, and fun! A complete volte face from all that miserable bastard emo shit. We saw Black Lips and the King Khan & BBQ Show at the Middle East Downstairs. We went there often. Great Scott, Harpers Ferry, Paradise. All of the usual suspects. Local music was initially off of our radar.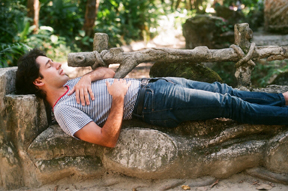 Juan Wauters
will play at Rama Lame Ding Dong

Glen- My first show was The B52's in Vegas in 2002 on family holiday and then a year later I saw Weird Al at the State Theatre in Portland, Maine. Psychedelic Furs in 2007 at the Avalon was the start of going to shows on a regular basis. We were just bored teenagers like The Adverts said. We wrote about whatever interested us and hit 'publish'. No coherence. By the time the blog kicked off, my favorite bands were Black Lips and No Age, although I was probably still very much into larger acts like Arctic Monkeys, Radiohead, and stuff like that.
By the fall of 2009, my interest in garage rock was blossoming on a daily basis. Like Chris described above. A game changer was the Shattered Records Tour show at Harper's Ferry in October 2009 with Jay Reatard, Nobunny, Hunx and His Punx, Box Elders, and Useless Eaters. This show opened up a whole world of underground garage/punk bands and record labels.

BGN- When you started to book shows, did you not see bills/bands playing that you wanted to see or did you just have an urge to do it yourself?

Chris- Yes and no. Initially, we didn't know much or anything about local music. Overtime, we'd see smaller and smaller touring bands and when they would roll through town they would often play basements or smaller venues. That got us into local music. You'd see bills comprising of mostly local, underground bands, being booked by local underground bookers and artists alike and being attended by, again, mostly local artists/ bands themselves.

We started to see more familiar faces and became friends with other bands around town. The first couple shows we booked were also the early G. Gordon Gritty (co-founder Glen's band) shows. So, in a way that came out of necessity. Since we already did the blog together we'd collaborate and ask other bands we liked to play. Even as we became immersed in local music, we still struggled to get the shows up and running.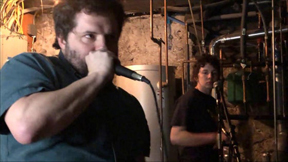 Thighs
playing Rama Lama Ding Dong

It was discouraging at first. We'd contact venues and never hear back from them. It probably wasn't that bad, but it's tough when you are starting out and you don't' feel that support. One show that sticks out to me, however, is when the band Cumstain (Oakland, CA) came to town. They were one of my favorite bands and they contacted me directly about hooking them up with a Boston show. I immediately reached out to some friends and the show was booked at the JP Drive In, a former show house. The show was loads of fun and inspired me to keep booking shows. It's been pretty consistent since then.

Glen- Agreed. I'd been wanting to play my first show for years, so we figured let's put a bill together and make it happen. That was the first one. We ran with that attitude of making it happen. We only put on shows we want to see. Sometimes it's because others don't book the bands we want to see. It wasn't a reaction to a lack of good shows, because there were plenty. It was more of continuing the tradition of booking fun shows such as those put on by likeminded peers like Boston Hassle, Illegally Blind, BUFU, Fast Apple, and others I might be forgetting.

BGN-Where have you gotten support (and coverage)? Boston Compass? Allston Pudding?'

Chris- We've received support from Boston Hassle, Boston Compass, Allston Pudding, Illegally Blind, BUFU Records, and a lot of the bands themselves. We appreciate everything they do and how their commitment is to keeping DIY alive in Boston.

Glen- If nobody gives you coverage, cover yourself.

BGN- What clubs have been open to your shows? You do house shows? How are they compared to a club? What about the off the grid pat of it, any concerns?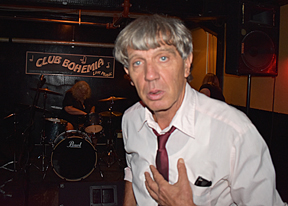 Mickey Bliss

Chris- Club Bohemia has been great to us. Big shout out to Mickey Bliss! We love the dank, dingy 80's vibe of Bohemia. We've done a ton of shows at clubs, but we tend to lean more towards spaces outside of the typical club circuit such as the Lilypad, Deep Thoughts, Dorchester Art Project, and certainly house shows. As far as concerns, there is the inevitable concern that the cops will show up and bust the show. It's a legitimate concern and it happens sometimes. But, most of the time it doesn't happen and I think it's worth the risk.

Logistically, it's great for all involved. Small donation at the door. No rental fee to book the place. Everyone wins! Also, there's the intimate warm atmosphere at a house spot that you can't recreate at a club. It's like hanging out. Any other concerns or worries I feel are often myths. In my experience anyway. We aim to make people feel included and first and foremost have a fun time at any of our shows. There's a joy in the off the grid nature of a house show, but I hope that doesn't turn people off, folks that may think it's exclusive or dangerous. That's not the vibe we want!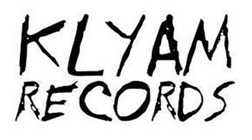 BGN- You have a label…are there bands signed to it or is it more low key where you just release songs here and there? We have followed Nice Guys a while. They have changed over time. Any insight into that band? What's going on? What's their mindset?
Chris- The releases often vary in nature, format, run, etc. It's pretty low key, fuck a song or two. We've put out a couple 10" Eps, a 7' split, and a bunch of tapes of full albums and compilations. A couple of CDs and a book. All great formats.
Yeah, Nice Guys! I'm sure they appreciate the support. Insight? Fuck if I know. They play a lot because you regularly have an opportunity to catch them live. If you miss them, there's a good chance you'll be able to see them next month, or next week even. They are going to be releasing their first full length on Illegally Blind Records. We love these guys and have seen them nearly 100 times. I think they regularly have sex parties but I may be confusing them with Johnnie and the Foodmasters.
BGN- You must have seen a lot of Monsieurs shows. Any crazy one stand out?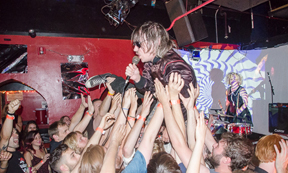 Monsieurs

Chris- Monsieurs are my favorite band in Boston! Andy is up there with old school punks. The whole band rips. A lot of wild nights. There was a show a few years back. Andy was on a death trip and willing to take anyone down in his path. Most people hid in the back and on the sides. A few of us brave (or dumb) souls stayed up front. It was a dry spot but I snuck some beer in. I had an open beer in my pocket. Andy started to push me over and the beer flew everywhere. I know that kind of in-your-face performance isn't for everybody, but I love it and Andy is a great guy. Monsieurs have the music to back up the chaos.

BGN- And what's the next step from the Barbazons ex-bandmates? We love Boston Cream - why don't they play out more? (If you have an in on that).

Chris- Ryan plays in Love Strangers, we put out their tape and they play out regularly. Matt and Jake are in Nice Guys. Melanie and Peaches are in Boston Cream. We put out a tape with them. I don't know where you've been, but they still play frequently! In fact, they are playing Night #1 of the Rama Lama Ding Dong at Lilypad (Thursday July 11).

BGN- You must be raking in tons of money! But maybe it's not about money? How do you explain your passion?

Chris- We snort coke often out of hookers assholes and fuck groupies on top of our piles of money everyday. Aha, there's no money to be in it for! We love rock 'n roll and want to keep it alive in Boston as much as we possibly can. Anyone can do it. Book a show. Write about music. Start a label. Play in a band. Anyone can do it, but someone has to do it. As long as there is cool stuff out there, we'll keep spreading the gospel.

BGN- You call your festival – Rama Lama Ding Dong in reference to the Edsels 1957 doo wop hit. How the heck did you come to have a hankering for doo wop….not being 70 years old (I'm guessing).

Chris- Yes, the Edsels. It's also in Barry Mann's "Who Put The Bomp". I hated Doo Wop and Oldies as a kid. All the love songs depressed me. But in college, I rediscovered all these oldies, malt shop pop stuff. Perfect stuff to pass out to after a heavy night of partying. Watch the sunrise and fall into a dream to "You Belong to Me". Started making the connection to that music and the garage pop/slime we were devouring at the time and everything in between.

Glen- I worked at Johnnie's Foodmaster in Melrose from 15 to 21 years old, right up until it closed. I loved every second of it, mainly because of the music and family atmosphere. Felt like a vacation. Not work. In between ringing up customers, I would focus my attention on the sound system, blasting the finest playlist of early rock 'n roll and doo-wop. Before the store closed forever, I scribbled lyrics on the back of receipt paper as quickly as I could and when I got home I would Google all these lyrics so I could find/listen to the songs on YouTube. I was naive of musical history so I'm not sure I immediately connected the dots between oldies and the garage/teen bands that influenced my favorite bands. I remember an interview with Black Lips in 2009 in the Boston Phoenix; they said they realized a lot of the oldies sounded more punk than punk. I'd agree.

BGN- And you like music from the 1950's – how far does your knowledge of Boston Punk go?

Chris- The Axe of course. We like The Real Kids, Lou Miami. I really love This Is Boston Not LA comp.

Glen:- I karaoke'd to a few Lou Miami songs from a record I found in Papagiorgio's (my dad) collection. Someone wrote the comment "Leave your father's records alone". Papagiorgio had some other records that came out on Modern Method. I remember him talking about The Axe before I knew the The Axe. But yeah, I don't know anything.

BGN- Talk a little about your 10th anniversary.

Chris- Three Nights. Lilypad on Thursday July 11. Dorchester Art Project (DAP) on Friday July 12. Cambridge Elks Lodge aka Hardcore Stadium on Saturday July 13. Lots of our favorite bands are playing including Juan Wauters (from Queens, NY, formerly of The Beets - playing at the Lilypad). KLYAM Records bands are playing (Boston Cream, American Whip Appeal, Nice Guys, The Glue, G. Gordon Gritty). Noisier weird stuff at DAP. Thighs, Kremlin Bats, Semi Sounds. Rock 'n roll at Elks with Andy California and Atlantic Thrills.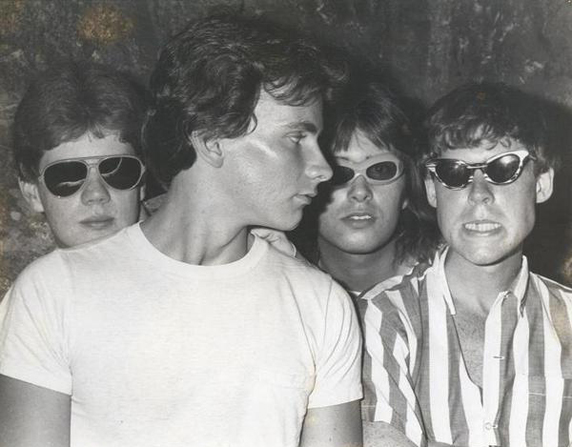 Unnatural Axe
BGN- Why pick the Unnatural Axe to headline?
Chris- The first time I ever heard of Unnatural Axe was through Papagiorgio. Gritty had a show at Traphaus in New Bedford, a former underground record store and probably other things. We'll leave it at that. They had an Unnatural Axe record and Papagiorgio picked it up. We never heard of them, but he said they were a legendary Boston punk band. We really dug the record and eventually saw them at Gonerfest in 2017. It was an obvious choice for us to have a great punk band headlining and they are arguably Boston's greatest punk band. We are humbled they are playing our fest.
BGN- I love the name Jonnie and the Foodmasters, but haven't seen them yet – what are they like?
Chris- Some bands have been labeled "The Greatest of All Time." They can all suck my dick. Johnnie and the Foodmasters is the best band in the world. Some assholes may disagree. One geezer came up to us after the show and said we were the worst band he's seen in 30 years! We play the oldies and upset the parents and the kids. The cool kids love us. The bad guys know us and leave us alone. The normies freak out. We fall down a lot but we get back up and keep going.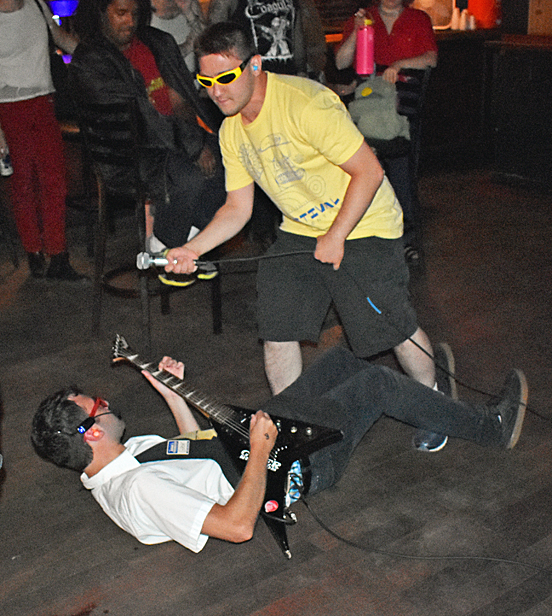 Johnnie and the Foodmasters
Photo: Blowfish