Late Risers' Club Night
Alchemist - Jamacia Plain 9/5/2008
| | |
| --- | --- |
| | |
| The Wrecking Crew | Jamacia Plain guys with Joanie |
A year ago The Late Risers' Club radio show had its 30th Anniversary (click here for our story). It was a fantastic night despite the club having no air conditioning on an extremely hot day. Since the room where the videos and films were playing was the hottest of all, many people did not see the videos that night, sitting in that heat was too uncomfortable, to rectify that, a second celebration was planned.
Joanie's idea was to have a night at newer club not associated with the scene. It ended up at the Alchemist in Jamaica Plain. Nature cooperated with some beautiful weather which made the outdoor tables very pleasant. The club had a perfect set up with a big screen. Marissa Acosta's Late Risers Club Documentary started the night. She's done a great job and the film got a round of applause. Then it was some classic old punk and new wave videos from Jan Crocker . Some of these are on KINODV.
After the films Mark Flynn did some DJ action. Mark is based in NYC these days but does things in Boston often. He has a gig spinning CD's at the uppity-up Bergdorf Goodman in NYC. What a job! Then Joanie gave up her DJ time to Albert O who was pumping out some good old punk. It was great to hear some LePeste etc. filling up the club again.
There was a great turn out of an excellent variety of Boston scensters and musicians and it was fun to just hang out and talk! People got in to a very social mood, introducing themselves to folks they've seen but never really spoke to and just walking up to others and saying Hi to start a conversation.
The Alchemist is a pretty cool place too and the night was going so well, the owner kept things going for an extra hour.
Joanie Lindstrom, the unstoppable force behind it all, happily announced that they will be doing this party thing quarterly!! That is a wonderful idea. We'll definitely let ya know when the next Late Riser's Club Party is on!!!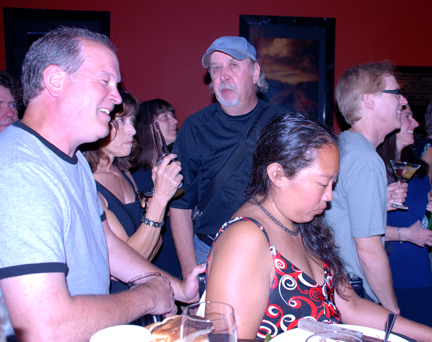 Albert O, Jan Crocker, Marissa Accosta, Tom and Judy White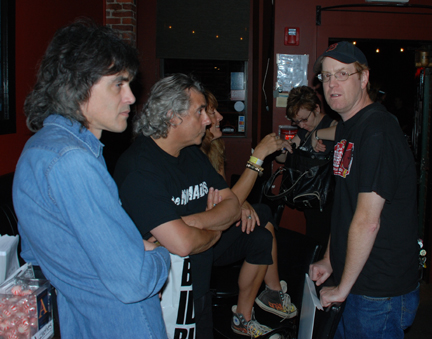 Simon Ritt, Carl Biancucci and Eric Law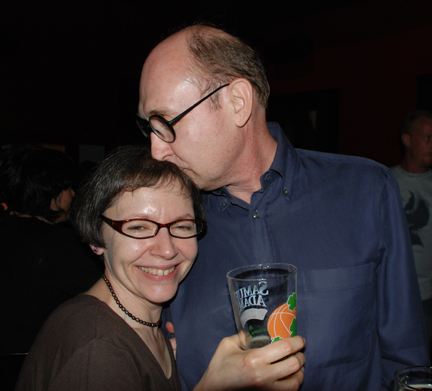 Chris and Mr B.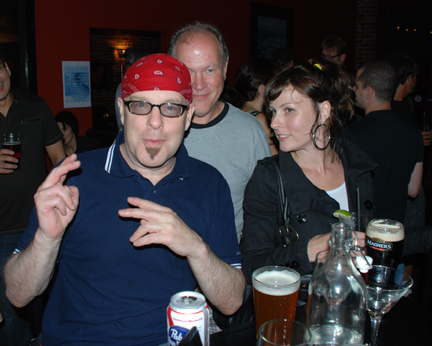 Bradley Jay forming some gang signage, we think, Albert O and someone we don't know.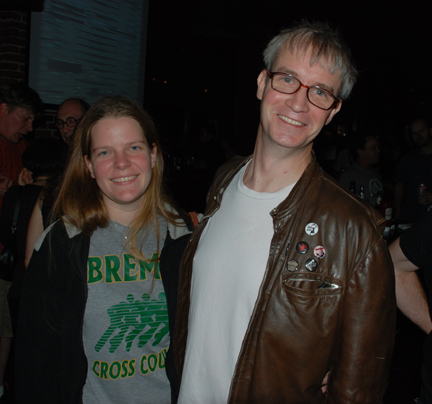 Becky Nicodemus and Tim Kelly of WMBR
---
home | interviews | photos | features |BGN issue list | reviews
links | contact us
Copyright © 2008 Paul Lovell. All rights reserved.