Lyres at the Linwood Grille 5/3/03
By Laura Markley
It was a night to remember. I got there around ten to see The Probates, Crybabies, Charms and Lyres.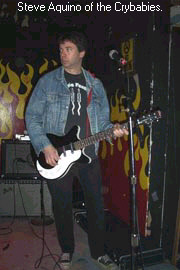 I'd never heard of The Probates. They are a hard rock band from Worcester and cover Zeppelin and Motley Crue ("She's Got the Looks That Kill").
John, the singer wore black shiny pants and looked a little like the Goo Goo Dolls vocalist.
On the last song the guitarist actually played while lying on his stomach and then slithering off the stage. (I've seen guitar exhibitionists play on their backs before, or in the fetal position but never on their bellies!)
Between songs John kept referring to Jeff (of Lyres) saying, "Jeff, man, wake up, there's only two more bands to go, then you're on!" I thought he was joking, pretending that JC was sleeping somewhere.
Then Aram Heller of Vatican Sex Kittens told me that Jeff was indeed asleep at the side of the stage (how could he sleep with those Marshalls up to 11??).
Apparently, his guitarist Jared had dropped him off at 6:00 p.m. and he'd gotten stuck at the club. He was sleepy so he just took a nap.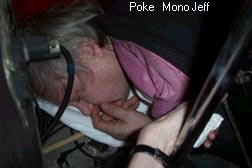 After The Probates finished I went on stage to see for myself (with my camera, of course) and there he was, resting peacefully beneath a guitar case, a jacket pulled over his face.
I poked him and pulled the jacket down a bit. "Are you all right??" I asked. He opened one eye and nodded. "Do you mind if I take your picture?" He nodded OK so I took a photo of him sleeping.
I climbed back down and talked to Lyres bass player Rick Coraccio. Rick was saying, "Oh, he'll be fine, I've seen this before."
But I had never seen this. I assumed the show was off and tried to enjoy the next bands, The Crybabies and The Charms, as best I could.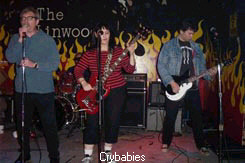 It wasn't difficult, The Crybabies, also from Wormtown were great, covering the Kinks' upbeat and wonderfully syncopated "Gotta Get the First Plane Home" as well as the Everly's "Man With Money," what a great melody (I'm familiar with the Who's version). Other crowd pleasers were originals like "Barking Up the Wrong Tree" and "How the Other Half Lives".
Steve Aquino's chiming guitar riffs sometimes made his six string sound like a twelve string. Artie Sniederman and the female bass player shared vocals and Artie played harp and tambourine as well.
An added treat: Lyres drummer Paul Murphy dancing like a maniac in front and playing tambourine, motioning for others to join him (I should've danced but I wasn't "fortified" yet). And I thought he was a "shy guy"!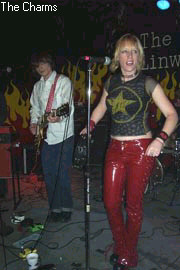 Jeff's slumber contined through the next band. The Charms played some newer material with Ellie's sassy shouting and skin-tight, shiny red pants (shiny pants were a theme) getting the crowd worked up. Katrina the cute Russian stamped her foot and rocked out on Farfisa (I've read she is classically trained). I recently heard "It's Tragic" on a local comp. They closed out with their hit, "Dragonfly".
One reviewer amusingly called their sound "nerf-metal", maybe due to the unusual combo of a 60's sounding Farfisa, poppy melodies and female vocals paired with Joe's Kiss influenced pyrotechnics on guitar.
Jeff had remained stretched out and motionless for at least three hours now. But when The Charms finished at 11:45, he popped right up like a jack in the box.
It was the resurrection of JC! He began setting up as if nothing was out of the ordinary. And the Lyres were AMAZING, it was the best I'd seen them since New Year's Eve.
They played for 1½ hours. Jared made a couple minor screw ups and Jeff had "words" with him at one point. But they were awesome and played everything: "How Do You Know," "Loving Cup" (Paul's cymbal hits really get me going), "Help You Ann," "Seven," "Tennessee," "Nobody Does This Anymore," "She Pays the Rent," "It's Over," "Soapy," "Not Looking Back," "(You're Just) Wastin' My Time," "Enough of What I Need" (that moody Stoics song, with Rick playing that cool bass line -- but when will they tackle "Hate"?), "Come On Give Your Love to Me," "I'm Your Guy" (a new riginal, is that fuzz guitar I hear?), "Don't Give It Up Now," "Talkin' 'Bout Her," (I love Jeff's keyboards on this) and some more that I can't remember. I was dancing in front with a couple members of the Probates, who shared their pitcher with me.
I was too surprised, buzzed and happy to remember to yell out for my favorite, "Grounded". But I'd say I got my $8 worth.
---
Home | Interviews | Photos | Features |BGN Issue List | Reviews
Links | Contact us
Copyright © 2003 Rick Corracio. All rights reserved.