Interview with Mikke Worm
of Wreckless Wreck Chords
August 2018
The South Shore doesn't have the history of punk clubs and shows that Boston and the North Shore do. Lately things are getting better. One of the reasons is that Mikke Worm has begun booking.
We are interviewing him now as he is putting up a big bill at the C Note with Gang Green, The Dogmatics, Diablogato, The Antibodies, Hardwired, and his own group - Worm.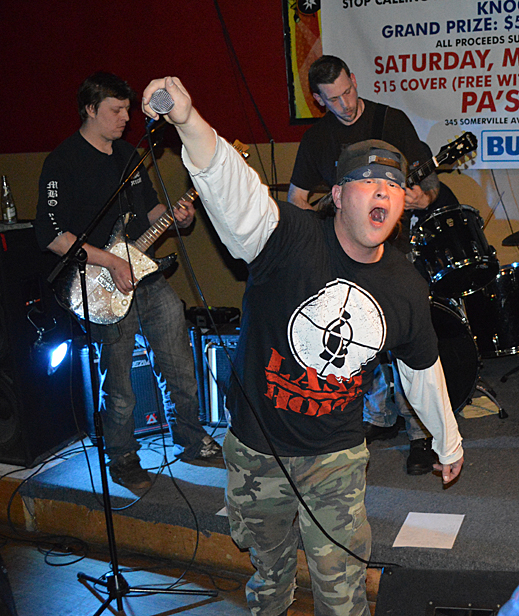 Worm at PA's Lounge
Photo: Blowfish
BGN - Where did you grow up?
Hyde Park and Marshfield, MA.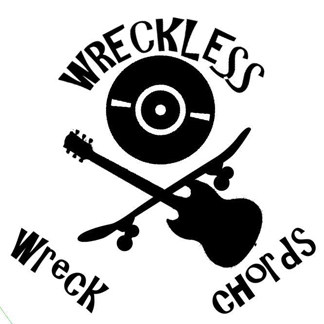 BGN - Where did you see your early punk gigs?
South Shore area and Boston/Cambridge.
BGN - What got you into punk rather than mainstream music?
It was the music for the outsiders, so many different types of people from all walks of life. It was more of an attitude or a lifestyle rather than a genre or fashion.
BGN - What are some of your favorite early punk records?
Showcase Showdown - Permanent Stains, Sex Pistols - Nevermind the Bollocks, Entrophy - Scabbies Lice and everything Nice, Tree - Downsizing The American Dream, Toxic Narcotic, and Darkbuster to name a few. Also: Dead Kennedys, Black Flag and Agent Orange. For me it was more local bands I got into first before the Ramones, Clash, Pistols, etc...
BGN - Where did you get your punk music and info, now and in the past?
Internet, word of mouth, shows, Youtube, spotify. Earlier it was word of mouth and shows, not much has change in that manner for me.
BGN - Why did you start booking?
To play shows to start, then it became trying to get other good bands, that most people hadn't heard of, a chance to play. Then it became wanting to play with bigger more known bands. That's where we're at now. We always like to build a crowd based on community to come to the South Shore to check out what we got going on for music.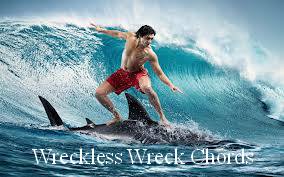 BGN - How is the booking experience?
Sometimes easy, sometimes a headache and sometimes it works itself out that I get a date and bands will come to me, which is cool. It means people are paying attention to what we got going on.
BGN - You book under Wreckless Wreck Chords - are there record releases?
Releases right now are: Bad Movies -Take One!, Worm - Our Roots (Single), Worm- Night Of The Dead (Single).
Or planed ones?
We have worked with other bands and artists and helped them put things out themselves. For planned releases we wanna put out a comp of local Boston area and South Shore bands, we have signed a doomed band Witches Tears and a Prog metal band Crown Conscious who we will be recording and putting out their CDs or records. Through the label we also plan on putting out a few 7" splits as well depending on funding.
BGN - Are their clubs that you donít try or that have refused your shows?
We try everyone. Some clubs want too much money up front, so we tend not to book there.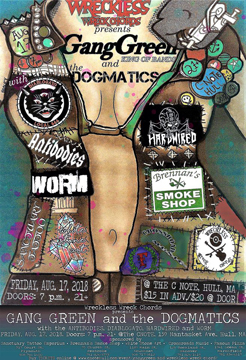 BGN - Did you start booking the C Note when you saw the Rat Beach Party shows there or was there another incentive?
No, we were asked to play a show there back in 2013. I really like the club, and the sound, and thought it would be a great spot to book and bring bands down here from the city. Midway and a few spots in Plymouth are also favorites to book.
BGN - This show with Gang Green and Dogmatics on the bill is the highest profile show you have booked. How did that come about?
I got the date of Aug 17th and wanted to book a big show. I hadn't since I booked the Blanks 77 in 2016. I wanted to bring the Ducky Boys and Stray Bullets down here with Diablogato but it wasn't happening. Then Gang Green started playing a slew of shows that I saw posted. So it was like I could book them, and with that great legendary act, called a couple of people and sealed it with the Dogmatics; 2 bands I had been listening to for almost 20 years and was pumped. Originally confirmed for the show before hand was only Worm and Diablogato .
BGN - When did you become aware of Gang Green and the Dogmatics?
Gang Green probably early 2000's. Dogmatics - I went to school with, and am good friends with Pete, from The Dogmatics, son Pete. I think in a study hall in 8th or 9th grade (so probably 2000 or 2001) I was looking thru his book of CDs for something new to listen to, and behold I see this cool CD cover with dudes on motorcycles. It was like, "who is this band?" and he said, "that's my dads band the Dogmatics. They're like punk/hardcore/rockabilly-ish." I listened to the CD and was like, "can I borrow this?" and made a copy of it. I didn't know anything about them and soon learned they were part of The Rat era Boston early punk and hardcore bands and was like - shit, lol.
BGN - Any stories there?
Gang Green, me and CJ from Worm drank beers all night with Chris from Gang Green when they played New Years Eve in Quincy maybe 5 or 6 years ago. That was the third time Isaw them, Ibelieve.
| | |
| --- | --- |
| Worm CD | Bad Movies CD |
BGN - Give some info on your bands (Bad Movies, Worm)?
Worm formed in 2003 by me, Gregg Worm and CJ. It's old school Punk and Hardcore. raw sound, party band, fast with many influences. Worm on ReverbNation Bad Movies formed in 2011 by Taylor Boring and Billie Darling more of the old school CBGB's style punk band, 3 chords, high energy. The new stuff, when CJ started playing guitar, is a little like 80's hardcore sound. Both South Shore bands, almost 10 years apart. Then we had the Mother Boys for like a year as well.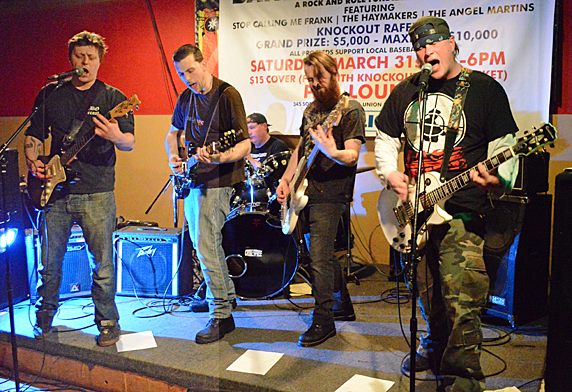 Worm at PA's Lounge
Photo: Blowfish