The BGN News Archive
January 9, 2023
Let's start with some good news.
The Square Root is open. The damage from that car accident of a few weeks ago was repaired and the Square Root is back in business.
On Saturday 1/7 they had three bands play. One was a Gin Blossoms Cover Band who called themselves No Shape for Driving. Those words come from the Gin Blossoms song "Hey Jealousy" ("If I could just crash here tonight/You can see I'm in no shape for driving") but still was that a coincidence?

And ... Legendary producer Paul Kolderie (Duran Duran, Goo Goo Dolls, Radiohead, Pixies, etc.) has signed to produce two tracks for locals Key of Caustic to be released by Code 213 Records!!
They start work on January 25th. They may record at Woolly Mammoth or The Record Co. We're excited about this especially since the last few songs the group has released have been catchy and sharp. They're ready for the extra experience Kolderie can provide. Below is their last release.
Reasons to be cheerful Part 3: The Key of Caustic record label Code 213 Records has signed Smitt E. Smitty & the Fezztones and Little Billy Lost! Both groups will have their first single released this January.
Label head Dennis Chuning has good taste in music! Code 213 Records on Facebook
Now for the bad news .... The Sound Museum closing is getting lots of attention. There are 700 musicians that practice at the Sound Museum. Now, space for the arts is being lost to gentrification.
A new organization called Art Stay Here has stepped into the fray. They try to help artists stay in their spaces. Anngelle Wood interviewed Ami Bennitt from Art Stay Here on Boston Emissions show this week. Art Stay Here is working on a 'swing space' to house bands for a while. Ami is all positive and hopeful. Local musicians should give this a listen to understand what Art Stay Here is doing.
Meanwhile Des Desmond who owns the Sound Museum feels like he's been backstabbed by the government of Boston and Art Stay Here. "It's heart breaking! This is the theft of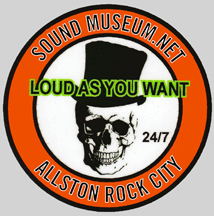 our company and the complete opposite of what the City said it would do to support keeping our 38 year old "Anchor Institution" as they called us, business and tenant community together that we served as the Sound Museum ! The so-called temporary swing space building the city pledged to provide us, should have been made available to us at the Sound Museum, as well as the permanent building that will be built on North Beacon Street! After all it's our company and tenants being displaced, and it's our musical community that makes up the company. How dare the city conspire with Art Stays Here to steal our business and farm what was supposed to be our temporary space out to our competitors? Remember musicians who's been in the trenches for you for all these years! Remember who built the place! Remember who has the time, effort and skin in the game ! Not these other coalitions"
Jimbo Jones of Key of Caustic also informed us, to add to the Sound Museum story above, that " I just got word today from the owner of the Charlestown Rehearsal Studios that they too will be shuttering rehearsal spaces for musicians and focusing solely on self-storage units. This is another massive blow - possibly the death knell - to the local music scene. So, as of June, Boston will have NO rehearsal spaces for musicians." This is why a 'swing space' is so important.
And then of course there is the closing of Opus in Salem. Vanyaland says goodbye to Opus with a story and some photos. We knew at the time that the Opus/Koto club action opened up the Salem scene and it's so much more obvious now. The hope is that some other club/business in the area sees the attention that these clubs get and maybe steps into the gap themselves. The article in Vanyaland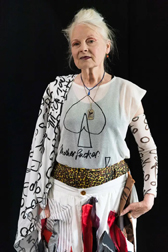 Vivienne Westwood's death came last week as we did our year-end review. We mentioned her passing at the end of the listing but wanted to mention it this week too.
Vivienne's fashions didn't just start with punk, in many ways she started punk. Her and McLaren's store (Sex, Seditionaries, Let It Rock) dressed the Sex Pistols and employed two of them as well as Jordan Mooney (Pamela Rooke) the "Queen of Punk Fashion."
Through the years Westwood has received a lot of media attention. This article in the Daily Art Magazine gives a look at her fashions ideas as time went on
Westwood was also known for her activism:"She often did campaigns with various important organizations about environmental issues and climate change, civil liberties and human rights, nuclear disarmament, etc. She was a big supporter of the Green Party of England and Wales. Her political engagements were about terrorism, democracy, and propaganda. Actually, she has even written a manifesto, Active Resistance to Propaganda." Her activism also included funding for endangered wildlife and helping Julian Assange.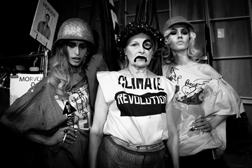 It was more than just fashion from the beginning, that was obvious. Vivian wrote in her memoir "I did not see myself as a fashion designer but as someone who wished to confront the rotten status quo through the way I dressed and dressed others."
Here's an article on some of her activism in Counterpunch magazine and here's A Job at Vivienne Westwood's Shop Made Me a Sex Pistol in the Guardian written by Sex Pistol bassist Glen Matlock. The title tells the tale. There is actually much more of this connection in Matlock's excellent book I Was a Teenage Sex Pistol.
Here is a Her Life in Photos from the Guardian and an article on the NPR site https://www.npr.org/2022/12/29/1146122415/vivienne-westwood-punk-fashion-designer-dies
We miss picking up The Dig on the way to work, now that we don't work (speak for yourself Blowie! I still work!-ed) and The Dig is not printed....But they had their top twenty local songs of the year and it included some familiar tunes.
We were especially glad to see Paper Tigers' "Portrait of the Scene" on the list. We were pleased to see Kal Marks' My Name is Hell ranked in there. That's an album that gets dark. It's an artist digging deep. They post with a video of the song "Ovation."
The Nervous Eaters who had a year we could not have imagined got the nod for "Wild Eyes." Linnea's Garden's "Mouth" as their pick but there were so many others they could have chosen too! The same with Chelsea Curve's "Nothin' Going On"!
Gretchen Shae & the Middle Eight had "Unnatural Love" on the list. Gretchen has had quality recordings and live shows all year. Diablogato had a good year with an album release and they kept the live shows going. They scored with "Jet Black Night".
Another group that we are glad to make the cut was the Endorphins with "Voyager of a Daydream" off their Nothing is Real album. You can hear that song below.
Many of the other songs are outside of the punk genre and not music we are familiar with, but they have good choices in the music we are familiar with. Check it out online.

The Shang Hi Los next album Aces Eights and Heartbreaks will be available January 20th. You can pre-order it now on Bandcamp. The album has 9 cuts, three of those we know, the rest are brand new.
The pre-order has some intriguing bundle packages, like the Shang Hi Los along with the two Jenny Dee & the Deelinquents albums. Good way to catch up on those if you don't have them.
---
BOOKS......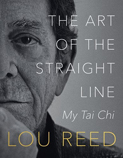 Who knew! Lou Reed was a big Tai Chi practitioner?? The book The Art of the Straight Line: My Tai Chi includes his unpublished writings on tai chi, music, and meditation. With a forward by Reed's partner Laurie Anderson who also compiled and edited the writings. It is due out on March 14th.
Reed who has practiced Tai Chi since the early 80's and studied with Master Ren GuangYi, discussed the practice with artists, friends, and other tai chi practitioners, such as Iggy Pop, Tony Visconti, Julian Schnabel, and the late Hal Willner. Those conversations also appear in the book. You can preorder the book here. An article on the book on Pitchfork.
---
VIDEOS......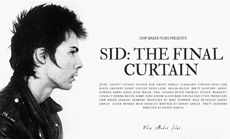 Danny Garcia's Sid:The Final Curtain is on YouTube! This is about the final days of Sid. You know they were bleak and he was high most of the time and that's what you see. There have a clip from a NYC cable show with Sid and Stiv Baters as guests. Nancy says the band will be playing Boston on the 24th ... at The Rat. Sid died and never made that show.
The video is age restricted so we are not able to embed it here but you can see it on YouTube here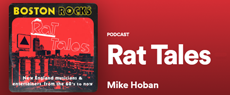 Rat Tales has videos of their latest podcast interviews on Spotify. There's Jon Macey, Jon Butcher, Sal Baglio, Frank Rowe. and Lizzie Borden.
You can find all that on their Spoify page.
You can also go to their YouTube channel where they have some of the same videos and more. They have some live shows in there.
Sapling is bound to get attention this year. They have released a song "A Fox Upon the Tomb" along with a video, and their album (Amor Fati) will be released soon. It's not just that, it's that they are provocative and probing with their material.
"A Fox Upon the Tomb" starts with a pseudo rap that begins "I have an IUD and a gun. Ok. Ok. I don't have a gun." Then there is a sound clip that says, "Anxiety is a personal failure, please continue to follow all norms." You're only 15 seconds in and your buttons are being pushed. Later they declare, "Say what you think," then "Don't tell me what to do." The music lurches around sounding a little like a pastiche in some sections. All very interesting and challenging.
Syteria has released two songs with videos for the forthcoming album. Jackie from the great Girlschool is in the group.
"Pause for Pease" has a heartwarming message that's a reaction to our current chaotic world. The lyrics plead, "One minute of silence, a break from the violence, please." They capture the right tone for the song, not easy for something like this. It's caring without being overly sentimental.
There are many changes in dynamics and some simple guitar fills that keep things interesting. The song leaves you with a good feeling inside. We wish this was a BIG hit and played everywhere.
"It Hit Me" is a propulsive punk pop rocker. Nothing too complicated, but it just works as a good punk romp. We like the pumping bass figure that the song rides on.
Syteria is based in England, but if they ever get to Boston – that would be a show to catch!!
---
PODCASTS.........
Blowing Smoke with Twisted Rico has Mach Bell return to the studio to give an update after his open heart surgery!! He gives the story of how the heart attack came on and then the operation. But soon it's off to the rock stories. Mach was going to rock shows like Jimi Hendrix and Led Zeppelin from the mid-sixties.
This interview goes into more detail with Mach's early days when his musical taste was formed.
Brad Hallen of the Nervous Eaters was interviewed on The Don's Hit List on FAB Radio International podcast this last week.
Brad explained how Steve Berkowitz was a main cog in getting Brad with the Eaters and Steve also linked up the band with Stevie Van Zant and Wicked Cool Records.
The interviewer goes into a few songs on the album like "Chad,""I Want You Like Before" and "Last Chance." Brad said that they used the demo's background track for the finished recording on "Superman's Hands." Brad then dropped the news that the band is doing a video for "Last Chance." WOW!! We hope the capture the amazing mood of that tune!! That will sync with the vinyl release of the album on January 13.
Brad not only is a great bass player but he has been the voice of the band by getting on to many podcasts and getting the info out there.
---
NEW MUSIC/CDs......
The Cretins have been around for a long while. They still play out sporadically. We saw them in 2020 at Once.
"G Song" the first song on their new album Pop Rocks is so good we just wanted to keep listening to that and forget about the rest, even though you knew other good stuff must be coming. That turned out to be true.
"G Song" is just a perfect punk nugget. We knew from seeing them live that this is what they are great at. We have "G Song" on our Top Ten Songs
We also liked "Sweet Party,""Drains,""Crazy Stupid," and "Anatomical Heart". In reality every song is good. The music isn't all power chord chugging. There's some straight rock in the mix, just enough to not sound pop punk cooker cutter sounding.
And the cover is a kick – a cartoon version of the Aerosmith cover. They also co-opt another piece of rock history by reprising the song "G Song" and adding the "Paradise by the Dashboard Lights" baseball rap in the middle. Those jokers!
Rum Bar's Laissez Fairs has a single out preceding an album (Singing in Your Head) that will come out on January 20, "Pretty Penny" sounds like an English psychedelic recording from 1967. It's thick with overdubs, heavy on echo and swirls around like a drug induced high.
Kid Gulliver has another song in their long line of pop wonders. "Kiss & Tell" has all the Kid Gulliver strengths: Simone's vocals, the brilliant songwriting, the strong band performance. The bass is just cooking the entire song. The 12-string guitar work is gilding the lily. They throw in a few seconds of the Batman Theme, just because they could. It's pop perfection from the band that is no stranger to it.
FAIM is from Denver, and their next work will be their last effort because they are breaking up. If you like hardcore give this song "Opus" a listen. It's intense. We like that they have the lyrics so you can better understand what the song is about. At the 1:10 mark the vocals cease and they go into an interlude where they just let up for 40 seconds. You feel like you've earned it, but you know it starts up again.
Limited Appeal Records. has finally released the aptly named Kilslug record A Curse and Two Singles. It's is a collection of a hard to find A Curse cassette and two singles. There were only 300 pressed with about 100 on colored vinyl. The colored vinyl is sold out but you can still get the plain black vinyl version here.
---
Here's some good shows coming up .....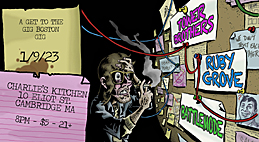 January 9, 2023 (Monday) Tower Brothers, Battlemode, Ruby Grove at Charlie's Kitchen
January 12, 2023 (Thursday) Jivebomb, B.R.A.T., Fraud, Peace Test, Burning Lord at The Middle east Up
January 14, 2023 (Saturday) Hammered Saint, Greg Allen's Fringe Religion, Stop Calling Me Frank, Hilken Mancini for a Midway Matinee 3PM
January 14, 2023 (Saturday) 12th Annual Joe Zippo Memorial Show with Razors In The Night, The Promised End, The Press, The Outsiders PBR, The USM at Sammy's Patio, Revere. 18+, tickets recommened- get 'em here. FB page.
January 14, 2023 (Saturday) Hope & Anchor and Midnight Creeps at Union Station Brewery PVD RI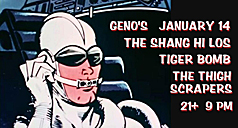 January 14, 2023 (Saturday) The Shang Hi Los, Tiger Bomb, The Thigh Scrapers at Gino's in Portland, ME
January 15, 2023 (Sunday) Point Blank, WORM, Working Poor, Gone Wrong, Circus Battalion at The Midway for a Matinee (3PM-7PM) All Ages! FB Page
January 16, 2023 (Monday) Husbands, Still Life Sounds, Sustinet, Vivid Bloom at The Silhouette Lounge
January 20, 2023 (Friday) Oh The Humanity, Carissa Johnson, One Fall, Pink Slip at The Middle East
January 20, 2023 (Friday) Devil Love (Release Show) with Sidewalk Driver at The Midway Cafe. Facebook page
January 21, 2023 (Saturday) The McGunks, Taken by Vultures, Bad Idea USA, Scotty Saints and the True Believers at The Midway for a Matinee (3PM-7PM) FB Page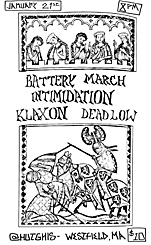 January 21, 2023 (Saturday) Battery March, Intimidation, Klaxon, Dead Low at Hutghis, 8 Franklin St, Westfield, MA - 8:00pm $10 All Ages
January 27, 2023 (Friday) Kids Like You and Me presents: Halo Bite, Thighs, G. Gordon Gritty, KO Queen at The Cambridge Community Center - 7PM people!!
January 27, 2023 (Friday) U-Ey at the Buoy, The Ungraded, Ruffian Dick at Faces Brewing Malden - TIX etc
January 28, 2023 (Saturday) Lupo Citta, Daughter of The Vine, Andy California, Shiny Beasts at The Midway - 8PM, FB page.
February 2, 2023 (Thursday) Willie Nile and The Nervous Eaters at City Winery Boston - Facebook page
February 4, 2023 (Saturday) Black Helicopter, Cortez, Z/28, Mollusk at The Midway - 8PM show - FB page
February 4, 2023 (Saturday) The Shaskeen Presents: TREE, Inverter, Medicated Savage, Caliente Pistolas - FB page
February 4, 2023 (Saturday) The Freqs, Landowner, Miracle Blood at The Middle East Up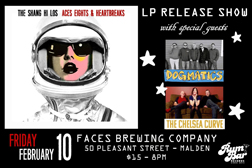 February 10, 2023 (Friday) The Shang Hi Los, The Dogmatics, The Chelsea Curve at Faces Brewery Malden. FB page
February 17, 2023 (Friday) Red On Red Records Presents: Crow Follow, Cold Expectations at The BUrren for an early show at 6PM.
February 17, 2023 (Friday) Franz Nicolay, Coffin Salesman, Your Friends In Hell at Faces -Malden
February 24, 2023 (Friday) Goth / Post-Punk Tribute Night with Gretchen & the Banshees perform as Siouxsie & the Banshees and Staring at the Sea as The Cure at The Midway. FB page.
February 24, 2023 (Friday) Triple B Records presents: Gorilla Biscuits, Restraining Order, Wild Side, Vantage Point, Truth Cult, Wreckage - warning tix are $40!! this is a 6 PM show.
March 11, 2023 (Saturday) Grayskull Booking & Hardcore Stadium present Slapshot, Crown of Thornz, Risk, Neighborhood Shit at The Middle East Down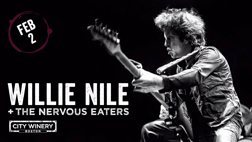 March 18, 2023 (Saturday) The F.U.'s, Cuidado, Duck & Cover, Black Helicopter at the Gerry No. 5 Veteran Fireman's Association, Marblehead - FB page.
March 24, 2023 (Friday) TREE @ Ralph's Rock Diner - FB page
March 31, 2023 (Friday) The Church - The Hypnogogue Album Tour at The Sinclair FB page.
April 20, 2023 (Thursday) Black Flag at the Middle East Down - 2 sets- Set 1 the band perfroms the album My War, Set 2 - Blag Flag classics. $30 TIX here FB page
April 23, 2023 (Sunday) Plymouth Punk Rock Market - Spring 2023 edition! Mayflower Brewery Plymouth - FB page to keep up to date.
April 28, 2023 (Friday) Emo Night Karaoke with live backing band & special guest Monica Whitlock at Middle East - Downstairs.
October 11, 2023 (Wednesday) The Mission UK & The Chameleons: Deja Vu Tour 2022 Rescheduled to 2023!!! also on the bill Theatre of Hate
CONTACT US AT....misslynbgn@yahoo.com Send us your gig listings, your anything else you've got!! You want your CD reviewed?? Contact us for that too.
---
---