The BGN News Archive
January 10, 2021
Just when we though it was getting a little safer to go outside .... the Omicron variant rears its ugly head. Now the numbers of infections are running rampant and you or people you actually know are getting it.....there are cancelations in all areas of the economy.
Several local shows have cancelled. Many of the cancellations have been low key but The Chelsea Curve were more straight forward and plastered 'cancelled' across their poster online. They judged the situation to be too dicey and did it in consideration of the audience.
The Midway now requires proof of vaccination. They no longer will accept a negative test, no matter when it was done.
You should be checking any shows before you go at this point, and be careful.
Tons of people were expressing sadness over the passing of Chris Corkhum (from covid) just at the begining of the year. A Salem native he was the singer for 138 a Misfits cover band and an all around good guy. RIP Chris.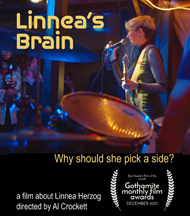 Linnea's Garden will release, a new single, "Looking" on February 10 with a new album in April.
Student Filmmaker Al Crockett won a "Best Student Film" award for his 5 minute doc Linnea's Brain from Gothamite Monthly Film Awards site. You can watch it here
Kenne Highland reports that the new Club Bohemia is nice! They brought everything "up to code" with new bathrooms (!!!!) that "smell nice" and new floors and walls. There are tabels, chouches and a dance space. Awesome!!
We love reading articles about the resurgence of vinyl. The South Coast Today site spotlights three Massachusetts record stores: Max J Records in Fairhaven, Purchase Street Records in New Bedford and Sunset Records in Somerset. The article in the South Coast Today website. And don't forget Pleasant Village Records and Collectibles in Marblehead!!
And for you vinyl freaks and collectors: Vinyl Records, CD, DVD Show in Dedham Sunday Feb 20, 9:30AM - 3PM. Here's the FB page.
Crime Spree is having their first gig in three years. We used to see them a lot…about three years ago. There at the C Note in Hull on a bill put together by Wreckless Wreck Chords. On the bill is Frankly Lost, A.P.E, Jobber and Labor Pains. More in gig listings below.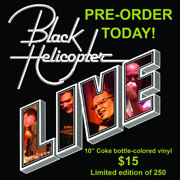 Black Helicopter are limited edition (250 copies) pressing up a 10'' record of their set on Jeff Breeze's WMBR's Pipeline show. It's scheduled for a March 4 release. They are taking advance purchases now on Bandcamp. They will donate some of the proceeds to WMBR in memory of Jeff Breeze who died last year.
The 2/20/22 Brix'n Mortar show with Rose Tattoo is postponed once more due to Australia's current travel restrictions. It was at the Club Jewel in Manchester NH. It will be rescheduled. The Brix'm Mortar Facebook page.
They have dismissed the lawsuit by the guy (Spenser Elden) who was the baby on the cover of Nevermind. He will have one more chance to amend his lawsuit by January 22. If he doesn't that will be the end of it. He claims the naked baby photo made him "suffer lifelong damages" when he was really just mad because he didnt get the attention he wanted for his new release. PHHHT. The story was on the Showbiz Daily website
---
BOOKS......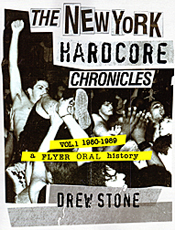 Drew Stone did a lot for Boston with the documentary film All Ages. His NYHC Chronicles podcasts have been excellent. He now has a second printing of his book The New York Hardcore Chronicles Vol.1 1980-1989 a Flyer Oral History. It's not just flyers as the title would suggest. There are photos, some by Phil In Phlash. For a Bostonian you get to hear about some clubs you might not be familiar with. The oral interview bits work to give you the flavor of the times which is, ya know...colorful. Nancy Barile, Jon Sox and Bob Furapples (FUs) are in there telling their stories. La Peste shows up in one of the first flyers in 1980. SSD Control shows up a lot.
But it's not about Boston it's about NY and you find out a lot by delving into this book. You can get it through Drew Stone's site
---
VIDEOS......
2021 that was a tough year, but here we are in 2022 and with it season two of Band's Beer and Banter! This episode has the trio going down the hatch with Whirlpool by Nightshift Brewing, a Red Rock Ale from Opa Opa Brewing Co and Flyaway IPA by Shoveltown Brewery. The vids are "Bad Boy, Worse Drugs" by Baabes – that thing rules!!, "Whiskey Fight" by A Bunch of Jerks, Lady Soledad by Officer X and "Top It Up" by The Chelsea Curve.
New Year's Eve is in the rear view mirror and Color Killer is getting ready for Valentine Day with a new video for their song "Not Your Valentine".
This Real Kids video was posted in 2018 but we hadn't seen it before. It's half hour of the Real Kids playing the Rat on 7/3/92. It's the original line up: John, Alpo, Howie and Billy.
There are some great moments. The kicker is that there is a Part II. Both are posted above.
In Chapter 13 in Tommy White's of Unnatural Axe Zoom documentary. Tom talks about the status of the show at the end of the first season and its season closer.
---
PODCASTS......
The latest interview on Blowing Smoke With Twisted Rico is with Cam Ackland of the Prime Movers and Voodoo Dolls. The Prime Movers were managed by Joyce Linehan.
Cam has excellent taste in music. He says he's come to realize he likes rock'n roll rather than rock. In other words the earlier gutsy rock rather than the arty self-conscious version. Both Cam and Steeve took time to praise Steve Aquino of the Lyres. Cam compared him to Steve Cropper which is a sharp observation. He also stated that it's songs rather than bands that stick with him through the years, and that's another good way to look at rock history.
The next podcast from Blowing Smoke was a year-end review of the music that came out as well as a rundown of the year's podcasts. As Steeve says, 2021 wasn't the greatest year with Covid around, but for Blowing Smoke it was a fantastic year. We have learned a lot by listening to these podcasts. Steeve also has been consistent with new podcasts every week, sometimes two a week. That's a good work ethic.
---
NEW MUSIC/CDs.....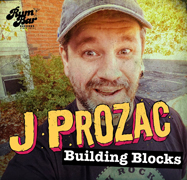 It looks like J Prozac (Jay Gauvin) is now signed to Rum Bar. He has a single now with an album in the works. Prozac is synonymous with quality pop punk and like Rum Bar he can be prolific. He never seems to miss that sweet melodic spot in all his songs.
The new one titled "Building Blocks" has a bit of a switch up. He doesn't go right for the buzz saw guitar; he softens it up – just a tad. The lyrics have a child's view with its talk of 'building blocks'. This would be a candidate for your child's first punk song.
In "Mandy", the other song, Jay ramps it up to his usual groove.
Jonathan Richman has a new album titled Want To Visit My Inner House. We found it on Bandcamp. The title song has many elements of the Indian/Eastern music that Jonathan has been interested in lately. The rest of the album goes back to more familiar territory.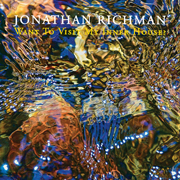 The second song "Me And Her And the Beach" sounds a lot like "I Was Dancing in the Lesbian Bar".
"Nothing is Like Her When She is Walking Up the Street Toward Me" is the "Girl from Ipanema" done up Jonathan style.
People often accuse Jonathan of being blindly positive. He breaks that stereotype with "This is One Sad World" where he lists all the horrible things he can think of. Despite all that he asks, "Does anyone love life more than me?" Jonathan is always trying to communicate those moments of existential clarity that affirm life. "Roadrunner" does that. The ocean is a "taste of the eternal" in "Me And Her On the Beach".
Some of the beats and instrumentation have a world music influence. This will be familiar for those keeping up with Jonathan.
Then again "Distant Are the Stars" is very much a 50s doo wop style song.
There's a lot of creativity, variety and Jonathan trademark moves in this very satisfying Richman album.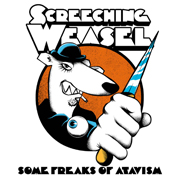 Rum Bar has picked up Chicago's Screeching Weasel. The band has a long history. They are like the Ramones, if you like them, then you like everything they do.
The album Some Freaks of Atavism is a pleasure to listen to all the way through, which is what I did many times. It's well done pop punk. The songs are even better when you become familiar with them over repeated listens. You can hear where they break the pop punk conventions and perk things up. "Problematic" has a fifties flavor melded in with the punk, that was stellar.
The fave tune of ours is the last one "Bleed Through Me". They repeat the last line 17 times, when you listen you sort of subliminally catch on to it and you give into it. It's a moment. You can get the album on Bandcamp
---
Here's some good shows coming up .....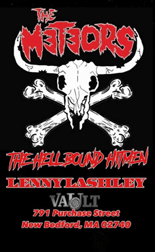 January 14 (Friday) Johnny Plankton, Kenne Highland's Air Force, HIXX, Phantom Ocean at Club Bohemia.
January 14 (Friday) Crime Spree is having their first gig in three years. We used to see them a lot…about three years ago. ALso on the bill, put together by Wreckless Wreck Chords are Frankly Lost, A.P.E, Jobber and Labor Pains. The Facebook event page They're at the C Note in Hull.
January 15 (Saturday) Mallcops, Baabes, Gretchen Shae & the Middle Eight, Wired For Sound at O'Brien's Allston
January 15 (Saturday) Glowbox, Penny Outlaw,Pointe at Club Bohemia
January 15 (Saturday) The Skirts, Crow Follow, Linnea's Garden at The Square Root - this gig has been CANCELLED!!
January 15 (Saturday) 11th Annual Joe Zippo Kelley Memorial Show with Blanks77, Brix'n'Mortar, The McGunks, PCP & The Knives at Koto Salem - FB page.
January 16 (Sunday) Jerry's Got Jokes, Blame it on Whitman, Witches Tears, Screams of Hockomock, Coma Hole at The Midway - 3PM matinee show. FB page.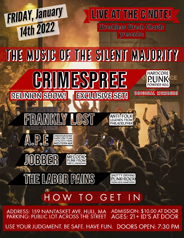 January 16 (Sunday) The Mess Around at The Plough & Stars 3-7PM
January 18 (Tuesday) Wine Lips & Zip-Tie Handcuffs @ O'Briens
January 20 (Thursday ) Rum Bar Records Bash featuring: Jay Allen and The Archcriminals, The Hi-End, Tad Overbaugh & The Late Arrivals at Notch Brewery Brighton. FB page. Free Admisssion - Shows start at 7pm
January 22 (Saturday) The Somethin' Somethings, We Own Land, Il Mostro, Watching It Burn at The Midway a matinee show starting at 3PM. FB page
January 22 (Saturday) Razors in the Night, Tijuana Sweetheart (originally known as Vagiant), Sky Tigers and Nothing But Enemies at Sonia Facebook event page
January 22 (Saturday) Kid Gulliver & Dave Charles at The Plough & Stars
January 22 (Saturday) Lurid Purple Flowers, Verdegree, Motel Black, Elsa Kennedy at The Jungle Union Sq somerville
January 22 (Saturday) Mad Painter, Frank Rowe, Larry Newman, and Captain Easychord at Club Bohemia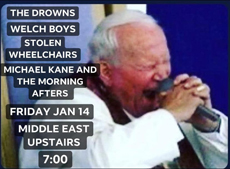 January 22 (Saturday) Kid Gulliver and The Chelsea Curve at The Plough & Stars - 10PM music
January 24 (Monday) Twelveyes with special guests Pigeon Man, Couch Sex, and No Gumption, at The Jungle in Somerville, MA. This is a FREE show, donations accepted.
January 27 (Thursday) Key of Caustic, Battlemode, Linnea's Garden, Bubblegum Punk at The Parlour Provi RI.
January 28 (Friday) The Chelsea Curve Singles Scene Live! Nite #3: Chelsea Curve, The Shang Hi Los and DJ Sherman! This is an early show 5-8PM at The Jungle
January 28 (Friday) Full Color, The 7CS, Fireking, Glow Box at Club Bohemia at The Cantab.
January 29 (Saturday) The Grommets, The New Frustrations, Harry & The Hot Flashes at The Midway 3PM matinee!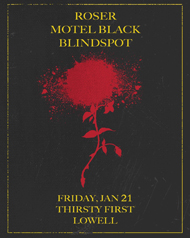 February 5 (Saturday) The McGunks, Duck and Cover, Scotty Saints & The True Believers, Presidential Disgrace at The Midway - 3PM matinee show
February 5 (Saturday) The Jacklights, Kid Gulliver, Bad Idea USA at The Square Root.
February 10 (Thursday) Linnea's Garden, Baabes, Adi Sun, Golder at The Jungle
February 18 (Friday) The McGunks, Rockin' Bob Punk Band, The Prozacs, Follow Thru at The News Cafe in Providence, RI
February 19 (Saturday) The Nervous Eaters and Girl With a Hawk at the Burren. Facebook event page
February 19 (Saturday) Minibeast with The Royal Arctic Institute & Spall at Tiki Sun Studios Portland, ME. FB page.
February 20, 2022 (Sunday) - Sunday Matinee with The FU's, Knockover City, Stereo Vulture, Warthog - 2-6PM - at Thirsty First in Lowell.
February 22, 2022 (Tuesday) JoJo Richman is at the Wilber Theater. FB event page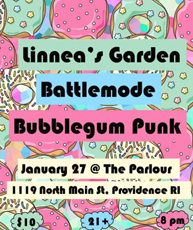 March 12, 2022 (Saturday) Paper Tigers, Sunshine Riot, Luxury Deathtrap, High And Dry at Thirsty First in Lowell.
March 20, 2022 (Sunday) Verbal Assault, The FU's, Peace Test, Bullet Proof Backpack, Holy Hands at The Met in Pawtucket, RI - this is the rescheduled show from last September. All tickets will be honored for postponed show or refunds at point of purchase through 11.30.21 - FB page.
March 20, 2022 (Sunday) Henry Rollins at The Wilbur for his Good To See You tour. Tickets here https://thewilbur.com/artist/henry-rollins/
March 22, 2022 (Tuesday) Henry Rollins: Good To See You 2022 at the Met in Pawtucket, RI FB page
March 24, 2022 (Thursday) Black Beach, Cronies(NYC,)Betties, Anxious Wave at O'Briens
March 31, 2022 (Thursday) The Parquet Courts are at the Royale. Tickets are here
April 22, 2022 (Thursday) Circle Jerks at the Paradise
May 24, 2022 (Tuesday) Reverend Horton Heat, The Koffin Kats, Sasquatch & The Sickabillys at Alchemy in Providence, RI. FB page.
CONTACT US AT....misslynbgn@yahoo.com Send us your gig listings, your anything else ya got!! You want your CD reviewed?? Contact us for that too.
---
---