The BGN News Archive
January 16, 2023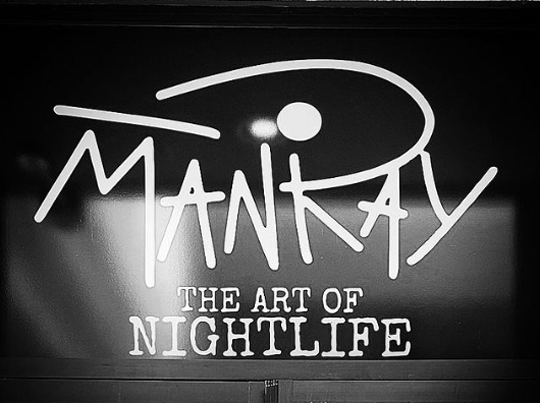 ManRay is back!
There's a lot of people hurting this week as we heard news that Trick (Pat) Wallace passed away. Trick was well loved as a friend and musician. He was a mainstay of the Somerville/Cambridge clubs.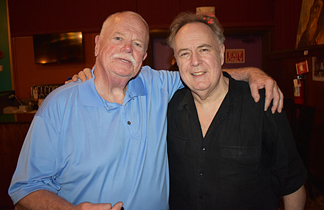 Jimmy Harold and Trick Wallace

We have a remembrance from one of his fellow musicians Larry Newman:

"Trick was a friend, a music colleague, a surrogate father and generally a wonderful human being. I've known him for many years but recently spent more time with him since Asa Brebner's passing in 2019. Pat had written a song about Asa several years back titled "The Man Upstairs." They lived in the same house on Orchard Street in Cambridge for many years and played together. I guess that would make Trick "The Man Downstairs." We had many long conversations on the porch of that house.

"After Asa passed, I played a few times, with Trick, at The Tavern at The End of The World. In fact he accompanied me there the first time I played one of Asa's tunes, and once more at The Asa Brebner Memorial Concert.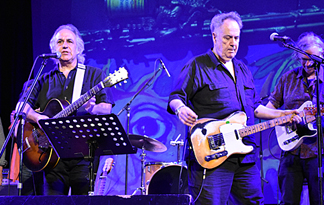 Larry Newman and Trick Wallace

"Trick was the consummate side man, and accomplished guitarist and bassist playing alongside a variety of New England's best musicians on guitar or bass or with his own band The Trick Wallace Trio. I have an upcoming show next month that I planned on asking him to join me, and he was to be an integral part of The Live I Am Not Gone Tribute to Asa Brebner in March, but that is not to be.

"The thing I will remember the most about Trick is his sense of humor. It became a regular beginning to our phone conversations that we would joke for 5 or 10 minutes before getting to the purpose of the call, me referring to him as "St. Patrick" and there was always conversation about keeping those snakes out of Ireland. He was a generous, kind, even selfless human being who was always there to help out. I will miss him terribly as he goes to jam with Asa and others in the great beyond."

Larry has secured a date for this Asa Brebner I am Not Gone Vol I and II Live party. It's at The Burren, Sunday March 5th.

This is the CD live release that never happened because of covid. it's for both CDs and features live version of the recorded songs on the CDs, Trick had planned to play on several of those that night. There will be copies of both CDs available for sale at $15each



We've been questioning the status of the new ManRay location on Prospect St in Central Square, for a while. It was rumored to open months ago. This week Invitation Only emails went out to those on the ManRay list for the opening on this past Saturday night, 1/14. The original club closed its doors in 2005 and there have been 'ManRay nights' through the years, most recently at the Middle East. But now it is finally here. ManRay is back!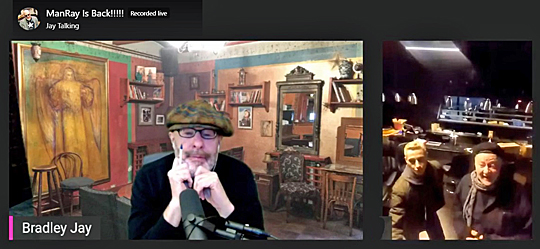 From a great interview by Bradley Jay with Emily Sweeney, Terry Nadzwicki and Chris Ewen from inside the club: They'll have the usual 'themed nights' like ManRay club night on Wednesday, Thursday will be Campus nights -that's gay men and their friends- Saturday will be New Wave '80/90's. They also lan, down the line to have live bands again! Chris will be the main DJ but they also want to have lots of guest DJs as well.
January 14 was their invite only premier. The invite was specific on Dress Code: Minimum ALL BLACK - Dress to impress! Please NO ballcaps, white shoes/sneakers, street clothes, or sports attire.
The opening night drink special was THE VAMPIRE: Stoli Raspberry vodka, kissed with raspberry liquor, a touch of blue curacao, and a hint of cranberry juice.
This is a good chance to read We Are But Your Children: An Oral History of the Nightclub ManRay by Shawn Driscoll, if you haven't yet. It is an excellent overview of the club, culture and people that made ManRay such a special space. Find the ManRay book here.
ManRay's Instagram page and Facebook page.
The Dogmatics: a Dogumentary has been the works for a while. It is now completed!! Dogmatics and local music fans alike are going to go bonkers for this. The film tells the band's story from the very beginning and right up to their latest release Drop The Needle.
Filmmaker Rudy Childs is ramping up fast. The first step is the Dogumentary to film festivals for the next few months.
Take a look at the trailer above to get a taste. They actually have footage from the Dogmatics Thayer Street loft!!…crazy, wild footage!!
All bands would be lucky to have a career spanning documentary like this. The Dogmatics may be more fortunate than most with the amount of audio and video recording that have been found and included. Dogumentary website
The BGN will have an interview with Rudy Childs in the news next week as well.
The Sound Museum fight goes on. Now there is the web site Save The Sound Museum. There is a petition there that you can fill out to support them. There is also have a video of a pep talk supporting the Sound Museum to a group of tenants we figure. Des Desmond, the owner, is not walking away from this fight. This looks like just the beginning.
And Pleasant Village Records, Jaime Thalia's store will close its doors soon - sadly!! According to Jamie the owner has sold the building and the cheap rent she was lucky to have will end...Your job would be to hit the store soon. Support Jamie!! It's at 191 Pleasant St in Marblehead.
The BGN interviewed Jamie when the store opened - you can read that here.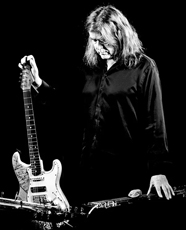 Premier Guitar magazine has a nice long piece on Roger Miller and his Eight Dream Interpretations for Solo Electric Guitar Ensemble album.
Roger talks about the surrealistic influence in his methodology. He had to go against some Andre Breton precepts to get where he wanted but he did it. He uses dream logic to direct his music. He has written down his dreams for years.
In addition, he mentions Robert Frith, Terry Riley, Eno, Syd Barrett and Jimi Hendrix as influencers. For the techies there's a list of equipment Roger uses. Read it here: Premier Guitar
Boston Calling is back this year with the Foo Fighters headlining. The dates are May 26 to 28. The Linda Lindas made the bill too but we're more interested in the opportunities for the local acts. We're thrilled to see that Actor|Observer will be playing (Sat. May 27). "Bubblegrunge" locals Mint Green are also on the bill (Sun May 28).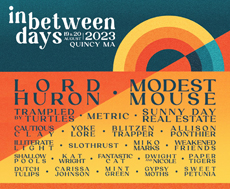 For the second year in a row Quincy is having the In Between Days Fest - 2 Stages, 2 Days, 24 bands ... and Cool Vintage and Local Market Place, Vinyl Record Pop Up Shop, Food, Date August 19 & 20.
Modest Mouse is headlining which is a big deal right there for a lot of people. Other bands in the line up are Weakened Friends, Paper Tigers, Clarissa Johnson, Dutch Tulips and the South Shore's own Gypsy Moths. You'll want to get your tickets now because they have a 'tier' system. The longer you wait, the higher the ticket prices are. Check it all out at In Between Days Fest
VIDEOS......
Nobody but nobody is working it like the Nervous Eaters are these days. They just released the video for the classic "Last Chance." That song has been a fan favorite for decades. They reprised it for the latest album Monsters & Angels.
This video is to keep up interest as the vinyl version of the album is to be released soon. The song has a dark quality to it. They plug into that in the video with some unsettling images that give it an edge. It's never spelled out but there seems to be tragedy just ahead for the characters in the song.
We always felt a noir vibe to the song and the very first shot of the video is a black and while shot of an alley at night and that captures the feeling we always had when hearing the song live. The video has the same quality production as their previous album vids. The song mentions a hotel room and that's the main scene where the band plays the song. The camera zooms in on the instruments and the playing hands as much as showing the guys in the group.
We imagine ourselves back in 1978 at a Nervous Eaters gig, could we imagine that we would be watching a video of "Last Chance" in 2023? I don't think we could, we are very lucky.
Stupidity are a Boston fave garage band from Sweden. They debuted their video for "The Murder of Love" on Saturday.
This is a good chance to hear that song again. The guitar jangle at the beginning is classic. We love the solo section. At the 1:30 point the band drops out and a short fuzz bass line introduces the wild guitar rave up. There are other touches like the high female vocal just before the chorus and the tasteful horn fills.
Jay Prozac has a video of "Beat of Our Hearts" off his last Rum Bar release Won't Let Go. It's a fun cartoon romp. The song is a pop punker with a swift pace. Jay has been consistent with quality punk for so long, he should have an even higher profile.
---
PODCASTS.........
Blowing Smoke with Twisted Rico interviews Nat Freedberg this week. He takes the opportunity to get Nat to do two live songs while he's there.
Nat gives a good explanation of why he's doing records in different styles. He's basically just following his creative spirit. He talks about the circle of musicians he has been using lately. He talked about the Upper Crust a bit. There are no plans on new shows by them.
Right now he has another solo record coming out that will lead to some live shows. He's also doing a solo acoustic show with Sal Baglio at the Square Root on February 3. Freeloader is playing at the Middle East up with Hammered Saint and Tiger Bomb on February 11.
---
NEW MUSIC/CDs.....
The full album Aces Eights & Heartbreaks by The Shang Hi Los is out! It is nine cuts. The band again dips in and take what they want from the sixties and seventies pop rock.
"Take One to Know One" their last single is a representative lead off song. The stomping beat gets you in line right off. Hearing Jen D'Angora's voice is the welcoming sound that all local fans will rejoice in. Then there's Dan Kopko's layered guitars creating a sweet sound. Hearing this song in the album format makes us appreciate it even more than in the video.
"Monsieur Valentine" has a early sixties Brill Building sound that's built for Jen. She simply can't miss with this sort of material. How they can write something like this at will is just a wonder.
The rhythm section shines in "Aces Eights & Heartbreaks". They are super tight and the song rides on them.
"Plymouth Rock" a biographic remembrance is a standout in the album line up. The cinematic sweep of "Billy" is another switch up. Perfect example of where variety in songwriting keeps things interesting as a whole.
At the moment only two songs are available on Bandcamp but locals will want to have this whole album ASAP.
The Lemon Drop Gang are a Rum Bar Records group with a new digital single out.
They deliver a garage rock sound that seems so innocent. It's like they just get together and this sixties pop just comes out. The recording, although clear, comes across as a rough live take.
The songs "Sweetie Pie" and "Party's Over" both have twists and details though out but still have a loose feel to them. The work is hidden in plain sight.
We'll Give It To You is a new 56 track, 4CD box set Gang Green compilation from their years on Roadrunner Records. along with some extras.
Here's some info from the record blurb…"from legendary Boston hardcore kings Gang Green featuring four full albums from the band's years on Roadrunner Records, with bonus tracks. CD 1 is their second full length studio album 'You Got It"- 1987. CD 2 is 'Older... Budweiser' - 1989. CD 3 features the live 'Can't LIVE Without It' recorded at the Marquee Club in London on 2/25/1990, with the 'I81B4U' EP and their cover of Led Zeppelin's 'Living Loving Maid' as bonus tracks. CD 4 features the compilation 'King Of Bands' originally released in 1991, which includes two specially recorded tracks and three from the debut 'Another Wasted Night' This release features extensive liner notes from respected writer Mark Freebase, including an extended brand new interview with Chris Doherty."
As they say about Gang Green. "Worlds loudest and drunkest band." Here is the album on the Collector's Choice website
---
Here's some good shows coming up .....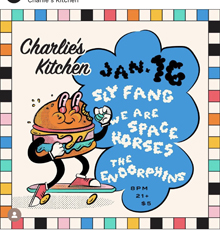 January 16, 2023 (Monday) Sly Fang, We Are Space Horses, The Endorphine- at Charlie's Kitchen
January 16, 2023 (Monday) Husbands, Still Life Sounds, Sustinet, Vivid Bloom at The Silhouette Lounge
January 20, 2023 (Friday) Oh The Humanity, Carissa Johnson, One Fall, Pink Slip at The Middle East
January 20, 2023 (Friday) Devil Love (Release Show) with Sidewalk Driver at The Midway Cafe. Facebook page
January 20, 2023 (Friday) Fog Wizard, Heavy Coven, Wired for Sound, Marianne Toilet at Koto Salem
January 21, 2023 (Saturday) The McGunks, Taken by Vultures, Bad Idea USA, Scotty Saints and the True Believers at The Midway for a Matinee (3PM-7PM) FB Page
January 21, 2023 (Saturday) Battery March, Intimidation, Klaxon, Dead Low at Hutghis, 8 Franklin St, Westfield, MA - 8:00pm $10 All Ages
January 21, 2023 (Saturday) Minibeast with Sapling and Twin Foxes at Taffeta, Lowell, MA TIX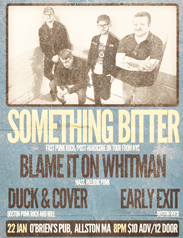 January 22, 2023 (Sunday) Something Bitter, Blame It On Whitman, Duck & Cover, Early Exit- at O'Brien's
January 22, 2023 (Sunday) Old Soul, Tysk Tysk Task, Mote, Tiffy at State Park
January 23, 2023 (Monday) The Furniture, Kremlin Bats, The Brad Baker Experience- at Charlie's Kitchen
January 26, 2023 (Thursday) Oxblood Forge, The Endorphins, Wrought Iron Hex, Blue Manic at O'Brien's
January 27, 2023 (Friday) Kids Like You and Me presents: Halo Bite, Thighs, G. Gordon Gritty, KO Queen at The Cambridge Community Center - 7PM people!!
January 27, 2023 (Friday) "HRT's Birthday/ Costume Party" with Hands Of Spite, KCUF, CE Skidmore & The Damn Fine Band, Shake - The Midway
January 27, 2023 (Friday) U-Ey at the Buoy, The Ungraded, Ruffian Dick at Faces Brewing Malden - TIX etc
January 28, 2023 (Saturday) Lupo Citta, Daughter of The Vine, Andy California, Shiny Beasts at The Midway - 8PM, FB page.
January 30, 2023 (Monday) Donaher, Strictly Speaking, A Day Without Love- at Charlie's Kitchen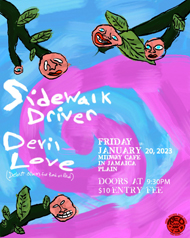 January 31, 2023 (Tuesday) Thelma & the Sleaze, Sly Fang, Pink Lids at O'Brien's TIX at O'Brien's page with links
February 2, 2023 (Thursday) Willie Nile and The Nervous Eaters at City Winery Boston - Facebook page
February 3, 2023 (Friday) The Casket Lottery, Taking Meds, Sky Tigers, The Endorphins - Middle East Up
February 4, 2023 (Saturday) Black Helicopter, Cortez, Z/28, Mollusk at The Midway - 8PM show - FB page
February 4, 2023 (Saturday) The Shaskeen Pub Presents: TREE, Inverter, Medicated Savage, Caliente Pistolas - FB page
February 4, 2023 (Saturday) The Freqs, Landowner, Miracle Blood at The Middle East Up
February 10, 2023 (Friday) The Shang Hi Los, The Dogmatics, The Chelsea Curve at Faces Brewery Malden. FB page
February 10, 2023 (Friday) The McGunks, The Gobshites, The Welch Boys at The Midway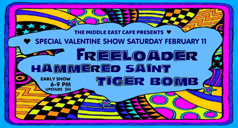 February 11, 2023 (Saturday) Freeloader, Hammered Saint, Tiger Bomb at The Middle East Up - EARLY show 6-9PM
February 17, 2023 (Friday) Red On Red Records Presents: Crow Follow, Cold Expectations at The Burren for an early show at 6PM.
February 17, 2023 (Friday) Franz Nicolay, Coffin Salesman, Your Friends In Hell at Faces -Malden
February 17, 2023 (Friday) Hixx, Scott Damgaard Band, Phantom Ocean at O'Brien's - Tickets
February 17, 2023 (Friday) The Imposers, Diablogato, Bobcat at The Worthen Attic, Lowell.
February 19, 2023 (Sunday) The Crank-tones and The Fathoms at The Mindway for a Matinee at 3PM - FB page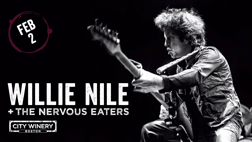 February 24, 2023 (Friday) Goth / Post-Punk Tribute Night with Gretchen & the Banshees perform as Siouxsie & the Banshees and Staring at the Sea as The Cure at The Midway. FB page.
February 24, 2023 (Friday) Triple B Records presents: Gorilla Biscuits, Restraining Order, Wild Side, Vantage Point, Truth Cult, Wreckage - warning tix are $40!! this is a 6 PM show. Middle East
February 24, 2023 (Friday) Waiver Wire. baby bowler, Paper Tigers, Indoor Friends at The Jungle
February 25, 2023 (Saturday) Thrust Club, Saturniids, Sorry Ma at State Park
February 27, 2023 (Monday) The Roland High Life, Tiffy, Sorry Ma at Charlie's Kitchen
March 3, 2023 (Friday) Actor|Observer, In Good Nature at Free Street - Portland, ME
March 4, 2023 (Saturday) Actor|Observer, In Good Nature at Taffeta in Lowell, MA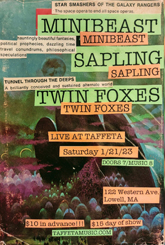 March 5, 2023 (Sunday) "I Am Not Gone" A Tribute To Asa Brebner LIVE - The Burren - Facebook page
March 5, 2023 (Sunday) Actor|Observer, In Good Nature at Alchemy. Provi, RI
March 10, 2023 (Friday) Freqs, Mollusk, Hotel Black, Knock Over City at The Jungle
March 11, 2023 (Saturday) Grayskull Booking & Hardcore Stadium present Slapshot, Crown of Thornz, Risk, Neighborhood Shit at The Middle East Down
March 11, 2023 (Saturday) Linnea's Garden, Soraia, Justine and The Unclean, The Idiot Kids at The Jungle
March 18, 2023 (Saturday) The F.U.'s, Cuidado, Duck & Cover, Black Helicopter at the Gerry No. 5 Veteran Fireman's Association, Marblehead - FB page.
March 24, 2023 (Friday) TREE @ Ralph's Rock Diner - FB page
March 25, 2023 (Saturday) The Freqs, Deprogrammer Cult, Rue, Ghost Planet at The Worthen Attic, Lowell
March 31, 2023 (Friday) The Church - The Hypnogogue Album Tour at The Sinclair FB page.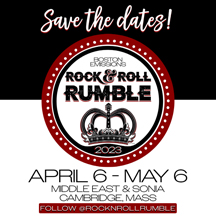 April 20, 2023 (Thursday) Black Flag at the Middle East Down - 2 sets- Set 1 the band performs the album My War, Set 2 - Blag Flag classics. $30 TIX here FB page
April 22, 2023 (Saturday) Welch Boys, Loser's Circle, ChumHuffer, Cry Havoc, Scumbari at The Midway for a Matinee at 3PM
April 23, 2023 (Sunday) Plymouth Punk Rock Market - Spring 2023 edition! Mayflower Brewery Plymouth - FB page to keep up to date.
April 28, 2023 (Friday) Emo Night Karaoke with live backing band & special guest Monica Whitlock at Middle East - Downstairs.
May 6, 2023 (Saturday) Dark Spring Boston Festival at The Middle East Down - line up coming - FB page.
October 11, 2023 (Wednesday) The Mission UK & The Chameleons: Deja Vu Tour 2022 Rescheduled to 2023!!! also on the bill Theatre of Hate
CONTACT US AT....misslynbgn@yahoo.com Send us your gig listings, your anything else you've got!! You want your CD reviewed?? Contact us for that too.
---
---