The BGN News Archive
January 11, 2022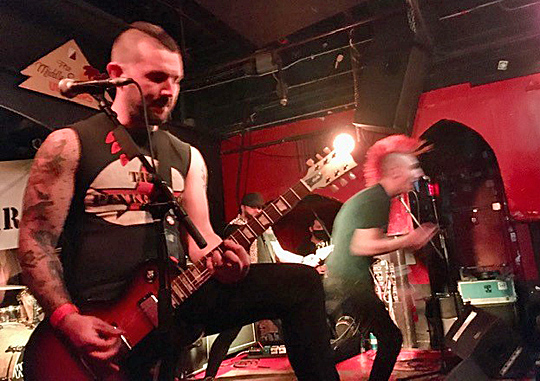 Stolen Wheelchairs
Joanie Lindstrom went to the Middle East Up to see The Drowns from Seattle, Stolen Wheelchairs from Philly, and locals The Welch Boys and Michael Kane & the Morning Afters. Here's she is telling us about it:
"A good amount of people braved the cold, windy night on Friday to hit the Middle East Upstairs.
The Morning Afters were happy to have such a good crowd there on the early side. They have a very catchy style of melodic punk with keyboards that can get a little overwhelming for me (was getting Southside Johnny & the Asbury Jukes vibes) but when you do a great cover of one of the best songs of all time ("I Need to Know" by Tom Petty), you get bonus points.
The Welch Boys followed that set, doing their brand of street punk that the crowd was psyched to hear, especially the singer from The Drowns.
| | |
| --- | --- |
| The Drowns | Joanie with Blanks 77 and Spitzz |
Next up was the young Philly band Stolen Wheelchairs. Well, pretty young, with an underaged Oscar Jr. singing and his dad Oscar Sr. on guitar (formerly in the Boils). Both Oscars are showmen, but damn, Jr. was all over the place and a super engaging front guy. They're fairly straight ahead punk and he'll remind you of Mark from the Unseen with the big ass mohawk, but the music can be downright tuneful at times. Give them a listen. Here's their Bandcamp page.
Last we had The Drowns who have records on Pirate's Press. I especially liked their Under Tension from early 2020 and they did a few songs from that album toward the end. The crowd knew those numbers. Their new single is a cover of Slade (link to "Know WHo You Are"), so there's probably something you'll like. They were really happy to be playing in Boston and thankfully, had a good crowd showing their appreciation.
To add to the fun, some of Blanks 77 came up a day early to hang out before their Koto show on Saturday, and Tom and Vic from Showcase/Spitzz showed up too, so it felt just like 1997!!"
| | |
| --- | --- |
| Jim Coffman | Wall of flyers - Underground |
Now for some sad news - We lost Jim Coffman on January 1. Jim ran The Underground, the beloved club off Comm Ave at Packards Corner in Allston. Even for people like us who have gone to clubs since forever the Underground stood out. It was so comfortable and friendly on top of being a perfect space for cutting edge music. Everything about it was right and that doesn't happen by chance. Jim made the decisions that created the welcoming place. The club was only open for a little over a year (Feb 1980 to June 1981) but made an indelible mark on those of us that went there. You can read about The Underground on Wikipedia.
Jim also managed two of the great bands of Boston, The Neats and Mission of Burma. There's a note from Jim's daughter Chloe on the Jim Coffman Facebook page – along with comments from people who interacted with Jim back in the day. And Jan Crocker, on his KinoDV site has several video by Boston rockers who remember Jim and the Underground.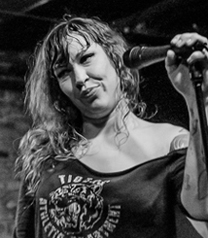 Also, Rachel Nagy of The Detroit Cobras had died. The group had a rabid fan base and when they came to Boston the devout came out for them. We saw them in 2015 Rachel had a voice made to capture the rock and roll spirit and grit. Here's "Hey Sailor" but any song they did would show off that voice.
It was sad that Ronnie Spector died this week but the outpouring of feelings and good memories cascading through Facebook was inspiring. That golden voice spoke to absolutely everyone. One of our faves is her version of Johnny Thunders' "Can't Put Your Arms Around a Memory"
The Cantab announced on their Facebook page that Club Bohemia was being renamed Cantab Underground.......So, everything is alright…we hope....
The post: "Club Bohemia is no longer located at The Cantab Lounge. Downstairs at The Cantab will now be known as "Cantab Underground". Have no fear, Mickey Bliss will still be running the show! Please reach out to Mickey directly or Andrea Ballotta.."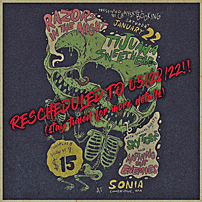 Reopening at the height of the Omicron outbreak was unfortunate timing, but that was a hard thing to forecast.
and with that thought.......the reunion show with Razors in the Night and Tijuana Sweetheart (Vagiant) at Sonia has been rescheduled from January 22 to May 28.
Their statement about the reschedule makes a lot of sense. They say at one point: "We want everyone to feel safe to attend so that we can scream along with all our buds, arms around each other, fists in the air -- as it should be!" They also added that: "We've been hearing from lots of friends and fans asking us to postpone the reunion show until the Covid situation improves in our area." Wise decision. Razors in the Night Facebook page.
Abysmal Depth Productions continues to book shows on the South Shore: "The March of the Symbiotes" with Branch Davidian, Wrath of Hades, Exsanguination and Dark Was the Night is at Rasputin's Tavern in Fairhaven on March 19. The Facebook page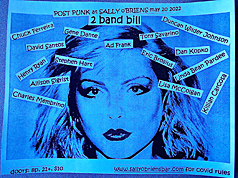 There's an interesting gig at Sally O'Brien's it's "Post Punk Night" set for May 20. Artists are: Linda Been Pardee, Ad Frank, Gene Dante, Tony Savarino, Eric Brosius, Dan Kopko, Lisa McColgan, Killian Carcosa, Chuck Ferreira, David Santos, Stephen Hart, Henry Ryan, Allison Sigrist and Charles Membrino.
The Sound Museum, the Brighton practice space building, which also housed the original Magic Room, is being demolished. Des Desmond who owns the place is doing the extraordinary favor of finding a new space that is comparable in size, location, and rent prices. He promises the bands it will be fully functioning when he helps the groups move in. And he IS going to help them move, Des will hire moving trucks to assist artists with the transition, free of charge!! Des is so dedicated treasure to music and musicians in this area, Des you rule!! Read the full report on Vanyaland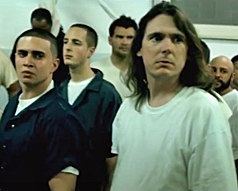 Brian Young of Crash Course for the Ravers is an extra in some local movies. He posted one on Facebook. It's called Oxy-Morons. It's a hard hitting, gritty movie that shows the repercussions of the Oxy Contin drug problem. You can see Brian at the 48:30 mark. Here's the link to the movie
Red on Red has signed Speedfossil to their label. They had flirted with the band by including them in their Hots compilation album. Their next album, No Anesthesia , comes out on Friday, April 8th. The first of a few videos of new songs will be "Luckiest Man In The World", and it will get its world wide video premiere on The Big Takeover on Monday, January 17th. Speedfossil's Facebook page
---
BOOKS......
We Are But Your Children gives the oral history of the club ManRay. This author is Shawn Driscoll. To snag yours go to Shawn's Facebook page, there are links to buy the book.
It's not coming out till mid-April but Jim Ruland's Corporate Rock Sucks will tell the story of SST Records. The record label was started by Greg Ginn to release records by Black Flag since no one else would. Eventually they had artists: Husker Du, Sonic Youth, Soundgarden, Bad Brains and Dinosaur Jr.
The book is a healthy 432 pages. You get the story of how this essential 80s label fell apart. The story and to preorder the book see the Brooklyn Vega
---
VIDEOS......
In Chapter 14 in Tommy White's Zoom documentary Tom spotlights a review of Zoom done by VH1 in a show called I Love The Seventies where some of the Zoom cast look back at their experiences.
Somebody posted a FU's set at Greenfield Grange from 2/5/1983 on YouTube. It's a soundboard tape so it sounds better than you usually get. It's fast, the band is sharp and Jon Sox is in top form. Video above.
Another older tape that got a posting this week, is a Proletariat show done on WERS on 9/27/82. The sound is good. Video above
Guerilla Toss have signed up with Sub Pop Records and their new album Famously Alive will be released on March 25th. They're doing a 16 city tour…Boston is scheduled for Tuesday April 26 at the Crystal Ballroom (FB page) They've released a video for "Cannibal Capital" from the album. They rated articles is Brooklyn Vegan, Stereo Gum, Paste Magazine, The Music Connection and other site! So here is "Cannibal Capital" The whole track is synth driven with some outbreaks of heavy guitar slashing.
---
RADIO....
As usual Ron the Monday guy on the Late Risers Club played some stirring punk. "I Wish You Were Dead" by the Kool and the Gang Bangers sounded like an early punk song. We loved that one to death.
Later he did play an early punk song "Naïve" by the Killjoys. That was a single that got more attention a few years later as the lead singer Kevin Rowland got famous with Dexy's Midnight Runners. Here's a link to the song on YouTube
We could go on, there's a lot of great songs on this show but hey, you should go to the WMBR archives and check out the Late Risers Club show for Monday 1/10 yourself.
---
PODCASTS.........
The first interview of 2022 on Blowing Smoke With Twisted Rico is with Jen D"Angora of the Shang Hi Los and Jenny Dee & the Delinquents and the Downbeat 5. We thought for Jen that there must have been bands previously to the Downbeat 5, but no, that was her first band. She expresses wonder about it herself.
---
NEW MUSIC/CDs......
We were looking at the Thrash'n Bang site and saw they reviewed an album by newcomers Triggered.
We took a listen and have to agree with our brothers over at T'n'B this album, Piss You Off, is ripping!! Not being in the clubs has only increased our longing for louder music, and Piss You Off is loud and intense.
The music is caustic thrash/punk. We love that the singer has a clear voice and that you can catch most of the lyrics because they are pointed!
Average song length is a minute and a half. They pack a lot into those brief stabs. In "Enlist" which is 2:09 long they have a 1:19 second intro and still manage to make their point and make it strong. "Fuck Dope" is 30 seconds long. "Pig Roast" puts the skewers through the police. "Freak Flag" espouses personal freedom no matter how kinky. In "Narc Lombardo's Red Flag Conversion Therapy:" they put the politician Mark Lombardo through the wringer. It's easy to hate the non-stop condo building, Triggered does a cathartic 36 seconds on it in "80 New Condos"
It's been a while since such naked politics has been the point of a group. They make it seem new and cutting again.
It's overwhelming to think of what was lost in the fire at the Zippah Studio. The road to replacement is a long one. This Zippah Benefit Compilation on Bandcamp is one of the steps forward. All money for the sales go to the Zippah Studio.
There are 42 songs on here. They all passed through the Zippah Studio. Some were done 100% some just mixed there. This is a wonderful look into what the studio has done. The styles are all over the map. There are things that tend to happen with many of these songs. Most have a heart, an emotional frisson that the songs carry and work out. That's why there are a lot of four minute songs here. The perfect example is the opener "Good Times" by Emily Grogan.
Brad Marino is back with a single "Girl, I Want You". It's very straight ahead and stripped down, refreshingly free of any concern other than to rock it out. This is the sort of thing we go to Brad for and that he seems to have a steady supply.
---
Here's some good shows coming up .....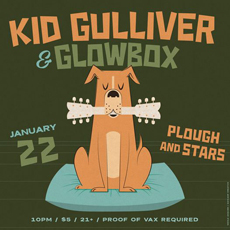 January 18 (Tuesday) Wine Lips & Zip-Tie Handcuffs @ O'Briens
January 20 (Thursday ) Rum Bar Records Bash featuring: Jay Allen and The Archcriminals, The Hi-End, Tad Overbaugh & The Late Arrivals at Notch Brewery Brighton. FB page. FREE Admission - Shows start at 7pm
January 22 (Saturday) The Somethin' Somethings, We Own Land, Il Mostro, Watching It Burn at The Midway a matinee show starting at 3PM. FB page
January 22 (Saturday) Razors in the Night, Tijuana Sweetheart (originally known as Vagiant), Sky Tigers and Nothing But Enemies at Sonia Facebook event page MOVED TO END OF MAY!!!!
January 22 (Saturday) Kid Gulliver & Glowbox at The Plough & Stars
January 22 (Saturday) Lurid Purple Flowers, Verdegree, Motel Black, Elsa Kennedy at The Jungle Union Sq somerville
January 22 (Saturday) Mad Painter, Frank Rowe, Larry Newman, and Captain Easychord at Club Bohemia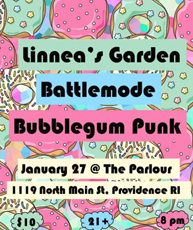 January 23 (Sunday) Waiver Wire, Superhead, Overnight, Ring Pop -3-7PM matinee at The Midway
January 23 (Sunday) Crescent Ridge, Kal Marks, Black Beach at O'Brien's
January 24 (Monday) Twelveyes with special guests Pigeon Man, Couch Sex, and No Gumption, at The Jungle in Somerville, MA. This is a FREE show, donations accepted.
January 27 (Thursday) Key of Caustic, Battlemode, Linnea's Garden, Bubblegum Punk at The Parlour Provi RI.
January 28 (Friday) The Chelsea Curve Singles Scene Live! Nite #2: Chelsea Curve, Muck & The Mires, and DJ Mike Gioscia, spinning hits from the 80s & 90s, WFNX-night style! This is an early show 5-8PM at The Jungle (this was postponed from 1/7 and changed to this new date)
January 28 (Friday) Full Color, The 7CS, Fireking, Glow Box at Club Bohemia at The Cantab.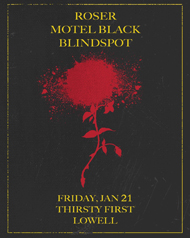 January 29 (Saturday) The Mess Around is back to normal, well sort of. With Kenne Highland and crew in tow, who knows what will happen ,,and ... Matt Charette. Plus our hosts, Tom Baker, Justine Covault, and Jay Allen 4-6PM at The Plough & Stars
January 29 (Saturday) The Grommets, The New Frustrations, Harry & The Hot Flashes at The Midway 3PM matinee!
January 29 (Saturday) Crushed Vinyl, Paper Tigers, The Holy Rollers, Field Day at The Midway
February 2 (Wednesday) Key of Caustic, Orbiter, Phantom Ocean, The Teezers at O'Brien's
February 5 (Saturday) The McGunks, Duck and Cover, Scotty Saints & The True Believers, Presidential Disgrace at The Midway - 3PM matinee show
February 5 (Saturday) The Jacklights, Kid Gulliver, Bad Idea USA at The Square Root.
February 10 (Thursday) Linnea's Garden, Baabes, Adi Sun, Golder at The Jungle
February 12 (Saturday) Gene Dante & the Future Starlets, Parlour Bells and Eddie Japan at the Crystal Ballroom FB page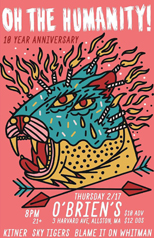 February 17 (Thursday) Oh The Humanity! (10 year anniversary show!!), Kitner, Sky Tigers, Blame it on Whitman at O'Brien's
February 18 (Friday) The McGunks, Rockin' Bob Punk Band, The Prozacs, Follow Thru at The News Cafe in Providence, RI
February 19 (Saturday) The Nervous Eaters and Girl With a Hawk at the Burren. Facebook event page
February 19 (Saturday) Minibeast with The Royal Arctic Institute & Spall at Tiki Sun Studios Portland, ME. FB page.
February 20, 2022 (Sunday) - Sunday Matinee with The FU's, Knockover City, Stereo Vulture, Warthog - 2-6PM - at Thirsty First in Lowell.
February 22, 2022 (Tuesday) JoJo Richman is at the Wilber Theater. FB event page
March 12, 2022 (Saturday) Paper Tigers, Sunshine Riot, Luxury Deathtrap, High And Dry at Thirsty First in Lowell.
March 19, 2022 (Saturday) The Dogmatics at The Magic Room in Norwood. FB page
March 20, 2022 (Sunday) Verbal Assault, The FU's, Peace Test, Bullet Proof Backpack, Holy Hands at The Met in Pawtucket, RI - this is the rescheduled show from last September. All tickets will be honored for postponed show or refunds at point of purchase through 11.30.21 - FB page.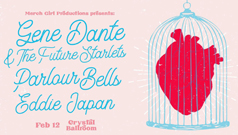 March 20, 2022 (Sunday) Church Girls, Suntitle, Carissa Johnson, Paper Tigers at The Middle East Upstairs.
March 20, 2022 (Sunday) Henry Rollins at The Wilbur for his Good To See You tour. Tickets here https://thewilbur.com/artist/henry-rollins/
March 22, 2022 (Tuesday) Henry Rollins: Good To See You 2022 at the Met in Pawtucket, RI FB page
March 24, 2022 (Thursday) Black Beach, Cronies(NYC,)Betties, Anxious Wave at O'Briens
March 31, 2022 (Thursday) The Parquet Courts are at the Royale. Tickets are here
April 22, 2022 (Thursday) Circle Jerks at the Paradise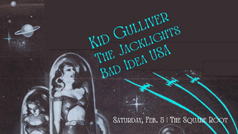 May 20, 2022 (Friday) "Post Punk Night" with Linda Been Pardee, Ad Frank, Gene Dante, Tony Savarino, Eric Brosius, Dan Kopko, Lisa McColgan, Killian Carcosa, Chuck Ferreira, David Santos, Stephen Hart, Henry Ryan, Allison Sigrist and Charles Membrino at Sally O'Brien's Union Sq Somerville. .
May 24, 2022 (Tuesday) Reverend Horton Heat, The Koffin Kats, Sasquatch & The Sickabillys at Alchemy in Providence, RI. FB page.
May 28, 2022 (Saturday) Razors in the Night & Tijuana Sweetheart Reunion Show at Sonia, also on the bill Nothing But Enemies. FB page
CONTACT US AT....misslynbgn@yahoo.com Send us your gig listings, your anything else ya got!! You want your CD reviewed?? Contact us for that too.
---
---