The BGN News Archive
February 13, 2023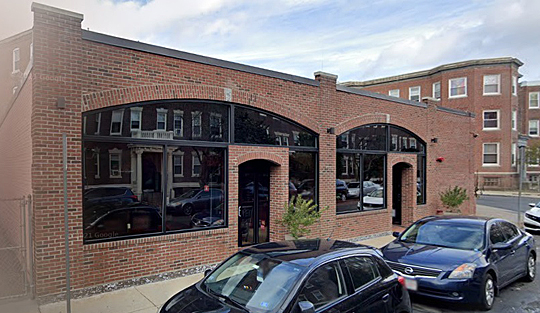 Fields West - new club in Allston Rock City
The best laid plans …. the Middle East Up show with Hammered Saint, Tiger Bomb, Freeloader and MC Mach Bell on Saturday ended up differntly than planned.
Hammered Saint bowed out first because of Covid, then Tiger Bomb ended up doing the same thing. Mach Bell said "the show must go on" Then Freeloader updated with news that John Powhida would do a set to fill in.
In one month it will be three years since Covid cancellations started in March of 2020. Three years later we still have issues. Damn!!!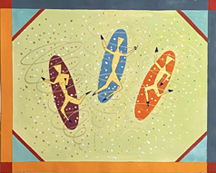 Jane Hudson (of Jeff and Jane Hudson/Rentals) will have two of her paintings in "Above Us Only Sky II" an exhibit at the Brickbottom in Somerville. The dates on the exhibit, are March 2 to April 1. Opening reception: Sunday, March 5, 3-5 PM. More info on the Brickbottom site
We love books and were happy to read this article about Tom Verlaine at the Strand Book Store in New York City. It seems that Tom used to haunt the store every day of the week. Well, not the store but the discount carts outside on the sidewalk. He used to carefully browse and pick up a few cheap books of all different subjects. The store employees knew him and didn't bother him.
Tom was not the only one that checked those carts regularly. There is a whole group they call the "cart sharks." It's so New York. We found the story heart warming.
Here is the article in Lit Hub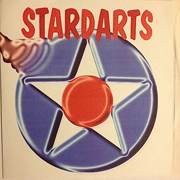 From Dave Minehan we have news that there will be a couple of new releases of old bootlegged Neighborhoods and StarDarts demo recordings by Tamper Proof Music. 'The Last of the Mohicans' bootleg sessions recorded by Ed Reimer in Brockton will be released under the title Basement in Brockton Sessions. Stardarts recordings will follow.
The Nervous Eaters are at the Narrows Center for the Arts in Fall River on March 10. The club is in a mill building and it's a good room that showcases the bands. Also on the bill; Mark Cutler and Men of Great Courage. Tickets are on the venue website
Bane playing Roadrunner on June 17 and 18. Tickets
Siouxsie Sioux is touring again after 10 years away from the stage, she's even coming to the US. She's annoucing shows a little at a time, maybe she'll come to Boston.......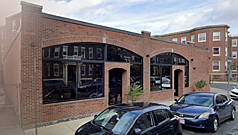 The Chelsea Curve has a show coming up on March 11 at Fields West. That a new club!! As in like a regular club...not some horrid huge venue!! But hey, it's so new they aren't even open yet!! It's at 87 Glenville Ave in Allston. It's off Comm Ave. Parking? Don't ask. Good for Chelsea Curve to get right in there to pick up this gig!!
There's not much on their website right now. We've reached out for more info. The Chelsea Curve Facebook page
The Sisters of Mercy are touring this year and it's their first tour in 15 years! AND they are coming to Boston in May!! Sadly they are playing at a club with even a name that makes us cringe, "Big Night Live." But as of last viewing the price for an SRO ticket was $113.00. This shit has got to stop!! The over pricing of tickets is way out of control, and $113.00 isn't even the worst of it!!
Here is an article on Brooklyn Vegan with the statement made by Jack Antonoff at the Grammys about the whole ridiculousness: "Jack Antonoff talks concert ticketing issues: "it's not 'cause of artists""
---
VIDEOS......
This week we have Johnny D's Allston Closing Night Installment #4 from Bob Martel (aka Bob Cellar) - Ten bands and Bill Tupper as MC....those were the days folks and these are never heard before audio recordings of Johnny D's closing night! Let this be a history of Boston punk for you if you were not there!!
The fourth band was Moose and the Mudbugs (featuring Ed "Moose" Savage, Ken Kaiser) Listen to it here- Moose and The Mudbugs at Johnny D's Closing
For some visuals here is the BGN photo coverage of Johnny D's closing night and the BGN coverage of the 2010 Johnny D's Reunion at Church. Moose & The Mudbugs played, as well as other Johnny D's bands.
Depeche Mode's new album Memento Mori is on the way. They've released a new song/video in advance of album."Ghosts Again" has everything you want from the group; the Depeche Mode sound and especially those recognizable vocals.
The video takes that image of playing chess with death from The Seventh Seal by Bergman. It's black and white and has the German expressionistic style to it. It works well as it fits the solemn and fatalistic tone of the song. This is a strong return for the group. More about the album on Pitchfork
Moby made a movie about veganism in punk rock. He has posted the hour and a half Punk Rock Vegan Movie on YouTube for free. He was influenced by Crass, who inspired in to be vegan and made him aware of anarchistic thought.
Moby knows his punk rock. He begins with a fast history of the beginnings of punk. There is an interview with Captain Sensible and some of the other's in the film are Poly Styrene's daughter Celeste Bell, Ian MacKaye of Minor Threat, HR of Bad Brains, Theo Kogan of Lunachicks and many more. Bands like Youth of Today, MDC and Cro-Mags put veganism and animal rights into punk.
After a half hour the balance goes from heavy on music to heavy on veganism and animal rights.
Since we are talking about Moby, here is article on MNE about him that brings up some fun facts to light
---
RADIO......

Brian Young gave Lucretia's Daggers and Plague & Pestilence (their Covid Project) plenty of time to play their music and talk up their shows.
Lucretia's Daggers are in a busy period with recordings and live shows. This is a chance to hear their goth sound.
Brian Young's Crash Course for the Ravers is on from 1pm to 3pm. To hear the archived show go to the WMFO archive page and hitting Saturday at 1pm then hit the archive button.
---
NEW MUSIC/CDs.....
First Rum Bar Records issued music by new local groups, then they started to release music by out of town bands, then they went looking for old material by local bands, all of that was issued on regular compilation albums. Now they have gone to colored vinyl versions of some of the albums. Next up – rerelease of classic older works. That brings us to Anthem for a New Tomorrow by Screeching Weasel from Chicago.
This album originally came out in 1993 and then also in 2005. It's worth the attention. It's quality pop punk that has inspired many since its first appearance.
Ben Weasel knows how to manipulate the limited parameters of pop punk and keep them interesting and varied enough not to bore. Even when the lyrics are about serious things, like cancer, he keeps it cartoony or exaggerated but still he's dealing with the subject. Song lengths vary, "Panic" is 11 seconds, other songs expand to fit a more traditional song structure, like "Claire Monet" at 3:37. Ben likes to repeat lyrics. He makes it work by stressing a word or making the lyrics shape the melody. There's lessons for songwriters all through this.
Well worth the second reissue, no doubt about that. The Rum Bar 30th Anniversary reissue is here
Rum Bar Records now has the entire Laissez Fairs album Singing in Your Head up on Bandcamp.
We're still big on "Pretty Penny" that was released earlier. The rest of the album lives up to that song. It's amazing how many classic psych tricks and tonalities the group captures. They get it right with guitars, bass, drums and voice. The songwriting is spot on perfect too.
One favorite is "Wildforce" that nails the Byrds 12 string sound. "Goodbye to Samantha" sounds like the Velvet Underground. We hear some early Beatles in "Love Me Love You".
You can play the whole album and play spot the influence …or just take it at face value and enjoy.
It's another fine song and recording by Huck 2. "Evelyn" has lyrics that leave you to think someone jumped off a building. You can get into the lyrics and theorize the whole tale. You can feel the bass pumping in this recording. That's good bass playing and good recording. This was done at Woolly Mammoth with David Minehan.
The way the voice goes up in volume in anticipation of the chorus is nice move. We love the guitar lines through the whole song. It's a wonderful group effort that makes this work.
We came across this song in Bandcamp "Dance, Dance, Dance, Dance, Dance to the Radio" by Ben Gel off the album My Circus! My Shitshow. The song is originally done by M.O.T.O. (Masters of the Obvious).
We love the song a lot but we're not callous like the lyrics:
"Who cares about the starving people that, that you see in the streets each day,
I wanna dance dance, dance, dance, dance. Turn the radio up."
They mean it facetiously, they are mocking the people who think that way, but it still makes us feel .... what have we done charity wise recently? The lyrics poke us with this.
Damn it, the song makes you wanna get up and dance, and if it was on the radio, we would turn it up ... and dance!!!
We couldn't let this hunk of punk go by without spotlighting it. The Square Thugs from Australia take the obvious punk sentiment "I Don't Like It" and give it life anew. We never tire of this sort of thing.
---
Here's some good shows coming up .....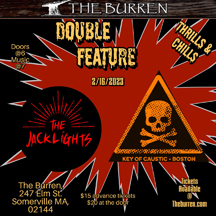 February 16, 2023 (Thursday) Key Of Caustic, The Jacklights at The Burren - FB page Doors at 6- Music at 7PM.
February 17, 2023 (Friday) Red On Red Records Presents: Crow Follow, Cold Expectations at The Burren for an early show at 6PM.
February 17, 2023 (Friday) Franz Nicolay, Coffin Salesman, Your Friends In Hell at Faces -Malden
February 17, 2023 (Friday) Hixx, Scott Damgaard Band, Phantom Ocean at O'Brien's - Tickets
February 17, 2023 (Friday) TREE, Goon Platoon, Stone The Oracle, Scumbari at Shred City 52 Main St Wilmington - FB event page Shred City FB page
February 17, 2023 (Friday) The Imposers, Diablogato, Bobcat at The Worthen Attic, Lowell.
February 18, 2023 (Saturday) Wired For Sound, Charmed & Strange, The Lazy Susans, Terminal Stereo at The Midway
February 18, 2023 (Saturday) Punk Rock Party in Bangor, ME with Uncle Spudd, WarGraves, Capisic, Extreme Beer Trio at G-Force Entertainment. FB page.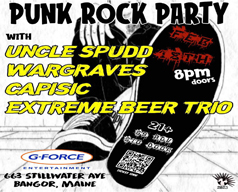 February 19, 2023 (Sunday) It's another Mess Around Sunday of a 3-Day weekend with "The Godfather of Boston Acoustic Punk Rock, the one and only Bob Cenci" with his new outfit, U-ey at The Buoy, and first-timer singer/songwriter Stan Lyness...and of course your hosts: Justine Covault, Tom Baker and Jay Allen, 4-6PM at The Plough
February 19, 2023 (Sunday) The Crank-tones and The Fathoms at The Midway for a Matinee at 3PM - FB page
February 20, 2023 (Monday) Rusty Mullet, Bull Pup, Round Trip at Charlie's Kitchen
February 23, 2023 (Thursday) Dune Rats, Chastity, Oh The Humanity at Sonia
February 24, 2023 (Friday) Goth / Post-Punk Tribute Night with Gretchen & the Banshees perform as Siouxsie & the Banshees and Staring at the Sea as The Cure at The Midway. FB page.
February 24, 2023 (Friday) Triple B Records presents: Gorilla Biscuits, Restraining Order, Wild Side, Vantage Point, Truth Cult, Wreckage - warning tix are $40!! this is a 6 PM show. Middle East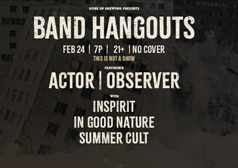 February 24, 2023 (Friday) Actor|Observer, In Good Nature, Inspirit and Summer Cult are doing one of Bone Up's "Band Hangout" nights- what's a Band Hangout? Meet the bands, listen to music, snag some merch, and drink beer! It's not a concert, but it's just as cool as one! Starts at 7pm! Beer Release: Fool's Gold, hazy IPA, Food: Sekali, malaysian street food and congee bowls - FB event page.
February 24, 2023 (Friday) Waiver Wire. baby bowler, Paper Tigers, Indoor Friends at The Jungle
February 24, 2023 (Friday) The City Gates, Iceblynk, The Spearmint Sea at O'Brian's. FB page.
February 25, 2023 (Saturday) Color Killer, Scooped Up, Dirty Walter & The Smelltones, Granite Danes- at The Square Root - FB page
February 25, 2023 (Saturday) THE SPAWN OF SEWAGE SHOW with Spewage Sewage, Burt Bacharach, Eyespressedin, DONE, Gnasher doors at 5 Shred City FB page
February 25, 2023 (Saturday) Thrust Club, Saturniids, Sorry Ma at State Park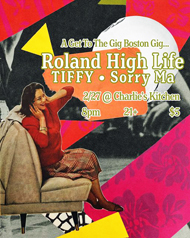 February 27, 2023 (Monday) The Roland High Life, Tiffy, Sorry Ma at Charlie's Kitchen
February 27, 2023 (Monday) Jesus Camp, Rawstrum, White Bear Principle, Bomb Pack at O'Brien's
March 3, 2023 (Friday) Actor|Observer, In Good Nature at Free Street - Portland, ME
March 4, 2023 (Saturday) The Dogmatics are on A Crash Course For The Ravers on WMFO 1-3PM. And if you haven't yet, check out our interview with Rudy Childs who made the Dogmatics Dogumentary!
March 4, 2023 (Saturday) Actor|Observer, In Good Nature at Taffeta in Lowell, MA
March 5, 2023 (Sunday) "I Am Not Gone" A Tribute To Asa Brebner LIVE - The Burren - Facebook page
March 5, 2023 (Sunday) Actor|Observer, In Good Nature at Alchemy. Provi, RI
March 10, 2023 (Friday) Freqs, Mollusk, Hotel Black, Knock Over City at The Jungle
March 11, 2023 (Saturday) Grayskull Booking & Hardcore Stadium present Slapshot, Crown of Thornz,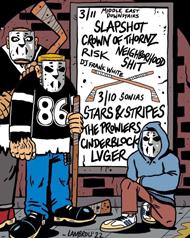 Risk, Neighborhood Shit at The Middle East Down
March 11, 2023 (Saturday) Linnea's Garden, Soraia, Justine and The Unclean, The Idiot Kids at The Jungle
March 17, 2023 (Saturday) St. Patrick's Day Punk Rock Market. There will be bands, food and vendors include Skindress Taxidermy! Vendors start at 6pm and bands at 7:30pm. It's at the VFW Fidelity Post #1011, 20 Stevens St, Peabody, MA - Facebook event page
March 18, 2023 (Saturday) The F.U.'s, Cuidado, Duck & Cover, Black Helicopter at the Gerry No. 5 Veteran Fireman's Association, Marblehead - FB page.
March 18, 2023 (Saturday) The Mach Bell Experience, The Cynz, Tiger Bomb at Geno's in Portland ME.
March 24, 2023 (Friday) TREE @ Ralph's Rock Diner - FB page
March 25, 2023 (Saturday) Condition Baker, Classic Ruins, The Grandstand Jockeys, Sand Machine at The Midway for a Matinee 3-7PM
March 25, 2023 (Saturday) Baabes, Linnea's Garden at Sally O'Brien's
March 25, 2023 (Saturday) The Freqs, Deprogrammer Cult, Rue, Ghost Planet at The Worthen Attic, Lowell
March 31, 2023 (Friday) The Church - The Hypnogogue Album Tour at The Sinclair FB page.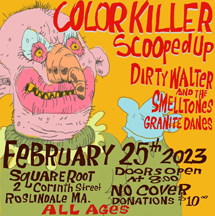 April 1, 2023 (Saturday) Holy S%&T I'm turning 60 - Jay Allen's Birthday Show with Justine and The Unclean, Tom Baker's Double Down, Muck and The Mires, Stop Calling Me Frank, The Shang-Hi-Los, The Spackles (Ex-A Bunch of Jerks), Jay Allen and The Archcriminals, Spiller, The Dogmatics, Quest for Tuna at French Club, Waltham, MA, 5pm to Midnight- FB page
April 14, 2023 (Friday) Glowbox, Speedfossil, Girl with a Hawk - music starts at 8PM at Sally O'Brien's
April 15, 2023 (Saturday) Cold Expectations (Record Release Show), Hammered Saint, Butterknife at The Square Root
April 15, 2023 (Saturday) Harris, Sidewalk Driver, Stars Like Ours, Aaron and the Lord at The Crystal Ballroom - FB page.
April 20, 2023 (Thursday) Black Flag at the Middle East Down - 2 sets- Set 1 the band performs the album My War, Set 2 - Blag Flag classics. $30 TIX here FB page
April 20, 2023 (Thursday) Gang Green, The USM (a full member reunion), Far Above The Ground Grip Bite at Alchemy in Provi, RI. Doors at 7, Music at 8- FB page.
April 22, 2023 (Saturday) Welch Boys, Loser's Circle, ChumHuffer, Cry Havoc, Scumbari at The Midway for a Matinee at 3PM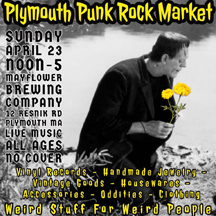 April 22, 2023 (Saturday) The Thigh Scrapers, Mad Painter, The Stigmatics, Johnny Plankton & the Sea Monkeys of Sole at The Jungle - a matinee show - 3:30 PM – 7:15 PM. FB page.
April 23, 2023 (Sunday) Plymouth Punk Rock Market - Spring 2023 edition! Mayflower Brewery Plymouth - FB page to keep up to date.
April 28, 2023 (Friday) Emo Night Karaoke with live backing band & special guest Monica Whitlock at Middle East - Downstairs.
April 30, 2023 (Sunday) Scream Along With Billy - Lou Reed's Berlin - Once at The Rockwell - 7PM. Tickets
April 30, 2023 (Sunday) Gorilla Biscuits, With Honor, Gel, Peace Test, Anklebiter, Bulletproof Backpack at The Met - Pawtucket, RI. All Ages - Early show 2PM- 10PM - FB page
May 5, 2023 (Friday) Township and Stars Like Ours at The Burren - 7PM FB page.
May 6, 2023 (Saturday) Dark Spring Boston Festival at The Middle East Down - line up coming - FB page.
June 26, 2023 (Monday) The Murder Junkies 30 Year GG Deathaversary Tour (Playing a full set of all old GG songs) with local lineup Psycho, Midnight Creeps, Scümbari - At Alchemy, Provi, RI Doors 7pm Music 7:30pm - FB page.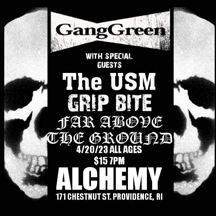 August 19 & 20, 2023 (Sat & Sun) In Between Days Festival - 2 Stages, 2 Days, 24 bands ... and Cool Vintage and Local Market Place, Vinyl Record Pop Up Shop, Food, Modest Mouse , Weakened Friends, Paper Tigers, Clarissa Johnson, Dutch Tulips and the South Shore's own Gypsy Moths. You'll want to get your tickets now because they have a 'tier' system. They have some lame "tier" ticket scheme so the longer you wait the higher the ticket prices are. FB page
October 11, 2023 (Wednesday) The Mission UK & The Chameleons: Deja Vu Tour 2022 Rescheduled to 2023!!! also on the bill Theatre of Hate
CONTACT US AT....misslynbgn@yahoo.com Send us your gig listings, your anything else you've got!! You want your CD reviewed?? Contact us for that too.
---
---