The BGN News Archive
February 28, 2022
| | |
| --- | --- |
| Pete McClanahan | Vic Bot |
Sigh ... we open with sad news of some losses in our music world.....
Bass player Pete McClanahan died on Feb. 16. He'd been in metal band Warrior Soul for years and more recently in The Worried out of Cranston RI. Pete was a great guy, loved by many and will be missed in a huge way.
Vik Bot who was the guitarist for The Mess Me Ups back in 2008-09 with Jessy Drastic. We got word from Jessy (on FB) that Vik passed away. Unfortunately that is all we know. Here's The Mess Me Ups at Club Bohemia in 2009
Mark Lanegan, a leading voice in grunge with Screaming Trees, died this week. He went on to do much more work collaborating with a wide variety of musicians. He accomplished a lot despite a life of drugging along with heavy gambling. There were lots of examples of Marks singing on the web. We were struck by this cover of "Clear Spot" by Captain Beefheart", a notoriously hard artist to cover convincingly. Song on YouTube More on Marks life in this NME article.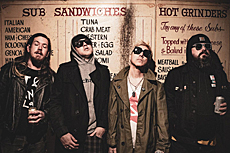 Baabes have been busy!! They just shot a video for their next single "Too Cool For Pants" which will be out on March 28. The full album is scheduled for April 22 with a release show at O'Brien's on April 16, Saturday. The group will be pumped for that show and when they get pumped and Johnny Brainbox goes flying though the air, you'll want to be there. The Baabes Facebook page
Dutch Tulips have partnered with The Jungle and Jack's Abby to bring you a series of FREE events every 4th Saturday in February, March, and April 2022.
Each event will feature one of their favorite local artists (Little Fuss, Kit Orion, Senseless Optimism, Britpop Social Club) and DJs (Frank White is one), plenty of Jack's Abby beer. What's not to like about this? Well, wanna go? Just RSVP using the link on the Event page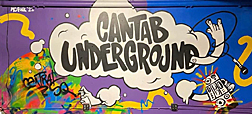 The Cantab changed the name of the Club Bohemia to the Cantab Underground. Now, they've painted the wall down there. It's wildly colorful and we'll be seeing it in many photos in the future. Maybe now with that wall they've killed those AWFUL red lights that have been bathing the bands and making photos impossible. The Cantab Facebook page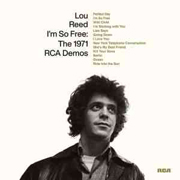 Record Store Day is coming up on April 23. We are getting to see some of the releases slotted for that occasion. Legacy Recordings has one outstanding release: I'm So Free, It's some Lou Reed RCA Demos from 1971. Many of the songs were found on later albums.
More about Lou's record and others on the Second Disc website
An absolutely gorgeous red Mosrite 5-string bass made for Ben Orr of the Cars is up for auction. This is a must view for guitar freaks! Link to auction here
It was postponed from last December but Patti Smith got to do 75th Birthday show at the Capitol Theatre in Port Chester, NY last Thursday. Lenny Kaye was there with her. The Ultimate Classic Rock site has the set list which included "Kimberly", "Free Money", Dancing Barefoot", a Velvet Underground medley, "Because the Night", Vertigo (by U2) and ending with "People Have the Power". You can access the article here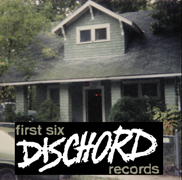 We told you a while back about Discord Records releasing a box set of the first six Dischord records which could only be purchased by a preorder. The price was $50.00. Now, Pitchfork discloses that the box set will also include a seventh record of five songs from the group Slinkees which was Ian MacKaye's first group. That's excellent news for those who pre-orded that box set. It's sold out and ungettable at the moment. The Pitchfork report is here
---
VIDEOS......
There's a lot to see and hear on Stormstess' new video for "Fall With You". They found a suitable room for their goth ballroom dance scene.
The song is a stately metal ballad that manages to duck musical clichés with subtle choices of tone and attack. It's four and half minutes long and slowly builds that entire time. Things really crank at the 2:55 mark with a well-crafted solo. The guitarist has a stinging tone but keeps it melodic, then there's some fretboard gymnastics to show that they could have done the whole solo that way if they wanted, but then back to a very melodic section. The song shifts dynamics several times which gives it a variety not often achieved with metal. This song goes way beyond the boundaries.
Bands, Beer Banter posted their second episode of Season Two. The vids are "Ripping" by Cruel Miracle which was a rocking instrumental, "You'll Never Know," another chance for Kid Gulliver to show their prowess, "Luckiest Man in the World" by Speedfossil, the poppiest thing out there now, and then a Connecticut band called Sgt. Scag with a revved up ska version of Phil Ochs' "One More Parade".
Red on Red had two single releases this week. Their new thing is releasing a single and video at the same time.
Speedfossil's "Livin' the Dream" is well crafted pop rock. The video has the same quality as their previous "Luckiest Man In the World". See the video above.
Hansen will have a full album release, but for now we have the song "Tavern at the End of the World" to hold us over. Mike Gent of the Figgs does the singing and it's very evocative. He makes it all come alive. Hansen rips out one of his solos…I mean that's what we always wait for. We assume the song is about the club. The video shows the club with a lot of local street scenes. See video above.
---
RADIO......
Ron on Monday's Late Risers Club always has a punk packed show ... He had a lot of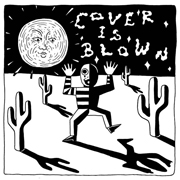 covers this week. One was "Mississippi Queen" by Engine IV . A lot of people may not remember but Leslie West played the Rat back in the day. That's the odd memory for us.
Ron then went to play a compilation from Australia called Cover is Blown on Critter Records. From that Ron played Electric Toothbrush doing "Paranoid". Also on the album is Muma Ganoush doing the Velvets "Rock and Roll" and Delivery performing Cheap Trick's "Surrender".
To us the best is a cover of "I Don't Wanna Go Out" by the Australian group named X. The original was done in 1977 and captures the "I'm so bored" attitude that was floating around. We were anything but bored but that idea was in the air at the time.
---
PODCASTS........
Blowing Smoke With Twisted Rico talks with Mike Gitter. Gitter put out XXX magazine and wrote for many others . He was later at Atlantic records and signed Bad Religion and Jawbox. Later at Roadrunner Records he signed the Misfits and Megadeath. He authored a book titled XXX fanzine 1983 to 1988, Hardcore and Punk in the 80s.
Mike was involved with booking hardcore shows in the 80s. You get an insight into that period. Both Mike and Steeve have inside stories of band signings that only industry people have.
For his Sonic Overload Presidents Day show Al Quint started with a set for the presidents. It was a hard hitting line up: The Misfits' "Bullet", about the Kennedy killing. Then the hardcore favorite – Regan with Direct Control doing "Ronnie's Dead" and Regress with "Reagan's Disease". Gaunt takes on Nixon with "Manson-Nixon Line" and the group B.U.S.H. went after their namesake with "Under Bush's Eyes". Nothing on Biden yet but "National Embarrassment" by Aneurysm is for the previous guy.
There's so much more…this show will be at http://www.sonicoverload.net/ untl the next show is posted on Monday. Then there's a gap of a few weeks until the show will get posted on the Sonic Overload archive
---
NEW MUSIC/CDs......
Lady Pills has a new album, What I Want, on Bandcamp. We saw them in 2019 They play indie rock with some psych tonalities, they're mostly about subtlety. This album was written during Covid isolation. There are lots of lyrics and details to digest in the songwriting on this album. Multiple listens are suggested. It's low key, there's no rocking out to sweep you along.
WBUR's website has an article by Amelia Mason, about the group which is actually mostly Ella Boissonnault.
The title song, "What I Want" is a good example of the Lady Pills sound.
Riding Shotgun's album Night Falls is something different, it's an instrumental album that skirts a few genres. This is a remastered version by Pete Weiss of the Weisstronauts and with his guidance the recording sounds pristine. It's a classy affair. Thematically the material is inspired by the Adult Swim advertising stunt that panicked Boston/Somerville/Cambridge on 1/31/2007. Here's that story for those that don't know
Take a look at what the orange/blue vinyl LP looks like – see above.
Here's "Lost & Found". It has a punch at the beginning but creatively riffs from there to other areas.
---
Here's some good shows coming up .....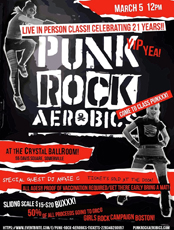 March 3, 2022 (Thursday) Jay Allen and the Archcriminals, Tad Overbaugh and the Late Arrivals, Sugar Blood Jinx at Notch Brewery Brighton. FB page.
March 3, 2022 (Thursday) Actor|Observer, Godseyes, Frantic Endeavor, OMNI, Late 9 at Alchemy in Prov. RI - FB page. They are on tour with Godseyes...going to PA, NY, CT, NH.
March 4, 2022 (Friday) Actor|Observer and Godseyes at Ralph's Rock Diner Worcester
March 5, 2022 (Saturday) Punk Rock Aerobics, the original DIY workout since 2000 celebrates its 22 year anniversary with an in person class! "Yip Yes Punx!!" they are LIVE and IN PERSON!! at Crystal Ballroom Noon - 1PM. Tix at Eventbrite. FB page for more info
March 5, 2022 (Saturday) Anarchy in the MA, Mass Bluesbreakers, Lurid Purple Flowers at a Midway Matinee show 3 - 7 PM
March 5, 2022 (Saturday) Lesotho, Glue Horse, The Endorphins and Death Pesos at The Cantab Underground FB page.
March 5, 2022 (Saturday) Red Mammoth Concerts presents a Tribute to The Faces at The French Club in Waltham, with Kid Gulliver, Justine and The Unclean, The Croaks and more to be announced!! Check out the FB page for updates.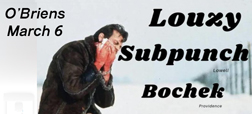 March 6, 2022 (Saturday) Louzy, Bochek, Subpunch at O'Brien's
March 10, 2022 (Thursday) Ski Bunny, Crow Follow, The Sugar Cones, Fireking at O'Brien's
March 11, 2022 (Friday) Celsegh, Johnny Plankton & the Sea Monkeys of Sole, Screw Cart, Nymphedelis at The Cantab Underground
March 12, 2022 (Saturday) Just plan on staying at the midway all day -The Prozacs, Scotty Saints & the True Believers, The Stigmatics, Dave Strong do a Midway Matinee show = 3 PM – 7 PM. Facebook page
March 12, 2022 (Saturday) Boston Oi! Fest with The Welch Boys, The Bluebloods, The Abductors and Ice Cold Killers at The Midway - FB page.
March 12, 2022 (Saturday) Paper Tigers, Sunshine Riot, Luxury Deathtrap, High And Dry at Thirsty First in Lowell.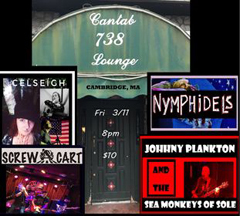 March 17, 2022 (Thursday) Lenny Lashley's Gang Of One, Jeff Rowe, Matt Murphy at Notch Brighton, 7-10PM- FB page.
March 17, 2022 (Thursday) Zipper, PCP & the Knives, Fraud @ O'Briens
March 19, 2022 (Saturday) Gretchen Shae & The Middle Eight at The Cantab Underground
March 20, 2022 (Sunday) Verbal Assault, The FU's, Peace Test, Bullet Proof Backpack, Holy Hands at The Met in Pawtucket, RI - this is the rescheduled show from last September. All tickets will be honored for postponed show or refunds at point of purchase through 11.30.21 - FB page.
March 20, 2022 (Sunday) Church Girls, Suntitle, Carissa Johnson, Paper Tigers at The Middle East Upstairs.
March 20, 2022 (Sunday) Henry Rollins at The Wilbur for his Good To See You tour. Tickets here https://thewilbur.com/artist/henry-rollins/
March 22, 2022 (Tuesday) Henry Rollins: Good To See You 2022 at the Met in Pawtucket, RI FB page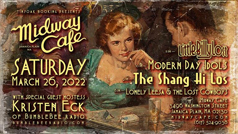 March 23, 2022 (Wednesday) Richie Ramone, Public Nature, Continental, Dirty Walter and the Smelltones at Ralph's Rock Diner - Worcester, MA. Facebook event page.
March 24, 2022 (Thursday) Black Beach, Cronies(NYC), Betties, Anxious Wave at O'Briens
March 25, 2022 (Friday) Richie Ramone, Public Nature, Shore City, Joy Boys at Askew in Provi RI FB page
March 26, 2022 (Saturday) Dutch Tulips & Friends at The Jungle 4-7PM- FB page for more info
March 26, 2022 (Saturday) Little Billy Lost, Modern Day Idols, The Shang Hi Los, Lonely Leesa & the Lost Cowboys at The Midway
March 26, 2022 (Saturday) The Dogmatics Record Release party with Gypsy Moths and Continental @ The New World Tavern. A night of non-stop local Boston Rock with three Rum Bar Recording artists. FB Page
March 26, 2022 (Saturday) Brockton Hard Core shows and Women Of The Pit presents: Dog Eat Dog, Kings Never Die, MAAFA, Car Bomb Parade, Wisdom & War, Capo Kong at The Brockton VFW Post 1046. 6:30- midnight. FB page.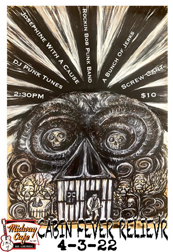 March 27, 2022 (Sunday) The Legendary Cazbats, Bitter Little Ghost, The Fantastic Trees, Captain Easy Chord at The Midway for a 3PM Matinee show. Only $5 cover!
March 31, 2022 (Thursday) The Parquet Courts are at the Royale. Tickets are here
April 2, 2022 (Saturday) Oh The Humanity, C.E. Skidmore, Losers Circle and Matty Andersen at The Midway for a matinee 3-7PM. FB page.
April 2, 2022 (Saturday) Linnea's Garden, Pageant Girls, Stars Like Ours, Carissa Johnson at O Brien's
April 7, 2022 (Thursday) Speed Fossil has an album release show at Sally O'Brien's
April 8, 2022 (Friday) Shape Shifters, Stop Calling Me Frank & U-ey at The Buoy, Sgt Scag, Shokazoba at Electric Haze in Worcester. Here's their website.
April 14, 2022 (Thursday) Nervous Eaters, Crunchtime, Bad Larrys at The Breakaway in Danvers FB page
April 16, 2022 (Saturday) Baabes record release show at O'Brien's
April 16, 2022 (Saturday) The FU's, Urban Waste, Some Kind Of Nightmare, Grip Bite (EP Release) at The Midway FB page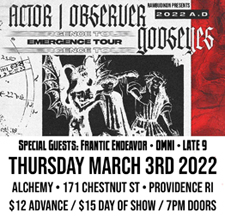 April 16, 2022 (Saturday) The Schizophonics with Zip Tie Handcuffs and Sapling at Ralph's Rock Diner in Worcester FB page.
April 23, 2022 (Friday) Dutch Tulips & Friends at The Jungle 4-7PM
April 23, 2022 (Friday) Jawbreaker, The Lemonheads and Worriers are at the House of Blues. Get tickets at the House of Blues website
April 30, 2022 (Saturday) The Dogmatics, Muck and the Mires, Justine and The Unclean, Earthlings? at The Magic Room FB page
May 6, 2022 (Friday) The Cryptics, The Brunt Of It, The Martians, Color Killer at The Middle East Up. FB page.
May 6, 2022 (Friday) My Life as a Ramone-An Interactive Speaking show by Marky Ramone followed by a screening of Rock 'N' Roll High School. "This multimedia event includes vintage photos, video clips and previously unheard stories behind the music." at The Greenwich Odeum Tix and info here.
May 7, 2022 (Saturday) Asa Brebner Tribute Show, Musicians perform their songs from the two "I AM NOT GONE" Asa Brebner Tribute CDs, at The Magic Room Norwood
May 12, 2022 (Thursday) Actor|Observer with Inspirit (former Vanna) and The World at The Sinclair
May 13, 2022 (Friday) Post Punk Tribute Night w/ The Temple of Mercy, Gretchen & The Banshees, DJ Sawtooth at The Middle East Up. TIX
May 20, 2022 (Friday) "Post Punk Night" with Linda Been Pardee, Ad Frank, Gene Dante, Tony Savarino, Eric Brosius, Dan Kopko, Lisa McColgan, Killian Carcosa, Chuck Ferreira, David Santos, Stephen Hart, Henry Ryan, Allison Sigrist and Charles Membrino at Sally O'Brien's Union Sq Somerville. .
May 24, 2022 (Tuesday) Reverend Horton Heat, The Koffin Kats, Sasquatch & The Sickabillys at Alchemy in Providence, RI. FB page.
May 28, 2022 (Saturday) Razors in the Night & Tijuana Sweetheart Reunion Show at Sonia, also on the bill Nothing But Enemies. FB page
June 18, 2022 (Saturday) 40 Years of The Queers Anniversary show also with The Dwarves, The Jasons, Stubborn Hearts at Sonia. TIX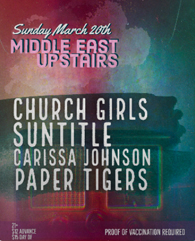 June 18, 2022 (Saturday) THE ZULUS are back at The Paradise - tix here.
June 25, 2022 (Saturday) Show in Honor of Jess Victor - White Dynomite, Muck and the Mires, Stop Calling Me Frank, Piranha Brothers, Screw Cart at The Middle East Up TIX and FB page.
July 1, 2022 (Friday) The Prozaca, The Lousekateers, Lürking Class (NY), The Agonizers, Marko Bruiser at Ralph's Rock Diner
September 2, 2022 (Friday) The Woggles with Muck and Mires at The Porch in Medford
CONTACT US AT....misslynbgn@yahoo.com Send us your gig listings, your anything else ya got!! You want your CD reviewed?? Contact us for that too.
---
---