The BGN News Archive
March 21, 2022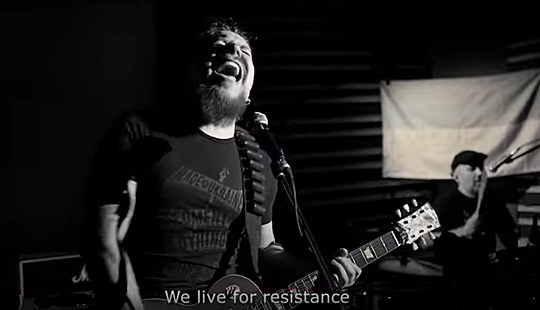 Beton - Ukrainian punks sing "Kyiv Calling"
Here's another source of inspiration by and for the Ukrainian people. A video from Ukrainian punk band Beton has covered The Clash's song "London Calling" and changed it to "Kyiv Calling". They changed the lyrics also. The "we live by the river" line is now "we live by resistance". They also say:"Phony Putinmania has bitten the dust" and "We're already home, so Russian ships, Fuck You." The video uses footage that was shot by family members and friends and graphically shows their situation.
All proceeds from this song which is now billed as a "war anthem" will go to the Free Ukraine Resistance Movement (FURM) to help fund a shared communications system that will alert the population to threats and lobby for international support.
Here is the link to contribute
This is not people on their knees asking for help!! This is a proud fighting people asking you to do the right thing!! ... and Punk is helping.
The Guardian says "Punk music is a major part of Ukraine's cultural scene and is providing an outlet to express anger in the face of Russian aggression."
The courage this nation is showing against overwhelming power takes your breath away.
Beton has been around for a decade. Here is their Bandcamp page
Read the article in The Guardian here.
This week Captain Easychord caught Willie Alexander at the Warp & Weft for the Jack Kerouac Centennial Celebration in Lowell: "Willie Alexander (accompanied by sax player Mark Chenevert) play his Boom Boom Band classics, including, of course, his tribute song "Kerouac." To read the review hit the photo link below.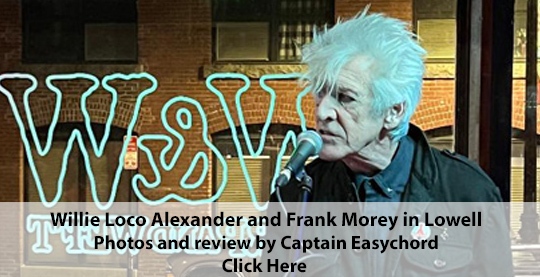 Al Quint is marking his 22nd year doing Sonic Overload. He started the show on Allston-Brighton Free Radio for a while then continued as a pirate radio station. When that got shut down he went online. On his show this week he's playing a song from each year along with (as usual) anything he wants, including The Raspberries and Argent.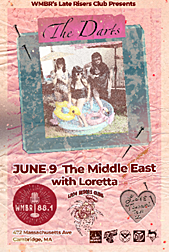 You can hear the show here.
WMBR/Late Risers Club is celebrating 45 Year on the air with WMBR for 60!! They're celebrating with a show at the Middle East on Thursday, June 9 at 7pm. Right now they have Darts and Loretta on the bill with more bands to be announced. For decades the LRC shows have been memorable events and a place for LRC fans to meet.
We owe a lot to WMBR, Late Risers Club and MIT!! Watch for updates on the FB event page is here
Red on Red latest signing is Canyons and Locusts, a Boston duo: Justin Keane (vocals, guitar) and Amy Young (drums, backing vocals). They have a noisy distorted indie sound. Video of their song "Arms On The Table" can be seen on YouTube Here it is below on Bandcamp.
Rick Page, who we knew from his time running Johnny D's on Harvard Ave in the 80's, later started the Atomic Dimestore in Hyannis, selling nostalgic toys and items that defined your early years. He has a sign that was on Cantoneís for it's punk run. Sadly, because of rising rents he has to give up the store. He will be selling his stock – so interested parties should seek him out. Here's the Atomic Dimestore Facebook page
There was sad news from Drew Townson of the Derangers. He posted on Facebook that he had a stroke and now his left hand is not functioning. He thinks his guitar playing days are over. He's on the verge of getting married and moving down to Florida. A few local gigs will be cancelled. Physical therapy can help, so we hope that will work. The world never has enough Twang! Drew's Facebook page
This week Brian Young began his show A Crash Course for the Ravers with the Derangers tune "Revenge of the Chupacabra." We'll share "La Gitana" off Bandcamp.
Rum Bar has a few things going. One is a flexy disc of The Dogmatics record "Automat Kalashnikov". What's the plan for those? The Dogmatics have yet another single called "Drop the Needle" that came out Thursday. We feature that below. Try the Rum Bar Facebook page to get more info
Muck and the Mires are going to Spain from March 24 to April 2.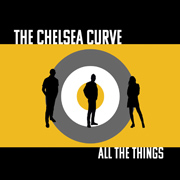 The day is soooo close. The Chelsea Curve is on the verge of releasing their whole album!! It's been a long tease. The release date is March 31. The string of eight released singles have been highlights for the last eight months.
You can hear all those singles on their Bandcamp page. They have the album songs listed. Subtracting those songs we know, leaves these five new ones: "Jamie C'mon", "Do All The Things", "Nuthin' Goin' On", "Moriarty" and "Eye on You".
You can preorder the digital album or the CD version on The Chelsea Curve Bandcamp page
The Color Killer documentary Yung Punx: A Punk Parable will be screened at the Salem Film Fest Saturday March 26 at 9:30. A live Q&A with the filmmaker and follows the in-person screening. The Facebook event page is here
The film was released in 2021 but was filmed a couple years earlier. These kids are like different people now, it will be cool to see them on stage now compared to how young they are in the film.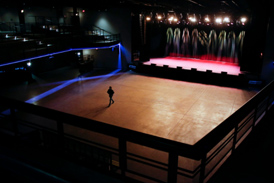 The new club Roadrunner has opened up in Allston. You can't have missed that if you checked out any news outlet in Boston this week. Vanyaland has some photos and a story. The club holds 3500. One interesting feature is that the stage can roll out 12 feet in front to make the floor a cozier place if the show doesn't sell out.
The Hollywood Reporter website has the story that U2 will be the subject of a Netflix scripted TV show about the band. U2 is involved with the project. JJ Abrams is directing and 'Bohemian Rhapsody' writer Anthony McCarten will write the script.
We're not big on these things but maybe if they depict U2 breaking in America then they will spotlight their first show at the Paradise 3/6/81. We won't hold our breath.
Article in the Hollywood Reporter
Patti Smith has been very active this last year. She played a benefit show for the Ukraine at the NYC City Winery along with Jesse Malin, Gogol Bordello and Craig Finn.
This Brooklyn Vegan article is photo rich. There are 18 photos of Patti Smith's appearance alone. Here is the Brooklyn Vegan article
---
VIDEOS......
The New York Hardcore Chronicles LIVE! with Drew Stone had a show that focused on the Gallery East for its 40th Anniversary. Owner Duane Lucia is a guest. He talks about co-owner Al Ford at the beginning and it all goes off from there and discusses hardcore up to 1984.
He whole show is over 2 ½ hours long but worth putting in the time. Drew Stone and guests take you right back to the Gallery East era with stories and plenty of photos and flyers. Drew a probing moderator and draws out all the stories from his guests.
Anyone interested in Boston hardcore should look at this.
Here's a video is for the song "Shadow" by SoCal band 3LH. They have a surf sound while playing a romantic ballad, they are part of the the Latino punk/garage DIY scene of Orange County. We think it hits a really nice spot. It's off their upcoming album Silver Dream Road out everywhere on 12" LP / Digital on Friday May 13th 2022 via My Grito Industries. Here's the band's FB page.
---
RADIO......
Ron on Monday's Late Risers Club started with a new song by Cyanide Pills called "The Kids Can't Be Trusted With Rock and Roll".
That's good news because that means there's a new Cyanide Pills album coming out. You can hear the song on YouTube
Ron also played "Gary Borthwick Says" by The Neutrals. They sound like television personalities in the song. It's the sort of song that would be played a lot back in the day.
We've recommended a Suzi Moon song before and Ron play an excellent new one called "Gold Record Autograph".
Move over Covid, this thing is contagious!! Hear it on YouTube
The duo The Courettes are getting attention in the press. Ron played a cut that we found interesting. Give it a listen, you'll probably hear about this group soon if you haven't yet.
It's "Killer Eyes" and it has some 50s 'doo wop' vocals, a girl group vibe, 60s fuzz guitar all wrapped in a low-fi recording.
We pay so much attention to Ron lately that we asked him to supply us with his current Top Ten Songs. All these groups are worth following into Bandcamp and getting an idea of their whole output. Here are Ron's Top Ten Songs.
---
PODCASTS.........
Blowing Smoke With Twisted Rico talks about the vintage market for old rock t-shirts with Ryan Haas of Disorder Vintage. To cut to the chase – go to Disorder Vintage to see what money old band shirts are getting!!
Ryan lists hot shirts are now from: Sonic Youth, Nirvana, Sound Garden, Mazzy Star, Cocteau Twins and My Bloody Valentine. He's organized a show called Faded in Providence on May 28. The show features premium dealer booths, a designated trade pit, live auctions, and an pop up art gallery showcasing the rarest vintage t-shirts. There will also be special guest appearances from authors and artists behind some of the most coveted vintage related designs and publications. It's at the Water Fire Art Center.
---
NEW MUSIC/CDs......
You got to love the Dogmatics, don't you? Here's another heartwarming blast from the group. "Drop the Needle" takes you back to that era where you did 'drop the needle' on a 45 RPM record. Often it would be a Dogmatic record, but the Dogs name check: "Better Off Dead", "She Pays the Rent", "No Surfing In Dorchester Bay", Radio Birdman and Muck and the Mires.
The recording is sharp, the beat is urgent, the guitar solos are restrained and hit their mark. The Dogmatics have the ability to capture a time gone by with a song that makes your feet move now. This tune is getting a LOT of attention on radio right now!! It will be part of an upcoming EP with 5 songs.
The Gentleman Rogues had a Coolest Song In the World on The Underground Garage with "Do the Resurrection" (Here it on YouTube) and they have opened for some notable acts like Bob Mould.
Their latest is "Fancy". It has such a blast you almost don't catch the song embedded in it. No problem for us. We like their guitar attack. It helps that it's recorded with so much presence. Every bit of power comes through. All groups should be able to get a recording like that.
---
Here's some good shows coming up .....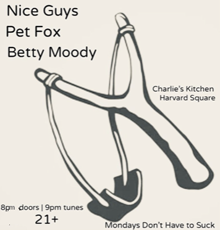 March 21, 2022 (Monday) Nice Guys, Pet Fox, Betty Moody at Charlie's Kitchen FB page.
March 23, 2022 (Wednesday) Richie Ramone, Public Nature, Continental, Dirty Walter and the Smelltones at Ralph's Rock Diner - Worcester, MA. Facebook event page.
March 24, 2022 (Thursday) Black Beach, Cronies(NYC), Betties, Anxious Wave at O'Brienís
March 25, 2022 (Friday) Richie Ramone, Public Nature, Shore City, Joy Boys at Askew in Provi RI FB page
March 25, 2022 (Friday) Warthog, Social Destruction, and Paul Jarvis at Shaskeen Pub in Manchester, NH
March 26, 2022 (Saturday) Dutch Tulips & Friends at The Jungle 4-7PM- FB page for more info
March 26, 2022 (Saturday) Original Local Collective presents Hardcore at the Elks | Hardcore Stadium with DNZL, Neighborhood Shit, Sick Minds, Stoploss, Rue ... 5PM, All Ages, $10.
March 26, 2022 (Saturday) Brockton Hard Core shows and Women Of The Pit presents: Dog Eat Dog, Kings Never Die, MAAFA, Car Bomb Parade, Wisdom & War, Capo Kong at The Brockton VFW Post 1046. 6:30- midnight. FB page.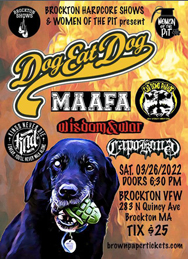 March 26, 2022 (Saturday) Little Billy Lost, Modern Day Idols, The Shang Hi Los, Lonely Leesa & the Lost Cowboys at The Midway
March 26, 2022 (Saturday) Nervous Eaters, Stop Calling Me Frank, Tsunami of Sound at The Porch in Medford
March 26, 2022 (Saturday) The Dogmatics Record Release party with Gypsy Moths and Continental @ The New World Tavern. A night of non-stop local Boston Rock with three Rum Bar Recording artists. FB Page
March 27, 2022 (Sunday) The Legendary Cazbats, Bitter Little Ghost, The Fantastic Trees, Captain Easy Chord at The Midway for a 3PM Matinee show. Only $5 cover!
March 28, 2022 (Saturday) Threat Level Burgundy, Super Beef, Waiver Wire at Charlie's Kitchen
March 31, 2022 (Thursday) The Parquet Courts are at the Royale. Tickets are here
April 1, 2022 (Friday) Paper Tigers, Gretchen Shae and the Middle Eight, Dutch Tulips at Koto in Salem
April 2, 2022 (Saturday) Oh The Humanity, C.E. Skidmore, Losers Circle and Matty Andersen at The Midway for a matinee 3-7PM. FB page.
April 2, 2022 (Saturday) Linnea's Garden, Pageant Girls, Stars Like Ours, Carissa Johnson at O Brien's
April 2, 2022 (Saturday) Glowbox, The Hi-End, Double Down With Baker, Hambone Skinny at The Midway
April 2, 2022 (Saturday) West Side Rats, Midnight Creeps, Marianne Toilet & the Runs, Killer Kin at Ralph's Rock Diner Worcester FB page
April 3, 2022 (Sunday) Cabin Fever Reliever with Josephine with a Cause, A Bunch of Jerks, Screw Cart, Rockin Bob Punk Band for a 3PM matinee show at The Midway
April 7, 2022 (Thursday) Speed Fossil has an album release show at Sally O'Brien's
April 8, 2022 (Friday) Shape Shifters, Stop Calling Me Frank & U-ey at The Buoy, Sgt Scag, Shokazoba at Electric Haze in Worcester. Here's their website.
April 16, 2022 (Saturday) Baabes record release show at O'Brien's
April 16, 2022 (Saturday) The FU's, Urban Waste, Some Kind Of Nightmare, Grip Bite (EP Release) at The Midway FB page
April 16, 2022 (Saturday) Brix n Mortar, Marianne Toilet and the Runs, Graniteers at Koto in Salem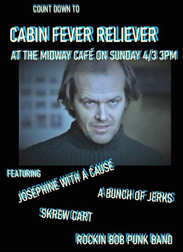 April 16, 2022 (Saturday) The Schizophonics with Zip Tie Handcuffs and Sapling at Ralph's Rock Diner in Worcester FB page.
April 17, 2022 (Sunday) Kiss of the Whip and Blood Handsome at The Phoenix Landing Central Square FB page.
April 18, 2022 (Thursday) Nervous Eaters, Crunchtime, Bad Larrys at The Breakaway in Danvers FB page
April 22, 2022 (Friday) The Spearmint Sea, Ghost Painted Sky, Hemlock for Socrates, Fatigue at Union Tavern (Formerly PA's) Union Sq Somerville.
April 23, 2022 (Saturday) Dutch Tulips & Friends at The Jungle 4-7PM
April 23, 2022 (Saturday) Vernal Volcano Vibe! with Emily Grogan, Crow Follow & Diablogato at The Magic Room FB page
April 23, 2022 (Saturday) Jawbreaker, The Lemonheads and Worriers are at the House of Blues. Get tickets at the House of Blues website
April 24, 2022 (Sunday) The Mummies with Thee Fabulous Itchies at Askew in Provi
April 30, 2022 (Saturday) The Dogmatics, Muck and the Mires, Justine and The Unclean, Earthlings? at The Magic Room FB page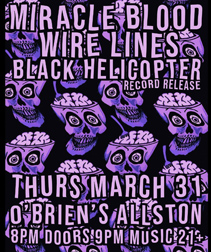 April 30, 2022 (Saturday) Richard Lloyd, The Sorry Boys, Andy Stone for a 5PM show at The Parlour in Provi RI FB page.
May 6, 2022 (Friday) The Cryptics, The Brunt Of It, The Martians, Color Killer at The Middle East Up. FB page.
May 6, 2022 (Friday) My Life as a Ramone-An Interactive Speaking show by Marky Ramone followed by a screening of Rock 'N' Roll High School. "This multimedia event includes vintage photos, video clips and previously unheard stories behind the music." at The Greenwich Odeum Tix and info here.
May 7, 2022 (Saturday) Asa Brebner Tribute Show, Musicians perform their songs from the two "I AM NOT GONE" Asa Brebner Tribute CDs, at The Magic Room Norwood
May 8, 2022 (Sunday) Field Day featuring Landlady and Girl with a Hawk at The Rockwell Davis Sq Somerville FB page.
May 12, 2022 (Thursday) Actor|Observer with Inspirit (former Vanna) and The World at The Sinclair
May 13, 2022 (Friday) Post Punk Tribute Night w/ The Temple of Mercy, Gretchen & The Banshees, DJ Sawtooth at The Middle East Up. TIX
May 18, 2022 (Wednesday) Lady Pills, Layzi, and Olivia Sisay at Once at The Rockwell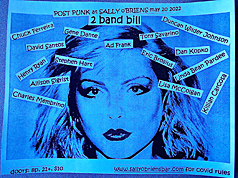 May 20, 2022 (Friday) "Post Punk Night" with Linda Been Pardee, Ad Frank, Gene Dante, Tony Savarino, Eric Brosius, Dan Kopko, Lisa McColgan, Killian Carcosa, Chuck Ferreira, David Santos, Stephen Hart, Henry Ryan, Allison Sigrist and Charles Membrino at Sally O'Brien's Union Sq Somerville. .
May 24, 2022 (Tuesday) Reverend Horton Heat, The Koffin Kats, Sasquatch & The Sickabillys at Alchemy in Providence, RI. FB page.
May 28, 2022 (Saturday) Razors in the Night & Tijuana Sweetheart Reunion Show at Sonia, also on the bill Nothing But Enemies. FB page
June 9, 2022 (Thursday)WMBR's Late Risers Club Turns 45, WMBR turns 60!! Celebrate with The Darts and Loretta at The Middle East Up.
June 18, 2022 (Saturday) 40 Years of The Queers Anniversary show also with The Dwarves, The Jasons, Stubborn Hearts at Sonia. TIX
June 18, 2022 (Saturday) THE ZULUS are back at The Paradise - tix here.
June 25, 2022 (Saturday) Show in Honor of Jess Victor - White Dynomite, Muck and the Mires, Stop Calling Me Frank, Piranha Brothers, Screw Cart at The Middle East Up TIX and FB page.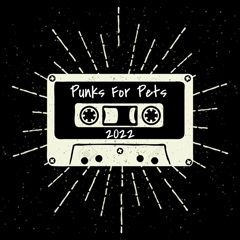 July 1, 2022 (Friday) The Prozacs, The Lousekateers, Lürking Class (NY), The Agonizers, Marko Bruiser at Ralph's Rock Diner
September 8, 2022 (Thursday) D.R.I at Alchemy in Provi, RI - FB page.
September 17, 2022 (Saturday) Punks For Pets with Joy Boys, Sleep Mode, Sourpunch, Musclecah, Ghost Grrrl, The Debutantes, The Something Somethin's, The Stigmatics - at The News Cafe - early show starting at 1PM. Bring something for the doggos and kittehs check the Donation List on the FB page.
September 20, 2022 (Friday) The Woggles with Muck and Mires at The Porch in Medford
October 5, 2022 (Wednesday) Dr. John Cooper Clarke at City Winery
October 15, 2022 (Saturday) Third Annual Punktoberfest at Thirsty First in Lowell...check the FB page for updates, bands etc.
CONTACT US AT....misslynbgn@yahoo.com Send us your gig listings, your anything else ya got!! You want your CD reviewed?? Contact us for that too.
---
---