The BGN News Archive
April 29, 2019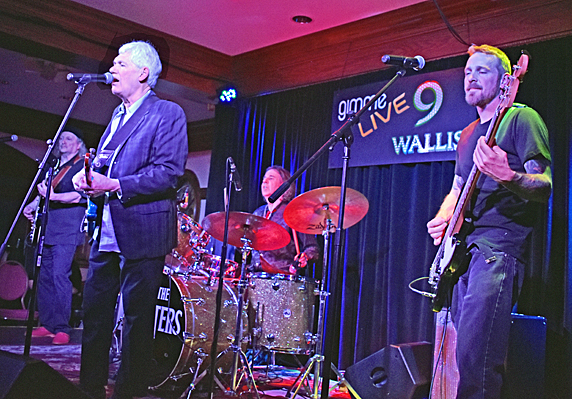 Nervous Eaters at 9 Wallis St
Photo: Blowfish
---
Tuesday at O'Brien's looked like a punk line up to hit. Secret Spirit was on the bill and they were ear shredding good last time we saw them at O'Brien's last October.
Lindsey from Whoopi Sticks booked the night. We got there around 9:30 and Lindsay was outside the club. It seems there was problem: one of the bands was supposed to bring the drums to be used for the whole night...but they forgot them. So they were somewhere on the road getting the drums while the bands, and everyone in the club, were waiting. They arrived around 10:15, after a while the night became waiting-for-the-drums-night and was getting funny.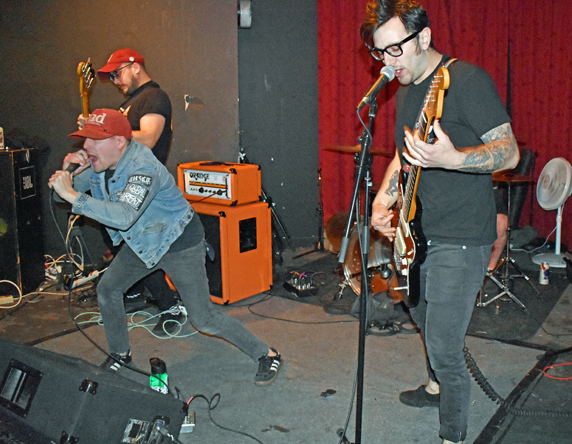 Secret Spirit
Photo: Blowfish
First band up was Secret Spirit and they went full bore from the first second to make up time. The singer was funneling every ounce of energy into his singing. It was screamo at full volume. The thing with this group is that they have two singers. So, when he wore out, in goes the next guy. The set never flagged. The time waiting for drums seemed like a distant memory soon enough.
Their songs don't go by in a big blur like some hardcore acts. They have distinguishing choruses and some melodic sections. Listen to "Feel Good" on their Bandcamp page to hear some of that. Secret Spirit will be back at O'Brien's on June 7 with The Runouts and Oh, The Humanity. We'll be there for that.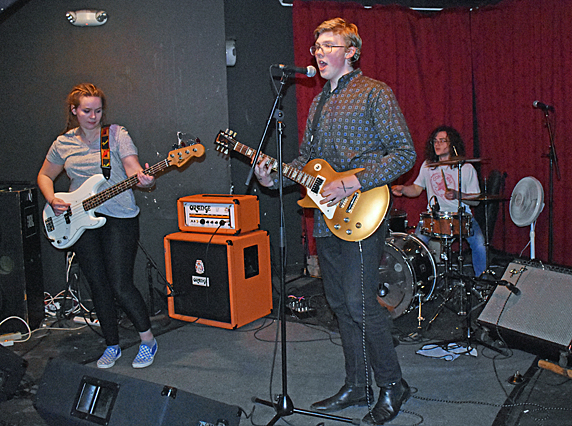 The Laces
Photo: Blowfish
The next band The Laces were a high school band. We've learned since seeing The Fringe to give high school bands some attention. They are a industrious band; they already have three albums out!! Check 'em out on Bandcamp We thought we could detect some very early pre-punk influences like the NY Dolls in their music. There was a lot to like in their playing and that got them the audience's attention. They seem to have it all together and will only get better with more experience.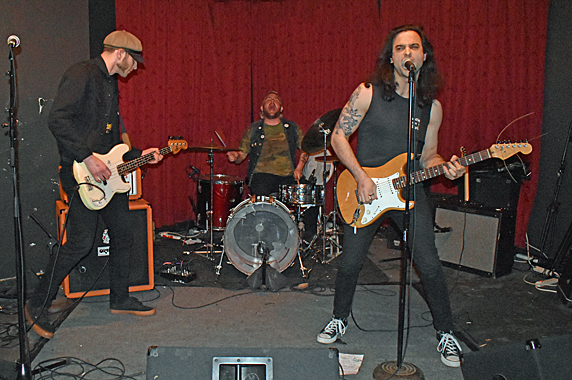 The Egos
Photo: Blowfish
The Egos have been around for a while, they are a mix of rockabilly, surf and garage., lots of good influences. There was excellent guitar work and attention getting drums the whole time. The drummer said they did obscure covers that no one would know. They announced one song, which was "Sho' Know a Lot About Love" by the Searchers. They played it up so raw you could hardly recognize it and that was a good thing.
It was a cool Tuesday. We are always grateful to people like Lindsey WarNot who book these shows because we know we couldn't do it.
Friday had the Boston punk community at the Orpheum for Patti Smith.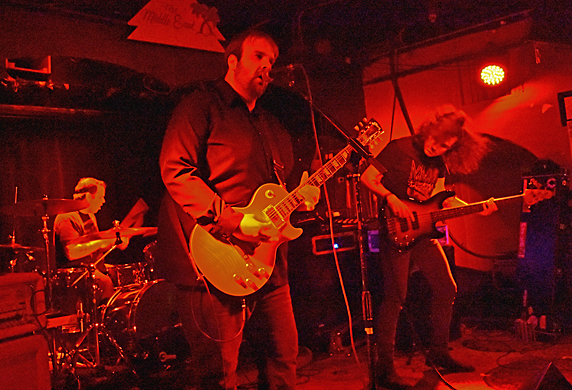 Sundrifter
Photo: Blowfish
We did a fast hit at the Middle East where there had a stoner/psych show upstairs. We timed it to see Sundrifter playing second. We first saw Sundrifter almost two years ago at O'Brien's. They struck us as totally unique and they still do. At the Middle East we could see that they have honed their sound and are even more impressive and have more stage presence. The overall sound was solid stoner. Like Blue Cheer, they wanted the sound to be overwhelming. The twist was Craig Peura's vocals, he has a Middle Eastern quality to the way he sings. He would hit a high note and then move his voice around in an eastern scale. It sounded like a voice coming from a minaret. It added a haunting quality. On guitar Craig would also keep some lower strings open to give a drone effect. We found it mesmerizing. It seemed like you could listen to it forever.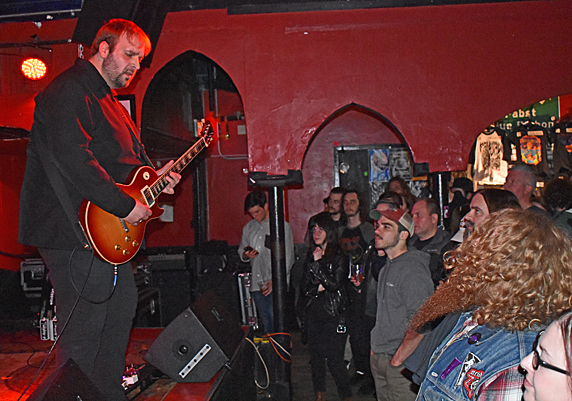 Sundrifter
Photo: Blowfish
They remind us of the super groups of the sixties like the Doors or Santana where they defined their own sound.
The audience gave them a good reception. The club looked sold out. We could only get three feet into the room because people were jammed in there. It was also hot and sticky. We bailed before the main act King Buffalo who are a psychedelic trio from NY who have a big following.
There was a lot of music going on Saturday. Proletariat was at Once. We review their new album Move which works on so many levels.
We regretfully had to give that a pass as we headed up to Beverly for the Nervous Eaters also playing on the heels of new album Record 10 which we also have reviewed, it's another classic Eaters album. This new Beverly club is called 9 Wallis it's a few blocks from The Spotlight, now closed, where the Eaters played a few times.
9 Wallis is the nicest club we've been in for a long time. It was big enough to accommodate many tables and chairs and still have a big dance floor in front of the stage, and what a stage! It has a nice cloth backdrop with a variety of lights that are tastefully done. The sound system was very unobtrusive and delivered a balanced mix. It was one of the reasons for this being such a successful night. All three bands which we've seen many times before had their best performances.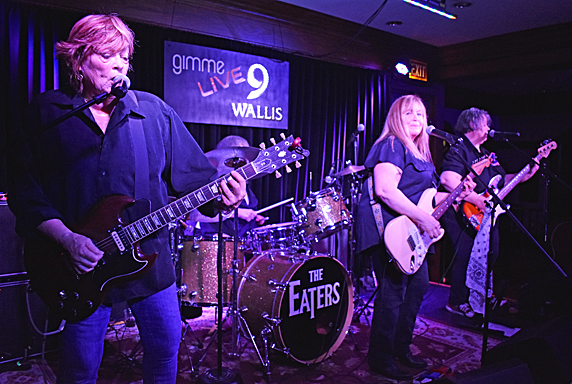 Corolla DeVille
Photo: Blowfish
That started with Corolla DeVille. We felt like we were their guests because they are so representative of the North Shore music community. Their set is song rich. They do a few songs by the much missed Phil Haynen of The Dawgs. (See our Phil page here).
They said that they were lining up some recording time that would have been produced by Asa Brebner, that was poignant. We heard people say, " Hey, they're gooood!" a few times as the set went on. It was their groove and presence that seemed to come so easy, they know exactly what they're doing and just nail it. They kick it up every now and then to show they can do that too. Between that set and the nice setting we were getting the glow of a great night.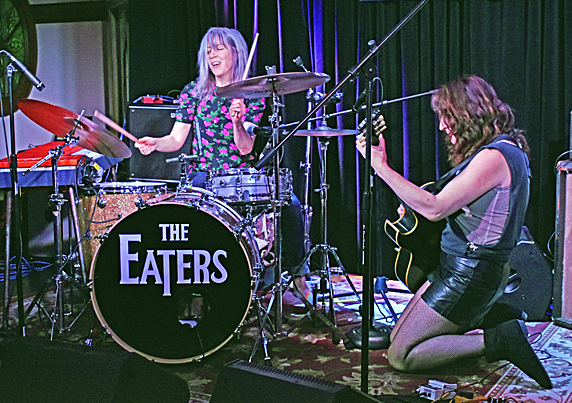 Mr. Airplane Man
Photo: Blowfish
We've seen Mr. Airplane Man through the years but this was the set that really clicked with us. This club and this stage were a perfect setting to catch their nuances. And they are all about nuances. They never want to rock the house down like many other two person groups. Their sound germinates from the old solo blues performers, some of which they cover. They go for that backroom session feeling. Then there is the connection that Margaret and Tara have, probably from the beginning, but even stronger now. You could feel that too. They had two sets of songs. One was the blues material. The second was the major chord poppy material. Some of the blues material seemed to be one chord only. The pop material often was two chords. They would play a short riff and just ride that groove for a few minutes.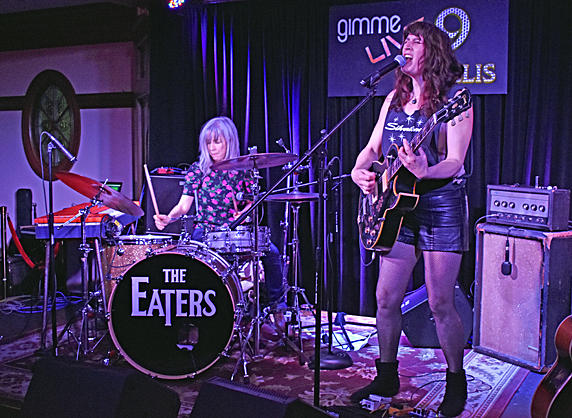 Mr. Airplane Man
Photo: Blowfish
You could hear all the subtleties in Margaret's playing. The Silvertone amps she uses never sounded so good! In the blues material Tara kept things super simple, mainly hitting that bass drum to underline the beat and it sounded authentically like an old time blues recording. They ended with a blues song featuring a slide guitar avalanche. You had to love it.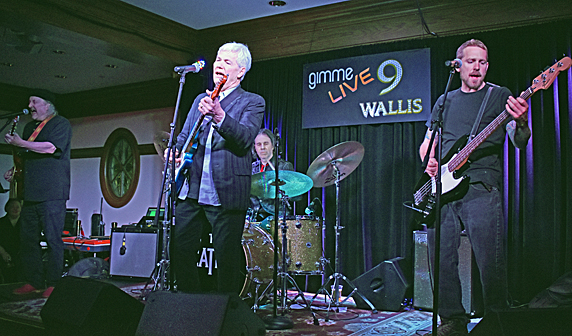 Nervous Eaters
Photo: Blowfish
The Nervous Eaters, like the Real Kids, have always had a large following on the North Shore, half of the original Eaters were from there. When they came back with a new album and renewed playing live again in 2003 they kicked it off at Dodge St in Salem.
The line-up they have now, which has been solid for a few years, is Steve Cataldo, Alan Hebditch, Nick Hebditch and David McLean.
A lot of the set was comprised of songs from their last two albums; the expanded Hot Steel and Acid and Record 10. It was a fabulous set and to think of how much more material they have in their repertoire should make most groups very jealous. They did play "No More Idols" and "528" from other albums.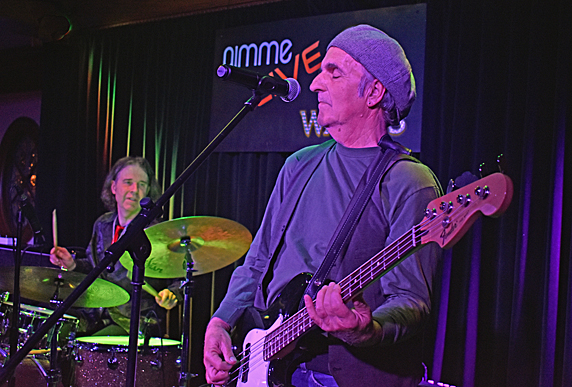 Rob Skeen - Nervous Eaters
Photo: Blowfish
The new song "Chad" stuck out as a new favorite again. See the video below. "Where's Johnny" is notable on the new album and was the same live. They did "Last Chance" and "Girl Next Door" the two older faves that they rerecorded on Record 10.
They were rocking right from the first song but something happened when the singing went to Alan for "Now You Want Me Back Again", the audience gave a generous cheer and the set seemed to take off from there.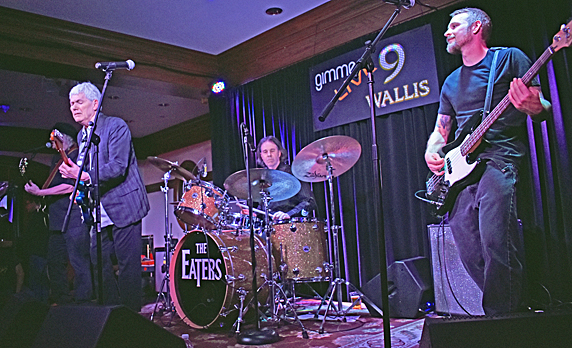 Nervous Eaters
Photo: Blowfish
David on drums was especially good in this set. Again maybe partly because the sound was so good you could catch the tone of the drums. He doesn't do just one thing, he's got a big bag of tricks. His rolls are always varied. He's a seasoned player who knows exactly what a song needs.
It was hard to tell who was having more fun the band or the audience. The band was laughing and smiling between themselves and the audience was cheering and dancing all the through the set. It was a great set and a great time. For the encore they brought up Rob Skeen, the Easters' original bass player and one of North Shores' own, to play bass for "Loretta". You can believe people were going crazy for that.
It's obvious that the Eaters are having another career burst. Two CD's worth of some of their best work, a lineup that can deliver it and they are getting some good press from the mainstream.
Rick Harte was there. He's been showing up a lot lately at clubs. Arthur Freedman made sure to make it and lots of people were introducing themselves to him. They know his work. The North Shore people filled up the club and as is their way they filled up the dance floor.
It was worth that trek up to Beverly, a comfortable club with tables and seats, what a concept!!
CLICK HERE for more band photos.
---
And in other news.....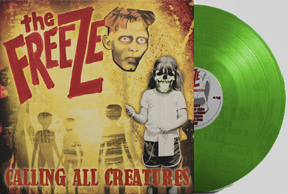 Legendary Cape Cod act The Freeze have a new album out. Wow!! Calling Creatures. The digital release is avaiabke now, green vinyl and CD available end of May.
Tuesday the 30th Justine, of The Unclean fame, will be on Skybar's WMFO show The Rising (Tues 8 to 9pm) to sing a few numbers and talk about what's up with the band, the Mess Around etc.
Mike Hobanand and Lenny Scolletta are now doing a podcast called "The Boston Beat" The show will feature past, present & future music & arts guests from all around New England. Right now they cover some cool musicians from the sixties mostly but will have some later punk things in there at some point. They have interviews with Moulty of the Barbarians, Ian-Bruce Douglas from Ultimate Spinach, Dick Weisberg from Beacon Street Union, and Harry Sandler drummer from Orpheus among others. It's real easy to hit the page (here) and start listening.
---
Here's some good shows coming up this week.....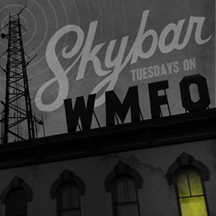 May 2 (Thursday) Skybar's awesome radio show, Rising, featuring live songs by Justine and an interview with Justine and Carissa about their upcoming onslaught at Sally's with Tiger Bomb and RunHideFight, plus updates on the Unclean's filthy activities, the Black Threads, and the Mess Around! Don't miss it, streaming live at www.wmfo.org. 91.5 FM
May 2 (Thursday) Rawstrum, Gideon Grey, Pinaple Jam at Thunder Road (Rawstrum on first!)
May 3 (Friday) New Alliance Studios Opening Party!! Please check out the FB page for all the stuff going on 6-10PM.
May 3 (Friday) Barrence Whitfield & The Savages w/ Muck and the Mires at The Middle East
May 3 (Friday) Corolla Deville, Stigmatics and Pop Gun at Jeannie Johnston's Pub JP
May 3 (Friday) Choke Up, Keep Score, Depressor, Matt Murphy at The Hong Kong Harvard Sq
May 3 (Friday) Mad Painter (with Kenne Highland on bass) along with The Fringe, Roll Over White and Shipwrecked at The C Note in Hull.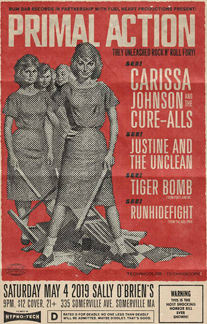 May 4 (Saturday) It's "LIVE DAY" on WMFO (91.5FM) featuring local acts doing 40 minute live sets all day. Same DJs at their regular times but live music all day. The Cast Irons - 9AM...Anthony Kaczyinski (acoustic) 10AM... Peter Parcek 10:50....Danielle Miraglia w/ Lisa Bastoni 11:45...Lily Black (full band) 12:40PM...61 Ghosts 1:35PM...Will Dailey 2:30...Flight of Fire 3:25....Celebutant (acoustic) 4:25.
May 4 (Saturday) The McGunks, Silver Screams, Revilers, Damnation, Live Nude Girls at The Midway 3-7PM
May 4 (Saturday) Trusty Sidekick, Bill Dwyer Band, Hambone Skinny, Richie Parsons at The Midway 8PM show
May 4 (Saturday) Carissa+Cure-Alls, Justine & The Unclean, Tiger Bomb, RunHideFight at Sally OBrien's
May 4 (Saturday) Dial Drive (FL), Loser's Circle, The Runouts at The Hong Kong, Harvard Square FB page
May 4 (Saturday) The Devils Twins, The Anti-Queens, Ratne, Bad Larrys at Opus in Salem
And further out we have.....
May 6 (Monday) Sneeze, Cult Fiction, Toothbrush, Non- at Charlie's Kitchen
May 7 (Tuesday) Dougie Flesh, Coffin Salesman, Ciderdown, Hannah Jay at The Tavern at the End of the World.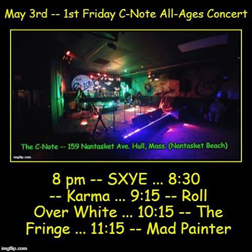 May 9 (Thursday) The Guillopointagers (Matt LeBel and Will Barry), Baluchitherium, Black Leather Lagoon, The Nuclears (NYC), The Natty D's at Club Bohemia
May 10 (Friday) The Grand Opening of Somerville's latest music club, The Jungle! with 10:50pm: Major Moment, 9:55pm: Exit 18, 9pm: Tzivia & theband Vú
May 10 (Friday) The Devil's Twins, Nemes, North By North, The Gala at O'Brien's Pub
May 10 (Friday) Thigh Scrapers, GLiDER, Legendary Cazbats at Jeanie Johnston Pub in JP
May 10 (Friday) Oh The Humaity, SkyTigers, Tied to a Bear, Shrug Dealer, Weaklings at Uncharted in Lowell
May 11 (Saturday) Art Thieves, Donaher, The Last Noelle at The Jungle- 5 Sanborn St Union Sq Somerville.
May 11 (Saturday) The Knock Ups, Ila Minori, Erel, Chad Gosselin of The Big Lonesome at The Midway night show
May 11 (Saturday) Back Central, Kind, Distressor, DNZL at Thirsty First in Lowell
May 11 (Saturday) FUs, GLiDER, Classic Ruins, Screw.Cart at KOTO Salem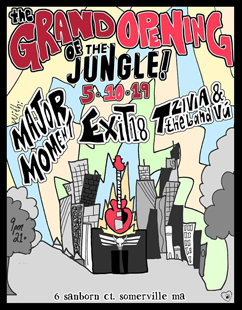 May 11 (Saturday) Cactus Attack, Diablogato, Jittery Jack & Amy Griffin at the Dover Brickhouse Dover NH
May 13 (Monday) Happy Accidents (UK), Greed Island, Birdwatching, Traders at Charlie's Kitchen
May 15 (Wednesday) Jon Snodgrass, Lenny Lashley, Micah Schnabel at O'Brien's Pub
May 15 (Wednesday) The Blasters with Diablogato and Dead Trains at ONCE Ballroom
May 16 (Thursday) Powerslut, The Melatonins, The Daily Pravda, Heist at The Lizard Lounge
May 17 (Friday) Lily Black, Highway Chapel, Thee Fightin' Fish, The Negans at Club Bohemia.
May 17 (Friday) Andy California, The Swettess, Heavy Connection at Jeannie Johnston's Pub in JP
May 17 (Friday) Parlour Bells, Gene Dante and The Future Starlets, and Smitt E. Smitty & The Feztones @ OPUS Underground in Salem,
May 18 (Saturday) Marko And The Bruisers, Color Killer, Shore City, Punk Band - 3-7 matinee at The Midway
May 18 (Saturday) Lily Black at Asgard
May 19 (Sunday) The Last Ones, Billy Copnnors Project and Fireking at O'Briens.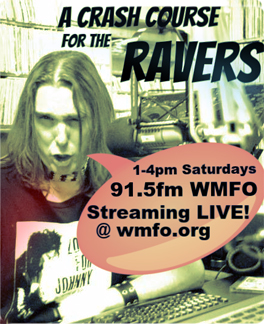 May 20 (Monday) Coffin Salesman, Molly Rhythm, Talk Me Off, Double Star at Charlie's Kitchen
May 22 (Wednesday) GLiDER live! On the Town w/MikeyDee~91.5 FM/wmfo.org live stream
May 23 (Thursday) Swivel and Modern Day Idols at The Jungle
May 24 (Friday) Lo Wreck's birthday with The Downhauls, The Dents, Duck & Cover and Skytigers at Sally O'Brien's
May 24 (Friday) Radium Girls 7"party with Happy Little Clouds and Abbie Barrett & Band at The Lizard Lounge
May 25 (Saturday) The Cranktones at Atwwod's 4-6PM
May 25 (Saturday) Lara Hope, Jittery Jack & Amy Griffin, The Demon Seeds at Opus! Salem
May 27 (Wednesday) Natterers, Yooth Decay, SAP at O'Brien's Pub
June 1 (Saturday) Vicky and the Vengents, Muck and the Mires, The Electric Mess at The Midway
June 2 (Sunday) Slimedog's 22nd Annual Punk Pizza Poetry Party featuring Kermit's Finger, Cry Havoc, Jerry's Got Jokes, The Grommets, Jake Tringali (between sets) at The Midway 3-7PM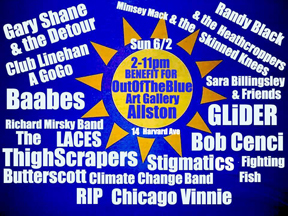 June 2 (Sunday) the second Out of the Blue Benefit with a TON of bands….starting at 2PM -this is in order of appearance: Club Linehan A Go Go, Mimsey Mack & the Skinned Knees, Bob Cenci, Richard Mirsky Band, Randy Black & the Heathcroppers, Thee Fighting Fish, Climate Change Band, The Stigmatics, The Laces , The Thigh Scrapers, Gary Shane & the Detour, Sara Billingsley & Friends, GLiDER, Baabes, Butterscott. FB page for more info
June 5 (Wednesday) Mad Painter Live at WMFO 91.5 10PM
June 7 (Friday) 61 Ghosts, Cal Cali Band at Tavern at the End of the World.
June 7 (Friday) Jittery Jack & Amy Griffin at The Book & Bar, Portsmouth
June 12 (Wednesday) Glider will be on the Heavy Leather Topless Dance Party. Check out the FB page for access. 8:30-9:30PM
June 15 (Saturday) Thee Fightin' Fish, The Billy Connors Project, A Bunch Of Jerks, Club Linehan A Go Go - 3-7 matinee at The Midway
June 15 (Saturday) The Daylilies, Justine and The Unclean, The Chelsea Curve at Sally O'Brien's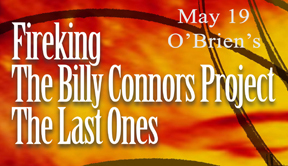 June 15 (Saturday) The Gala, Zip-Tie Handcuffs, Ben & Jolly Janes, Green Pieceat at UnchARTed Lowell
June 21 (Friday) Kid Gulliver, Stars Like Ours, The Rationales at Sally O'Brien's
June 22 (Saturday) It's Quincy Porchfest!!! At 62 Prospect Ave Quincy you can find - Order of appearance starting at 1pm and every hour on the hour- The Fringe, Thee Fightin' Fish, The Stigmatics, Baabes, Glider, The Thigh Scrapers, Charlie Don't Surf a tribute to The Clash FB page for directions etc.
June 22 (Saturday) The Gala, The Dazies, Haunted Horses NYC, Lockette at The Midway
June 22 (Saturday) writer Joe Milliken is having a book event to promote his Ben Orr bio Benjamin Orr and The Cars at 9 Wallis 8-10:30PM FB page
June 22 (Saturday) Stars Like Ours, Little Billy Lost, Thinner, and The Stigmatics at Ralph's Rock Diner Worcester.
June 23 (Sunday) Teenage Bottlerocket with Ramona, The Young Rochelles at Once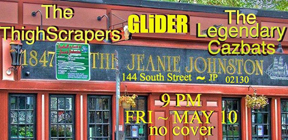 June 27 (Thursday) Powerslut, Thrust Club, Radium Girls @ The Jungle
June 29 (Saturday) The Old Edison, Coffin Salesman, Time & Place, Loser's Circle at The Midway
July 5 (Friday) Cal Cali Band, GLiDER, Mad Painter at KOTO Salem
July 9 (Tuesday) Some Kind Of Nightmare, Losers Circle, Nick Barbarian, And Live Nude Girls at Thirsty First Tavern Lowell.
July 11 (Thursday) The Thigh Scrapers, Baabes, State of the Union and The Laces at The Jungle 5 Sanborn St Union Square Somerville.
July 11 (Thursday) 61 Ghosts, Thee Fightin' Fish, Pop Gun at Opus in Salem
July 18 (Thursday) Stars Like Ours, Blindspot, Justine & the Unclean at The Jungle Union Sq Somerville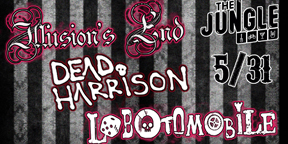 July 20 (Saturday) Dogmatics, Jittery Jack & Amy Griffin, Stop Calling Me Frank at the Back Room at The Burren Davis Sq Somerville 6-9PM folks!!!
July 27 (Saturday) Corner Soul, The Knock Ups, Motel Black at The Jungle Union Sq Somerville
July 27 (Saturday) The New England Ska Summit; Bim Skala Bim, Copacetics, Hempsteadys, El Grande at Once Ballroom
August 8 (Thursday) Otto Records present 145 & The Thigh Scrapers at The Plough & Stars
August 14 (Wednesday) Deke Dickerson, Bloodshot Bill, Jittery Jack, DJ Easy Ed at Once FB Page
August 15 (Thursday) 1.4.5., Crunchtime and Glider at The Jungle Union Sq Somerville.
August 31 (Saturday) Time & Place, PowerSlut, The Daylilies at The Jungle
CONTACT US AT....misslynbgn@yahoo.com Send us your gig listings, your news and anything else ya got!! You want your CD reviewed?? Contact us for that too.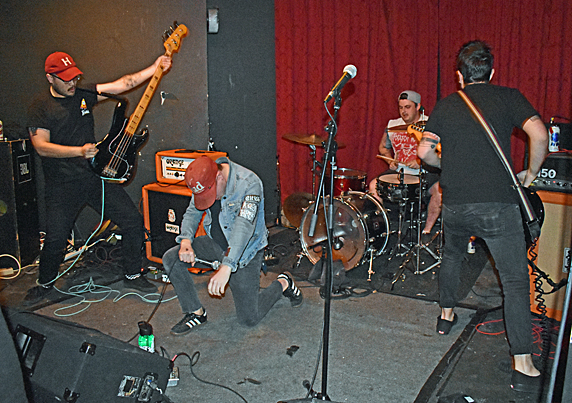 Secret Spirit
Photo: Blowfish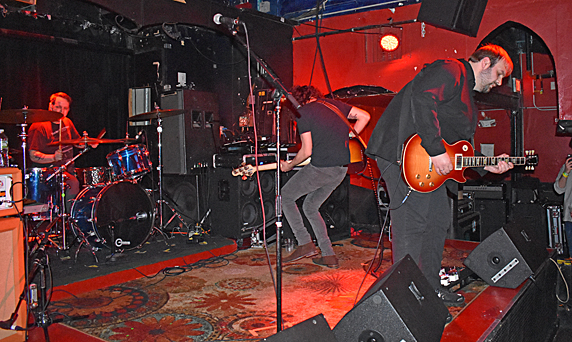 Sundrifter
Photo: Blowfish
Mr. Airplane Man
Photo: Blowfish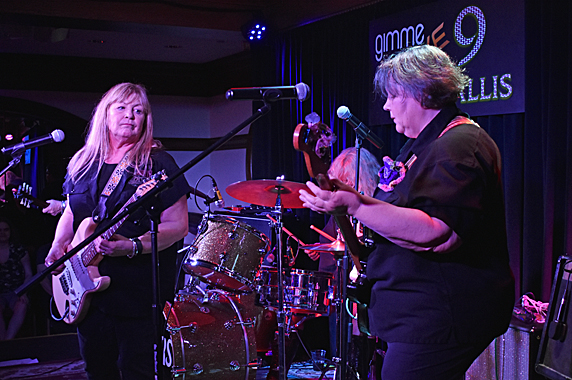 Corolla DeVille
Photo: Blowfish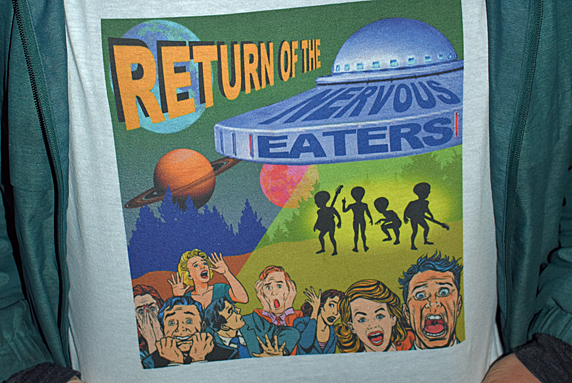 This was an alternative cover for the new Nervous Eaters CD.
Photo: Blowfish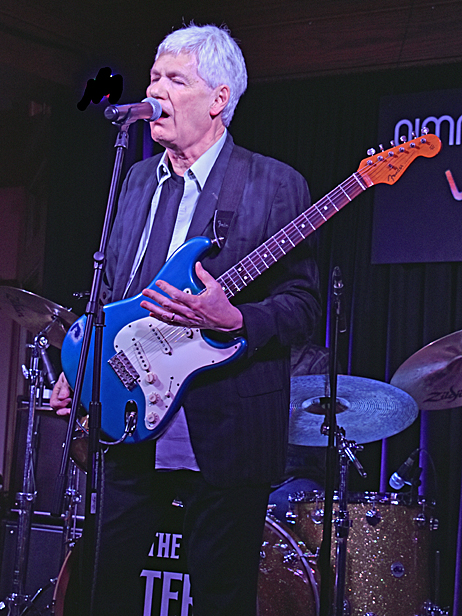 Nervous Eaters
Photo: Blowfish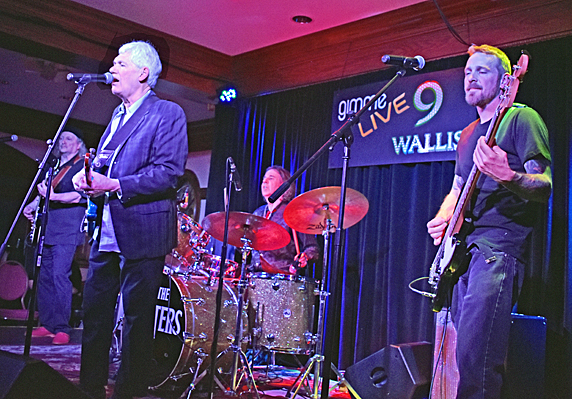 Nervous Eaters
Photo: Blowfish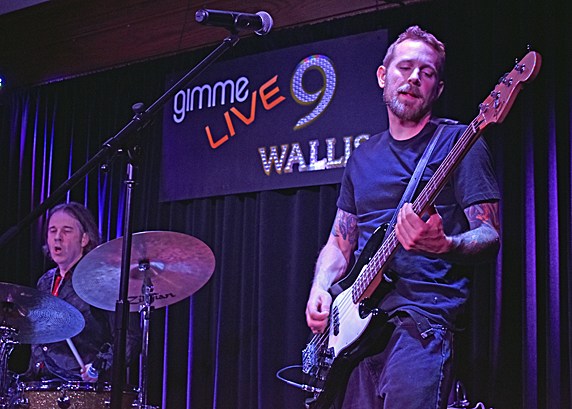 Nervous Eaters
Photo: Blowfish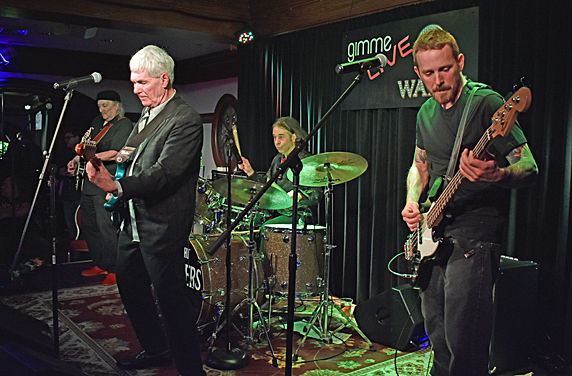 Nervous Eaters
Photo: Blowfish