The BGN News Archive
May 22, 2023
About a month ago Richie Parsons of Unnatural Axe posted on Facebook that he was going to quit punk. He was going to go into the studio to record his last batch of punk songs and that would be the end.
We were shocked. People don't really make sharp ending to lifetime interests like that, never mind drawing a line in the sand publicly about it.
We talked to Richie about his decision, what brought it on and where the road would lead from here. We also visited Ed Reimer's studio where Richie's last recording session was taking place to see how that was proceeding. It's all in our page on Richie Parsons and the "last punk recording".
As we lose the smaller venues for live music we are also happily gaining them!!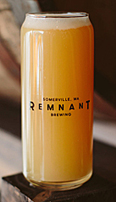 We still miss Atwood's Tavern ....but the good news is Remnant Brewery is taking over the space ... and they say they'll book some of the same bands but with not as 'robust' a frequency. ...huh? What's cool is that, though they don't mention food being offered anymore they will offer a more up to date drink offerings: "The beer menu will be full of Remnant beers, and one to two other drafts that were staples at Atwood's, In addition to beer, there will be other alcoholic and nonalcoholic offerings for folks that prefer a mixed cocktail, wine, cider or nonalcoholic draft. We're also excited to bring a full service coffee shop to the space. So when you visit, you can grab a cappuccino or espresso shot and then stick around for a beer or three."
Your can read more on Cambridge Day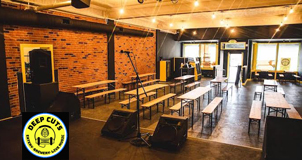 Dig Boston gets the back story on Deep Cuts the new venue in Medford Square. The owners Ian McGregor and Jeff Wetzel are not fly by nights, they are committed and have worked around the restrictions of the Covid era to end up where they are now. They've put years into this project. The space can hold up to 240, so its a great size and they've teamed up with Get To The Gig for booking bands in the space.

The first show with Zip Tie Handcuffs, Black Beach and Today Junior happened last Saturday. Shows coming up include - Death Valley Girls on 6/10, Bad Idea USA, Pink Slip, The Jacklights, Blame It On Whitman on 6/29. Read more on Dig Boston.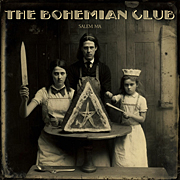 And if you like doing lunch.....and The Sheila Divine's music, then you might want to think about The Bohemian Club in Salem. Aaron Perrino, the singer in Sheila Devine, decided to quit his daytime corporate gig and open a gourmet sandwich shop in Salem. Aaron have started a fundraiser on Mainvest.
This is such an awesome idea!! Apropos to its location themes of secret societies, the occult, witchcraft, and the spiritualism movement play a big part in the shop. the sandwiches will be named after tarot cards!! The Devil will be Piri Piri fried chicken with pickles and cole slaw - sounds pretty good to us!! A sample menu is on the Mainvest page.
They have a long way to go folks so if you are interested please donate some ducats. You can invest for as little as $100.00. read more on Vanyaland And follow The Bohemian Club on Instagram.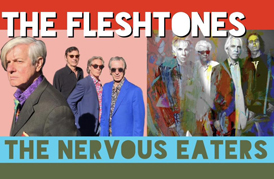 The Nervous Eaters gigs get better and better!! September 29 they play with The Fleshtones at The Café Nine in New Haven. On September 26 they are at the Middle East Up with Dead Boys and Plimsouls. Hey Middle East Up, that's too small for that line up….maybe that will get pushed downstairs. Tickets Facebook page
The Smiths' bassist Andy Rourke's death brought in a lot of tributes this week. He was 59 and died from pancreatic cancer.
The Smiths influence can't be underestimated and it seems to grow as time goes on. From afar it seems what every member of that group did was magic. How does one come out with something so new and meaningful that affects millions? There are many choices some that may offend people or be a source of ridicule….yet they go on. That's why we celebrate courageous artists like Andy Rourke. Some comments from musicians in Billboard.
---
VIDEOS......
The video for blindspot's new song "Still Breathing" is sleek, stylish, minimalist and modern just like their music. This is the group's first release since Covid came a knocking. We always thought there was a big audience out there for them. Being semi-finalist in the 2019 Rumble showed that too. They have an indie sound but not in a cookie cutter way. The singing and playing here is superb. The guitar kicks in at just the right times and is very tasteful. The melody in the chorus will hook you. Singer Alexa Economou knows how to deliver a lyric.
Drew Stone of the NYHC Chronicles has a different sort of guest this week. It's Steve Birnbaum who does several things but one is researching locations where album covers and other iconic photos were shot. He holds the photo up in the original album cover photo location. Dip into his Instagram page to be wowed: Ramones, Cramps, Germs, NY Dolls and SO many others!!
Here's a video of a Adam Woo who does The Daily Woo on YouTube. He does a walking tour of NYC showing spots make famous by the life and songs of the Ramones.
He starts at 53rd and 3rd. He shows where the first album was recorded in the Radio City Music Hall building, he goes to Joey Ramone Place in the Bowery, Alan Vega's apartment, where CBGB's was and also gets to the Joe Strummer mural.
He also shows Albert's Garden which is also mentioned in the NYCH Chronicles above because it's where the photo on the cover of the first Ramones album was taken.
---
PODCASTS.........
Linnea Herzog of Linnea's Garden took the seat at Blowing Smoke with Twisted Rico this week. Herzog came from St. Paul, MN to Boston for college and never left. Linnea has a PHD in neuroscience.
Linnea first was attracted to grunge. Bowie was a later influence. She's always down plays her guitar playing but her riffs and fills are top notch. She discusses her guitar pedal effects with Steev.
She left PowerSlut (2019 Rumble runner's up) because her new songs didn't fit the group and started Linnea's Garden.
Linnea seems to have boundless energy, which comes across when she talks. She's been at the head of the pack since just before Covid and there's no indication that will change anytime soon.
Life of the Record is a quality podcast. Last year we posted their podcast on the making of Mission of Burma's first album.
The latest podcast is on the making of the Violent Femmes first album. At the beginning the Milwaukee group couldn't get a club to book them and they took to playing on the street. With money from one of their father's they recorded that first album. That album sounded like nothing else at the time and nothing much now either.
There is spend time talking about "Blister In The Sun" a song many think is about masturbation but the band denies. This is perfect place to get the background behind this fascinating album.
---
NEW MUSIC/CDs......
One of the first impressions with the Sapling album Amor Fati is: whoa, I need more time to absorb this!! It's so different and full of ideas that you can't just give it a casual listen.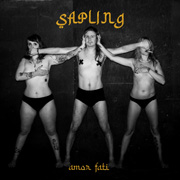 It begins with a spoken word cut. It's a stream of non sequiturs, upended cliques, and flotsam and jetsam of observations and short comments. It's all done with humor. You realize that someone has their antenna up and probably has a notebook full of these tidbits. It puts you on alert that this group has a lot to say and is going to require your attention.
Later in the album "The Werewolf of Nikola Tesla: A Museum" covers similar territory as the opening cut but has more song structure.
The instrumentation is mainly guitar,bass and drums. Everything is low. There are no guitar solos or anything in the treble range. They have Dana Colley, master of the low sound, on the bass clarinet on one song.
Your ear and brain have to realign to the Sapling palate. You adjust your expectations and that's a good thing.
This group is breaking up the well-trodden punk rock path. The melodies are basic. The music seems basic too, but there are lots of sweeping noise washes that must have taken a long time to create. The arrangements are also very precise with lots of change ups. The recording is clear and unaffected. It never gets in the way of what the group is doing.
The album ends with another spoken piece that leads to a hidden cut which is a hilarious extended rant on the horrors of "paint night". Doing everything with humor is a big plus on this album.
We expect to be listening to this for a while to really appreciate what Sapling has done on this. They could jump start a whole new wave of post punk art rock with Amor Fati.
I-95 Records is doing a series of covers of eight 45's that have come out from Detroit.
The Bellrays from Riverside CA have continually given us some powerhouse music since their beginning in 1990. Now they covering "Ball of Confusion" the 1970 song by The Temptations and also covered by Love and Rockets for this series.
This is a song a group should think about before covering. It's no problem for The Bellrays who pump it up with raw energy, raucous guitar work and the mighty voice of Lisa Kekaula. This is due to come out officially on June 2.
Other groups in the series include Danny Laj & the Looks, The Right Here, The Candy Snatchers and others. You can preorder the whole series on the I-95 website.
Cleopatra Records has a tribute album of interest titled High Voltage Punk. It's all AC/DC songs done by some notable punk acts like: 999, The Queers, UK Subs, Flipper, Peter and the Test Tube Babies, The Skids, The Vibrators, nti-Nowhere League, The Angry Samoans and more. 14 cuts in all.
One song released now is Fear covering "Dirty Deeds Done Dirt Cheap." Hear that below.
---
Here's some good shows coming up .....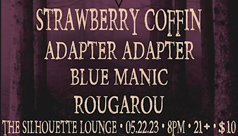 May 22, 2023 (Monday) Strawberry Coffin, Adapter Adapter, Blue Manic, Rougarou at The Silhouette
May 24, 2023 (Wednesday) Doom Lover, Thrust Club, Daphne Blue Underground, Really Great at The Silhouette
May 25, 2023 (Thursday) C.E. Skidmore & The Damn Fine Band (and friends) Mike Frazier, Jared Hart, and Miketon Graton at Faces in Malden
May 27, 2023 (Saturday) Lenny Lashley Gang of One, Hammered Saint, Crystal Lizard at The Square Root
May 27, 2023 (Saturday) Highway Chapel, Nymphidels, Happy Little Clouds, Johnny Plankton and the Sea Monkeys of Sole at The Midway for a matinee @ 3PM.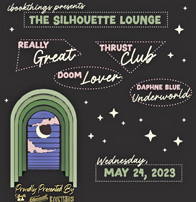 May 28, 2023 (Sunday) Boston Vinyl & Variety - at Fields West Allston, LOADS of record stores, vinyl vendors and other vendors like Wanna Hear It Records, Ancient Injury Records, Kitty Levesque Vintage, Black Mold Market, Archie Snow, Gonzo Sonic, Judge Amps - Amp Demo Table, Period Three Records - Lathe Record Cutting and for the Merch Swap - Leave An Item Take An Item - 5-10PM - FREE but RSVP here on Sun May 28,,,,can you add to the calendar you run in BGN ( see attached file)

May 28, 2023 (Sunday) 1.4.5. and Tom Kenny and the Hi Seas at the Middle East - music starts at 8PM.
May 30, 2023 (Tuesday) Louzy, Trash Rabbit. North By North, Wild Velvet at The Midway
June 1, 2023 (Thursday) Gretchen Shea and The Middle Eight, Detroit Rebellion, Stubborn Hearts at Notch Brighton FREE but RSVP here and bring some shelf stable food to donate.
June 2, 2023 (Friday) Justine & The Unclean, Barrence Whitfield & His All-Star Band, Spiller at Faces in Malden TIX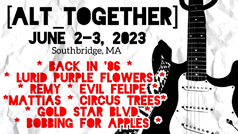 June 2 & 3, 2023 (Friday/Saturday) Southbridge Mass will have its moment with the Alt_Together Festival! (Southbridge is between Worcester and Springfield) Friday's bands are: Remy, Gold Star Boulovard, Mattias Band, Back in 86', Gx42, Saturday's bands are: Lurid Purple Flowers, Evil Felipe, Circus Trees, Bobby for Apples and Whalom Park. FB page Tickets are here
June 3, 2023 (Saturday) It's Dorchester Porchfest ...or...Dorchfest!! Tsunami of Sound and Richie Parsons 1:30-4:30PM - 4 Westmoreland St. Dorchester- FB page.
June 3, 2023 (Saturday) Eddie Japan, Magen Tracy & The Missed Connections, Carissa Johnson at Faces in Malden. FB page.
June 3, 2023 (Saturday) Mach Bell Experience, Joe Hart Band at Magic Room
June 8, 2023 (Thursday) Tysk Tysk Task, PiNKLIDS, Trash Rabbit at Notch Brighton FREE but RSVP here and bring some shelf stable food to donate.
June 8, 2023 (Thursday) Done, WOJTEK (FL), Headfoam (FL), Constantly Terrified, Psychic Weight at O'Brien's Allston
June 8, 2023 (Thursday) SkyTigers, Between Skies Perennial Quest ay Faces Malden
June 11, 2023 (Sunday) The Thigh Scrapers, Classic Ruins, The Ballbusters, Loretta at The Midway for a 3PM Matinee show.
June 11, 2023 (Sunday) Kid Gulliver & Museum Direktors at Worthen Attic
June 15, 2023 (Thursday) Chris Wagner (Modern Day Idols) solo show at the Natick Common, Natick. Set time: 5-7pm.
June 15, 2023 (Thursday) Modern Day Idols, Tad Overbaugh and the Late Arrivals, If We Go At All at The Central Tavern, Milford.
June 17, 2023 (Saturday) Punk Rock Picnic - afternoon of live indie and punk in the beer garden with Baabes, Muzzin, Hammered Saint at Bone Up Brewery in Everett. 2 PM – 7 PM. FB page.
June 19, 2023 (Monday) Gossip Collar (Tom & Victoria from Spitzz), Alijca Pop (from Memphis) and Daughter of the Vine at State Park.
June 19, 2023 (Monday) Dropbear, No / Nations, Weatherless, Not Bad Not Well at The Silhouette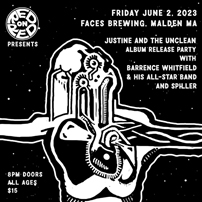 June 21, 2023 (Wednesday) Lupo Citta, Valley of Weights, Nat Freedberg at The Silhouette
June 21, 2023 (Wednesday) The Rippers Rage (Rage Against The Machine Tribute), Rawstrum, The Melted Chapstix at The Midway
June 23, 2023 (Friday) Baabes, ESH & the Isolations, Goon Platoon, Ruffian Dick, Turn Heel at O'Brien's
June 23, 2023 (Friday) Speedfossil, Little Billy Lost, Midnight Caller at The Square Root
June 24, 2023 (Saturday) The Chelse Curve are doing an afternoon show at The Lawn on D (420 D St Boston) music time: 1PM!
June 24, 2023 (Saturday) SkyTigers, Loud Love, Dave Strong Band, Coffin Salesman (stripped down), The Zombie Mafia at The Midway for a 3PM Matinee
June 26, 2023 (Monday) Gretchen Shea And The Middle Eight, Salem Wolves, Luxury Deathtrap at The Silhouette
June 26, 2023 (Monday) The Murder Junkies 30 Year GG Deathaversary Tour (Playing a full set of all old GG songs) with local lineup Psycho, Midnight Creeps, Scümbari - At Alchemy, Provi, RI Doors 7pm Music 7:30pm - FB page.
June 29, 2023 (Thursday) Bad Idea USA, Pink Slip, The Jacklights, Blame It On Whitman at Deep Cuts, Medford.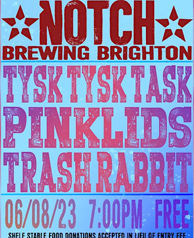 July 1, 2023 (Saturday) The Crank-Tones at The Midway for a 3PM Matinee
July 1, 2023 (Sunday) Tsunami of Sound (10:30am), Nervous Eaters (12:30pm), Mach Bell Experience (2:30pm) at MusicCons outdoor stage at Boxboro Regency Hotel.
July 9, 2023 (Saturday) The Zip-Ups, Cold Expectations, Glow Box at The Worthen Attic 4-7PM Matinee
July 15, 2023 (Saturday) The Shang Hi Los & Gene Dante & The Future Starlets - at the BUrren EARLY show- music starts at 7.
July 15, 2023 (Saturday) The Grip Weeds, Fling, American Ocelot at The Square Root - FB page
July 16, 2023 (Sunday) Holy Smoke, Little Billy Lost, Shiverlane at The Midway 3PM Matinee
July 21, 2023 (Friday) Midnight Creeps, Hammered Saint, Sourpunch at The Midway
July 22, 2023 (Saturday) Blame it on Whitman, Jerrys Got Jokes, SleepJumper, Dear Maryanne - at The Midway 3PM Matinee
July 22, 2023 (Saturday) The Lemon Drop Gang EP release with The Dogmatics, The New Frustrations at The New World Tavern Plymouth MA. Facebook page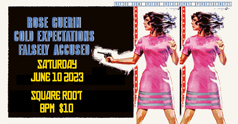 July 23, 2023 (Sunday) Cro-Mags (Performing Best Wishes), The Long Wait, Klaxon, Face First, S.A.C at Alchemy in Providence RI
July 28, 2023 (Friday) Skybar Rising & Rum Bar Records present Summer Sizzler Round 2 @ The Square Root with The HI End, Freeloader, Kate Redgate FB page
July 29, 2023 (Saturday) Color Killer at The Square Root
August 5, 2023 (Saturday) Crown Court, Violent Way, Oil!, Klaxon, Doc Marten Soundsystem at The Midway - 8PM
August 5, 2023 (Saturday) Huck 2, Alabaster Sons, Bobby Oakes and TV Models, Getaway Moon, Daisy at The Midway Cafe for a Matinee Show.
August 8, 2023 (Friday) Modern Day Idols at Exhibit A Brewing, Framingham. 7-9PM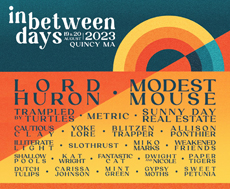 August 8, 2023 (Friday) Tiger Bomb, Freeloader at The Burren FB page
August 19 & 20, 2023 (Sat & Sun) In Between Days Festival - 2 Stages, 2 Days, 24 bands ... and Cool Vintage and Local Market Place, Vinyl Record Pop Up Shop, Food, Modest Mouse , Weakened Friends, Paper Tigers, Clarissa Johnson, Dutch Tulips and the South Shore's own Gypsy Moths. You'll want to get your tickets now because they have a 'tier' system. They have some "tier" ticket scheme so the longer you wait the higher the ticket prices are. FB page
August 25, 2023 (Friday) Bone Up Brewing Seventh Anniversary Festival Night 2 - 6pm -10PM with The Guilloteenagers, Blood Lightning, Lesser Glow
August 25, 2023 (Friday) Mach Bell Experience, The Cynz (NYC) at Back Room at the Burren
August 26, 2023 (Saturday) Bone Up Brewing Seventh Anniversary Festival Day 3 12:30pm- 10PM with from 1st to last: DnA's Evolution, Glacier, Sundrifter, Clouds Taste Satanic, North Star the Wanderer, SkyTigers (6PM), Brain Famine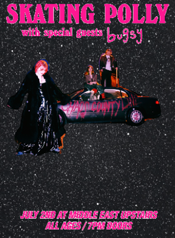 August 27, 2023 (Sunday) Bone Up Brewing Seventh Anniversary Festival Day 4 - 12:30pm - 7PM - with Weisstronauts, Organ Meats, Hobo Wizard, Cortez, Major Stars, Crowfeeder
September 3, 2023 (Sunday) Belvedere at Faces Malden
September 10, 2023 (Sunday) Somerville Rock + Roll Yard Sale Union Square 12 - 5PM. FB page.
September 10, 2023 (Sunday) Huck2 Album Release Party! With special guests Key of Caustic, Motel Black, and Acrylic Killers at , The Middle East UP Doors at 5:30PM
September 26, 2023 (Tuesday)
September 28, 2023 (Thursday) Dead Boys, GLiDER, Midnight Creeps, One Fall at Alchemy Provi RI. FB page.
September 29, 2023 (Friday) Anti Heros, Legion 76, Antagonizers, Blood Stained Brindle, Absuctors - Middle East Down.
September 29, 2023 (Friday) The Fleshtones + The Nervous Eaters - FB page https://www.facebook.com/events/656261933165054/?ref=newsfeed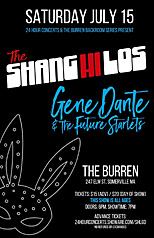 October 11, 2023 (Wednesday) The Mission UK & The Chameleons: Deja Vu Tour 2022 Rescheduled to 2023!!! also on the bill Theatre of Hate
October 26, 2023 (Thursday) Mudhoney at The Brighton Music Hall 18+ TIX
November 3, 2023 (Friday) Modern Day Idols Single Release Party with Tad Overbaugh and the Late Arrivals at Square Root, Roslindale.
December 8, 2023 (Friday) Huck 2, Gretchen Shae and The Middle Eight and Key of Caustic at Koto Underground, Salem
CONTACT US AT....misslynbgn@yahoo.com Send us your gig listings, your anything else you've got!! You want your CD reviewed?? Contact us for that too.
---
---