The BGN News Archive
May 28, 2012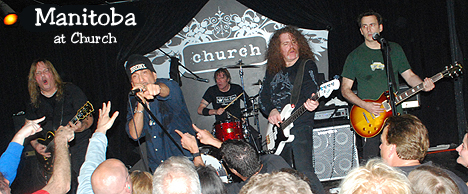 Oh Oh Oh, this was quite a weekend folks, we have two great shows to tell you about:
Thursday May 24 at Church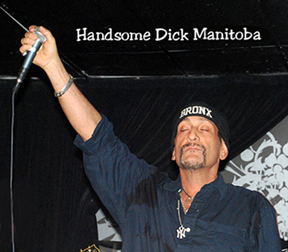 The shows we want to go to have been spotty at Church but the Manitoba booking got everyone's attention. Even though it was Thursday the club was on the full side but not sold out.
If one hasn't been to a Dictators related show it may be hard to understand the almost religious fervor that fans have about it, but after seeing this show I'm here to tell you it is justified.
Back in the bad old days - for us that is the early seventies before punk - there was a few bright spots in the musical landscape. They would be The Dolls, Iggy, Patti Smith and the Dictators. The Dictators fun no holds barred rock was a relief next to the morose acoustic flatulence of James Taylor and friends. If you lived through that you know it but what about those that haven't? What would a new listener think and what does Manitoba sound like now anyway?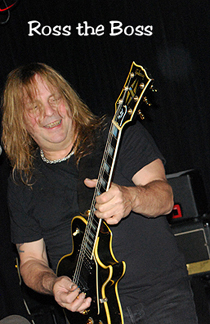 There's been in-fighting amongst The Dictators for a long time now so the only original guys in this band are Handsome Dick Manitoba singing and Ross the Boss on guitar. They came on stage with Dick Manitoba ranting in his sassy New York way and then slammed into a song and just kept the rock going for an hour and a half. They did lots of Dictator favorites but there were plenty left unplayed too, there's just a lot of good tunes over those LP's. They covered Slow Death by the Flaming Groovies, American Beat by the Fleshtones and California Sun by the Rivieras (via the Ramones).
Ross the Boss is a rock solid player with a thick Les Paul tone. His playing on Slow Death was laser perfect and powerful. The same goes for the riff in Who Will Save Rock and Roll. You want to stand up and salute when you hear the two note clarion call that begins the song. They also have another guitar player with a Les Paul blasting. That's like wearing a belt and suspenders; that combination is just not going to fail.
The overall sound was way loud with maybe a slight metal tinge. It had a trebly roar not the low end chunky thud of punk. Manitoba, like the Dictators, are more than the music per se, they are the New York attitude in song. Dick Manitoba doesn't let you forget that. He was talking between songs all the way through in his heavy NY accent. He's full of personality as are all the group members and that made for a great show. There were musical highlights and funny Manitoba stories all the way through the set.
I'm converted. Next time they come I'm there in a New York minute.
Yeah what a weekend it was - after Thursday, Friday night was a rest up for another amazing show on Saturday May 26th; The Psychedelic Furs at The Catholic Center in Salem.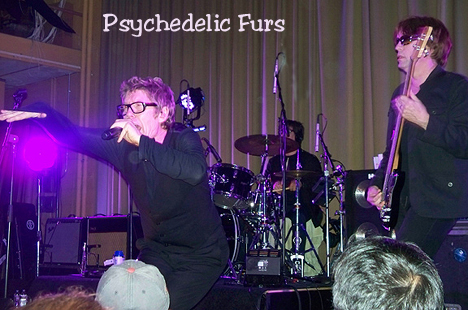 We talk a lot amongst ourselves about shows selling out - or not selling out anymore, seems most of the shows we get excited about never sell out anymore...well I am glad to report that the Furs show was SOLD OUT!! YAY!!
Judy, Kim and I (Miss Lyn) headed up to Salem and chowed down in a major way on Lobsters...whoops we were headed to a pre-Furs gathering called by Salem's #1 rocker/scenester Terry Brenner but saw the Twin Lobster $19.99 special and just couldn't resist!! Hey we were up on the North Shore its almost an obligation to do that.
As we sat there after our meal on the patio, up the road walks Michele Meadows...she sat with us for a drink then we all headed over to the Catholic Center. Perfect location I might add...right in the middle of downtown Salem and across the street from a huge municipal parking lot. So as you might get from the name of the place its an auditorium....actually its like a gymnasium with a stage, no seats just standing room and the place was packed when we arrived about 8PM.
I could just write to the word AMAZING about 80 times...that's how I feel about this show. This was actually the very first show on a tour that runs into September. And if this show is any indication of how they will perform for the rest of the tour - people, get to one of these shows!!!
(You can see a list of tour dates here )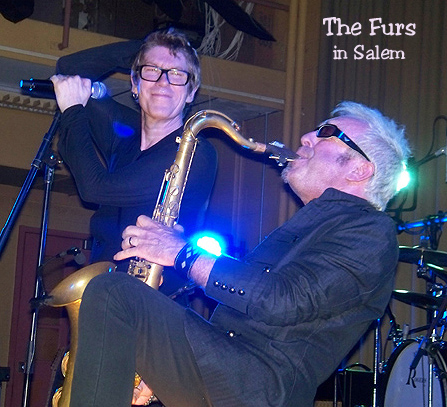 The band came on stage and revved right in to Into You Like a Train, before Richard Butler walked out....and when he did the crowd started screaming...he was in his glory.

Oh the voice...there's not another one like it, its gravelly and sexy and perfect for this poetic Furs sound!! In his coke bottle glasses and little black vest Richard Butler is aging well, very well. Through the whole set he seemed so happy...he had loads of energy and between verses, when someone was playing a solo Richard just leaned on the mike standing looking at the crowd and smiling a truly contented smile, really nice, I just wanted to hug him!! And I think everyone else felt that way too...as Kim Ackland said "Richard was spot on and totally engaging and the crowd loved it! A love fest was had by all!"
The band was of course Tim Butler on bass...such an important part of the Furs' sound. They had a great sax player; Mars Williams, guitarist Rich Good and drummer Paul Garisto, the keyboard player who is supposed to be on this tour was not there, but it absolutely did not matter...they were full and strong and fantastic.
They did a bunch of my faves from Talk Talk Talk their first album: Pretty In Pink, Love My Way and closed with an encore of India. I remember Heaven and Heartbreak Beat - I can't tell you what else they did, sorry , I was transported back to the 80's and in fact I think I reached nirvana...I actually got a little verklempt remembering the days on Highgate Street in Allston, the Sundays at Spit...what a time...and what an amazing show.
The rest of the audience did not want it to end either...but eventually we all left happy.
And on a final note The Catholic Center will be having more shows like this in the future so stay tuned!!!!
OK so it's official- its summer and the music keeps coming!!
On Friday June 1 The Figgs and My Own Worst Enemy are at Church
On Saturday June 2nd there a daytime BBQ at O'Brien's then that night there's a very good show: Tijuana Sweetheart are playing their LAST show ever, also on the bill are The Tenafly Vipers and Razors in the Night...that should be a good night!!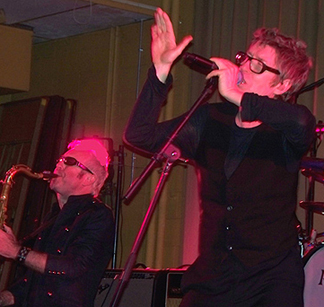 June 6th - Carl Biancucci, with his UK band The Shot Glass Killers are opening up for the Brian James/Rat Scabies (BOTH original Damned members) show at the legendary 100 Club in London!!
Also on June 6th Kris Thompson and his band Prefab Messiahs start their reunion (micro) tour in June!! They are hitting Cambridge, at the Middlesex Lounge in Central Square then off to Northhampton, Worcester and then Brooklyn NY. Also on the bill is Bob Trimbull's Flying Spiders!
And from Ken Scales we have a note: "Why don't you ALL plan on coming to the Waltham RiverFest on Sat. June 16th. Adventure Set will gone on stage from 1 to 2 in the afternoon. See you in Waltham."
and Johnny Angel is coming back to Boston again in July both the 6th & 7th to be exact. He's putting on the "First (And Maybe Last) Annual Johnny Angel Hootenanny At Radio" with a load of awesome bands: WATTS, Robin Lane, Mary Lou Lord, Darling Pet Munkee, 360's, Noggin and Eric Martin/Illyrians. AND Johnny will be playing music from IT! (his latest CD and band click on the link to here the songs, buy the CD and read some info!).
and some more big news: Jerry LeHane is putting on a benefit for Cancer Research check out this AMAZING line up for this two night show:
Appearing Friday night, July 27 are The Flies (first reunion ever!), Bristols (who have only had ONE reunion so you gotta see em!!), Piranha Brothers, and Sourpuss.
Appearing Saturday night July 28 are Dogmatics (you KNOW you love them!!), New Frustrations, Stop Calling Me Frank, Unnatural A xe wow great everytime!!, and Lenny Lashley.
The show's at the Johnny D's Uptown Restaurant and Music Club, 17 Holland Street, Somerville. Tickets can be purchased online here , and in advance for $16 at the club(call club for days and time available) and if still available, $20 the night of the show. The show is 18+. Proceeds go to benefit the Pan Mass Challenge and local musician Peter Sisco.
EMAIL US AT.......misslynbgn@yahoo.com