The BGN News Archive
May 29, 2023
The Chelsea Curve brought English Mods Sharp Class over to the US for a few shows. John Keegan saw the Geno's gig with Muck and the Mires, Tiger Bomb, Chelsea Curve and Sharp Class. Lucky Portland got their hometown heroes Tiger Bomb with a rocking line up. John captures the night and gets some great shots of the Sharp Class walking around Portland too. Hit the photo link above for the review and photos.
We talked about the new Sapling album, amor fati, last week. That is one exciting burst of creativity. John Keegan was at the Sapling album release show on May 7 at the Starlite in Southbridge. He played it with his group Crow Follow. Also, playing that night was Minibeast with host Nikita Le Femme.
Included in the show was a pie eating contest and then a tribute to Jackson Pollack where they included the owner of the Starlite in the painting. Hit the photo link below to see the photos.
Last Friday on Sara's show Gorilla Got Me was a tribute to Algy Ward who died last week at 63. Algy was a bassist for The Saints and he played with The Damned and later started his own group TANK.
One highlight in the show was the Damned/Motorhead collaboration called Motordamn doing a cover of the Sweet's "Ballroom Blitz". It's on YouTube
To hear Sara's whole Gorilla Got Me show go to the WMBR Archive page and hit the link on the Friday 4pm show for May 26.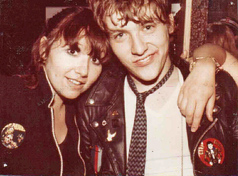 We met Algy in 1978/79, when The Damned showed up at The Space (Marlo's club around the corner from Cantone's). Peter Dayton was playing there that night. From what we remember Liz Borden and the Axes were there and Joanne Green hit it off with Algy that night. The Damned parked their tour bus out from of The Space and Capt Sensible and Dave Vanian got up and sang with Dayton for a song or two. The boys were very nice and posed for photos with everyone. That's Miss Lyn and Algy to the right.
It was quite a night!! At the end of the night the police were chasing some "perpetrator" just outside in the club and they wouldn't let anyone leave the club for 15 or 20 minutes. .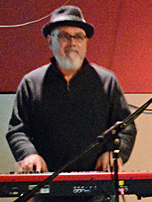 With the vinyl revival all the pressing plants are backlogged for years. The new record stores sell the new vinyl but used records are probably selling more. We've noticed record store owners talk about getting whole collections and some from notable people. That's the case with the announcement from Brian Coleman of Want List Records. He has procured the collection of Brother Cleve, one of the arbiters of good taste for decades 9photo to right). He initiated the whole Cocktail/Tiki Music genre. Some of these records help shape public perception of that genre as Cleve helped to reissue them decades later.
Here's the timing of the records into the store from Brian:
"The Cleve collection itself will debut in the store – probably about 300 pieces to start, LPs, 12" and 45s – on Friday, June 9. Before that, on Sunday, June 4, we wanted to invite some of Cleve's closest friends to the store so they could take a look through some of the goods, reminisce, and even spin them. We also have Cleve's beloved Technics turntables as part of the acquisition, and we will set them up in the hallway outside of our store."
Want List Records is in Newton at 381 Elliot Street, in The Mall At Echo Bridge.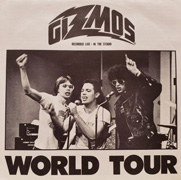 Eddie Flowers started Gulcher Magazine and that lead directly to the formation of The Gizmos. Eddie has an interview on the Psychedelic Baby Magazine website
Eddie has a long story. The early formative music years involves a lot of influences that older punks will recognize. Then a lot of his story involves Kenne Highland as they meet and start the Gizmos.
Eddie is still out there making music. There's a lot to find out in this interview. You can dive into the Gizmo music on Bandcamp
BOOKS......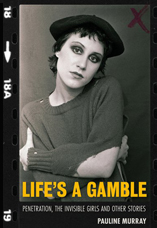 Pauline Murry who made such a big impression as singer for Penetration has written her life story in a new bio titled Life's A Gamble. The book is scheduled for a September release. Like a lot of other English punks she was inspired by the Sex Pistols.
The press release says things we like to hear like: "Illustrated with a wealth of unseen photographs and supplemented by Murray's teenage diaries, interviews, and personal archives, the autobiography provides an intimate and vibrant portrayal of her life and artistic journey."
They also say: "Her unwavering punk vision serves as an inspiration to aspiring musicians, highlighting the resilience and tenacity required to thrive in the industry." Through her life Pauline has kept, "an unwavering punk spirit."
We look forward to reading this. You can preorder on Amazon, it will be shipped from England.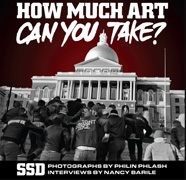 This is just a reminder on another preorder….the SSD essay and photo book How Much Art Can You Take, can be preordered here, from Deathwish.
Those photos are by Phil'n'Phlash and they can't be beat and the interviews are by Nancy Barile. The book compiles over 170 images, many of which have never been seen before, plus first-hand commentary from the band and their crew, spread across 190 pages in a beautiful 10"x10" hardcover book. The release date is 6/16/23.
---
VIDEOS......
The Chelsea Curve gives us a video for their first post album single release "How Can I (Resist You)?" Is there anybody with ears that can still resist this group? The album with its strong line up with songs convinced most people and their live sets would sway any doubters left over. This single proves they are just continuing on the same successful road. They've had a few high profile gigs like Boston Calling. It's going to be interesting to see where they go from here.
The video is a compilation of some of their live shows. They range from Pennsylvania, Las Vegas, New York as well as here in Mass.
The Linda Lindas were a bright spot in the middle of the shutdown in May of 2021. They were young, inspiring and most of all good punk. Their "Racist, Sexist Boy" made its point and got them a lot of attention. It's been rewarding to see them advance their careers since then. They were no flash in the pan.
Their latest song/video is "Too Many Things." They always keep the videos light hearted. Their music has been good quality pop punk and getting even better as they gain experience.
Les Lullies are a French punk group that get a lot of attention in the press and radio. They mention the Real Kids as an influence in their press releases. We can hear that in their latest song/video for "Zero Ambition." The song is from a forthcoming album titled Mauvaise Foi. They sang in English in previous releases but sing in French on this one, except for the cover of "When You Walk In the Room," which is a popular cover these days.
The video is a nonstop collage of clippings. There are a lot of faces we don't recognize but do see Divine, Frank Sinatra and Ted Kennedy in the mix.
It's always a happy duty to bring you more Kurt Baker. This is a video/song of "Anchors Up" which is from a forthcoming album, Rock and Roll Club due in the fall. Like the Nervous Eaters Baker is now on Wicked Cool Records.
The song just kicks in and barrels along which works for the video where the band members power walk to a beach in Benicassim, Spain.
If you go to Kurt's Bandcamp page you can also hear "Sweet Alice." That's the flip side of the limited single that can be bought on the site.
The Laissez Fairs' Singing In Your Head (on Rum Bar Records) is a fun album to listen to because it has so many musical references that you can catch. The group now has a video for "Love You Love Me" from that album. It's a mere 1:47. We get an early Beatles/English Invasion feeling from it.
The Spoilers are an English pop punk group. Their video for the song "Peaches & Cream" shows clips from their tour of Japan. They remind us of the Prozacs.
Like The Wizard of Oz the video is black and white until they get to Oz (in this case Japan). When they get back from tour it goes back to the black and white world.
If you like this there is more like it on their Bandcamp page They have a cover of Slade's "Merry Christmas Everybody" that shows their good taste.
---
RADIO.....
On the Friday Late Risers Club, Mook had some hard rocking tunes in his first set, that set up the show.
The first song was by The Chisel. The English street punk band have a brand new song titled "Cry Your Eyes Out" which has some brutal truth telling in it. You can see the video for it here but it's more enlightening to read the lyrics maybe (lyrics here).
Further in the set was The Lambrini Girls form Oxford UK with "White Van." It's rolling rocking untidy punk. Even with just the bass and drums playing it seems like a lot going on. The whole six song EP is like this with no let up at all. They must be great live.
Check out the rest of the EP on their Bandcamp page
Frenzee from Greece continued with more of the same hard attack with "Frenzy." You can feel the unflagging energy and commitment from these bands. It's nice to see plenty of this uncompromising full throttle punk. Mook had plenty more in the show to hear too.
To hear the rest of Frenzee's album go to their Bandcamp page
To hear Mooks's whole Late Risers Club show go to the WMBR Archive page and hit the link on the Friday 10am show for May 26.
On Joanie's Thursday LRC show she played an anthemic punk tune we wanted to hear a few times called "Dead Generation" by Hunting Lions from Santa Rosa, CA.
On this weeks Rising show with Skybar he will have Justine Covault in for an interview. There's always a lot to catch up on with Red on Red Records. Now, there is the new Justine and the Unclean album coming up. Skybar will prompt her to do a few live songs too.
To hear the show tune in to WMFO 91.5 FM on Tuesday at 8 or listen to the archive version after Tuesday by going to the WMFO archive page and hitting Tuesday at 8pm then hit the archive button.
---
NEW MUSIC/CDs......
The Rupert Selection hits with a grungy sound on "I Saw God." They say they saw God but leave it at that, no further explanation other than saying offhand "same as it ever was." Kind of reminiscent of the Talking Heads line from "Once in a Lifetime".
When they get to the solo section the guitars unleash some seismic scraping sounds. It's an appropriately a God awful racket. We thought that was a great recording job and see it was done by Brian Charles at Mad Oak Studios in Allston. Even though Brian was burned out of his Zippah studios two years ago he has been doing excellent work at all the studios he uses.
There is a video for this song that can be seen on YouTube
Rum Bar Records has finally released the first recordings by Spackle. Who are Spackle? They're the A Bunch of Jerks line up with a new singer named Carolyn.
"Happy To See You" is a upbeat song with a positive message. The in your face guitar riffs and lively recording further boost the good feelings. We are hooked on this and have it on our Top Ten Songs
A couple of acts we know are on the Saturday Morning Lineup album from Memorable But Not Honorable Record label. The album is a collection of 19 Saturday morning cartoon theme songs.
J Prozac does "Denver: the Last Dinosaur" and Geoff Palmer covers "Adventures of the Gummi Bears".
It will be fun for those that know the theme songs specifically, for us they are way beyond the days of our childhood but we like hearing the fast punk attacks. Most songs average 1:25.
Outside of Prozac and Palmers efforts we like the surf instrumental by Doomsdale High with "Tales from the Cryptkeeper" and The Zoanoids doing "Beavis and Butthead".
The album is also out in white vinyl limited to 250 copies. You can get that here.
Cliffdiver from Oklahoma did up a cover of the X-Ray Specs "Oh Bondage, Up Yours." It sounds close to the original. They have that searing intensity in the vocals which is a must with this song. They have the sax parts in there too. They add a guitar solo (by Stephen Egerton of the Descendents) near the end. It works up a feeling of wild abandonment in the end section.
Real nice job and get this, in an era of government controlling anything they consider out of their comfort zone, this was funded by the Tulsa Office of Film, Music, Art and Culture! How did they swing that?
Minor Holidays are from San Francisco. They have an indie sound. In "Seashore" they manage to capture a mood. They start with a trebly ringing riff where they are liberal with the whammy bar.
The song gets pensive as the lyrics talk about finding a new love. The combination of the lyrics and the wavering guitar riff cast a spell. The final chord is so perfect for the song.
---
Here's some good shows coming up .....
May 30, 2023 (Tuesday) Louzy, Trash Rabbit. North By North, Wild Velvet at The Midway
June 1, 2023 (Thursday) Gretchen Shea and The Middle Eight, Detroit Rebellion, Stubborn Hearts at Notch Brighton FREE but RSVP here and bring some shelf stable food to donate.
June 2, 2023 (Friday) In the Meantime, Wicked Dead, blindspot, See you at Rogers at The Jungle
June 2, 2023 (Friday) Justine & The Unclean, Barrence Whitfield & His All-Star Band, Spiller at Faces in Malden TIX
June 2 & 3, 2023 (Friday/Saturday) Southbridge Mass will have its moment with the Alt_Together Festival! (Southbridge is between Worcester and Springfield) Friday's bands are: Remy, Gold Star Boulovard, Mattias Band, Back in 86', Gx42, Saturday's bands are: Lurid Purple Flowers, Evil Felipe, Circus Trees, Bobby for Apples and Whalom Park. FB page Tickets are here
June 3, 2023 (Saturday) It's Dorchester Porchfest ...or...Dorchfest!! Tsunami of Sound and Richie Parsons 1:30-4:30PM - 4 Westmoreland St. Dorchester- FB page.
June 3, 2023 (Saturday) Scurvy Dog Parking Lot Mega Show with (last to first) David Tessier All-Star Stars, Tall Teenagers, Department of Teleportation, Hammered Saint, Seeing Snakes, Cannibal Ramblers, Slyne and the Family Stoned, Strega Strega, the Smoke Breaks, Jamiee Danger & the Dynamite, ZeroGodZ (2:00pm) - Starts at 1PM and goes till closing. FREE!!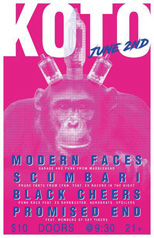 June 3, 2023 (Saturday) Modern Faces, Scumbari, Black Cheers, Promised End at Koto Salem
June 3, 2023 (Saturday) Eddie Japan, Magen Tracy & The Missed Connections, Carissa Johnson at Faces in Malden. FB page.
June 3, 2023 (Saturday) Mach Bell Experience, Joe Hart Band at Magic Room
June 8, 2023 (Thursday) Tysk Tysk Task, PiNKLIDS, Trash Rabbit at Notch Brighton FREE but RSVP here and bring some shelf stable food to donate.
June 8, 2023 (Thursday) Done, WOJTEK (FL), Headfoam (FL), Constantly Terrified, Psychic Weight at O'Brien's Allston
June 8, 2023 (Thursday) SkyTigers, Between Skies Perennial Quest ay Faces Malden
June 9, 2023 (Friday) Baabes, Airport, The Lights Out, Fox Canadian at The Jungle
June 11, 2023 (Sunday) The Thigh Scrapers, Classic Ruins, The Ballbusters, Loretta at The Midway for a 3PM Matinee show.
June 11, 2023 (Sunday) Kid Gulliver & Museum Direktors at Worthen Attic
June 15, 2023 (Thursday) Chris Wagner (Modern Day Idols) solo show at the Natick Common, Natick. Set time: 5-7pm.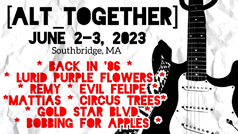 June 15, 2023 (Thursday) Modern Day Idols, Tad Overbaugh and the Late Arrivals, If We Go At All at The Central Tavern, Milford.
June 17, 2023 (Saturday) Punk Rock Picnic - afternoon of live indie and punk in the beer garden with Baabes, Muzzin, Hammered Saint at Bone Up Brewery in Everett. 2 PM – 7 PM. FB page.
June 18, 2023 (Thursday) The Happy 7th Anniversary Mess-Around with Ken (Mr. President) Kaiser, Lee Harrington, Phoebe Legere and Justine Covault with her Black Threads, Tom Baker, Jay Allen - At The Plough & Stars 4-7PM - FB page.
June 19, 2023 (Monday) Gossip Collar (Tom & Victoria from Spitzz), Alijca Pop (from Memphis) and Daughter of the Vine at State Park.
June 19, 2023 (Monday) Dropbear, No / Nations, Weatherless, Not Bad Not Well at The Silhouette
June 21, 2023 (Wednesday) Lupo Citta, Valley of Weights, Nat Freedberg at The Silhouette
June 21, 2023 (Wednesday) The Rippers Rage (Rage Against The Machine Tribute), Rawstrum, The Melted Chapstix at The Midway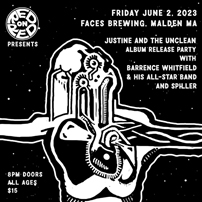 June 23, 2023 (Friday) Baabes, ESH & the Isolations, Goon Platoon, Ruffian Dick, Turn Heel at O'Brien's
June 23, 2023 (Friday) Speedfossil, Little Billy Lost, Midnight Caller at The Square Root
June 24, 2023 (Saturday) The Chelse Curve are doing an afternoon show at The Lawn on D (420 D St Boston) music time: 1PM!
June 24, 2023 (Saturday) Rum Bar Records & Los Coronas CC Present Diablogato's Party at the Porch with Screamin' Rebel Angels, Diablogato, The Dogmatics, Lonely Leesa & the Lost Cowboys at The POrch in Medford - All Ages - 1-6PM
June 24, 2023 (Saturday) SkyTigers, Loud Love, Dave Strong Band, Coffin Salesman (stripped down), The Zombie Mafia at The Midway for a 3PM Matinee
June 24, 2023 (Saturday) The Koiis, Condition Baker, GLiDER, Matt Trainor at The Jungle - 7PM!
June 24, 2023 (Saturday) Rockin' The Dunes Annual party at White Crest Beach in Wellfleet with Crow Follow, Atlantic Thrills, Shiny Beasts - starts at 6PM FREE FB page.
June 26, 2023 (Monday) Gretchen Shea And The Middle Eight, Salem Wolves, Graveyard of the Atlantic at The Silhouette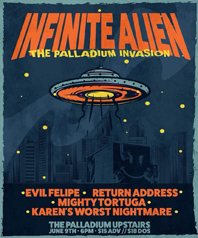 June 26, 2023 (Monday) The Murder Junkies 30 Year GG Deathaversary Tour (Playing a full set of all old GG songs) with local lineup Psycho, Midnight Creeps, Scümbari - At Alchemy, Provi, RI Doors 7pm Music 7:30pm - FB page.
June 29, 2023 (Thursday) Bad Idea USA, Pink Slip, The Jacklights, Blame It On Whitman at Deep Cuts, Medford.
June 30, 2023 (Friday) Half a Century with Eric Grommet and friends!!! Harry and the Hot Flashes, New Frustrations, The Grommets at The Square Root
July 1, 2023 (Saturday) The Crank-Tones at The Midway for a 3PM Matinee
July 1, 2023 (Saturday) Tsunami of Sound (10:30am), Nervous Eaters (12:30pm), Mach Bell Experience (2:30pm) at MusicCons outdoor stage at Boxboro Regency Hotel.
July 5, 2023 (Wednesday) Fracture Type, Blame It On Whiteman, Vivra Vera at The Silhouette
July 9, 2023 (Saturday) The Zip-Ups, Cold Expectations, Glow Box at The Worthen Attic 4-7PM Matinee
July 14, 2023 (Friday) The Devil's Twins album release - with Kingshot and Aaron & the Lord at Faces Brewery Malden- All Ages
July 15, 2023 (Saturday) THE DEL FUEGOS Reunion Show - 4-9 PM East Bridgewater Commercial Club - The Del Fuegos will do 90 min. Set, starting at 6:30- FB page.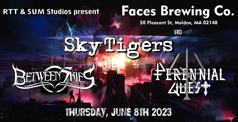 July 15, 2023 (Saturday) The Shang Hi Los & Gene Dante & The Future Starlets - at the Burren EARLY show- music starts at 7.
July 15, 2023 (Saturday) The Grip Weeds, Fling, American Ocelot at The Square Root - FB page
July 16, 2023 (Sunday) Holy Smoke, Little Billy Lost, Shiverlane at The Midway 3PM Matinee
July 21, 2023 (Friday) Midnight Creeps, Hammered Saint, Sourpunch at The Midway
July 22, 2023 (Saturday) Blame it on Whitman, Jerrys Got Jokes, SleepJumper, Dear Maryanne - at The Midway 3PM Matinee
July 22, 2023 (Saturday) The Lemon Drop Gang EP release with The Dogmatics, The New Frustrations at The New World Tavern Plymouth MA. Facebook page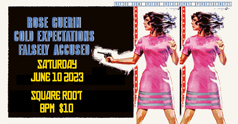 July 23, 2023 (Sunday) Cro-Mags (Performing Best Wishes), The Long Wait, Klaxon, Face First, S.A.C at Alchemy in Providence RI
July 24, 2023 (Monday) Kenzie, Castle Doctor (NM, Aber Fly, Thee Fighting Fish at The Silhouette
July 28, 2023 (Friday) Skybar Rising & Rum Bar Records present Summer Sizzler Round 2 @ The Square Root with The HI End, Freeloader, Kate Redgate FB page
July 29, 2023 (Saturday) Color Killer at The Square Root
August 5, 2023 (Saturday) Crown Court, Violent Way, Oil!, Klaxon, Doc Marten Soundsystem at The Midway - 8PM
August 5, 2023 (Saturday) Huck 2, Alabaster Sons, Bobby Oakes and TV Models, Getaway Moon, Daisy at The Midway Cafe for a Matinee Show.
August 8, 2023 (Friday) Modern Day Idols at Exhibit A Brewing, Framingham. 7-9PM
August 8, 2023 (Friday) Tiger Bomb, Freeloader at The Burren FB page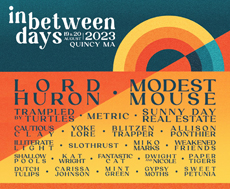 August 19 & 20, 2023 (Sat & Sun) In Between Days Festival - 2 Stages, 2 Days, 24 bands ... and Cool Vintage and Local Market Place, Vinyl Record Pop Up Shop, Food, Modest Mouse , Weakened Friends, Paper Tigers, Clarissa Johnson, Dutch Tulips and the South Shore's own Gypsy Moths. You'll want to get your tickets now because they have a 'tier' system. They have some "tier" ticket scheme so the longer you wait the higher the ticket prices are. FB page
August 25, 2023 (Friday) Bone Up Brewing Seventh Anniversary Festival Night 2 - 6pm -10PM with The Guilloteenagers, Blood Lightning, Lesser Glow
August 25, 2023 (Friday) Mach Bell Experience, The Cynz (NYC) at Back Room at the Burren
August 26, 2023 (Saturday) Bone Up Brewing Seventh Anniversary Festival Day 3 12:30pm- 10PM with from 1st to last: DnA's Evolution, Glacier, Sundrifter, Clouds Taste Satanic, North Star the Wanderer, SkyTigers (6PM), Brain Famine
August 27, 2023 (Sunday) Bone Up Brewing Seventh Anniversary Festival Day 4 - 12:30pm - 7PM - with Weisstronauts, Organ Meats, Hobo Wizard, Cortez, Major Stars, Crowfeeder
September 3, 2023 (Sunday) Belvedere at Faces Malden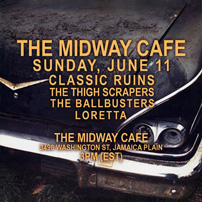 September 10, 2023 (Sunday) Somerville Rock + Roll Yard Sale Union Square 12 - 5PM. FB page.
September 10, 2023 (Sunday) Huck2 Album Release Party! With special guests Key of Caustic, Motel Black, and Acrylic Killers at , The Middle East UP Doors at 5:30PM
September 26, 2023 (Tuesday) Dead Boys, Nervous Eaters, The Plimsouls at The Middle East Up FB page.
September 28, 2023 (Thursday) Dead Boys, GLiDER, Midnight Creeps, One Fall at Alchemy Provi RI. FB page.
September 29, 2023 (Friday) Anti Heros, Legion 76, Antagonizers, Blood Stained Brindle, Absuctors - Middle East Down.
September 29, 2023 (Friday) The Fleshtones + The Nervous Eaters - FB page
October 7, 2023 (Saturday) The Welch Boys, The Long Wait, The USM, Josephine With A Cause at Faces Brewing
October 11, 2023 (Wednesday) The Mission UK & The Chameleons: Deja Vu Tour 2022 Rescheduled to 2023!!! also on the bill Theatre of Hate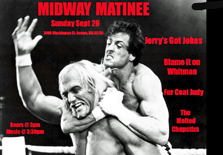 October 26, 2023 (Thursday) Mudhoney at The Brighton Music Hall 18+ TIX
November 3, 2023 (Friday) Modern Day Idols Single Release Party with Tad Overbaugh and the Late Arrivals at Square Root, Roslindale.
December 8, 2023 (Friday) Huck 2, Gretchen Shae and The Middle Eight and Key of Caustic at Koto Underground, Salem
CONTACT US AT....misslynbgn@yahoo.com Send us your gig listings, your anything else you've got!! You want your CD reviewed?? Contact us for that too.
---
---