The BGN News Archive
June 5, 2023
Coming up on Tuesday June 13th at The Brattle Theater is the first time showing of The Cramps and The Mutants playing at Napa State, a psychiatric hospital in Northern California on June 13, 1978. Wow 45 years ago!!!
What resulted may be the most unique punk show ever, as the two bands played for the residents at the hospital, a rehabilitation facility that was skimming the danger of being shut down by former California Governor Ronald Reagan.
Here for the first time ever: the long-lost tape of The Mutants playing at Napa State and the full tape of The Cramps' show, both unedited and fully remastered from the original reel-to-reel videotape. In between the shows is We Were There To Be There, a new short documentary about how the Napa State show happened and its lasting effect. – Notes courtesy of Grasshopper Films. Link to buy tickets in the Gig Listings below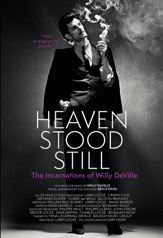 (Scroll on down!)
Also coming up on June 29th (7:30PM) is Heaven Stood Still: The Incarnations of Willy DeVille - The life and times of the most original American singer/ songwriter of the last 50 years presented by Doc'n Roll Film Festival ...a Boston Premiere Screening Event! - at The Regent Theater Arlington.Tickets and preview here.
"There was no one like the American singer Willy DeVille. From CBGB's Latin punk to New Orleans soul singer to the premiere voice of American roots music on the continent of Europe for three decades, he was arguably the most original, most romantic artist of his time, writing and performing the Academy Award-nominated theme to the movie The Princess Bride. No one inhabited as many musical styles and personas, and everything about him was a work of art."
Sapling is getting as much attention as a band could hope for. The good news is that people seem to get their art rock approach and see it as refreshing and new.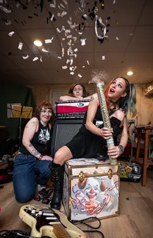 They have a long article in their local Worcester magazine. They talk about their album release show at the Starlite (our coverage). Their video "Mati Hari" from that show in the article.
The band members are wonderfully articulate. They talk about the origins of the lyrics in their songs. They also give their outlook on social issues that fall into their lap because of outsider comments.
There's the whole situation with their album cover. It was flagged by Instagram for nudity. Why? Why indeed, it's too ridiculous. The band takes it all in stride. We think this band is very inspiring and we hope they have a long career and we will be there cheering them on. Article in Worcester Mag.
Bomp! Mailorder had a DMZ item for sale for $150.00. Seems Bomp! sends some archival material to a museum and they are replicating the stash for customers. The main interest is the 2001 test pressing of DMZ Live at the Rat.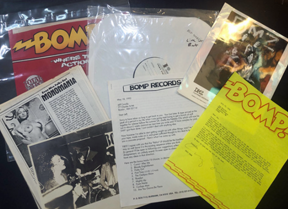 The whole package is listed as thus:
1-Original Rainbo 2001 test pressing, BLP 4081DMZ LIVE AT THE RAT
2- Letter from Greg Shaw to Jay Rassler July 1978, Original, signed by Greg
3- Glossy promo photo
4- Wacky Monomania zine, bunch of naked ladies! I dunno.
5- Copy of letter from Greg to Jeff Conolly May 18, 1992 re the Relics LP
Miracle Blood are going on their first 'official' tour. They start in Providence at Dusk on July 19th then go to NY, OH, PA and their last date will be in Boston at The Jungle on July 29. Their Facebook page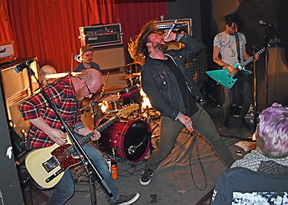 Vanyaland interviewed Actor/Observer to get their thoughts on playing this year's Boston Calling festival. They saw it as a validation for all their years of playing and working on their music.
We've seen them many times in small clubs like O'Brien's and Great Scott's and to have them play that big festival did seem like a reward. They are a group with substance who dig into the depths of feeling to bring back life's lessons. The more people that hear that material the better it is. The interview in Vanyaland
The Winter Project will have a new album out soon. The album release show is happening on July 14 at the Exhibit 'A' Brewery in Framingham, MA. Scroll down to gig listings for info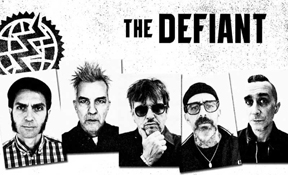 Sometimes it takes time to get the whole story. In this case it was a year. The Boston Globe has the details on Dicky Barrett. The MM Bosstones ended it all because Dicky was anti-vax and refused to get a Covid vax. He also he lost his announcer job on Jimmy Kimmel because of it. Now, he has a new group: Defiant. The band includes members from Offspring, Smash Mouth and Street Dogs. Prada, the drummer for Defiant, was also let go by his old group Offspring for being anti-vax.
Dicky says Defiant's music is some of the best he's made and their debut abum will be out this year ... with tour dates to follow.
Here' the article in the Boston Globe if you can get beyond the paywall The Defiant webpage You can hear a snippet of a song from Defiant on this page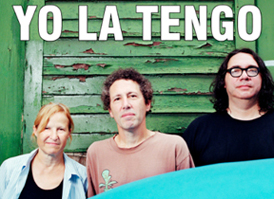 Most people know the story of how Ya La Tengo got their name. It's Spanish for "I've got it!" which is what Met's outfielder Richie Ashburn would yell when I was fielding a catch. This week band leader Ira Kaplan had a moment fulfilled when he threw out the first pitch at a Met's game. For Ya la Tengo it's been a 40 year career so far with seventeen albums.
You can see a video of the pitch here Or go to the Stereogum site to get a little more info
---
VIDEOS......
We were glad to see a new video by Rebuilder. This is the first song from them for a few years, saying Covid was the reason for delays. That's a surprise to us because the best live stream during the Covid shutdown was their 2021 New Year's Eve program!
That New Year's Eve live stream had the best video/audio quality, hands down, of any other effort during all of Covid, in our opinion. That audio of that show (which includes a version of "Roadrunner") is still available on their Bandcamp page.
Their new song is "Hold On" and is about just that, holding on inside as things are going crazy outside.
This coincides with the band getting signed to A-F Records which is the label owned by Anti-Flag from Philadelphia. There's some more info on the Medium webpage
---
RADIO.....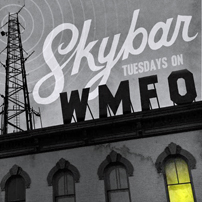 Skybar's Rising show on WMFO is now into its two hour summer run. This week he had Justine Covault and Janet Egan King in for an interview. It turns out Janet and Skybar knew each other from WMFO and that's a story.
Justine says she is bombarded with music submissions for Red one Red Records. Some of those acts are from overseas and they are trying to book some of those bands here!
Another good piece of info was concerning the new club Faces in Malden. It turns out the garage next door is free after 10pm. No matter when you go in, as long as you don't leave till after 10pm, it's free.
Skybar played five songs from the new album, The Signal Light.
To hear the show go the the WMFO schedule page Hit the Rising show on 8 to 10 pm on Tuesday nights, then hit the 'archive' button.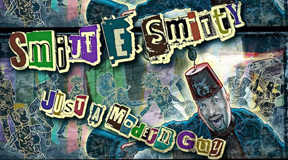 On Wednesday Smitt E Smitty took over On The Town with Mikey Dee for a WMFO Live Music Day preview.
Smitty played songs from the groups playing the Live Music Day that WMFO was having on Saturday. He had some guests such as Linda Viens and members of Crow Follow in the studio with him. .
Smitty also premiered a new Little Billy Lost song called "Dance Angelina Dance" and a Fezztones single "The Growler".
A hour in a half into the show Sapling do a live set. This band has been working like crazy. They are spreading the word on their new album amor fati. Sapling music seems so intricate we wondered if it could be duplicated live and this broadcast proves they can play every note. The drumming, which is also very complicated, is reproduced beat by beat.
Go to the WMFO schedule page and head to Wednesday at 9pm. Hit the 'archive button.
---
NEW MUSIC/CDs......
Frank Rowe has a new project going. My Little Castle is seven solo new acoustic songs, It's available on a few platforms. The songs were recorded at Woolly Mammoth.
The guitar work is never just simple strumming. It's fingerpicking and detailed fretwork that makes the songs special. It makes you realize the difference that it can make in a sparse acoustic setting. The lyrics are short snippets of memories and personal situations.
Frank also reassures that there's some new Classic Ruins recordings coming soon too!
It's taken a few years to get this latest Justine and the Unclean record, The Signal Light, out. It's very reassuring to hear all the trademarks of the group in place.
The album starts with three rockers that have Justine's familiar voice and harmonies with Janet Eagan King. You'll also be reminded of the massive drumming of Jim Janota. If you want to rock you never miss with Jim in the seat. Almost every song has that moment when Charles Hanson does his guitar gymnastics, and it's stunning. We'd like to edit all his solos together and see what that sounds like! Would that be too much?
There's a few slower songs. Those hit hard with the lyrics. We're thinking of "Drug Seeking Behavior" which is so revealing. That phrase comes up when one is confronted with the situation in life. It's something you have to deal with. It is almost too sad when Justine repeats, "Drug seeking behavior, that's what it is, recognize this, drug seeking behavior."
The lyrics to "Picking A Fight" are similar, but "Picking A Fight" is a rocker that careens along. You still get the point, this is behavior that has to be dealt with.
Bandcamp has all the lyrics listed and you can see that Justine has either raised her game ... or we are just getting to appreciate how much she does ... with addressing life's situations.
There's a lot in these twelve songs. It'll take a while to digest the whole thing. The album was recorded at Woolly Mammoth with David Minehan.
The Gypsy Moths have a real nostalgic number in "Tilt-A-Whirl" which is about a ride at Paragon Park in Nantasket Beach back in the day. It's has a horn arrangement working all the way through to bring home the good time vibes.
This was recorded at Ed Reimer's barn where we were recently for Richie Parsons' recording session and interview.
What we have here is hardcore from Pittsburgh ... Ironside also brand themselves as metalcore and you can hear that. It's all throat singing and very heavy in the low end. The bass player is very prominent and really leads this unit.
We like the unrelenting intensity and after a few listens we got into their zone and loved it. The five songs hold together and make their mark. We like "Shallow" when that singer grabs the word 'shallow' and doesn't let go.
The band says these five cuts are just a demo with a whole album being recorded this fall this sounds good to us but we're game to hear more!
Daffodil come from Montreal. We've heard a lot of good quality music coming from Canada recently.
Daffodil's album Priors is an indie punk effort. It has lots of echoes of early punk groups. There's no guitar solos just chord action. It has a lot in common with many post punk groups. We hear a little bit of XTC here and there, like in the song "Fresh Start." It's a flashback to the sort of groups that played the Underground in the early eighties. We wish they were a local group and that we knew all about them and their career ... and we could see them live!
We think this is a real find.
Drunk Dial is the label that has the band get drunk before recording. The results aren't just drunken revelry, the recordings are usually very good.
The latest project, is Fakes, and the inebriated bands record songs done by made up bands in movies and TV. For example there are songs from: Chips, That Thing You Do, Bring It On, Eddie & the Cruisers, The Rutles and even Saturday Night Live (It's "Fist Fight" from this bit).
Essential, no ... Fun, yes!! Some people make it their thing to be up on oddball projects like this.
---
Here's some good shows coming up .....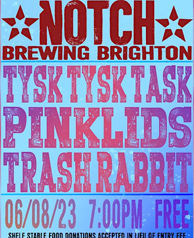 June 8, 2023 (Thursday) Tysk Tysk Task, PiNKLIDS, Trash Rabbit at Notch Brighton FREE but RSVP here and bring some shelf stable food to donate.
June 8, 2023 (Thursday) Done, WOJTEK (FL), Headfoam (FL), Constantly Terrified, Psychic Weight at O'Brien's Allston
June 8, 2023 (Thursday) SkyTigers, Between Skies Perennial Quest at Faces Malden
June 9, 2023 (Friday) Baabes, Airport, The Lights Out, Fox Canadian at The Jungle
June 9, 2023 (Friday) Linnea's Garden, Hot Fire, Friday Night Pizza Party at Koto Salem FB page
June 10, 2023 (Saturday) It's Malden Porchfest! American Ocelot and Galaxy Cake are playing at 2PM at 43 Gould Ave.
June 11, 2023 (Sunday) The Thigh Scrapers, Classic Ruins, The Ballbusters, Loretta at The Midway for a 3PM Matinee show.
June 11, 2023 (Sunday) Kid Gulliver & Museum Direktors at Worthen Attic
June 12, 2023 (Monday) Linnea's Garden, Lovecolor at Faces (Malden, MA)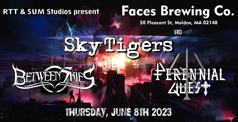 June 13, 2023 (Tuesday) The Cramps and The Mutants: The Napa State Tapes at The Brattle at 7PM - TIX!!!
June 15, 2023 (Thursday) Chris Wagner (Modern Day Idols) solo show at the Natick Common, Natick. Set time: 5-7pm.
June 15, 2023 (Thursday) Modern Day Idols, Tad Overbaugh and the Late Arrivals, If We Go At All at The Central Tavern, Milford.
June 17, 2023 (Saturday) Arlington Porchfest! American Ocelot, Happy Little Clouds, the Zip Ups and Galaxy Cake will be at 38 Forham St 2PM - 5PM.
June 17, 2023 (Saturday) Punk Rock Picnic - afternoon of live indie and punk in the beer garden with Baabes, Muzzin, Hammered Saint at Bone Up Brewery in Everett. 2 PM – 7 PM. FB page.
June 17, 2023 (Saturday) Rock 'n' Roll High School is showing as part of a new series – Off the Reel…Onto the Dance Floor, which features the movie screenings at the Somerville Theater, followed by an epic party upstairs at the Crystal Ballroom! This time, it's a PROM, featuring live sets from Warthog and DJ Panda! Film is $14
Film + PROM are $22, PROM is $10 - Get tix here.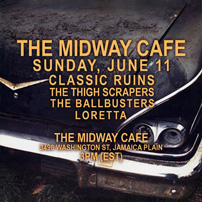 June 18, 2023 (Sunday) The Happy 7th Anniversary Mess-Around with Ken (Mr. President) Kaiser, Lee Harrington, Phoebe Legere and Justine Covault with her Black Threads, Tom Baker, Jay Allen - At The Plough & Stars 4-7PM - FB page.
June 19, 2023 (Monday) Gossip Collar (Tom & Victoria from Spitzz), Alijca Pop (from Memphis) and Daughter of the Vine at State Park.
June 19, 2023 (Monday) Dropbear, No / Nations, Weatherless, Not Bad Not Well at The Silhouette
June 21, 2023 (Wednesday) Lupo Citta, Valley of Weights, Nat Freedberg at The Silhouette
June 21, 2023 (Wednesday) The Rippers Rage (Rage Against The Machine Tribute), Rawstrum, The Melted Chapstix at The Midway
June 23, 2023 (Friday) Baabes, ESH & the Isolations, Goon Platoon, Ruffian Dick, Turn Heel at O'Brien's
June 23, 2023 (Friday) Speedfossil, Little Billy Lost, Midnight Caller at The Square Root
June 24, 2023 (Saturday) The Chelse Curve are doing an afternoon show at The Lawn on D (420 D St Boston) music time: 1PM!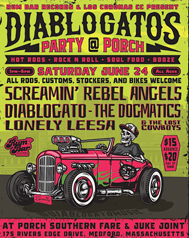 June 24, 2023 (Saturday) Rum Bar Records & Los Coronas CC Present Diablogato's Party at the Porch with Screamin' Rebel Angels, Diablogato, The Dogmatics, Lonely Leesa & the Lost Cowboys at The Porch in Medford - All Ages - 1-6PM
June 24, 2023 (Saturday) SkyTigers, Loud Love, Dave Strong Band, Coffin Salesman (stripped down), The Zombie Mafia at The Midway for a 3PM Matinee
June 24, 2023 (Saturday) The Koiis, Condition Baker, GLiDER, Matt Trainor at The Jungle - 7PM!
June 24, 2023 (Saturday) Rockin' The Dunes Annual party at White Crest Beach in Wellfleet with Crow Follow, Atlantic Thrills, Shiny Beasts - starts at 6PM FREE FB page.
June 26, 2023 (Monday) Gretchen Shea And The Middle Eight, Salem Wolves, Graveyard of the Atlantic at The Silhouette
June 26, 2023 (Monday) The Murder Junkies 30 Year GG Deathaversary Tour (Playing a full set of all old GG songs) with local lineup Psycho, Midnight Creeps, Scümbari - At Alchemy, Provi, RI Doors 7pm Music 7:30pm - FB page. CANCELLED
June 29, 2023 (Thursday) Bad Idea USA, Pink Slip, The Jacklights, Blame It On Whitman at Deep Cuts, Medford.
June 30, 2023 (Friday) Half a Century with Eric Grommet and friends!!! Harry and the Hot Flashes, New Frustrations, The Grommets at The Square Root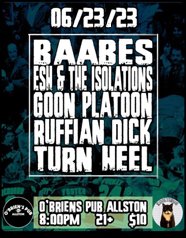 July 1, 2023 (Saturday) The Crank-Tones at The Midway for a 3PM Matinee
July 1, 2023 (Saturday) Dusk Summer Fest with Atlantic Thrills, All Star Stars, Ash and Bone, Eclectic Electric, Jesse the Tree, Moodrunners, Razed, Sire, Salem Wolves,
Starbath, Thin Frizzy, The Hammer Party, Vertigo, Ziggy Gnardust - Indoor and Outdoor Stages - Family Friendly / 21+ to drink - Doors at 2pm Music starts at 2:30pm - $10 (Little kids are Free) - Food by Taino Treats & Puggles Grilled Cheese - FB event page.
July 1, 2023 (Saturday) Tsunami of Sound (10:30am), Nervous Eaters (12:30pm), Mach Bell Experience (2:30pm) at MusicCons outdoor stage at Boxboro Regency Hotel.
July 5, 2023 (Wednesday) Fracture Type, Blame It On Whiteman, Vivra Vera at The Silhouette
July 9, 2023 (Saturday) The Zip-Ups, Cold Expectations, Glow Box at The Worthen Attic 4-7PM Matinee
July 14, 2023 (Friday) The Devil's Twins album release - with Kingshot and Aaron & the Lord at Faces Brewery Malden- All Ages
July 14, 2023 (Friday) The Winter Project Record Release Show with Screaming Sushi at Exhibit 'A' Brewing, Framingham FB event page.
July 15, 2023 (Saturday) THE DEL FUEGOS Reunion Show - 4-9 PM East Bridgewater Commercial Club - The Del Fuegos will do 90 min. Set, starting at 6:30- FB page.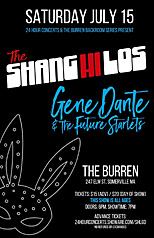 July 15, 2023 (Saturday) The Shang Hi Los & Gene Dante & The Future Starlets - at the Burren EARLY show- music starts at 7.
July 15, 2023 (Saturday) The Grip Weeds, Fling, American Ocelot at The Square Root - FB page
July 16, 2023 (Sunday) Holy Smoke, Little Billy Lost, Shiverlane at The Midway 3PM Matinee
July 19, 2023 (Wednesday) Miracle Blood's first official tour show at Dusk in Provi, RI with Cross Bite, Ghost in the Snow, Sleep Mode.
July 21, 2023 (Friday) Radio 95.9 WATD, Rock the Lot #5, Marshfield with Warthog (Ramones Tribute), The Chelsea Curve, The New Frustrations, Charlie Don't Surf (Clash Tribute). 6-8:30 PM FREE! 135 Enterprise Dr Marshfield - FB page.
July 21, 2023 (Friday) Midnight Creeps, Hammered Saint, Sourpunch at The Midway
July 22, 2023 (Saturday) Blame it on Whitman, Jerrys Got Jokes, SleepJumper, Dear Maryanne - at The Midway 3PM Matinee
July 22, 2023 (Saturday) The Lemon Drop Gang EP release with The Dogmatics, The New Frustrations at The New World Tavern Plymouth MA. Facebook page
July 23, 2023 (Sunday) Cro-Mags (Performing Best Wishes), The Long Wait, Klaxon, Face First, S.A.C at Alchemy in Providence RI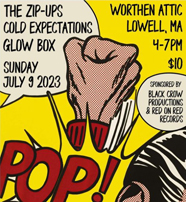 July 24, 2023 (Monday) Kenzie, Castle Doctor (NM, Aber Fly, Thee Fighting Fish at The Silhouette
July 28, 2023 (Friday) Degenerates of Punk, No Detour, The Sleds, Key of Caustic at the Jungle 8PM
July 28, 2023 (Friday) Glowbox, Holy Smoke, Little Billy Lost - at Faces Malden 8pm All Ages $20
July 28, 2023 (Friday) Skybar Rising & Rum Bar Records present Summer Sizzler Round 2 @ The Square Root with The HI End, Freeloader, Kate Redgate FB page
July 29, 2023 (Saturday) Miracle Blood at The Jungle
July 29, 2023 (Saturday) Color Killer at The Square Root
July 29, 2023 (Saturday) The Instamatics, Uncle Spudd, Wired For Sound, The Cindy Crawford Cult - 3PM matinee at The Midway\
August 5, 2023 (Saturday) Crown Court, Violent Way, Oil!, Klaxon, Doc Marten Soundsystem at The Midway - 8PM
August 5, 2023 (Saturday) Huck 2, Alabaster Sons, Bobby Oakes and TV Models, Getaway Moon, Daisy at The Midway Cafe for a Matinee Show.
August 11, 2023 (Friday) Modern Day Idols at Exhibit A Brewing, Framingham. 7-9PM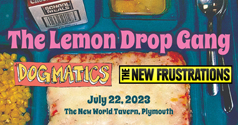 August 11, 2023 (Friday) Tiger Bomb, Freeloader at The Burren FB page
August 11, 2023 (Friday) Andy California and Lupo Citta at Notch Brighton (bring shelf stable food donations and health supplies at this and every event to help fill our local community pantries.) 7PM
August 11, 2023 (Friday) KCUF record release with Jukebox Romantics, In the Meantime, Jeff Bousquet - 8pm All Ages at Faces Malden
August 14, 2023 (Monday) Linnea's Garden, Drama Dolls and Hammered Saint at O'Brien's
August 19 & 20, 2023 (Sat & Sun) In Between Days Festival - 2 Stages, 2 Days, 24 bands ... and Cool Vintage and Local Market Place, Vinyl Record Pop Up Shop, Food, Modest Mouse , Weakened Friends, Paper Tigers, Clarissa Johnson, Dutch Tulips and the South Shore's own Gypsy Moths. You'll want to get your tickets now because they have a 'tier' system. They have some "tier" ticket scheme so the longer you wait the higher the ticket prices are. FB page
August 25, 2023 (Friday) Bone Up Brewing Seventh Anniversary Festival Night 2 - 6pm -10PM with The Guilloteenagers, Blood Lightning, Lesser Glow
August 25, 2023 (Friday) The 5.6.7.8's, Sit n' Spin plus DJ Pokemonjeff of the group Lyres - at Sonia - 8PM doors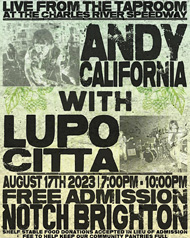 August 25, 2023 (Friday) Mach Bell Experience, The Cynz (NYC) at Back Room at the Burren
August 26, 2023 (Saturday) Bone Up Brewing Seventh Anniversary Festival Day 3 12:30pm- 10PM with from 1st to last: DnA's Evolution, Glacier, Sundrifter, Clouds Taste Satanic, North Star the Wanderer, SkyTigers (6PM), Brain Famine
August 27, 2023 (Sunday) Bone Up Brewing Seventh Anniversary Festival Day 4 - 12:30pm - 7PM - with Weisstronauts, Organ Meats, Hobo Wizard, Cortez, Major Stars, Crowfeeder
September 3, 2023 (Sunday) Belvedere, One Fall, Oh The Humanity! - 7pm All Ages $15 at Faces Malden
September 10, 2023 (Sunday) Somerville Rock + Roll Yard Sale Union Square 12 - 5PM. FB page.
September 10, 2023 (Sunday) Huck2 Album Release Party! With special guests Key of Caustic, Motel Black, and Acrylic Killers at , The Middle East UP Doors at 5:30PM
September 26, 2023 (Tuesday) Dead Boys, Nervous Eaters, The Plimsouls at The Middle East Up FB page.
September 28, 2023 (Thursday) Dead Boys, GLiDER, Midnight Creeps, One Fall at Alchemy Provi RI. FB page.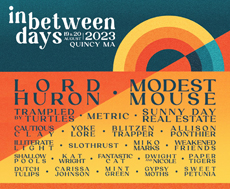 September 29, 2023 (Friday) Anti Heros, Legion 76, Antagonizers, Blood Stained Brindle, Absuctors - Middle East Down.
September 29, 2023 (Friday) The Fleshtones + The Nervous Eaters - FB page
October 7, 2023 (Saturday) The Welch Boys, The Long Wait, The USM, Josephine With A Cause at Faces Brewing
October 11, 2023 (Wednesday) The Mission UK & The Chameleons: Deja Vu Tour 2022 Rescheduled to 2023!!! also on the bill Theatre of Hate
October 26, 2023 (Thursday) Mudhoney at The Brighton Music Hall 18+ TIX
November 3, 2023 (Friday) Modern Day Idols Single Release Party with Tad Overbaugh and the Late Arrivals at Square Root, Roslindale.
December 8, 2023 (Friday) Huck 2, Gretchen Shae and The Middle Eight and Key of Caustic at Koto Underground, Salem
CONTACT US AT....misslynbgn@yahoo.com Send us your gig listings, your anything else you've got!! You want your CD reviewed?? Contact us for that too.
---
---