The BGN News Archive
June 20, 2022
After 2 years of discussion, and 40 years since the original, Trust Records is re-releasing a of SS Decontrol's album The Kids Will Have Their Say. Re-release is slated for and will feature a 20-page booklet, memorabilia, flyers and rare photos of the band - whoa!!!Read more about it on PunkNews.com ...Ghost Cult ... Brooklyn Vegan ... and Music.mxdwn.com has the track listing of this Deluxe edition here.
From Joe Nelson, co - founder of Trust Records:
"When Matt Pincus first approached me about the idea for the label this album was one which was at the forefront of the discussion. Matt and I say all the time how when we were teenagers it was music which saved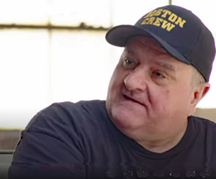 our lives. This band, and this record in particular strikes at the core of that belief, at least for me. At the time I discovered this album I was an angry, confused kid. I had very low self-esteem. I didn't feel like I fit in. I had discovered punk and hardcore which had helped in many ways, but I didn't like the nihilistic self-destructive side, which especially in Southern California felt like the glue which held the scene together.
Then I found Minor Threat, and soon after I found SSD. The thing about SSD which really grabbed me was the attitude, imagery, and messaging. Just look at that cover! It's soooo powerful, especially when you're a 13-year-old kid. These dudes also showed that 13-year old kid a path that they were forging, and which for me I've been following ever since.
Anyway, about 2 years ago Al Barile and I started a conversation about working together. I would say we've talked almost every other week since then, mainly about sports, but occasionally about trying to strike a deal to get SSD on Trust. Now here we are. Thank you - Al, Jamie, Chris, and Springa for trusting us (get it?) with this monumental album you made 40 years ago!! I promise all of you reading this, especially those of you from Boston that we will do everything in our power to honor it the way it should be honored. We will not let you down!"
| | |
| --- | --- |
| | |
In conjunction with the re-release SSD guitarist Al Barile was interviewed by Fiddlehead/Have Heart vocalist Pat Flynn and talked Boston hardcore history and much more for Trust's video series "One Two Me You." Al goes in a lot of different places in the discussion, and he has strong opinions. He talks a lot about Straight Edge culture of which he was at the forefront. He also has something to say about Mission of Burma. He reveals the intent of the song "How Much Art". The interview is just under an hour long.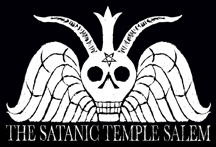 Lydia Lunch performed two sold out shows at the Satanic Temple in Salem on June 3. On June 10 (Friday) 42-year-old Daniel Damien Lucey, of Chelsea, tried to burn the place down!! He showed p at 10PM - while people were inside- and doused the porch with lighter fluid, set it on fire and walked away. The fire was put out by the Salem Fire Department before too much destruction was done. No one was hurt. On the WHDH site there is video of the perp wearing a "GOD" t-shirt as he sets the porch ablaze. Here's the story on MSN
Also in Salem…on July 22 the Heavy Leather Horror Show will go live with a line-up of bands Warthog, Hammered Saint and Baabes ... at Koto. All for a mere $10.00. FB event page.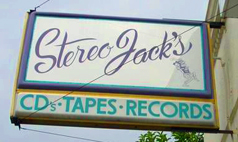 A post by Eli Polonsky (WMBR Lost and Found DJ) gave us the info that Stereo Jack's is sold and moving to a different location. The store is bought by Christopher Anzalone. The new location will be in Ball Square, Somerville, the move will happen in August with the store scheduled to open in September. Stereo Jack's had been in the same Mass Ave location for decades. Chris has drummed for many groups. He has played for Juliana Hatfield. His Facebook page
The BGN started as a zine back in 1976 and we like to think that we carried the same attitude into the website. The zine format was our way into being a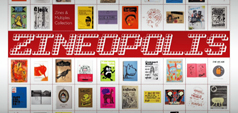 part of the Boston punk scene and we have only increased our respect for the medium as time has gone on.
We saw a mention of Zineopolis, a collection of zines started by professor Dr Jackie Batey at the University of Portsmouth UK.
Zineopolis now exists as a blog ... they also have a Facebook page There are videos at both sites where Dr. Batey discusses the characteristics and importance of zines.
---
VIDEOS......
For Boston punk music here and now Duck & Cover are just about holding down the fort. Blasting it out is what they do, that they do it so well is our luck. Their video for "Memento Mori" shows them playing the song which, in a time of still sporadic gigging, is welcome.
The verses ride on a flowing four chord progression with a melody that seems so natural with it. One thing about D&C is to pay attention to those solos. Here it's at the 1:54 mark. It has a tasty tone and it's well-constructed.
And there's a trick in this song. The lyric in the chorus is "It's just a matter of…." They leave the last word out. There's a feeling of incompleteness and absence until they say the missing word at the three minute mark. I'm leaving it out here too.
This is the song of the year for us – Nerf Herder doing "We All Got Covid (Except for Linus)". They sing of the plight of the touring band.
There's some excellent couplets in the song….
"The tour was a lot of fun / now we're in bed with a fever of 101."
"Doing the Pacific Northwest / I guess our safety hygiene wasn't the best."
"The weekend was a total blast / I never thought to wear a mask."
"The tour was a lot of fun / now my head is exploding and I'm coughing up a lung."
There's no guitar solo in the middle, it's replaced with a coughing fit!
Nerf Herder formed in 1995 in Santa Barbara, CA. They wrote and performed the theme to Buffy the Vampire Killer.
Jubileu Carnica from Brazil made a crazy ass animation video for the Prozacs song "Outta My Face" from their 2019 album Ambivalence. It's a colorful reason to hear some Prozacs now.
Danny Garcia and Chip Baker Films, who gave us films like the Johnny Thunders doc Looking For Johnny, the Sid & Nancy doc Sad Vacation, STIV........No Compromise, No Regrets and The Rise and Fall of The Clash have released their latest film, a Max's Kansas City (1965- 1981) documentary Nightclubbing The Birth of Punk Rock in NYC.
CBGB's continues to get mentioned more but Max's has its stories and beginnings too. A lot happened at that place. Miss Lyn was there for a night of Boston music in 1977!
Nightclubbing is showing at The Regent Theatre in Arlington on Sunday July 17 at 7:30pm. Tickets here
Also playing on that bill is another Danny Garcia/Chip Baker film Sid: The Final Curtain - "a new exclusive short film documenting the final live performance of Sex Pistols bassist Sid Vicious at Max's Kansas City in Sept. 1978 featuring rare live footage and exclusive interviews from those who witnessed it."
Minnesota Hardcore is a musical docu-series examining the punk scene in the Twin Cities from 1980 to 1985. We stumbled upon Episode 2 just released on June 6. This one is all about Husker Du. It's all very interesting with good clips.
At the 16:30 minute mark Husker Du talk about touring the East Coast for the first time and the first show was in Boston. They didn't think anyone knew them but when they got to the club there was a big crowd. They asked how did this happen? The answer was 'college radio.' Watch all the clips on the Twin Cities PBS site.
---
RADIO.....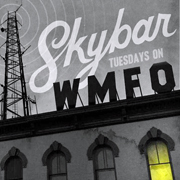 Here's another good thing about summer – Skybar's Rising show will go another hour! Rising will be two hours from 8 to 10 pm every Tuesday WMFO 91.5. To hear it online, go to the WMFO Schedule
On Gorilla Got Me, Sara played "You're Gonna Screw My Head Off" by the Len Bright Combo. The group is made up of Wreckless Eric, Russ Wilkins & Bruce Brand. In the chorus and the last minute of the song you can hear Eric's voice. Here it is on YouTube
Sara has some other prime punk cuts on the show: songs by Radio Stars, Sham 69, Weirdos and The Jolt. Hear the show at the WMBR Archives and hit the link in the Friday listings.
---
PODCASTS........
Blowing Smoke with Twisted Rico interviews Ken Cheppaikode of Dirtnap Records. Dirtnap Records gets played a lot in Boston, The label started in Seattle in 2000.
They talk about the current roster of bands and their live shows.
Sex Pistol Steve Jones did an interview on the Rolling Stone Music Now podcast. He admits he didnít know what "anarchy"meant when the song "Anarchy in the UK" came out. We keep touting his book Lonely Boy but if you haven't read it Jones' book is a great read! He is brutally honest about his upbringing. And in the podcast he says "I was pretty illiterate back then. I'm not proud of it, but that's just the way it was And I never listened to lyrics." Here's a link to the podcast.
---
NEW MUSIC/CDs.....
Boston Hassle has a short interview with Matilde Heckler. (Listen here) She's a Berklee student and plays the violin, ..... she's edgy. She's making some points and she's not being polite about it.
Her song title says a lot, "Emo Needs More Fucking Girls.".The lyrics make her case and she makes her violin playing work in a rock context, that's an accomplishment right there. She only has one other song posted on Bandcamp now, it's "I Think I'm Doing Better Alone Again," but she's someone to keep an eye on for sure. Here's her website and her YouTube channel with more live videos.
Diablogato must love how their new album Old Ghosts came out!! It sounds like they sound live but with a studio quality. The separation is wonderful. You can always hear what the drums are doing. If anyone ever wants to know what a standup bass brings to the game, we would point to this album. There's an extra almost drum like effect the stand-up supplies outside the notes.
The main attraction is that Diablogato sound. They have their patented attack and sound. It a mix of rockabilly and swamp with the devil always around the corner.
"Old Town" has that parochial nostalgia that can be comforting.
We got album The Magnificent by Monolithic from Rum Bar. They had released "Raise Your Hand" which was a barn burning soul rave up. That's what the rest is like also. The band is Mighty Manfred from the Woggles and other rock musicians. It's soul/R & B colored by rock that the rock players can't help but inject into it.
If you are a fan of Mighty Manfred, and we are, you will love this album.
We like the party vibe of "In The Basement".
---
Here's some good shows coming up ..... **NOTE** double check with the clubs before going - many shows are getting canceled or postponed these days.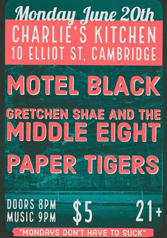 June 20, 2022 (Monday) Gretchen Shae & The Middle Eight, Motel Black, Paper Tigers at Charlie's Kitchen
June 21, 2022 (Tuesday) Punk Rock Aerobics at Zone 3 in Allston.
June 23, 2022 (Thursday) Oh The Humanity, Sky Tigers, Coffin Salesman at Notch Brewery Brighton - Shows start at 7pm. Free admission!! FB page.
June 24, 2022 (Friday) Maverick @ the BPL - Concerts in the Courtyard FB page. starts at Noon-thirty folks!!
June 24, 2022 (Friday) The Chelsea Curve, The Shang Hi Los and DJ Mike Gioscia (X night/WFNX) do an early show at The Jungle. 5PM starts with DJ Mike then 6:00-Shang Hi Los and 7:00- The Chelsea Curve!
June 24, 2022 (Friday) Concert for Ukraine with Cold Expectations, Tsunami of Sound, Holy Smoke and "Special Secret TBA" and DJ Kristen Eck at The Magic Room in Norwood ... TIX Magic Room FB page
June 24, 2022 (Friday) Gene Dante & The Future Starlets, Kenne Highland's Air Force, Tiger Bomb at Gino's in Portland. FB page.
June 24, 2022 (Friday) Minibeast, Trinary System, Department of Teleportation at Dusk, Providence, RI FB page.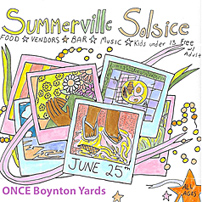 June 25, 2022 (Saturday) Once is putting on The Somerville Solstice on June 25th with vendors and a steady stream of music starting at noon with early sets for kids. Groups are Genie Santiago, Tigerman Woah, Black Helicopter, Grace Givertz, Assasi, Borboleta, Nectarine Girl, The Dripp. Link to tix and more info here.
June 25, 2022 (Saturday) PorchFest Quincy 2022! Gypsy Moths, Dogmatics, Connacht from 4-9PM - Check out the FB page for address etc.
June 25, 2022 (Saturday) Trinary System, Landowner, Rong at The Jungle. FB page.
June 25, 2022 (Saturday) Show in Honor of Jess Victor - White Dynomite, Muck and the Mires, Stop Calling Me Frank, Piranha Brothers, Screw Cart at The Middle East Up TIX and FB page.
June 25, 2022 (Saturday) Concert for Ukraine with Smitt E Smitty & The Feztones, Gene Dante & The Future Starlets, Baabes, Modern Day Idols, Lonely Leesa & The Lost Cowboys and DJ Chachi Loprete...at The Magic Room in Norwood TIX Magic Room FB Page
June 25, 2022 (Saturday) Rockin' Dune Tunes will happen White Crest Beach in Wellfleet with Atlantic Thrills, Shiny Beasts, Daughter of the Vine, Andy California, Crow Follow, Red Sand Hill, The Angry Debutantes and Tsunami of Sound. Here is the FB page.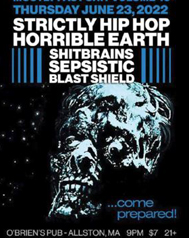 June 26, 2022 (Sunday) Sunday brunch with Henry McIntyre, Suspicious Minds, Men & Volts at The Jungle 11 AM – 2 PM
June 26, 2022 (Sunday) Brix'N'Mortar, Pint Killers, Outsiders Punkabilly Rebels, Warthog at Thirsty First in Lowell - a matinee show from 3-6PM ... and All Deep Ends from Scotland just got added to the show!! FB page.
June 27, 2022 (Monday) Kids Like Me & You (KLYAM): Spring & Summer Program with Rong, Johnnie and the Foodmasters, Pledge Pins at Charlie's Kitchen 9PM show.
June 28, 2022 (Tuesday) Punk Rock Aerobics at Zone 3 in Allston.
June 28, 2022 (Tuesday) Supercrush, Somerset Thrower, Bad Larrys at Faces in Malden FB page.
July 1, 2022 (Friday) The Prozacs, The Lousekateers, Lürking Class (NY), The Agonizers, Marko Bruiser at Ralph's Rock Diner
July 2, 2022 (Saturday) The New Frustrations, Kermit's Finger, The Imposers, The Grommets - matinee shows 3-7PM at The Midway
July 2, 2022 (Saturday) Hixx, Celseigh, The Stigmatics, Marianne Toilet and the Runs at The Midway
July 9, 2022 (Saturday) Minibeast, Kid Gulliver at The Jungle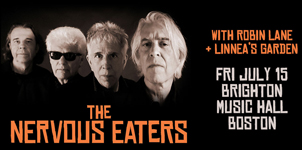 July 15, 2022 (Friday) Nervous Eaters Single Release with Robin Lane & Linnea's Garden at Brighton Music Hall FB page
July 17, 2022 (Sunday) Double Feature!! Danny Garcia/Chip Baker films Nightclubbing The Birth of Punk Rock in NYC. and Sid: The Final Curtain at The Regent Theater - 7:30PM Tickets here
July 17, 2022 (Sunday) The Dollyrots, Don't Panic at Sonia 7PM
July 21, 2022 (Thursday) Skybar Rising & Rum Bar Records presents Summer Sizzler @ The Square Root with The Hi-End, The Dents, Carissa Johnson starting at 8PM.
July 22, 2022 (Friday) Brix'N'Mortar at Ralph's Diner , Worcester.
July 23, 2022 (Saturday) The Chelsea Curve, Little Billy Lost, Tsunami of Sound and DJ Sherman at Bone Up Brewery Everett.
July 30, 2022 (Saturday) Tiber Bomb is at The Square Root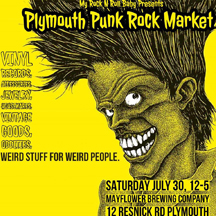 July 30, 2022 (Saturday) Plymouth Punk Rock Flea Market at The Mayflower Brewing Co. 12-5PM FB page
August 3, 2022 (Wednesday) Jasmyn, Linnea's Garden, Junior Classics, Daphne Blue Underworldat O'Brien's
August 6, 2022 (Saturday) The Very, Crow Follow, and Home Despot at The Square Root
August 20, 2022 (Saturday) The Fleshtones, GLiDER, & Tiger Bomb w/ Emcee DJ Brian Young - The Magic Room - FB page.
August 27, 2022 (Saturday) Kids Like Me & You (KLYAM) Spring & Summer Program at Morse-Kelley Playground a couple blocks from the Armory. line up to be announced.
August 27, 2022 (Saturday) The Worst, Typhoid Rosie, Marianne Toilet and The Runs, Breaking Up at The Middle East Up.
September 2, 2022 (Friday) The Woggles with Muck and Mires & The Chelsea Curve at The Porch in Medford
September 4, 2022 (Sunday) Somerville Rock + Roll Yard Sale in Union Square Somerville. FB page for updates!
September 7, 2022 (Wednesday) Kids Like Me & You (KLYAM) Spring & Summer Program with Leopardo from Switzerland at O'Brien's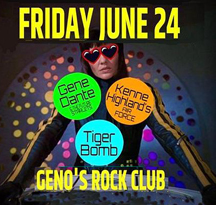 September 8, 2022 (Thursday) D.R.I at Alchemy in Provi, RI - FB page.
September 10, 2022 (Saturday) Key of Caustic at The Flying Embers Tap Room (152 Hampden St, Boston, MA 02119)
September 17, 2022 (Saturday) Kids Like Me & You (KLYAM) Spring & Summer Program at Lincoln Park Somerville (near Union Square) more info to come.
September 17, 2022 (Saturday) Punks For Pets with Joy Boys, Sleep Mode, Sourpunch, Musclecah, Ghost Grrrl, The Debutantes, The Something Somethin's, The Stigmatics - at The News Cafe - early show starting at 1PM. Bring something for the doggos and kittehs check the Donation List on the FB page.
September 23, 2022 (Friday) Soulside, Verbal Assault, Bedmaker, Wrong War at Once at The Armory - 6PM!! . Tix and info
October 5, 2022 (Wednesday) Dr. John Cooper Clarke at City Winery
October 9, 2022 (Sunday) L7: Bricks Are Heavy 30th Anniversary at Big Night Live FB page.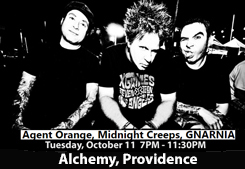 October 11, 2022 (Tuesday) Agent Orange, Midnight Creeps and Gnarnia at Alchemy in Provi, RI FB page.
October 15, 2022 (Saturday) Third Annual Punktoberfest at Thirsty First in Lowell...check the FB page for updates, bands etc.
November 5, 2022 (Saturday) The Mahones, The Pourmen, The Gobshites at Askew in Provi.
CONTACT US AT....misslynbgn@yahoo.com Send us your gig listings, your anything else ya got!! You want your CD reviewed?? Contact us for that too.
---
---