The BGN News Archive
July 4, 2022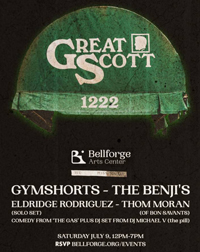 Scrolling through Facebook we were stopped short with a post featuring the Great Scott awning. What could that be? Turns out it is a Great Scott pop up show in Medfield at the Bellforge Arts Center.
It's a one day outdoor free event: July 9 from noon to 7pm with Gymshorts, The Benji's, Thom Moran (of Bon Savants), and Eldridge Rodriguez (solo set). Plus, comedy from 'The Gas' and a closing DJ set from DJ Michael V (the pill boston). It's FREE ... BUT they want you to RSVP. You can do that on the Facebook event page
Great Scott owner, Carl Lavin says: "It's been a while, a lot of things have changed and a lot has returned to a sense of normalcy. The idea that bands, artists, comics and DJs, that have such a history with Great Scott can coalesce in this kind of setting is something that is undeniably appealing and something we're thrilled about and proud to be a part of." The Great Scott Facebook page
Tiger Bomb got some good press in the Portland Press Herald this week!! It's a story on their new album which is vinyl only at the moment with only 500 pressed.
The story includes a photo of the band taken by our own John Keegan! See it below. And that might be one of the only photos ever of Chris Horne without sunglasses!! Read the story here Press Herald.
Kenne Highland talks about his Kenne Highland Air Force gig at Geno's this week too. He shared the bill with Tiger Bomb and Gene Dante and he has pics to prove it!Read it here.
The Cape Cod Wave magazine did a run down of the Rockin' Dune Tunes show at Wellfleet beach on Saturday 6/25. They have videos of Tsunami of Sound, The Angry Debutantes, Andy California and Crow Follow. Check it out on the Cape Cod Wave.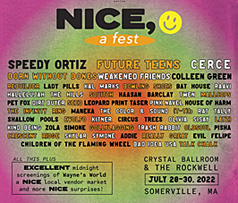 We listed some summer festivals last week, now here's another local one. Nice Fest goes for 4 days Thursday July 28 to Sunday July 30, it's happening at the Crystal Ballroom and the Rockwell, simultaneously.
Thursday there are four bands playing. Friday there are 15 bands. Saturday is the big day with 28 bands!! Whew!! The headliners there are Speedy Ortez and Weakened Friends, Lady Pills and Rebuilder. Sunday has four bands at the Rockwell, one of which is Black Beach. Here's the skedge. If you are going you really should look at that lineup on Friday and Saturday. Nice Fest website. and FB page.
Danny Garcia's film Nightclubbing, The Birth of Punk Rock in NYC about Max's Kansas City will be shown at the Regent Theatre in Arlington on Sunday July 17 at 7:30pm and Danny Garcia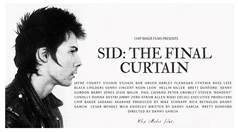 will be there to take questions. Preceding the Max's film they will screen the 20 minute documentary Sid: The Final Curtain which has footage of Sid's final show at Max's on September 30, 1978.
Here's the FB event page and you can get your tix on the Regent Theater page.
And who doesn't want more Sid Vicious right? Over in the UK at the Rock'n'Roll Wall of Fame is "S.I.D. Superman Is Dead" a show of Dennis Morris' Sid and Sex Pistols photos. Morris was the Pistols photographer during their hey day. He also teams up with Shepard Fairey to produce several Fairey style posters of Sid, from Morris' photos.
---
VIDEOS......
We talk about Charles Hanson's new double album Pop'n'Rock Music '22 below. Here we spotlight the video he made for the song "Little Disasters." It's a tale of childhood trauma that could spill over into adulthood unless the protagonist learns that if you have a mask you "have to take it off for someone."
The album is described as a concept album and this song is a piece of character exposition. John Powhida sings on this song. Video is above right.
There's some more info on the Psychedelic Baby magazine website
Jeff Hudson has a new song/video- "Bullshit." We're thinking there's a lot that could have inspired that in the news lately. Video is above right.
---
RADIO......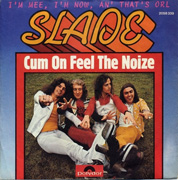 Do you like the Slade song "Cum On Feel The Noize" ? If so, how much do you like it? The WMBR show Mark & Evelyn's American Top 41 will test your patience with 10 versions of the song. They've got an electronic version, a surf version, a cocktail versions, one on a toy piano as a lullaby, slow impassioned versions, The Quiet Riot hit of the song and then the original.
The slow version by T & A surprisingly captures some emotion. To hear the show go to the WMBR Archive and hit the show on Sunday 2/26 at 11am.
But 10 versions? There are more!! Look at this list!!
---
PODCASTS.........
There's a twist on Blowing Smoke with Twisted Rico this week. Instead of Steev interviewing someone – he gets interviewed by podcaster Jim Saxton of Temple of Bleh .
Steev's career started with Enigma in 1984. He helped sign the Smithereens. You have to listen closely as he rolls off the list of bands he's been involved with. Steev said in his move to different labels he signed The Neighborhoods three times.
---
NEW MUSIC/CDs......
Charles Hanson's Hanson's Pop'n'Rock Music '22 double album on Red On Red Records has been released on Bandcamp. This is a big project with lots of musicians joining in.
You would think Charles would fill up the songs with guitar flash but that is not the case. All the attention is focused on the songs. The whole project is a concept album. red On Red mentions Quadrophenia as a comparison. We also thought of War of the Worlds by Jeff Wayne. The songs are built to deal with a lot of lyrics and the lyrics are all there on Bandcamp. You can almost see the curtain come up and the song setting the scene and telling the story…and is that the case? Will we ever see this staged in some way? Seems like it should.
Listen to "Bad Advice" (with Tony Kaczynski on vocals) to get a feel for the project.
"Karen Black" is the one song that seems like an outlier. Remember that horror movie titled Trilogy of Terror? There were three stories in it. The last one starred Karen Black being chased by a devil doll. It was super scary for it's time. We'll this song is about that. We don't know how this fits into the narrative of the story but it's a nice rocker.
Jenn Lombari has two acoustic songs under the Stubborn Hearts name in Bandcamp. They are very effective and when you know who they are about, which you would if you have followed Jenn on social media, then the songs are even more poignant. Here it is on Bandcamp.
Kurt Baker is releasing a two album project called Brand New Beat – Complete. It's a remixed and remastered version of his 10 year old album Brand New Beat. it will include another album of B-sides and bonus tracks. Check it out on Bandcamp.
Jay Prozac has released Welcome to Camp Cheerful, a 16 cut album of the first Prozac recordings from 2002. 11 of the cuts are less than 2:12 long and nothing reaches the three minute mark. There's not much fidelity here, it sounds like a live recording, but you can hear Jay's pop punk proficiency all the way through.
Some of these songs have been rerecorded later for Prozac albums. We'd like "Double Feature", "Party's Over", "Prom Night" and more than a few others. "Prom Night" will give you an idea of the album.
The Superfonics were around in 1987-88. They included Preston Wayne and Judd Williams. They just released Leopard Man a four song EP from recordings done at Fort Apache with Paul Kolderie (Pixies, Hole, Radiohead). They have reunion gig at the Midway with Classic Ruins and Shiny Beasts on Saturday, September 24.
It's some fine rockabilly, which it would be with the talent in the group. We've never heard Wayne doing rockabilly, that's a real treat. Catch his stylish ripping on "Kiddie".
The Beatersband from Italy just released Un Tuffo Nel Passato (A Blast From the Past) ... They punk up early sixties songs and it's a lot of fun!! They crank up "Baby, I Love You", "Calender Girl", "Don't Worry Baby", and "Then He Kissed Me". They also cover Elvis' "The Girl of My Bestfriend." That song is a new one on us and the title is so close to "My Best Friends Girl" by the Cars.
We had lots of fun listening to this album and their original "My Mother Plays Rock'n'Roll" fits right in.
---
Here's some good shows coming up ..... **NOTE** double check with the clubs before going - many shows are getting canceled or postponed these days.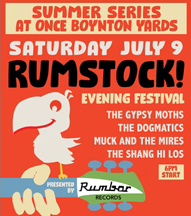 July 9, 2022 (Saturday) Rum Bar Records back to the Once Summer Series with Rumstock!! A line up of NINE great Rum Bar bands plus food vendors, craft vendors, bar and games. Start time is at Noon with Electric Heaters, Uncivil Servants, Tsunami of Sound, Roll Over White and U-ey at the Buoy. The at 6PM the Evening festival starts with The Gypsy Moths, Dogmatics, The Shang Hi Los and Muck and The Mires. wow!! Get your tix here.

July 9, 2022 (Saturday) Minibeastat The Jungle

July 15, 2022 (Friday) Nervous Eaters Single Release with Robin Lane & Linnea's Garden at Brighton Music Hall FB page

July 16, 2022 (Saturday) Micah Schnabel, Coffin Salesman, Amy Griffin, Olde Boy at the Taproom at Faces Brewing Co. in Malden. FB page.

July 17, 2022 (Sunday) SkyTigers, Working Poor USA, The Errorists, Cherry Pop, Loser Birds - it's a 3PM matinee show at The Midway. Facebook page

July 17, 2022 (Sunday) Double Feature!! Danny Garcia/Chip Baker films Nightclubbing The Birth of Punk Rock in NYC. and Sid: The Final Curtain at The Regent Theater - 7:30PM Tickets here Danny Garcia will be there to do introduce the film and for a Q&A after the film. FB page

July 17, 2022 (Sunday) The Dollyrots, Don't Panic at Sonia 7PM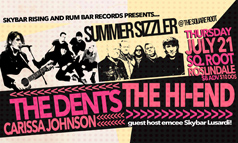 July 21, 2022 (Thursday) Skybar Rising & Rum Bar Records presents Summer Sizzler @ The Square Root with The Hi-End, The Dents, Carissa Johnson starting at 8PM.
July 22, 2022 (Friday) Brix'N'Mortar at Ralph's Diner , Worcester.
July 23, 2022 (Saturday) The Chelsea Curve, Little Billy Lost, Tsunami of Sound and DJ Sherman at Bone Up Brewery Everett.
July 26, 2022 (Tuesday) Exsanguination, The Prozacs, Working Poor USA, Hippocrisis at The Midway
July 28 - 30, 2022 (Thurs - SundayFriday) Nice Fest in Davis Square the Crystal Ballroom and the Rockwell. Nice Fest site for schedule, info and tix.
July 29, 2022 (Friday) Sidewalk Driver and Weakened Friends are at The Wellfleet Beachcomber
July 30, 2022 (Saturday) Tiber Bomb, Greg Allen's Fringe Religion are at The Square Root FB event page.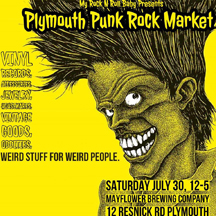 July 30, 2022 (Saturday) Plymouth Punk Rock Flea Market at The Mayflower Brewing Co. 12-5PM FB page
July 31, 2022 (Sunday) The Crank-Tones do a matinee show at the Midway with The Fathoms Trio and The Hi-Fi Lowdowns 3PM
August 3, 2022 (Wednesday) Jasmyn, Linnea's Garden, Junior Classics, Daphne Blue Underworldat O'Brien's
August 4, 2022 (Thursday) Duck & Cover, C.O.B. , Give Up! and more TBA at Sammy's Patio in Revere. Facebook page
August 6, 2022 (Saturday) The Very, Crow Follow, and Home Despot at The Square Root
August 13, 2022 (Saturday) Summer Shimmer at Once @ Boynton Yards - a full day and night of glam rock and glitter! This Outdoor Festival has it all! Come out and support your local musicians and vendors. There will be food, bar, live music, PLUS Glam Karaoke with The People's Karaoke and a costume contest Glampionship with trophies for the glammiest of them all." also 8 local bands including Gene Dante & The Future Starlets, The Jacklights, Sapling, Linnea's Garden, Weakened Friends, Happy Little Clouds and The Pom Poms...this is an all day event with vendors etc- FB page.
August 20, 2022 (Saturday) The Fleshtones, GLiDER, & Tiger Bomb w/ Emcee DJ Brian Young - The Magic Room - FB page.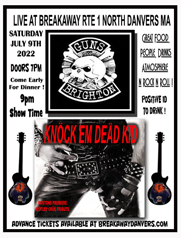 August 26, 2022 (Friday) Bone Up Brewing Sixth Anniversary Bash! 3 days of music! The Guilloteenagers, Blood Built Empire, Lesser Glow, and Worshipper. FB event page is here.
August 27, 2022 (Saturday) Kids Like Me & You (KLYAM) Spring & Summer Program at Morse-Kelley Playground a couple blocks from the Armory. line up to be announced.
August 27, 2022 (Saturday) Phantom Ocean, Orbiter, Minusworld, Thrust Club - 3PM Matinee at the Midway Cafe FB page
August 27, 2022 (Saturday) The Worst, Typhoid Rosie, Marianne Toilet and The Runs, Breaking Up at The Middle East Up.
August 27, 2022 (Saturday) Bone Up Brewing Sixth Anniversary Bash! Organ Meats, The Weisstronauts, DnA's Evolution, Benthic Realm, Attest, Sky Tigers, and Crowfeeder. FB event page is here.
August 28, 2022 (Sunday) Bone Up Brewing Sixth Anniversary Bash! Sunken City, Blue Manic, DnA's Evolution, North Star the Wanderer, and Sexless Marriage. FB event page is here.
September 2, 2022 (Friday) The Woggles with Muck and Mires & The Chelsea Curve at The Porch in Medford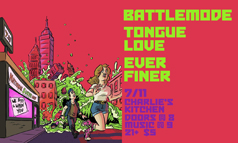 September 4, 2022 (Sunday) Somerville Rock + Roll Yard Sale in Union Square Somerville. FB page for updates!
September 7, 2022 (Wednesday) Kids Like Me & You (KLYAM) Spring & Summer Program with Leopardo from Switzerland at O'Brien's
September 8, 2022 (Thursday) D.R.I at Alchemy in Provi, RI - FB page.
September 10, 2022 (Saturday) Key of Caustic at The Flying Embers Tap Room (152 Hampden St, Boston, MA 02119)
September 16, 2022 (Friday) The Loud Neighbors, Paper Tigers, Salem Wolves, Holy Hands at Dusk Provi RI
September 17, 2022 (Saturday) Kids Like Me & You (KLYAM) Spring & Summer Program at Lincoln Park Somerville (near Union Square) more info to come.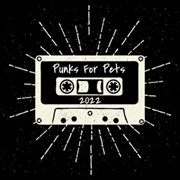 September 17, 2022 (Saturday) Punks For Pets with Joy Boys, Sleep Mode, Sourpunch, Musclecah, Ghost Grrrl, The Debutantes, The Something Somethin's, The Stigmatics - at The News Cafe - early show starting at 1PM. Bring something for the doggos and kittehs check the Donation List on the FB page.
September 23, 2022 (Friday) Soulside, Verbal Assault, Bedmaker, Wrong War at Once at The Armory - 6PM!! . Tix and info
September 23, 2022 (Friday) Come is doing their first home town show in NINE years at the Middle East Up with Home Despot.
September 24, 2022 (Saturday) The Superfonics have reunion gig at the Midway with Classic Ruins and Shiny Beasts
October 5, 2022 (Wednesday) Dr. John Cooper Clarke at City Winery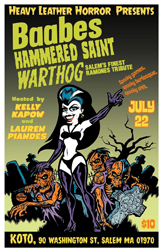 October 7, 2022 (Friday) Joan Jett Birthday show with Anrea Gillis & Friends and Sue Minichiello & friends doing EVERYTHING Joan Jett. At Sally O'Brien's
October 9, 2022 (Sunday) L7: Bricks Are Heavy 30th Anniversary at Big Night Live FB page.
October 11, 2022 (Tuesday) Agent Orange, Midnight Creeps and Gnarnia at Alchemy in Provi, RI FB page.
October 15, 2022 (Saturday) Third Annual Punktoberfest at Thirsty First in Lowell...check the FB page for updates, bands etc.
October 23, 2022 (Sunday) Dead Boys with The Briefs and Suzi Moon at The Vault in New Bedford. FB page.
November 5, 2022 (Saturday) The Mahones, The Pourmen, The Gobshites at Askew in Provi.
CONTACT US AT....misslynbgn@yahoo.com Send us your gig listings, your anything else ya got!! You want your CD reviewed?? Contact us for that too.
---
---