The BGN News Archive
July 17, 2023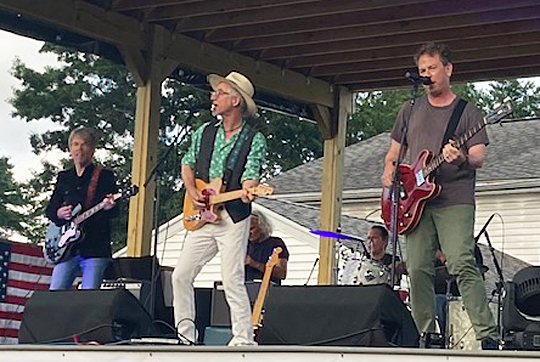 The Del Fuegos in East Bridgewater
We were able to catch The Del Fuegos down in E. Bridgewater this past Saturday.
It was a very happy, hot and muggy reunion! The Del Fuegos played like they had never stopped playing. They sounded great!! Despite the hour plus drive from Boston they also played to a very big crowd. Many...most...we did not know. But they were obviously big fans, dancing and singing along to all their old favorites.
There was also a lot of talk by the band, especially Dan Zanes who gave props to several people during their set. Dan talked about Brother Cleve (RIP), former keyboard played for the band (Caleb Texier on keyboard for this show). Dan also thanked Wayne Viens, Billie Jordan, the Hoo Doo Bbq's James Ryan for everything they have done for the band over the years and especially in the early days and LRC DJs Greg Reibman and Cindy Balen who were all in the crowd for the show. Dan also talked a lot about community and how it was so important to them during their entire time together.
| | |
| --- | --- |
| Ed Moose / Wayne Viens / Judy Wilburn | Oil Can Guitar |
The venue, being a country club was also having a few raffles...a MEAT Raffle! a cake raffle ...but most importantly a Del Fuegos signed Oil Can guitar (that actually does work!) There was also a lot of merch being sold, Del Fuegos t shorts & CDs, Warren Zanes' books and a bunch of other stuff.
By the end of the show there was a crowd up front dancing and singing along to every song. Despite the heat and humidity, it was a great show!! We got some photos......
| | | |
| --- | --- | --- |
| Warren Zanes | Dan Zanes and Woody | Tom Lloyd |
Robert Barry Francos passed this week. To us he was the man behind ffanzine, published between 1977 to 1988. At the beginning that magazine was one of the few out there along with the BGN. Robert had a good work ethic right up till the present. He kept writing and digging up the good stuff. He had that unflagging interest that a lot of us have had since those early punk days that changed the path of our lives.
Robert was born in Brooklyn but later moved to Canada. In later years he kept a busy ffanzine blog You can read his obituary here.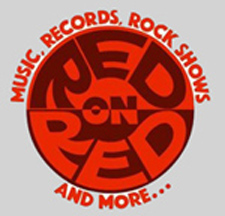 People are still reeling from our loss of Justine Covault. We heard from Dan Anklin who tells us: "I am sure that everyone wants to know what is going on with Red on Red Records. The label is on hold for now so please be patient. After the passing of Justine Covault everything is in flux."
"I have formed my own booking company. I will be booking local, regional, and international bands. I have many great shows coming to Boston for the rest of the year." Thanks Dan we hope things settle down and Red on Red can continue the amazing job it was doing before the untimely passing of Justine.
For those that can get by the paywall there is an excellent article in the Boston Globe about The Cars.
It's focused, and tells the story of how the Cars formed and the breaks they had at the beginning of their career and then the rapid rise to popularity. They get a wide range of people to give their take on the story, like: Hawkes, Elliot Easton, Joe Viglione, Barry Marshall, Barbara Rhind (C Note), Jon Macey, Kit Ratchlis and Maxanne Sartori (WBCN).
---
BOOKS......
What a gorgeous piece of work How Much Art Can You Take? is!! SSD have put themselves on the map again with this! What hardcore group, or any group, has a book like this?
There are reams of Philin Phlash photos. We've been starved for something like this from Phil. We hope after this there will be other photo books from him. Nancy Barile has collected the essays or short memories that tell the band story and give you a sense of what the group members went through at the time.
It's a hardcover 10 inch square cover that models after a vinyl album cover. The photo pages have a fine quality silky texture. The book is a class act.
It's great to get Al Barile's early story. The book goes from the early band days to Gallery East, Media Workshop, The Boston Crew, the album Kids Will Have Their Say and all the out of town shows. They have a page on the Channel show where they threw a pigs head into the crowd. We were at that show and for years after almost doubted that we saw it, it was so outrageous.
The title of the book How Much Art Can YouTake? is from the SSD song that was a criticism of the art groups (like MOB) who were big at the time. The joke is on themselves now because this book is a piece of Art!
To order the book go to the Deathwish site. $39.99 and worth every penny!!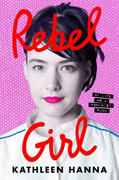 Kathleen Hanna's book Rebel Girl: My Life As A Feminist Punk won't come out till May of 2024 but there is info on it available now. Hanna was at the core of the Riot Grrrl movement with the group Bikini Kill.
To think of how muck crap she must have gone through! This should be an interesting read. She later married Beastie Boy Ad-Rock. She also has a later trial with Lyme disease.
You can order the book in advance at Bookshop.org
---
VIDEOS......
Rat Scabies Damned drummerhad a side project in 2019 with well-known guitarist Billy Shinbones (Flipiron/Neville Staples) called The Sinclairs. Now they have a second album; The Long Slow Death of a Cigarette.
The leading single is an instrumental surf tune titled "Ultra Splendid." It comes with the video above. The singer in the vid is actor Kevin Eldon (Fuzz/Game of Thrones) He's portrays the typical drunken singer that barges on stage at gigs…says Scabies.
It won't be all instrumentals on this album. They have guest singers: Zumi Rosow of Black Lips, Kid Congo Powers of The Cramps/Gun Club/The Bad Seeds, Roger Chapman of iconic '60s band Family, and members of Japanese garage punk treasures The 5,6,7,8's (who are at Sonia on August 25 and in Portland, ME on the 26th (FB page)) .
You can order the album from Cleopatra Records.
Danny the K's (Dan Kopko) "Canday Crush" is the song of the summer!! It probably sounds best on the beach from a transistor radio. It starts with a tinkling loop of an ice cream truck jingle but with a big bass drum kicking in. The power crunching guitars fill in next.
What's so special is the way it captures that summer vacation feeling. The cartoon video fits the bill. We recognize the image of 'Mr. Frosty' in the vid.
Phantom Bay are a hardcore band from Germany. Their latest single "Collective Decline" comes with a video.
The vocals are hard edged and raspy. The band plays it raw but with a rhythmic regularity that makes you nod your head. They sing in English which is good for us. The song is about seeing things get worse and knowing you can't make a difference. We think a lot of people would describe the world as in "collective decline", making the song resonate. .
Get your Glam on with Vancouver's Clone. There's humor and oh so much style in this video for the song "Queen." There is a wonderful control of color in the alternating all white and red scenes. They are very much a DIY band and it took them four months to finish the video, that's even more impressive!!
The band has that Marc Bolan guitar sound and they make it do a lot of work. That's the signature sound of the song.
Which reminds us of the Glam radio show down the Cape called Elastic Glam. It's on WKKL 90.7 which comes from Cape Cod Community College. The bad thing is there is no online streaming; you have to be on campus to hear it. The playlists look good. Here's their Facebook page
---
RADIO......

Anngelle Wood's Boston Emissions show this week began with The Chelsea Curve doing "Hey Sah La Ney." That's a new recording to us. The song itself is from 1954 and done by Mickey Lee Lane. It's a horn heavy Northern Soul song. We already knew that Chelsea Curve not only write great songs but now we know have excellent taste in covers too.

Anngelle played "Arrive!" by Looking Glass War. This is a much anticipated song because it's the first from the group that has members of Parlour Bells, The Rationales, Strangeways and The Easy Reasons.

· +July 2, 2023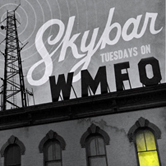 On Skybar's Rising show John Powhida was a guest. John talks about growing up in Albany and getting a late start in music but playing a lot in the city before coming to Boston and starting the Rudds. John explains that he's not a single genre guy, he loves to mix it up.
There is a new album coming out with the current "Knoxville" being the leading song which was going to be on Red on Red, but all that is in flux at the moment.
Skybar also played the whole Danny the K EP.
To hear the show go to the WMFO schedule page Hit the Rising show on 8 to 10 pm on Tuesday nights, then hit the 'archive' button.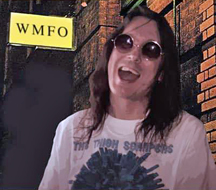 On Saturday on WMFO A Crash Course for the Ravers had three guests. First Joe Mazzari and Dixie Deadwood from 61 Ghosts were in studio and played a prerelease song "Tin Can."
Then it was the Grip Weeds. We saw the Grip Weeds at Thunder Road in 2018. Photo below right.
They are heavily into the sixties sound and played a super set. They are a standout on the Jem Who Tribute album and are on all other tribute albums (Ray Davis, Brian Wilson, John Lennon).
They were in town to play The Square Root and The Worthen Attic (Lowell). They did several songs live with a nice 12 string guitar sound and solid vocals. They are talented musicians.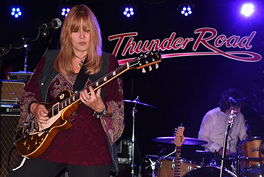 They played "Little Black Egg" by the Nightcrawlers (Florida group) from 1965 – a choice nugget.
Then Joe Mazzari joined Simon Ritt, who both were in The Daughters for a Johnny Thunders Birthday celebration. The Daughters backed Thunders and Joe and Simon told a slew of stories about Thunders. If you're a Thunders fan you should hear this show. You just won't get frank inside stories like these anywhere else.
To hear the show go to the WMFO schedule page Hit Crash Course for the Ravers show on 1 to 4 pm on Saturday, then hit the 'archive' button.
PODCASTS.........
Blowing Smoke with Twisted Rico interviews Todd Philips the drummer for Bullet LaVolta, Juliana Hatfield and others.
Todd is from Lynnfield, MA but has been in LA for 25 years now. He was a classic rock fan in his early days. Seeing the Clash and excerpts of Decline of Western Civilization on TV got him into punk. Still in high school he got into Moving Targets for six months but was never on any recorded effort. Bullet LaVolta lasted for five years. The record release party for The Gift album was at the Channel and it was sold out.
Todd gives you the overall arch of Bullet LaVolta's time in the sun. He then had great success playing and touring for Juliana Hatfield. He has been on some high profile tours. He later switched to editing films. Now, he seems to switch from that to drumming for Juliana and the Lemonheads.
---
NEW MUSIC/CDs......
Rum Bar is still on the rampage. They have another huge FREE sampler called Swagger. It's 35 cuts are comprised of recent Rum Bar releases and a few odd cuts for good measure.
Brad Marino, The Peppermint Kicks, The Magnificent (with Mighty Manfred from The Woggles), Kevin Stevenson and Diablogato are in there.
The outside label bands interested us. Like: The Trading Aces from Denmark doing "Beautiful Sunday" which had a druggy psychedelic feel to it. It takes you back to 1967. They are not on the Rum Bar label…that we know of!
The same situation goes for The Hellers from Germany.
The Glimmer Stars from California have a comfortable pop rock style with "Pictures of You" that references The Kids Are Alight and Ready Steady Go.
The Anti Virals are more punk and political with a strong message in "Flag People.
It all shows how open, engaged and busy the Rum Bar music juggernaut is. We're running trying to keep up with them.
We heard Structure Sound from Providence on Joanie Lindstrom's Late Risers Show this week. Joanie mentioned that they have a Bad Religion sound and boy do they!! It's all good for us. "Waves" is the tune and we don't think this is the last we will hear from this group.
We like these memories Tom Baker has posted on social media that relate the songs both he and Justine wrote for each other.
One of his posts said: "Justine and I often wrote songs for or about each other and our relationship. Some were happy and hopeful but others were about heartbreak and disappointment - just comes with the territory of a passionate bond. I'm going to include 2 such songs here - one of mine and one of hers. These were born and inspired by the island where we fell in love. Even the album art (both photos taken by Justine) is from that island."
Tom's song (above) is "Pushing You Away" where he captures a down mood. Justine's' (below) "You And Me Against You And Me" has a title alone that sounds like classic country and the lyrics deliver the sad message clearly.
---
Here's some good shows coming up .....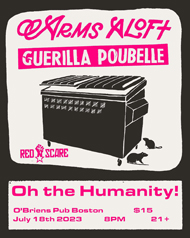 July 18, 2023 (Thursday) Arms Aloft, Guerilla Poubelle, Oh the Humanity at O'Brien's
July 19, 2023 (Wednesday) Miracle Blood's first official tour show at Dusk in Provi, RI with Cross Bite, Ghost in the Snow, Sleep Mode.
July 21, 2023 (Friday) Radio 95.9 WATD, Rock the Lot #5, Marshfield with Warthog (Ramones Tribute), The Chelsea Curve, The New Frustrations, Charlie Don't Surf (Clash Tribute). 6-8:30 PM FREE! 135 Enterprise Dr Marshfield - FB page.
July 21, 2023 (Friday) Midnight Creeps, Hammered Saint, Sourpunch at The Midway
July 21, 2023 (Friday) Cheap Beer Booking Presents- Eradicator, Couch Sex, Burp at Koto Salem
July 21, 2023 (Friday) Kid Gulliver and Sly Fang at Exhibit 'A' Brewing
July 22, 2023 (Saturday) Blame it on Whitman, Jerrys Got Jokes, SleepJumper, Dear Maryanne - at The Midway 3PM Matinee
July 22, 2023 (Saturday) Taken By Vultures, The Downhauls, Low Lives - Middle East Up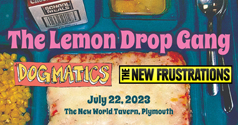 July 22, 2023 (Saturday) The Lemon Drop Gang EP release with The Dogmatics, The New Frustrations at The New World Tavern Plymouth MA. Facebook page
July 22, 2023 (Saturday) Wicked Cool Show at The Shaskeen with The Graniteers, TFR, The Wicked North, Matty Anderson - 9PM- FB page.
July 22, 2023 (Saturday) 1.4.5., Stigmatics, Black Souls at The Square Root
July 22, 2023 (Saturday) Gene Dante & TFS, Tiger Bomb and Can't Tell You are at Empre Live in POstland, ME - FB page
July 23, 2023 (Sunday) Bad Idea USA, Official Hooligans, Dilemma Rose & The Wailin Milfs, The Invisible Rays at State Park
July 23, 2023 (Sunday) Cro-Mags (Performing Best Wishes), The Long Wait, Klaxon, Face First, S.A.C at Alchemy in Providence RI
July 24, 2023 (Monday) Kenzie, Castle Doctor (NM, Aber Fly, Thee Fighting Fish at The Silhouette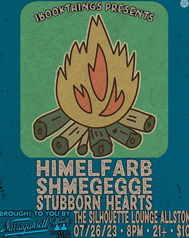 July 24, 2023 (Monday) Himelfarb, Shmegegge, & Stubborn Hearts @ The Silhouette Lounge
July 27, 2023 (Thursday) Jim Sullivan is having his Backstage & Beyond Boston Book Launch at The Paradise - 6PM.
July 28, 2023 (Friday) Degenerates of Punk, No Detour, The Sleds, Key of Caustic at the Jungle 8PM
July 28, 2023 (Friday) Glowbox, Holy Smoke, Little Billy Lost - at Faces Malden 8pm All Ages $20
July 28, 2023 (Friday) Skybar Rising & Rum Bar Records present Summer Sizzler Round 2 @ The Square Root with The HI End, Freeloader, Kate Redgate FB page
July 28, 2023 (Friday) Deprogrammer Cult, Sexless Marriage, Done, Mind Killer at Koto Salem
July 29, 2023 (Saturday) Once Block Party at Boynton Yards with Barrence Whitfield, Jill McCracken, The Womps, Field Day, Casey Neil - FREE 4-10PM
July 29, 2023 (Saturday) Miracle Blood at The Jungle
July 29, 2023 (Saturday) Color Killer at The Square Root
July 29, 2023 (Saturday) The Instamatics, Uncle Spudd, Wired For Sound, The Cindy Crawford Cult - 3PM matinee at The Midway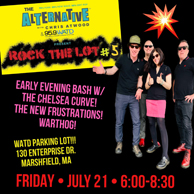 July 29, 2023 (Saturday) Thalia Zedek Band, Autopolitan, Tyler & The Names at Faces Brewery Malden
July 29, 2023 (Saturday) Tigerbomb at The Marshall Wharf Brewing Co. Belfast, ME FB page.
August 2, 2023 (Wednesday) The White Bear Principle, Sleep Jumper, Dead Vapor & From Starlight @ The Silhouette Lounge
August 3, 2023 (Thursday) Poison Ruïn, Home Front, Savageheads, Sinister Ward, Silver Dagger at Garage B Brighton Speedway
August 5, 2023 (Saturday) Crown Court, Violent Way, Oil!, Klaxon, Doc Marten Soundsystem at The Midway - 8PM
August 5, 2023 (Saturday) Huck 2, Alabaster Sons, Bobby Oakes and TV Models, Getaway Moon, Daisy at The Midway Cafe for a Matinee Show.
August 9, 2023 (Wednesday) Rawstrum, Horsehands, Big Howard, Joeypiff at The Silhouette FB page
August 9, 2023 (Wednesday) Sick of It All with Life of Agony at Brighton Music Hall Tickets
August 11, 2023 (Friday) Modern Day Idols at Exhibit A Brewing, Framingham. 7-9PM
August 11, 2023 (Friday) Tiger Bomb, Freeloader at The Burren FB page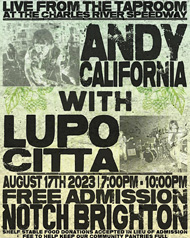 August 11, 2023 (Friday) Andy California and Lupo Citta at Notch Brighton (bring shelf stable food donations and health supplies at this and every event to help fill our local community pantries.) 7PM
August 11, 2023 (Friday) KCUF record release with Jukebox Romantics, In the Meantime, Jeff Bousquet - 8pm All Ages at Faces Malden
August 13, 2023 (Sunday) Booze Cruz'n with Stop Calling Me Frank, The Chelsea Curve & The Shang Hi Los around Boston Hahbah...Boarding starts at 3:30pm and boat will be leaving at 4:00pm sharp! This event is 21+ Advance Tickets $35 on sale now!!! FB page
August 14, 2023 (Monday) Linnea's Garden, Drama Dolls and Hammered Saint at O'Brien's
August 17, 2023 (Thurday) Andy California & Lupo Citta at Notch Bewery RSVP Tickets 7PM 21+ FREE
August 19, 2023 (Saturday) Once Block Party at Boynton Yards with Hasaan Barclay. Lonely Leesa & The Lost Cowboys, Trespasser, Moxie, The Far Out - Free - 4-20PM
August 19 & 20, 2023 (Sat & Sun) In Between Days Festival - 2 Stages, 2 Days, 24 bands ... and Cool Vintage and Local Market Place, Vinyl Record Pop Up Shop, Food, Modest Mouse , Weakened Friends, Paper Tigers, Clarissa Johnson, Dutch Tulips and the South Shore's own Gypsy Moths. You'll want to get your tickets now because they have a 'tier' system. They have some "tier" ticket scheme so the longer you wait the higher the ticket prices are. FB page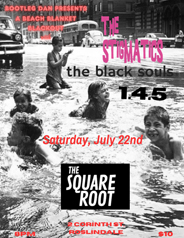 August 23, 2023 (Wednesday) The Supersuckers,The Rumours, Far Above The Ground, The USM at The C Note in Hull.
August 24, 2023 (Thursday) Generación Suicida at Deep Cuts Tickets
August 24, 2023 (Thursday) Headband, The Endorphins & Fantastic Trees at Notch Brewery & Tap Room - Brighton 7-10PM 7PM 21+ FREE RSVP Tix
August 25, 2023 (Friday) Bone Up Brewing Seventh Anniversary Festival Night 2 - 6pm -10PM with The Guilloteenagers, Blood Lightning, Lesser Glow
August 25, 2023 (Friday) The 5.6.7.8's, Sit n' Spin plus DJ Pokemonjeff of the group Lyres - at Sonia - 8PM doors
August 25, 2023 (Friday) Key of Caustic at The Sqwuare Root
August 25, 2023 (Friday) Mach Bell Experience, The Cynz (NYC) at Back Room at the Burren
August 26, 2023 (Saturday) Bone Up Brewing Seventh Anniversary Festival Day 3 12:30pm- 10PM with from 1st to last: DnA's Evolution, Glacier, Sundrifter, Clouds Taste Satanic, North Star the Wanderer, SkyTigers (6PM), Brain Famine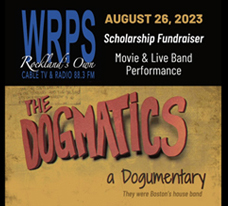 August 26, 2023 (Saturday) WRPS Rocks - Scholarship Fundraiser: A Dogumentary & The Dogmatics at Rockland High School Auditorium - Doors at 6 pm, Movie at 7 pm (90 min), followed by The Dogmatics- Facebook page Buy tickets here!!
August 26, 2023 (Saturday) Rock N Roll Candlepin with U-Ey at the Buoy at the Cape Ann Lanes in Gloucester. FB page
August 26, 2023 (Saturday) The 5678's, Sit n' Spin, Tiger Bomb, Gamma Goochies at The Space in POrtland, <E
August 27, 2023 (Sunday) Bone Up Brewing Seventh Anniversary Festival Day 4 - 12:30pm - 7PM - with Weisstronauts, Organ Meats, Hobo Wizard, Cortez, Major Stars, Crowfeeder
August 31, 2023 (Thursday) Tsunami Bomb, The Dollyrots, The Shang Hi Los at Sonia
August 31, 2023 (Thursday) Time and Place, Micheal Kane and the Morning afters & Bitter Pill at Notch Brewey Brighton. Free but reserve a space here.
September 2, 2023 (Saturday) Hope Fest - A Benefirt for NAGLY (North Shore Alliance for GLBTQ+ Youth) with Mall Cops, Pink Navel, Circus Tree, Tattooine Punk Scene, and many many otgher bands - 39 bands across four venues, accompanied by lively vendor markets scattered throughout Downtown Salem. Noon to 11:45PM FB page.
September 3, 2023 (Sunday) Belvedere, One Fall, Oh The Humanity! - 7pm All Ages $15 at Faces Malden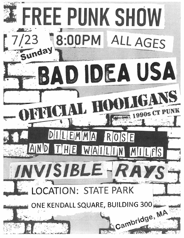 September 9, 2023 (Saturday) Kelly Knapp, and Simon Ritt, 61 Ghosts, Hummingbird Syndicate at The Square Root
September 10, 2023 (Sunday) Somerville Rock + Roll Yard Sale Union Square 12 - 5PM. FB page.
September 10, 2023 (Sunday) Huck2 Album Release Party! With special guests Key of Caustic, Motel Black, and Acrylic Killers at , The Middle East UP Doors at 5:30PM
September 14, 2023 (Thursday) Sorry Mister, Cold Expectations, Bad Verb at the Notch Brighton Tap Room 7-10PM - FREE bring some shelf stable food to donate.
September 15, 2023 (Friday) Booze & Glory, Avem, The Downhauls, Losers Circle at Deep Cuts Medford - Tickets
September 16, 2023 (Saturday) L7 at The Brighton Music Hall
September 17, 2023 (Sunday) Komintern Sect, Cinderblock, Battery March, Grip Bite at NOON at the Middle East Up. TIX
September 17, 2023 (Sunday) Halfway to St. Patrick's Day 3 PM Matinee with The Gobshites, The Peelers, The USM, Jonee Earthquake Band at The Midway
September 19, 2023 (Tuesday) Ash Code, Pilgrims of Yearning, Ghost Painted Sky at The Middle East Up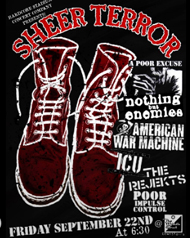 September 22, 2023 (Friday) Hardcore Stadium Presents: Sheer Terror, A Poor Excuse, Nothing But Enemies, American War Machine, ICU, The Rejekts, Poor Impulse Control - Middle East Down - tix
September 23, 2023 (Saturday) 2023 Punks for Pets (#16!!) with The Agents, Vague, Sourpunch, Starbath, Shirley Drive, Musclecah, Crossbite - outside at NickANee's (Indoors if it rains) Something from the wish list is your ticket in. See the Wishlist on the Facebook event page.
September 26, 2023 (Tuesday) Dead Boys, Nervous Eaters, The Plimsouls at The Middle East Up FB page.
September 28, 2023 (Thursday) Dead Boys, GLiDER, Midnight Creeps, One Fall at Alchemy Provi RI. FB page.
September 29, 2023 (Friday) Anti Heros, Legion 76, Antagonizers, Blood Stained Brindle, Absuctors - Middle East Down.
September 29, 2023 (Friday) The Fleshtones + The Nervous Eaters - FB page
October 7, 2023 (Saturday) Agent Orange, Spice Pistols at The MIddle East Down
October 7, 2023 (Saturday) The Welch Boys, The Long Wait, The USM, Josephine With A Cause at Faces Brewing
October 11, 2023 (Wednesday) The Mission UK & The Chameleons: Deja Vu Tour 2022 Rescheduled to 2023!!! also on the bill Theatre of Hate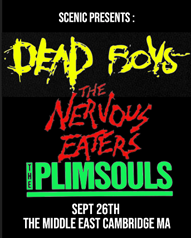 October 12, 2023 (Thursday) The Len Price 3, The Chelsea Curve, Cynz, Tiger Bomb. at Geno's Portland, ME
October 13, 2023 (Friday) The Len Price 3, The Chelsea Curve, Muck & The Mires at The Burren Backroom,
October 14, 2023 (Saturday) The Len Price 3, Palmyra Delran and the Doppel Gang, Steve Krebs and The Maynard G's at Parkside Lounge NYC
October 20, 2023 (Friday) The Jacklights at The Square Root
October 21, 2023 (Saturday) Bicker Sins, Classic Ruins, Little Billy Lost at The Square Root
October 26, 2023 (Thursday) Mudhoney at The Brighton Music Hall 18+ TIX
November 3, 2023 (Friday) Modern Day Idols Single Release Party with Tad Overbaugh and the Late Arrivals at Square Root, Roslindale.
December 8, 2023 (Friday) Huck 2, Gretchen Shae and The Middle Eight and Key of Caustic at Koto Underground, Salem
CONTACT US AT....misslynbgn@yahoo.com Send us your gig listings, your anything else you've got!! You want your CD reviewed?? Contact us for that too.
---
---