The BGN News Archive
July 18, 2022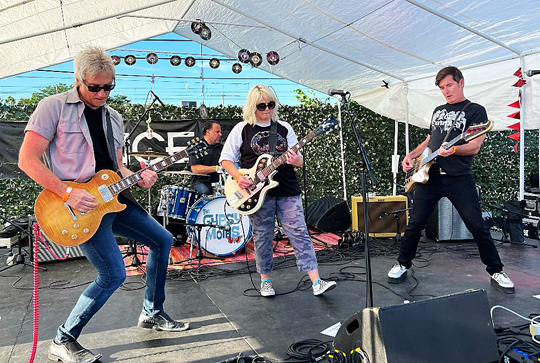 Shang Hi-Los at Rumstock
We got the sad news of two deaths this week, Thom Lane and Tony De Brito.
Thom Lane did a lot to shape the early Boston punk scene as producer of the Late Risers Club on WTBS (now WMBR).
When punk began the Late Risers Club was just playing the regular rock of the day. The only real punk show was Oedipus' Demi Monde (earlier called the Nuit Blanche). Tom could see the attention that Oedipus was getting and thought the future was there, in punk. As producer he then changed the Monday to Friday show to a punk show. At that point there wasn't a lot of punk music released. There was lots of song/group repetition from day to day. DJ's often found each other in competition to get the punk imports when they hit the record stores so they could be the first to play new music.
It's hard to imagine the influence today of being able to hear punk on the radio every day. Up till then it was just once a week with Oedipus. Thom's idea was that the LRC would be an all-round radio show, not just music, but weather, traffic and news. The intent was that the listener didn't have to turn the dial to get that info after hearing their punk. Tom also required DJ's to play a reggae song once an hour because that was part of what punk was drawing from then.
| | |
| --- | --- |
| The Last Demi Monde w/ Oedi, Mark Flynn, Peter Gates, and Albert O | With Oedipus and Pete Shelley of the Buzzcocks |
The LRC as Thom set it up is still going 45 years later. Thom picked the DJ's that became Late Risers. Blowfish owes his stint as a LRC DJ to Tom.
Thom was seen as the Captain, the guy in charge and he carried himself that way. Thom was also the first LRC DJ to get a separate show, which he called Radio Heart, after a Willie Loco song, to play even more punk. He played the lascivious coach in The Creeper, the unfinished movie by Unnatural Axe. He later had a regular gig as a club DJ at Spit and was a DJ on WFNX. So many people heard so much music from Tom through those punk years.
Thom drove a cab in the early days. Later in life he moved to Las Vegas. He seemed so much a Bostonian that it was hard to reconcile his move out west. When we think of Thom we can't help but think of the days when punk began in Boston. Thom, the influencer, was there shaping the experience. RIP Thom Lane.
Thom and his part in the LRC is told in the Late Risers Club documentary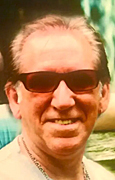 Tony De Brito was a long time scenester. He worked at New England Music City in Kenmore Sq. Meeting people you know is always part of the fun of going to a club but interacting with Tony and his partner Perry Adler (who just died two months ago) was a special delight. Talking to Tony made you feel better. How great to be a person like that.
We have some photos and a review by Captain Easychord of Rumstock at Boynton Yards by Once. He caught The Dogmatics, Muck and the Mires, the Shang Hi-Los and the Gypsy Moths. There was good attendance for this show. Click the photo link below for the full report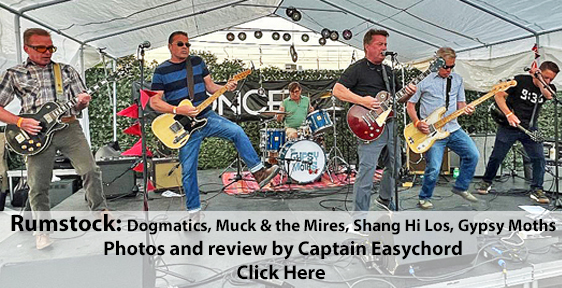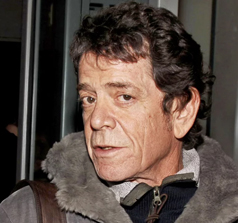 Lou Reed: Caught Between the Twisted Stars is a new exhibition of Lou Reed material at the New York Public Library. The material was donated by Laurie Anderson. She wanted everyone to be able to access it : "I want to have this open to any young kid who's a musician," Anderson tells NPR, "and wants to go and hear a bunch of Lou's rehearsals. And they can go and do that – for free!" Much has been digitized and is searchable on the library computers. But there is also lots of artifacts on exhibition.
There's many recordings, concert videos, photos, and more. It seems worth a trip to NYC for Lou fans.
Here's an article on the NYT site. When you go to the page we suggest you listen to the five minute audio link because it has extra info.
We've been talking about the Danny Garcia documentary Nightclubbing: the Birth of Punk in NYC for a few weeks and it premiers in the Boston area today as we write. Max's Kansas City holds a key place in the beginning of punk. There's a review that goes further into the story than most because the reviewer was at Max's during those early years. That would be Robert Barry Francos of FFanzine magazine.
He ends the review with a song clip of Wayne County doing "Max's Kansas City". If you have the interest, this is the article to read!!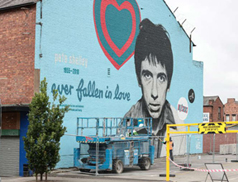 It took decades but punk is getting more and more accepted ... after the fact ... The latest example is the mural for Pete Shelly of the Buzzcocks that was painted in his home town of Leigh, Lancashire. The mural is based on the "Ever Fallen In Love" single artwork by Malcolm Garrett. Malcolm was at the dedication which is fitting.
Councillor Chris Ready stated: "Pete was always incredibly proud of his northern roots, and we hope that the mural will help Pete's legacy live on and inspire more young artists and musicians to break down barriers and follow their dreams." It's great to see punk as a source of inspiration.
A Buzzcocks tribute band play after the unveiling. Their name? The BUZZKOCKS, Read/see more here.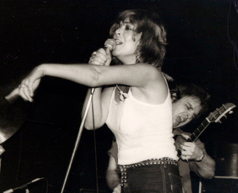 We first knew about Genya Raven from her work in Ten Wheel Drive in the 70s. From there we found out about her time in Goldie and the Gingerbreads. Then she had an album during the punk era with Urban Desire that has a duet with Lou Reed and where she covers a John Cale tune.
We didn't know 'til later about her involvement with CBGB's never mind her brush with concentration camps in Poland!!
There's a lot to know about Genya. This article in the Forward website covers it. Maybe not surprisingly it's written by Jim Sullivan, ex of the Globe (1979-2005). Jim is able to get the whole sweep of her career. Read it here.
A very popular record store in New Bedford is moving. But not to worry. It's only going a few miles away. Purchase Street Records is going from its name street Purchase St. in downtown New Bedford to Pope Island across town. They'll keep the same name. The owner Roger Chouinard made the move to get more space for the store and more space for parking.
Now he displays 7500 LPs, in the new location he will be able to show 20,000 LP's. The move is happening on July 23 and will take three weeks, estimates Roger.
The article is on the Radio Fun 107 website
---
VIDEOS......
Bands, Beer and Banter logs anther show!! First the drinks: Citizen Cider's Strawberry Crush, Castle Island Brewery's Keeper and Black Hog Brewery's Cold Pizza Pilsner (which did not taste like pizza).
The videos were: Wicked Death doing "Manic Panic" – they are new to us and sounded like a group to keep track of, Stormstress doing their epic ballad "Fall With You", The Daylillies with "Ode to TV" and Paper Tigers do "Goldmine". Paper Tiger use a pastiche of live show cuts to make the video. Hearing "Goldmine" anew it's hard not to be impressed again. Simply a great band.
Jay Prozac has a new video for his song "Days Go By" which was on his Won't Let Go album.
The song, especially the first half is not typical Prozac material. Rather than a pop punk rush it's low key acoustic strumming. Lyrically it's about people who have passed on these last few days so its somber start is appropriate. Because it's not expected it's also more effective.
After a minute the songs opens up with a full band. The video opens in black & white then moves to color. Jay uses some of his pop punk moves to add interest. That doesn't interfere with the mood of the song.
It's a little stretch for the Prozacs and it does address the passing of friends and acquaintances we have had these last few years.
The Knightsville Butchers from Providence have released a video/song that captures the zeitgeist. "No American Dream" is about what many feel now and it's got a simple hook to drive it home. The group has a 70s straight rock sound with a little jangle.
---
RADIO......
More interesting programing on WMBR ... 88 Rewound (Sat 8-10am) plays a playlist from a radio show in the past. This week it was a playlist close to home, meaning WMBR, from June 1986. It's taken from the top songs played on the station that week.
It starts off with "When Yr Done" by The Five. It's been a long time since we heard Reid Paley's voice. There are other local groups in the line up: The Dogmatics, Uzi, Dumptruck and Jonathan Richman ('Double Chocolate Malted"), also played are Yo La Tengo, The Feelies, Sonic Youth, Mojo Nixon, The Bodeans, Big Black, Dream Syndicate, Buthole Surfers, The Three Johns (John Langford of Mekons side project), and Leaving Trains.
We don't remember the cover of "Stepping Stone" by the Smack.
There's decades of music since 1976 shook things up. The music has gone through so many phases. It's so interesting to hear what the music was doing in a random year like this. DJ Keith Sawyer does an exemplary job giving background info on the groups that helps to refresh your memory about the bands not often played anymore.
Listen to the show by going to the WMBR Archive page and hitting the link to the 88 Rewind show on Saturday 7/16 at 8am.
The Leaving Trains "She's Looking At You" is one of the songs that is very evocative of the era.
---
PODCASTS.........
This week Blowing Smoke with Twisted Rico gets Justin Keane and Amy Young of Canyons And Locusts who are on Red on Red Records. Steev's a big fan of the two person group. Even though Canyons And Locusts is fairly new, the two started playing music together in 1999.
Their album Roll the Dice was recorded at New Alliance in Somerville. They are planning to tour in late October and November with a Boston date included.
---
NEW MUSIC/CDs......
Nobody wants to buy the same album twice, so what about The Sex Pistols – The Original Recordings? Is that worth getting the Never Mind the Bollocks album songs again? In a word, yes.
The Original Recordings are razor sharp and raw. Listening to this Never the Bollocks it's like having ear plugs in. The bass does get a bit boomy here and there but it also hits you and you notice it.
New album doesn't have "Liar", "EMI" or "Seventeen".
It does have three b-sides "I Did You No Wrong", "I Wanna Be Me" and "Satellite". It has a bunch of songs from The Great Rock & Roll Swindle like "Stepping Stone", "Something Else", C'Mon Everybody", and even "My Way".
The twenty cuts give you a fuller idea of the Pistols and what they did other than just the simple Bollocks album.
If you're a fan of punk you want to get this!! To the casual listener, it's not needed.
The Thigh Scrapers have songs from a few different sessions which are collected to their self-titled album. They play a in a classic hard rock style.
Even with all the competition "Radio" still stands out. It's got the right subject matter for DJ Brian Young and the fantastic riffage by J Christopher James. "8 Ball Shifter" is close behind. "Shatter" is another song with some good moves.
Our fave is "Color Blind". They let the drums take over a few times and they sound big. Then the guitar solo has all sorts of wild effects going on and that's different and interesting.
Every song comes out of the door like a Saturday night party. This group just wants to rock.
Early punk legends The Vibrators are putting an end date on their career by doing an official break up and releasing their final album – Fall Into the Sky.
We were thrilled to see a version of the group at O'Briens in September of 2019 https://www.bostongroupienews.com/News090919.html. They played material from later albums which was punky good and then the early hits.
Right now they have one song released titled "Burning Me Up". Again, it's got energy and an edge, this group never softened up with time.
Motel Black have been releasing single tracks regularly for a while. Now they've collected them into an album. Motel Black are dark and moody without going into goth territory. Their group sound would make for a good dystopian movie soundtrack. Having the tracks line-up in album form confirm the impression that the songs are well crafted and well thought out for impact.
They aren't afraid to take time to build up tension before they crank things up. In "Quoting Theroux" they take two minutes to bedrock the tune. In "Morning Hum" they slow burn for four minutes before the volume release.
Our favorite song is the last, titled "Single Stall". That one never breaks the mood. It's dark and slow all the way for five minutes and does the job for us. At the 1:45 minute mark they get an ultra-low guitar sound, it scrapes the bottom, real nice. The drums are notable. They are not simply keeping time, the drum beats are regular but seem independent at the same time. This is a depresso classic.
---
Here's some good shows coming up ..... **NOTE** double check with the clubs before going - many shows are getting canceled or postponed these days.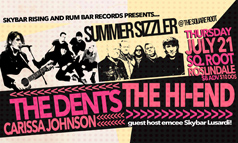 July 21, 2022 (Thursday) Skybar Rising & Rum Bar Records presents Summer Sizzler @ The Square Root with The Hi-End, The Dents, Carissa Johnson starting at 8PM.
July 22, 2022 (Friday) Mad Painter, The Stigmatics, Doug MacDonald Band do an early show at The Jungle - music starts at 6PM. FB page.
July 22, 2022 (Friday) Heavy Leather Horror hosted by Kelly Kapow and Lauren "LP" Piandes, with burlesque by Jynx Merlot, and musical guests Warthog,
Hammered Saint, Baabes at Koto in Salem.
July 22, 2022 (Friday) Brix'N'Mortar at Ralph's Diner, Worcester.
July 23, 2022 (Saturday) Hardcore Matinee with Second Spirit & More TBA at Alchemy, Provi, RI. 5:30-9:30PM FB page.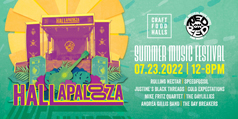 July 23, 2022 (Saturday) Hallapalooza - Summer Music Festival Featuring several Red on Red Records Artists along with other local talent - starting with Rolling Nectar, Speedfossil (at 1PM), Justine's Black Threads, Cold Expectations, Mike Fritz Jazz Trio, The Daylillies, Andrea Gillis Band, The Day Breakers at Craft Food Halls - Revolution in Lexington. FB page.
July 23, 2022 (Saturday) The Chelsea Curve, Little Billy Lost, Tsunami of Sound and DJ Sherman at Bone Up Brewery Everett.
July 26, 2022 (Tuesday) Exsanguination, The Prozacs, Working Poor USA, Hippocrisis at The Midway
July 28 2022 (Thursday) Paper Tigers, We Demand Parachutes, Verdegree at Notch Brighton - FREE! starts at 7PM
July 28 - 30, 2022 (Thurs - SundayFriday) Nice Fest in Davis Square the Crystal Ballroom and the Rockwell. Nice Fest site for schedule, info and tix.
July 29, 2022 (Friday) Sidewalk Driver and Weakened Friends are at The Wellfleet Beachcomber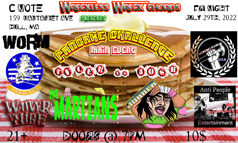 July 29, 2022 (Friday) Pancake Challenge With Worm, Jobber, The Martians, Working Poor USA, The Hagglers, Waiverwire + APE - huh? Pancakes? Wreckless Wreck Chords Presents Summer Sizzler Pancake Challenge Over 5 Years In The Making Tyler From The Martians Vs Josh from WORM/Jobber/ Crimespree. They've Been talking shit for years about who can eat more Pancake We'll Finally Its gonna Happen after Both Challengers Play their Respective Sets They Will sit down And Settle this once and For All. At the C Note in Hull!! FB Page.
July 29, 2022 (Friday) 35 and Still Alive - The Midway Day 1: CE Skidmore & The Damn Fine Band, KCUF and SHAKE FB page.
July 30, 2022 (Saturday) 35 and Still Alive - The Midway Day 2: Rick Berlin, Muck and The Mires, Andy California, Gene Dante & The Future Starlets, Fireking,
Lenny Lashley's Gang Of One, Thalia Zedek Band, Jay Allen & The Archcriminals, Hobo Chili, Loser's Circle, Richie Parsons, Britt Walsh, Jake Tringali FB page
July 30, 2022 (Saturday) Tiber Bomb (celebrating the release of their 2nd album, "Sugar Buzz), Greg Allen's Fringe Religion are at The Square Root FB event page.
July 30, 2022 (Saturday) Mellow Bravo, Cocked N Loaded, Sidewalk Driver at The Middle East Down.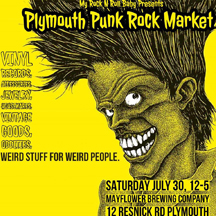 July 30, 2022 (Saturday) Key of Caustic, Tysk Tysk Task, Leah Guanipa, WiredForSound at Union Tavern, Union Sq in Somerville,
July 30, 2022 (Saturday) Plymouth Punk Rock Flea Market at The Mayflower Brewing Co. 12-5PM FB page
July 31, 2022 (Sunday) 35 and Still Alive - The Midway Day 3: The Crank-Tones with The Fathoms Trio and The Hi-Fi Lowdowns 3PM Matinee - FB page.
August 2, 2022 (Tuesday) The Legendary Cazbats, GLiDER, The Golly Geewillikers at The Jungle - FB page.
August 3, 2022 (Wednesday) Jasmyn, Linnea's Garden, Junior Classics, Daphne Blue Underworldat O'Brien's
August 4, 2022 (Thursday) Deprogrammer Cult, Duck & Cover, C.O.B. , Give Up! at Sammy's Patio in Revere. Facebook page
August 5, 2022 (Friday) Brunt of It, Stray Bullets, Joystick, Jerry's Got Jokes at The Midway
August 5, 2022 (Friday) Sunshine Riot, Amy Mantis, Your Friends in Hell and Glowbox at The Square Root - Facebook page
August 6, 2022 (Saturday) The Very, Crow Follow, and Home Despot at The Square Root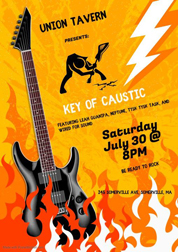 August 6, 2022 (Saturday) Mint Green, FLKL, Dutch Tulips at Faces Brewing Co. Malden. FB page.
August 7, 2022 (Sunday) Scurvy Dog Parking Lot Mega-Show - it's FREE and it starts at 2PM with Knickerbocker5 ... then Greg Allen's Fringe Religion, Epochsis, Bug Bites,We Own Land, Grip Bite, Public Nature, Sasquatch and his Full Moon Boys, Killer Kin, the Doosh Bags and Tall Teenagers (9:30pm). FB page.

August 11, 2022 (Thursday) Salem Wolves, Michael Kane & The Morning Afters at Notch Brighton- Free Admission but they will be collecting non-perishable food donations at the door -Show times 7-11 pm

August 12, 2022 (Friday) Today Junior, FEEP, Falcon Brunch at The Middle East Up.
August 12, 2022 (Friday) La Armada (R.D./Chicago), Zeta (Venezuela), Neighborhood Shit, Sick Minds, Born from Demise, Hard Target at Sammy's Patio Revere Beach. FB page. 7PM.
August 12, 2022 (Friday) Radio Compass, Diablogato, Bird Language at Faces Brewery Malden
August 13, 2022 (Saturday) Summer Shimmer at Once @ Boynton Yards - a full day and night of glam rock and glitter! This Outdoor Festival has it all! Come out and support your local musicians and vendors. There will be food, bar, live music, PLUS Glam Karaoke with The People's Karaoke and a costume contest Glampionship with trophies for the glammiest of them all." also 8 local bands including Gene Dante & The Future Starlets, The Jacklights, Sapling, Linnea's Garden, Weakened Friends, Happy Little Clouds and The Pom Poms...this is an all day event with vendors etc- FB page.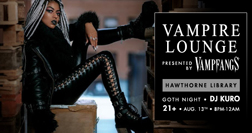 August 13, 2022 (Saturday) Vampire Lounge - Goth Night at The Hawthorne Hotel in Salem with DJ Kuro! FB page.
August 14, 2022 (Sunday) Murdoch, Men and Volts, Meaghan Casey and the Latchkey Boys, Tyler Bejoian - Midway Matinee Starts at 3PM.
August 19, 2022 (Friday) Messer Chups, The Devils Twins, Damnation at Askew Provi, RI
August 20, 2022 (Saturday) Three Hour Tour! with SCMF, The Dogmatics, and Barrence Whitfield on a boat! 21+ $30. Boarding starts 3:30, departure at 4:00 from Rowes Wharf FB page.
August 20, 2022 (Saturday) The Fleshtones, GLiDER, & Tiger Bomb w/ Emcee DJ Brian Young - The Magic Room - FB page.
August 21, 2022 (Sunday) Voice Of Addiction, Brix'N Mortar, Blame it on Whitman, Color Killer - 3PM matinee at The Midway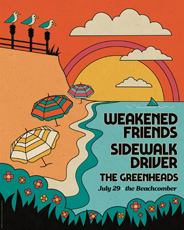 August 26, 2022 (Friday) Bone Up Brewing Sixth Anniversary Bash! 3 days of music! The Guilloteenagers, Blood Built Empire, Lesser Glow, and Worshipper. FB event page is here.
August 26, 2022 (Friday) Kepi Ghoulie + Friends, Bad Idea USA, Adult Learners at Faces Brewing Co. Malden. FB page.
August 27, 2022 (Saturday) Kids Like Me & You (KLYAM) Spring & Summer Program at Morse-Kelley Playground a couple blocks from the Armory. line up to be announced.
August 27, 2022 (Saturday) Phantom Ocean, Orbiter, Minusworld, Thrust Club - 3PM Matinee at the Midway Cafe FB page
August 27, 2022 (Saturday) The Worst, Typhoid Rosie, Marianne Toilet and The Runs, Breaking Up at The Middle East Up.
August 27, 2022 (Saturday) Bone Up Brewing Sixth Anniversary Bash! Organ Meats, The Weisstronauts, DnA's Evolution, Benthic Realm, Attest, Sky Tigers, and Crowfeeder. FB event page is here.
August 28, 2022 (Sunday) Bone Up Brewing Sixth Anniversary Bash! Sunken City, Blue Manic, DnA's Evolution, North Star the Wanderer, and Sexless Marriage. FB event page is here.
September 2, 2022 (Friday) The Woggles with Muck and Mires & The Chelsea Curve at The Porch in Medford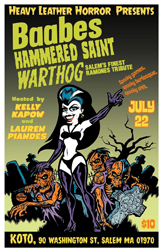 September 4, 2022 (Sunday) Somerville Rock + Roll Yard Sale in Union Square Somerville. FB page for updates!
September 7, 2022 (Wednesday) Kids Like Me & You (KLYAM) Spring & Summer Program with Leopardo from Switzerland at O'Brien's
September 8, 2022 (Thursday) D.R.I at Alchemy in Provi, RI - FB page.
September 10, 2022 (Saturday) Key of Caustic at The Flying Embers Tap Room (152 Hampden St, Boston, MA 02119)
September 16, 2022 (Friday) The Loud Neighbors, Paper Tigers, Salem Wolves, Holy Hands at Dusk Provi RI
September 17, 2022 (Saturday) Kids Like Me & You (KLYAM) Spring & Summer Program at Lincoln Park Somerville (near Union Square) more info to come.
September 17, 2022 (Saturday) Punks For Pets with Joy Boys, Sleep Mode, Sourpunch, Musclecah, Ghost Grrrl, The Debutantes, The Something Somethin's, The Stigmatics - at The News Cafe - early show starting at 1PM. Bring something for the doggos and kittehs check the Donation List on the FB page.
September 23, 2022 (Friday) Soulside, Verbal Assault, Bedmaker, Wrong War at Once at The Armory - 6PM!! . Tix and info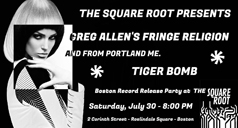 September 24, 2022 (Saturday) The Superfonics have reunion gig at the Midway with Classic Ruins and Shiny Beasts
September 24, 2022 (Saturday) Supersuckers, White Dynomite at The Middle East Up.
September 25, 2022 (Sunday) Come is doing their first home town show in NINE years at the Middle East Up with Home Despot.
September 29, 2022 (Thursday) Early Exit, Paper Tigers, Long Autumn, Robotic Hawks - Middle east Up.
October 5, 2022 (Wednesday) Dr. John Cooper Clarke at City Winery
October 7, 2022 (Friday) Joan Jett Birthday show with Anrea Gillis & Friends and Sue Minichiello & friends doing EVERYTHING Joan Jett. At Sally O'Brien's
October 9, 2022 (Sunday) L7: Bricks Are Heavy 30th Anniversary at Big Night Live FB page.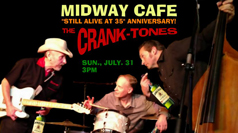 October 11, 2022 (Tuesday) Agent Orange, Midnight Creeps and Gnarnia at Alchemy in Provi, RI FB page.
October 15, 2022 (Saturday) Third Annual Punktoberfest at Thirsty First in Lowell...check the FB page for updates, bands etc.
October 20, 2022 (Thursday) June of 44, The Thalia Zedek Band at The Middle East Down
October 21, 2022 (Friday) Key of Caustic at The Square Root.
October 23, 2022 (Sunday) Dead Boys with The Briefs and Suzi Moon at The Vault in New Bedford. FB page.
October 28, 2022 (Friday) FEAR performing The Record in its entirety at The Middle East Down - FB page.
November 5, 2022 (Saturday) The Mahones, The Pourmen, The Gobshites at Askew in Provi.
November 20, 2022 (Sunday) Hardcore Stadium presents - The Trouble at the Middle East Down (alas this show is sold out)
CONTACT US AT....misslynbgn@yahoo.com Send us your gig listings, your anything else ya got!! You want your CD reviewed?? Contact us for that too.
---
---