The BGN News Archive
July 24, 2023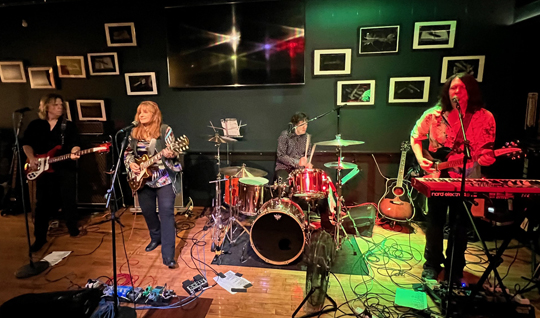 The Grip Weeds at The Square Root
Photo: Captain Easychord
Captain Easychord took in a Bootleg Dan booked show at The Square Root. It was the second show for American Ocelot who are making a strong start, then it was The Grip Weeds from New Jersey. The group played some cool covers along with their originals. Fling are from Durham, NH and the Captain liked their power pop. Check it out here or click the link in the photo above.
Bootleg Dan Anklin has another booking coup. He has Ivan Julian of Richard Hell and the Voidoids in the Burren Backroom on Friday October 20 along with Muck and the Mires and Judy Ann Nock. Some of those cutting riffs on the Blank Generation album are Ivan's. Tickets and more info here!!
John Cooper Clarke got recognition from his home town of Salford, England this week. They gave him their "Freedom of the City" for "His remarkable literary contributions, infused with his unique Salfordian charm, which have made a lasting impact on the world of poetry and beyond. He has inspired countless artists, musicians and writers with his incredible talent and has given a voice to the working-class spirit within his verses." Another recipient of that honor was Nelson Mandela.
Looks like JJC's long delayed show at the City Winery will finally be on September 10!!! You can still get tickets!! Read more here
Liz Borden got signed to Code 213 Records this week. She's been out in California and involved with films. But will be recording a new song "Sweet Pain" soon.
Lizzy Borden will be at The Square Root on Saturday October 7 from 8pm to 11pm.
Code 213 records Dennis Chuning FB page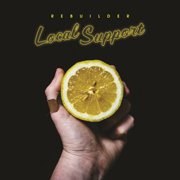 Rebuilder's next album, Local Support will be released on August 11. They're taking preorders for the digital album or vinyl - either Lemonheads Yellow or Arnold Palmer Splatter version. You can order on Bandcamp You get two cuts now and the entire album when it is released. Rebuilder IG page Rebuilder is at the Sinclair on Friday Sept 1 with No Trigger and Choke Up. TIX
Kurt Baker will release the title track of his next album Rock N Roll Club at the end of this month. You can pre-order the album now. It includes his most recent song/video "Anchors Up", that all peaks our interest because we are Crazy for Kurt. Kurt Baker FB and IG
---
PODCASTS.........
Blowing Smoke with Twisted Rico uploaded two shows this week., all hardcore legends. First up was Chris Doherty of Gang Green/Jerry's Kids and Bryan Jones of Jerry Kids. Both Chris and Bryan were from Braintree High so there is some going over some pre punk days. A bunch of punks also met working at the Quincy IHOP. Evidently Bob Cenci had the name Gang Green but the band named themselves Jerry's Kids so Chris bugged Cenci until he let him use the name.
Chris has recovered enough that he is doing a month of Gang Green shows in Europe. Chris also dropped the comment that he has recorded some new Gang Green material.
The second show was with Bob Cenci of Jerry's Kids and (Rocking Bob) Punk Band.
He talks about being in school with Chris Doherty too. They listened to local radio shows like WERS and WMBR and learn about punk. Iggy and the Ramones were some of the first groups. James Williamson is his main guitar influence.
The first Jerry's Kids show was a basement show with the first Boston show being Cantones. Bob gives the whole Jerry's Kids history which we had never heard before.
---
RADIO......

This Tuesday on Skybar's Rising show he will have Nat Freedberg and Bruno Giordano (The Hi-End) to talk about the Sizzler show at The Square Root. Skybar is MC'ing that show. Nat may do some tunes live in the studio.
Hear the show live at 8pm on 91.5 WMFO or after the airing go to the WMFO schedule page, hit the Rising show on 8 to 10 pm on Tuesday nights, then hit the 'archive' button.
---
NEW MUSIC/CDs......
The much anticipated Brix'n Mortar album Something Ain't Right on WTF Records (Netherlands) is out now and on Bandcamp.
You can order a CD version but it's a limited run so get in there fast..
This is the best Brix'n Mortar yet. It's straddles that brutalist hardcore with some melodic additions in the vocals and guitar.
The clear back up singing in the background with the hardcore cranking up front is not a usual thing. A few songs have some synth codas that work nicely.
Even their roaring attacks are like packs of quanta sound not a messy blast of noise.
The lyrics show strong feelings and uncompromising political outlooks.
The height of it all for us is "This Ones For Us". This song has it all; the switch off singing between Joe and Troy, the group roar, the thundering drums, some background singing in the chorus and even some tinkling keyboards at the three minute mark. It works up a head of steam by the time it ends emphatically at 4:16. We have it on our Top Ten Songs
Brix'n Mortar have an album release party with guests The Downhauls, Scumbari, and Wargraves - at AOH in Salem on August 5. Ticket links - scroll below to Gig Listings
Kid Gulliver have a new 8 song album/EP coming out soon. The first teaser single off that is "Because of You." Even though we know what Kid Gulliver can do it's still amazing to hear the reality of a new song by them. The musicianship is top notch. The rhythm section smoothly keeps the song in forward drive, the guitar solo has a nasal tone that delivers classic punk riffage and Simone's voice is distinctive and smooth as silk.
The songwriting has everything in the right measure with a melody that seems timeless. The recording is gorgeous. The vocals are sweet and they change things up in some places by giving things a swirling rotary sound to it. It's a perfect package.
Locals Taken by Vultures have a new song titled "Zuul." They have a massive punk sound!
On their last EP they wrote a song about the movie Willie Wonka and the Chocolate Factory. This song (below) is about Ghostbusters, Zuul is the name of the main monster in the movie. It's a good idea. All of the group DNZL's songs are from Denzel Washington movies – a few albums worth now and they are awesome! (We miss them so much too!)
It's a driving punk song anyway you look at it.
They also have a video for "Zuul" shot at the New Alliance Studio in Somerville
Justin Keane is one half of Canyons and Locusts that are on Red on Red. They were scheduled to start recording the next album when Justine passed. In the changing situation Justin found himself with some solo recording time at New Alliance studios in Somerville. Under the name Jack Graham he's got a solo album is Pentecost Flame and Sepulchre. The first single from that is out: "Risen Was The Day Before" is close to the Canyons and Locusts sound that's got them some good attention. It has a very personal feeling to it. It's like a moment captured. It's not a grand display despite the fuzzed up guitar and thumping drums, it's art in miniature that's short and sweet.
We heard that Geoff Palmer is on a Muffs tribute compilation! We headed straight to that!
An International Tribute to the Muffs originates in Argentina from Grudda Records. It truly amazing how consistently good the performances are. They are recorded well but nothing is too slick.
Also on the compilation are The Methadones, The Queers and the Beatnik Termites. Palmer makes sure his cover "Big Mouth" is good and punk.
We have a LOT of faves: Caroline & the Treats playing "Become Undone", Os Tordo doing "From Your Girl", Morenas Azuis playing "Sad Tomorrow", Fajuto e os Imprestaveis with "End It All", Davi Pacote covers "Outer Space" and Guilherme Leal with "Prettier Than Me". In reality everything is worth hearing.
If you're a Muffs fan you should love this.
This should be obvious, but if not The Limited from Sydney sing up the reminder "Don't Be A Nazi" just in case the haters will listen. It's from their album The Coffin or the Suitcase. It has a classic punk sound.
We have mentioned The Penske Files from Ontario a few time. We loved them when we saw them at O'Brien's in 2016 Their new album Half Glow is out now.
They are a very intense group. They play and sing like they care about every detail. The songs are wordy with lyrics about interpersonal relationships and they get in there and analyze and rationalize their situations.
We especially like "Will We Ever Know" and we have that set up to play below. We listened a few times to this and it really opened up.
We got drawn into the new hardcore album Locked in Time by Restraining Order. The short "Inmates" was first. It is 49 seconds with some jerky bursts that are classic early hardcore style. There are two other songs under a minute and only one out of the twelve that breaks the three minute mark.
And we don't just like the short tunes. The longer song "Painted World" has an extended middle section that has a rolling roar that has plenty of drama. It is excellent studio work.
Generally the group and singing remind us earlier primo hardcore. "Should've Known" reminds us of Minor Threat. It's no nonsense music.
They break the mold once when in "Locked in Time" they have what sounds like an acoustic guitar in the verses. That caught us off guard. What an excellent move!!
We're going to link you to "Misled" below because we have that on our Top Ten Songs but if you're a hardcore person you should listen to the whole thing.
We were blown away the first time we saw Minibeast. A big part of that was the bass playing by Eric Baylies. We didn't know it then but Eric has been around for a while and done a lot of different disciplines. He's often described as an underground artist. This year alone he has put out three books. In addition he is writing a book on the history of Providence rock.
Right now he has a new album called Madonna Lives in My Basement. Eric sings on the album, he doesn't play bass on it which is a surprise for us.
"Exit, Pursued by a Bear" (a famous stage direction from A Winter's Tale) has John 'Drumbo' French playing drums on it. That's special for Captain Beefheart fans. Also guesting on the album is Dana Colley of Morphine, Brendan Canty of Fugazi and Makoto Kawabata of Acid Mothers Temple.
The music is adventurous noise rock and psychedelic among other things. Here is an article about some of Eric's current projects in Motif magazine
Eric's Facebook page You can get the album on Bandcamp
The Lemon Drop Gang (a Rum Bar group who originate from Tucson) played Plymouth on Saturday (with the Dogmatics). Their new two song release has a song that's hard to resist for those of us that still have a little high school left in us. "Johnny is a Jerk" is high drama for teens. It's a lot like the Jilted John's "Gordon is a Moron"
We see it as a summer treat. We don't think it's easy to capture this sort of thing either, the Lemon Drop Gang have the knack and they know how to use it.
---
Here's some good shows coming up .....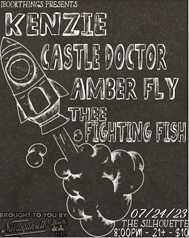 July 24, 2023 (Monday) Kenzie, Castle Doctor (NM, Aber Fly, Thee Fighting Fish at The Silhouette
July 24, 2023 (Monday) Himelfarb, Shmegegge, & Stubborn Hearts @ The Silhouette Lounge
July 27, 2023 (Thursday) Jim Sullivan is having his Backstage & Beyond Boston Book Launch at The Paradise - 6PM.
July 28, 2023 (Friday) Degenerates of Punk, No Detour, The Sleds, Key of Caustic at the Jungle 8PM
July 28, 2023 (Friday) Glowbox, Holy Smoke, Little Billy Lost - at Faces Malden 8pm All Ages $20
July 28, 2023 (Friday) Skybar Rising & Rum Bar Records present Summer Sizzler Round 2 @ The Square Root with The Hi End, Freeloader, Kate Redgate FB page
July 28, 2023 (Friday) Deprogrammer Cult, Sexless Marriage, Done, Mind Killer at Koto Salem
July 29, 2023 (Saturday) Once Block Party at Boynton Yards with Barrence Whitfield, Jill McCracken, The Womps, Field Day, Casey Neil - FREE 4-10PM
July 29, 2023 (Saturday) Miracle Blood, Vacuist, Blame Shifters, Billy, at The Jungle
July 29, 2023 (Saturday) Color Killer, Dirty Walter & The Smelltones at The Square Root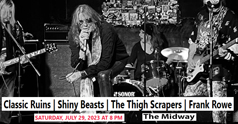 July 29, 2023 (Saturday) Classic Ruins, Shiny Beasts, The Thigh Scrapers, Frank Rowe - at The Midway 8PM show
July 29, 2023 (Saturday) Thalia Zedek Band, Autopolitan, Tyler & The Names at Faces Brewery Malden
July 29, 2023 (Saturday) Tigerbomb at The Marshall Wharf Brewing Co. Belfast, ME FB page.
July 30, 2023 (Sunday) The Instamatics, Wired For Sound, Charmed & Strange, Gimmick, Brode - 3PM matinee at The Midway
August 2, 2023 (Wednesday) The White Bear Principle, Sleep Jumper, Dead Vapor & From Starlight @ The Silhouette Lounge
August 3, 2023 (Thursday) Poison Ruïn, Home Front, Savageheads, Sinister Ward, Silver Dagger at Garage B Brighton Speedway
August 5, 2023 (Saturday) Crown Court, Violent Way, Oil!, Klaxon, Doc Marten Soundsystem at The Midway - 8PM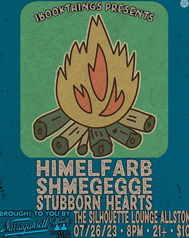 August 5, 2023 (Saturday) Huck 2, Alabaster Sons, Bobby Oakes and TV Models, Getaway Moon, Daisy at The Midway Cafe for a Matinee Show.
August 5, 2023 (Saturday) Scrivner, The Skrims, Mad Painter at The Jungle
August 5, 2023 (Saturday) Brix'N Mortar Record Release show with The Downhauls, Scumbari, and Wargraves at AOH Salem Tickets!!
August 9, 2023 (Wednesday) Rawstrum, Horsehands, Big Howard, Joeypiff at The Silhouette FB page
August 9, 2023 (Wednesday) Sick of It All with Life of Agony at Brighton Music Hall Tickets
August 11, 2023 (Friday) Modern Day Idols at Exhibit A Brewing, Framingham. 7-9PM
August 11, 2023 (Friday) Tiger Bomb, Freeloader at The Burren FB page
August 11, 2023 (Friday) Andy California and Lupo Citta at Notch Brighton (bring shelf stable food donations and health supplies at this and every event to help fill our local community pantries.) 7PM
August 11, 2023 (Friday) KCUF record release with Jukebox Romantics, In the Meantime, Jeff Bousquet - 8pm All Ages at Faces Malden
August 11, 2023 (Friday) Salem Wolves, The Rupert Selection, The Endorphins at Deep Cuuts in Medford
August 12, 2023 (Saturday) Dyr Faser, Electric Street Queens, The Humaniods, Loretta at The Midway 8PM show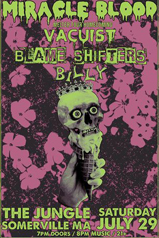 August 12, 2023 (Saturday) Soul Cake (NYC), Va Va Voodoos, Thigh Scrapers at The Square Root
August 13, 2023 (Sunday) Booze Cruz'n with Stop Calling Me Frank, The Chelsea Curve & The Shang Hi Los around Boston Hahbah...Boarding starts at 3:30pm and boat will be leaving at 4:00pm sharp! This event is 21+ Advance Tickets $35 on sale now!!! FB page
August 14, 2023 (Monday) Linnea's Garden, Drama Dolls and Hammered Saint at O'Brien's
August 17, 2023 (Saturday) Andy California & Lupo Citta at Notch Bewery RSVP Tickets 7PM 21+ FREE
August 19, 2023 (Saturday) Once Block Party at Boynton Yards with Hasaan Barclay. Lonely Leesa & The Lost Cowboys, Trespasser, Moxie, The Far Out - Free - 4-20PM
August 19, 2023 (Saturday) 1.4.5., Ray Paul, 28IF's at The Square Root
August 19 & 20, 2023 (Sat & Sun) In Between Days Festival - 2 Stages, 2 Days, 24 bands ... and Cool Vintage and Local Market Place, Vinyl Record Pop Up Shop, Food, Modest Mouse , Weakened Friends, Paper Tigers, Clarissa Johnson, Dutch Tulips and the South Shore's own Gypsy Moths. You'll want to get your tickets now because they have a 'tier' system. They have some "tier" ticket scheme so the longer you wait the higher the ticket prices are. FB page
August 23, 2023 (Wednesday) The Supersuckers,The Rumours, Far Above The Ground, The USM at The C Note in Hull.
August 24, 2023 (Thursday) Generación Suicida at Deep Cuts Tickets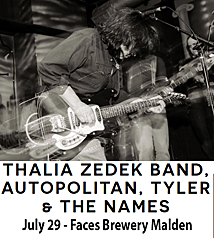 August 24, 2023 (Thursday) Headband, The Endorphins & Fantastic Trees at Notch Brewery & Tap Room - Brighton 7-10PM 7PM 21+ FREE RSVP Tix
August 25, 2023 (Friday) Bone Up Brewing Seventh Anniversary Festival Night 2 - 6pm -10PM with The Guilloteenagers, Blood Lightning, Lesser Glow
August 25, 2023 (Friday) The 5.6.7.8's, Sit n' Spin plus DJ Pokemonjeff of the group Lyres - at Sonia - 8PM doors
August 25, 2023 (Friday) Key of Caustic at The Square Root
August 25, 2023 (Friday) Mach Bell Experience, The Cynz (NYC) at Back Room at the Burren
August 26, 2023 (Saturday) Bone Up Brewing Seventh Anniversary Festival Day 3 12:30pm- 10PM with from 1st to last: DnA's Evolution, Glacier, Sundrifter, Clouds Taste Satanic, North Star the Wanderer, SkyTigers (6PM), Brain Famine
August 26, 2023 (Saturday) Arsen Fest 2023 with Sophisticated Adult, Clock Out, Multiple Pieces, Louzy, Hung, Sike at The MIddle East Up - 6PM doors
August 26, 2023 (Saturday) WRPS Rocks - Scholarship Fundraiser: A Dogumentary & The Dogmatics at Rockland High School Auditorium - Doors at 6 pm, Movie at 7 pm (90 min), followed by The Dogmatics- Facebook page Buy tickets here!!
August 26, 2023 (Saturday) Rock N Roll Candlepin with U-Ey at the Buoy at the Cape Ann Lanes in Gloucester. FB page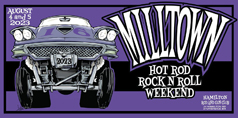 August 26, 2023 (Saturday) The 5678's, Sit n' Spin, Tiger Bomb, Gamma Goochies at The Space in Portland, <E
August 27, 2023 (Sunday) Bone Up Brewing Seventh Anniversary Festival Day 4 - 12:30pm - 7PM - with Weisstronauts, Organ Meats, Hobo Wizard, Cortez, Major Stars, Crowfeeder
August 31, 2023 (Thursday) Tsunami Bomb, The Dollyrots, The Shang Hi Los at Sonia
August 31, 2023 (Thursday) Time and Place, Micheal Kane and the Morning Afters, Bitter Pill at Notch Brewey Brighton. Free but reserve a space here.
September 1, 2023 (Friday) Rebuilder, No Trigger and Choke Up at The Sinclair
September 2, 2023 (Saturday) Hope Fest - A Benefirt for NAGLY (North Shore Alliance for GLBTQ+ Youth) with Mall Cops, Pink Navel, Circus Tree, Tattooine Punk Scene, and many many otgher bands - 39 bands across four venues, accompanied by lively vendor markets scattered throughout Downtown Salem. Noon to 11:45PM FB page.
September 3, 2023 (Sunday) Belvedere, One Fall, Oh The Humanity! - 7pm All Ages $15 at Faces Malden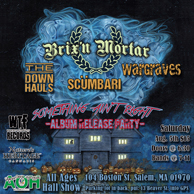 September 9, 2023 (Saturday) Kelly Knapp, and Simon Ritt, 61 Ghosts, Hummingbird Syndicate at The Square Root
September 10, 2023 (Sunday) Somerville Rock + Roll Yard Sale Union Square 12 - 5PM. FB page.
September 10, 2023 (Sunday) Huck2 Album Release Party! With special guests Key of Caustic, Motel Black, and Acrylic Killers at , The Middle East UP Doors at 5:30PM
September 14, 2023 (Thursday) Sorry Mister, Cold Expectations, Bad Verb at the Notch Brighton Tap Room 7-10PM - FREE bring some shelf stable food to donate.
September 15, 2023 (Friday) Booze & Glory, Avem, The Downhauls, Losers Circle at Deep Cuts Medford - Tickets
September 15, 2023 (Friday) The Chelsea Curve, Speedfossil, Hammered Saint at Faces Malden, 8PM All Ages
September 15, 2023 (Friday) The Daylillies, Memory Lame, Octavate, Trailer Swift at The Jungle
September 16, 2023 (Saturday) Thee Fightin' Fish, Zip Ups, American Ocelot at the Jungle for a MATINEE show at 4PM.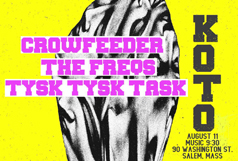 September 16, 2023 (Saturday) L7 at The Brighton Music Hall
September 17, 2023 (Sunday) Komintern Sect, Cinderblock, Battery March, Grip Bite at NOON at the Middle East Up. TIX
September 17, 2023 (Sunday) Halfway to St. Patrick's Day 3 PM Matinee with The Gobshites, The Peelers, The USM, Jonee Earthquake Band at The Midway
September 17, 2023 (Sunday) Modern English at Sonia!!
September 19, 2023 (Tuesday) Ash Code, Pilgrims of Yearning, Ghost Painted Sky at The Middle East Up
September 22, 2023 (Friday) Hardcore Stadium Presents: Sheer Terror, A Poor Excuse, Nothing But Enemies, American War Machine, ICU, The Rejekts, Poor Impulse Control - Middle East Down - tix
September 23, 2023 (Saturday) 2023 Punks for Pets (#16!!) with The Agents, Vague, Sourpunch, Starbath, Shirley Drive, Musclecah, Crossbite - outside at NickANee's (Indoors if it rains) Something from the wish list is your ticket in. See the Wishlist on the Facebook event page.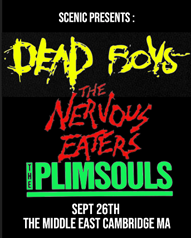 September 26, 2023 (Tuesday) Dead Boys, Nervous Eaters, The Plimsouls at The Middle East Up FB page.
September 28, 2023 (Thursday) Dead Boys, GLiDER, Midnight Creeps, One Fall at Alchemy Provi RI. FB page.
September 29, 2023 (Friday) Anti Heros, Legion 76, Antagonizers, Blood Stained Brindle, Absuctors - Middle East Down.
September 29, 2023 (Friday) The Fleshtones + The Nervous Eaters at Cafe Nine - New Haven CT- FB page
October 7, 2023 (Saturday) Agent Orange, Spice Pistols at The Middle East Down
October 7, 2023 (Saturday) The Welch Boys, The Long Wait, The USM, Josephine With A Cause at Faces Brewing
October 11, 2023 (Wednesday) The Mission UK & The Chameleons: Deja Vu Tour 2022 Rescheduled to 2023!!! also on the bill Theatre of Hate
October 12, 2023 (Thursday) The Len Price 3, The Chelsea Curve, Cynz, Tiger Bomb. at Geno's Portland, ME
October 13, 2023 (Friday) The Len Price 3, The Chelsea Curve, Muck & The Mires at The Burren Backroom,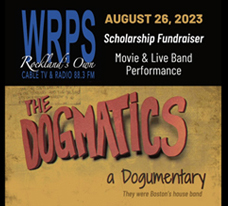 October 14, 2023 (Saturday) The Len Price 3, Palmyra Delran and the Doppel Gang, Steve Krebs and The Maynard G's at Parkside Lounge NYC
October 20, 2023 (Friday) The Jacklights, Double Star (EP Release Party!), Harry & The Hot Flashes at The Square Root
October 21, 2023 (Saturday) Bicker Sins, Classic Ruins, Little Billy Lost at The Square Root
October 26, 2023 (Thursday) Mudhoney at The Brighton Music Hall 18+ TIX
October 27, 2023 (Friday) Darkbuster, Working Poor USA, Noi!se, Battery March, The Stress at Sonia. SORRY SOLD OUT already!
November 3, 2023 (Friday) Modern Day Idols Single Release Party with Tad Overbaugh and the Late Arrivals at Square Root, Roslindale.
December 8, 2023 (Friday) Huck 2, Gretchen Shae and The Middle Eight and Key of Caustic at Koto Underground, Salem
CONTACT US AT....misslynbgn@yahoo.com Send us your gig listings, your anything else you've got!! You want your CD reviewed?? Contact us for that too.
---
---