The BGN News Archive
July 29, 2013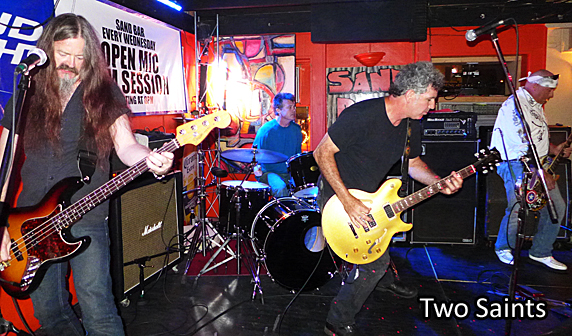 You never know what life will deal out and this week had a real out of the blue shocker that Lord Manuel had died. Here are some sentiments about Manuel from Blowfish: "He was such a nice guy and a superior musician. I played with him for a few years in the Count Viglione's August Phenomenon. Those were heightened days with lots of stress and egos flying around. Manuel was notable because he exuded calm and no noticeable ego. I can think of a few times when his very plain thinking helped us find a better way. Invaluable attribute for any band or organization." Karen Debiasse captured a lot in some memories and thoughts on Facebook.
Manuel released a 45 Sci Fi Lover on Varulven that has great interest for Boston music fans. It had two original songs with backing by the Neighborhoods on one side and LePeste on the other. That's pretty impressive. RIP Manuel!!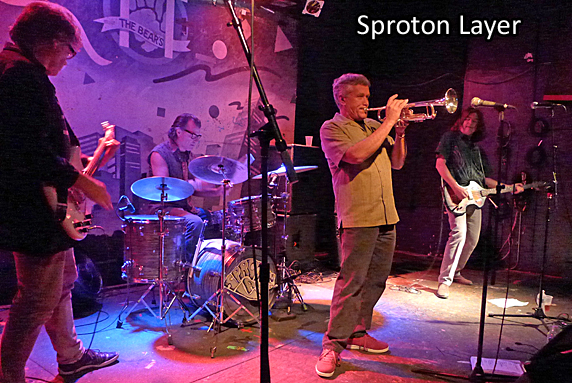 This is what Blowfish did on Thursday: Sproton Layer at TT's-Roger Miller reunited his 1969 band Sproton Layer and is having a few gigs one of which was TT's on Thursday. If you are like me it almost got by without notice. I did hear the group on Lost and Found on WMBR earlier in the day.
The beauty of TT's is that they post set times on their website. I wish that idea would spread. I made it there just before the set and the club had a respectable crowd for a Thursday. The audience was peppered with the usual devotees. It was all very comfortable.
Sproton Layer played and sounded like the intervening years didn't exist. It was very psychedelic. I was having acid flashbacks and I never took acid. The guitarist had a fuzz tone that brought Iron Butterfly to mind, and I love that. There were many jams but not too long. All the playing was excellent you could focus on any player and hear interesting things. The group is mainly a trio with a trumpet playing about a third of the time.
The trumpet was a revelation. It added a coloring that you don't usually hear in this type of music. The trumpet lines were simple leading melodies that helped lead the ear amidst the very busy bee hive of playing by the other three musicians.
This was a very welcome reunion. It worked for the audience and Roger especially looked like he was having lots of fun playing bass. He said he bought the bass in 1964 - wow. Every project Roger does is quality and this was no exception.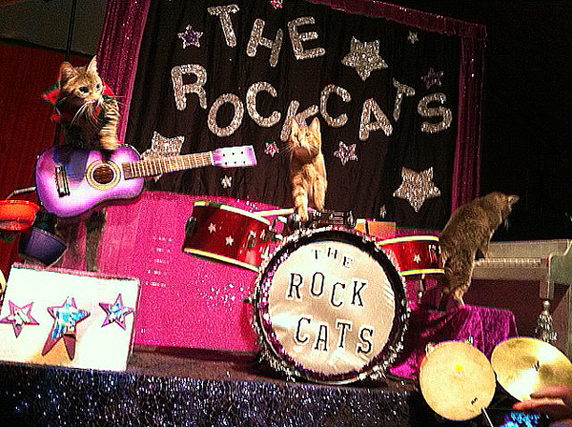 This is what Miss Lyn did on Thursday: I'd seen the Rock Cats on one of my favorite Saturday TV shows Must Love Cats. They are part of a traveling show called The Acro Cats. Samantha Martin works with recued kitties and trains them to perform all kinds of amazing tricks. ...AND to play in the band The Rock Cats which consists of Drums, Guitar, Piano, Chimes and a whole lotta cowbell by star of the show Tuna! Yes the cats pay the instruments...kinda....is it something you actually want to hear? Well no, it sounds like a big ole racket but it is hilarious to watch. The cats are accompanied by a Tambourine playing chicken...I mean come on..how could I go to see Roger Miller's band when this was calling me to the Armory??? So Kim & Leah Ackland and I headed over to see the show...we laughed out loud through the whole show....watching rats with cowboy hats and a ton of adorable cats performing amazing feats of acrobatics! The audience was super appreciative…and loved every minute of it...as did we three.
Lots of people are always taking trips to NYC or Maxwell's in Jersey to go to a show. Us - not so much. We complain about getting to the Midway. Tavern At The End of the World in Charlestown named themselves ironically but we think it's close to true. All this is to lead up to the fact that Saturday we went all the way to Lynn to catch Two Saints. Their song Valentine which came out on Valentine Day when we put it on our Top Ten List has stuck with me. I'm listening to it right now...and you can too by going to their web site where the song comes right up.
They aren't doing a lot of gigs so we headed out. The drive is pretty bad; that industrial/gas tank stuff on the right and the tidal swamp thing happening on the left, a tunnel then several rotaries. There's a wide range of shopping from Wal-Mart to Building 19. Finally you get to the ocean but you never see it. We pull up to the street and the club is well lit and welcoming looking. It's called the Sand Bar but the beach is across a highway and there no sense of beach anywhere in this part of Lynn.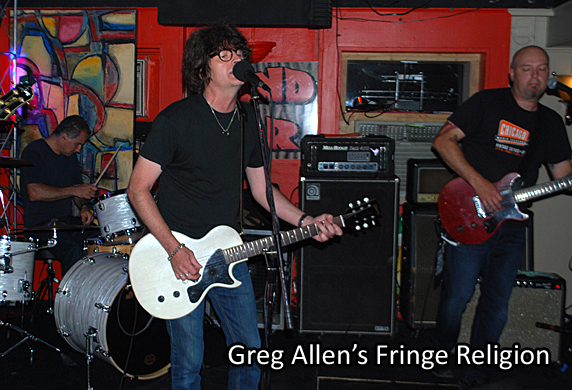 We catch some of Greg Allen's Fringe Religion. Greg used to play for Port Charles Quintet. I had a hard time nailing down what they are trying to do but there was some nice guitar work and their penultimate song had a chugging chord progression like the Cream's SWLABR that I liked and they closed with Johnny Burnette and the Rock and Roll Trio's Honey Hush . Meanwhile the club turns out to be pretty nice with a huge bar area and the people were super friendly. We couldn't feel more comfortable. At the gig was Mike from Crash Couse for the Ravers. He lives up there and gave us a run down on the area. He's going to line up a few gigs up there. So, there's more reasons to head north in the future.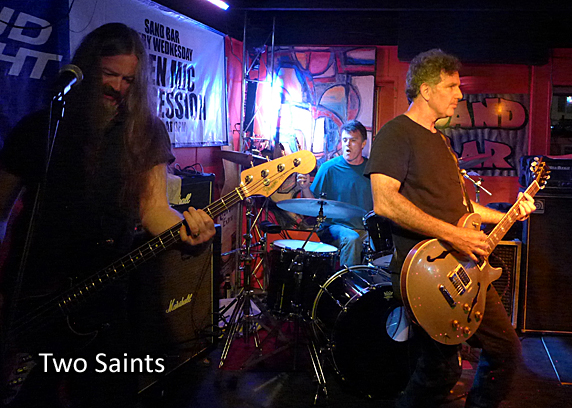 Two Saints opens with a song called Stand Up and it's full bore, knock down rockin' from the first second. They are not just loud but powerful. The music just seems to be IN YOUR FACE. On stage they don't put on an angry face, just the opposite they seem relaxed but the music just makes you sit up and deal with it.
They have a patented rhythm and roar that comes with every song. Patrick the bass player is also in 5 Point with Fred Pineau and that group has a similar punch so I suspect that Patrick as mild mannered and unassuming as he is, must be the key to power in these groups.
Joe Mazzari is a front man with personality and a relaxed way about him. It seems as if he was born to be on stage...or has been there since he was born. He looks casual but keeps your attention. Markey Mussel of the famous Markey Mussel and the Clams (one of the great Boston rock names) is on guitar has an acid tone verging on metal.
Their first 5 songs which included Valentine were extraordinary. One song had a short riff that they just jack hammered for 3 minutes and it left you breathless. The best I've heard anywhere for months. It was almost too intense.
They then had an old bandmate called Bongo sing two songs and he was a good singer and had some odd moves that served as some comic relief. He looked like a guy you'd expect to be gettin' drunk in a bar in Lynn ...one who'd never heard of the likes of Johnny Thunders etc...lo and behold he belts out Chinese Rocks and I Wanna Be Your Dog!! (ya just can't judge a book...!!)
They cover the Nervous Eaters song She's Gonna Be My Baby and it is a revelation. I wish all Boston rock fans could hear it. Two Saints actually did remind us of the Eaters, especially the Eaters of the Hot Steel and Acid era when they had a little metal in the sound.
The sound man was doing something I never noticed before, he would noticeably turn up the vocal or guitarist depending on what was going on giving you a better chance of hearing everything clearer. It worked for me.
Patrick says that they will have an EP out by fall and will do some Boston shows then. You know we were glad to hear that as we headed back down 1A....rotary...rotary... tunnel...etc .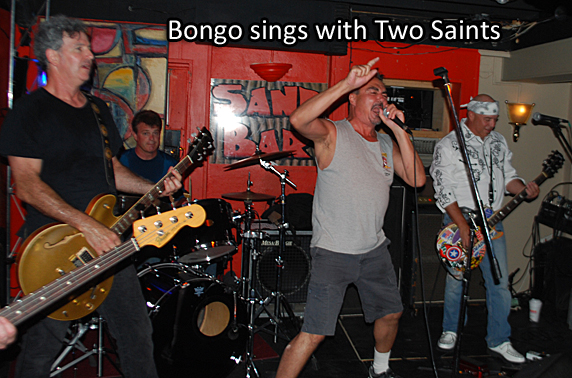 OK so here's some stuff comin' up- there's LOTS!!...
This Monday the 29th !!! Duck & Cover plays at O Brien's with the Pity Whores!
I'm going to officially make this Wednesday July 31st an August night because this August has some crazy awesome gigs happening: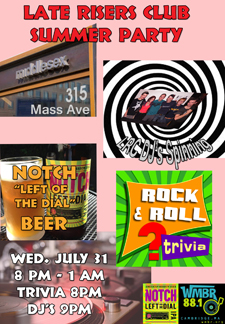 Sonny Vincent is coming back to town!!!He's at Radio (downstairs) on Wednesday July 31st!! and he's sharing the bill with The Classic Ruins. And you can thank Kim Ackland for getting this gig together!! That last show in May 2012 was killer!!
Also on Wednesday is WMBR's Late Risers Club Summer Bash at Middlesex (315 Mass Ave. Just out of Central Sq, across from All Asia and two doors down from Miracle of Science.) Its starts with Punk Rock Trivia from 8-9 and you and your friends can pit your knowledge of punk and rock and rock 'n' roll against other LRC listeners, with WMBR-related prizes up for grabs! Joanie, Mark, Mully and other LRC DJs will be spinning the hard rocking sounds of the LRC from 9-close and a great time will be had by all ..there's a $3 cover and beer specials to be had!!
Friday August 2nd with Ragged Old Flag (Jesse Von Kenmore on drums!!), is at The Midway with Slaughter House Chorus and Southern Lust Club
Also on Friday 8/2 is a great show at Radio UP... A midsummer celebration of music & art featuring Boston's finest and most elegant darkwave/postpunk/dreampop/shoegaze influenced band Plumerai plus Canary Oh Canary, The Milling Gowns and Eksi Ekso. There's also an art exhibition and live art In addition UnraveledArtists will be on hand with their latest line of shirts for their project: Hype for the Hopeful. To sweeten the deal, FREE CUPCAKES! I mean what more could you need, except maybe a set by the Rock Cats.
Saturday, August 3rd is another night of many amazing shows: there's an awesome bday party for Frank Strom at Radio Up with The Lyres, Muck & The Mires, The Monsieurs, and The Sprained Ankles!!
The Middle East Down has a great show with Cocked N' Loaded (its their 10th Anniversary!), Mellow Bravo, Motherboar (this is their farewell show), Bearstronaut, Wild Zero (its their reunion show) and I Am Become Death- phew!!
Moose and the Mudbugs at Seaport Cafe in Salem - on the 3rd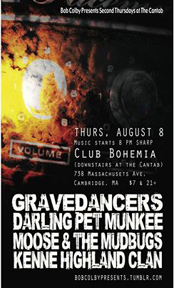 O'Brien's has another BBQ on Sunday August 4th it's the Boston Bloghead Punk 'N' Roll BBQ with The Darker Hues, Horse Mode, A Minor Revolution, Cult 45, Acro-brats, Zip-Tie Handcuffs, Tired Old Bones, Dead Cats Dead Rats and The Old Edison and LOTS more!
The Punk 'N' Roll BBQ was conceived in order to support the local community by raising money to give instruments, lessons, and other musical devices to kids via Rawk Stars Inc. The future of the local music scene rests in the hands of our kids, and giving money to a great cause that supports them directly makes giving back all the more gratifying. There will be a raffle to raise money by giving the chance to win prizes including gift certificates, sound production time, artwork, local-music gift packs, and music hardware. 100% of the raffle proceeds, along with a portion of the ticket proceeds go directly to Rawk Stars Inc. Direct donations in the form of cash and instrument trade-in will also be going to Rawk Stars Inc. We will be selling various denominations of raffle tickets. Winners will be announced right before the second to last band of the evening. Don't miss out on the chance to help raise money & equipment for a good cause! It starts at 4PM and goes all night. You can buy tix here. And you get to eat BBQ as part of your admission price! YUM.
Bob Colby's Second Thursday is a good one on August 8th at the Cantab, the focus is on garage and old-school Boston rock, four bands for $7 (cheap!) Oh yeah and its for The Grave Dancers, My Darling Pet Munkee, Moose & The Mudbugs and Kenne Highland and his Clan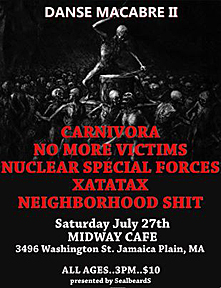 Friday August 9th is another fun and crazy Nicole Tammaro event at Radio - it's the Johnny Cash Corned Beef Hash Cook Off yup you read it right my friends...get there at 8PM to sample some fine corned beef hash and cast your vote for the best one...she's got 10 cooks a cookin'....then you can listen to the following perform excellent Johnny Cash songs for the rest of the night: Jay Allen and the Archcriminals, Rick Walker, The Civil Warblers, Dave Wells, Ian & Smokey from Spectrehawk and Josh & Jenna from Spit Shiner
Thursday August 15th is your chance to catch The Upper Crust along with Devil on Horseback at Precinct...remember that place?...another nice club that barely ever has any good gigs nowadays.
And the good gigs just keep coming with Gurlzzz night (with a couple of guys thrown in for good measure) at TT's Friday August 16th - on the roster you got Petty Morals, The Charms and B.L.O.W.W.
Saturday August 17th DJ Easy Ed presents a very special night with Roy Sludge's Roots Rock Spectacular!!! Starring Leah and her J-Walkers, the Roy Sludge Trio with Jim Hagerty and Judd Williams!!!, The Barley Hoppers with special guest Frankie Blandino on steel!!! And Easy Ed's Record Hop
Watts are supporting Cheap Trick at the Hampton Beach Casino Ballroom on August 25th.
Weds Aug 28th is a Benefit Show for the Lets Go To The Rat movie….at Johnny D's ...show starts at 7:30
Friday August 30th The Queers are at Church (with The Dwarves)
and there's a great show at Radio UP with Ragged Old Flag, The Scars and Radiator Rattlers.....
Oh yes Mark the calendars folks coz James Straight & The Wide Stance are on A Crash Course for The Ravers (WMFO 91.5 FM) from 1-4PM on Saturday August 31st .....and as The Reverand Joe Fagan says: "This is web streamed folks so you can tune in on your smarty pants phone from where ever you are!"
Richie Parsons is getting visited by his friends in Italy again and luck for us they also are in great bands and play gigs in town when they are here...Sunday Sept 1 at Radio Giuda will be headlining also on the bill The Kurt Baker Band and The Legendary Rockin' Prophets and Dan Garrison...we hear the Axe will be playing too....
Pere Ubu is at Brighton Music Hall Saturday, September 4th!!!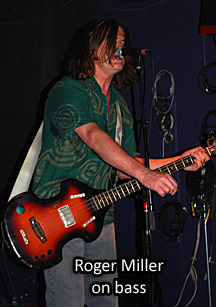 Sept 7th Saturday at Club Bohemia at the Cantab down - The FU's, Psycho, Insult & Oblivion...
Awesome show alert!!:9/21 Upstart Fest 2013 - The Northeast's Biggest and Best Punk Rock Party will be at the Middle East Down with Koffin Kats, Hudson Falcons, Turbo AC's, Two Fisted Law, American Pinup, New Red Scare, Svetlanas (U.S.S.R.), Cry Havoc, The Old Edison and OC45 - DOORS AT 5PM!!!
If you are not in Boston don't despair..this show is touring and may be coming to a city near you check out their website!
It's Official!! The Rat Reunion Beach Party
9/14 & 15 At The Red Parrot , Nantasket Beach in Hull September 14th (Saturday noon to 6 pm) -- Rat Musicians Cookout/Small Jam!, September 14th (Saturday 6 pm to close) -- Red Parrot (Beach Bar) Rat Jam! , Sunday, September 15th (noon to close) -- The Main Event -- Rat Veteran Bands in All Rooms of The Red Parrot!
So far the band list is as follows The Beachcombovers, The Derangers, Cindy Daley, formerly of Lovelace, Liz Borden, JetSet, The GraveDancers , State of The Union, The Workers (w/ Sev Grossman, David McClean!), The Kenne Highland Clan, FoxPass, Red House, Tsunami of Sound, Heavy Weddle & Sweet Release
There's a special show on Monday September 30th at Charlie's Kitchen with Unnatural Axe, Kepi Ghoulie and special guests all the way from Italy: Miss Chain and The Broken Heels...Richie says he has loads of new material they'll be performing!
October 12th - Cal Cali's Rat Reunion - save the date….Master of Ceremonies: Oedipus!!
The Neighborhoods played at The Ocean Mist is RI and now there are a f ew songs from their set up on You Tube!! Check em out: Flavors Yeah You - with an E Law pick slide request at 1:23!!! Pure And Easy / Gold and Shake
EMAIL US AT.......misslynbgn@yahoo.com