The BGN News Archive
July 31, 2023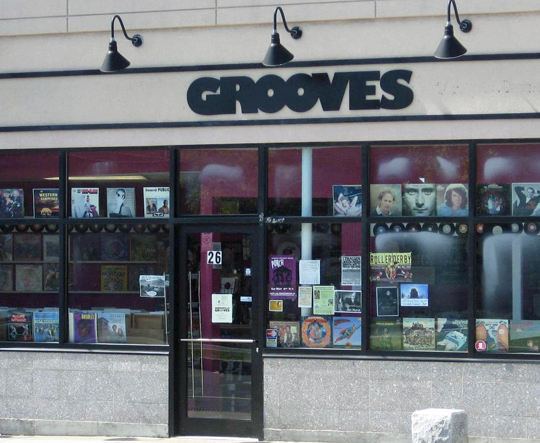 Somerville Grooves is moving
Uh oh gentrification!! ...Somerville Grooves is moving out of Union Square, Somerville. Their last open day is Sunday, August 20. They are moving to Melrose.
The store will be open for the regular Wed.-Sun. hours until the last day. They're still buying collections and will be keeping the New Arrivals bins fresh until the last week. Gift certificates will be honored at their new location if you can't get to Union Square before the close.
If they are moving to Melrose what about the name??? Per owner David Plunkett -"I hope to open "Green Street Grooves" by mid-September or sooner."
Grooves Instagram page ....Facebook page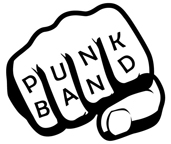 "Punk Band" or as we all know it Rockin Bob Punk Band has a special gig coming up on September 16th at The Midway (it's a matinee show 3PM start) . Bob Cenci says they're adding some Jerry's Kids songs, like "Build Me A Bomb," "Lost" and "I Don't Belong." to their set for that show. There's sometime 'til that show and they may add before Jerry's Kids songs by then. That should get the fans out!! If you want to hear others check out the Punk Band Facebook page
And if you missed it last week here's the video of the Bob Cenci interview with Blowing Smoke with Twisted Rico.

The lead singer of the Descendents Milo Aukerman had what is described as a 'mild heart attack'. They have cancelled a summer tour of Europe because of it. The band made a statement saying that Milo was doing alright and expected to recover from surgery. You can read more on the Consequence website
You all know about Anti Flag having cancelled their tour and taken down their website after rape allegations against the lead singer Justin Sane.
On the podcast "Enough" addressing sexual assault in the music industry, Kristina Sarhadi made her allegations without mentioning the exact name of the group or person. You can hear that here. The website gives a WARNING that the descriptions are graphic and could trigger sensitive people…we pass that on.
Anti Flag, that started in Pittsburg in 1988, has been successful with its strong left wing politics forefront in their songs. You can read more on Punktuation website
---
VIDEOS......
Kurt Baker's upcoming album Rock 'N' Roll Club, on Wicked Cool Records, will be available on September 29. He's got a video (link below) of the title track. It's like a travelogue. You get to see many of the clubs he has played in Spain. Kurt says: The video "is a collection of homemade and fan-shot footage from our incredible tour in Spain this past year."
Kurt says of the song: ""Rock N Roll Club" is an ode to the live music venue - most notably, the dingy, dark, stale beer-smelling, sticker/poster-adorned walls of your local rock n' roll club. Where the music is always loud, the drinks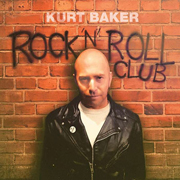 are cheap(ish), and there are always great bands to be seen and friends to meet. Unfortunately in this day in age, The Rock N Roll club is an almost dying institution and this is sad. These clubs are the places where we've grown up, discovered our world of music, and have always let us musicians use their stages to play our songs. We still go there as fans too, to watch our friends and discover new acts. Without them, Rock N Roll - Punk - Alternative culture wouldn't survive. I vividly remember my first time going to a real Rock N Roll club called The Skinny - now Geno's, which coincidentally, the cover of the new album was shot. My world was changed in the best way possible because I finally felt like I could go somewhere where I belonged. This song is dedicated to Kip Brown, who wrote the song but passed away before ever completing it and recording it himself. Under his musical and spiritual guidance from above, I finished up the track with Little Steven and KB Band in the studio."
More about the song on the New Noise website The record release show is at Faces Brewery in Malden on September 29 - scroll down to the Gig Listings for Tickets link.
WATD had their fifth Rock the Lot show last week. The bands were The Chelsea Curve, The New Frustrations and Warthog. Chris Atwood of the Alternative show (Friday 6:15 -10 pm) keeps this going.
The station's own WATD News covered the story. See the video above where they interview the bands and fans. One of the fans was Joe Perry of State of the Union.
Back in 1984 we were big on the Desperate Teenage Love Dolls soundtrack. It was trashy fun. Redd Kross did the title track and most of the music. Nip Drivers did Sweet's "Fox on the Run". The Late Risers Club played that album all the time. The thing was there was no way to see the movie, or we didn't know it if there was. The film is by drummer Dave Markey of Painted Willie a band on SST records.
Now, in 2023 we get to see it because it's on YouTube. There is such a thing as low budget and then there is this…next to no budget. The sound is patchy and the overdubs clumsy.
It's all done with broad strokes. There are no belly laughs but there are a few chuckles. It's only 50 minutes long but seems two times that. We're glad to actually get to see it after all this time. Video is above left. Here's the Lovedolls Soundtrack on YouTube
And there was a sequel!! Lovedolls Superstar is on YouTube as well. The budget and the results are only marginally better. The story goes on and on but the music again perks things up. They have some celebrity guests in this sequel: Vicki Peterson (Bangles), Jello Biafra (Dead Kennedys) & Sky Saxon (The Seeds). The mock Bruce Springsteen show was one of the better scenes. Video is above to the right.
Jah Wobble bass player of PIL has a new solo album, A Brief History of Now, to be released on August 4. The first single "Last Exit" comes with a video, it's all fast cuts of apocalyptic, politically oriented and social commentary images. Jah's bass is prominent through it all. Wobble is proving he is still involved and not afraid to be controversial even at this date. More on the Punktuation website
The Bush Tetras of "Too Many Creeps" fame have a new album; They Live In My Head. It is their first in 11 years!! The Bush Tetras last played the Middle East in 2018.
Their new song "Bird On A Wire" (not the Leonard Cohen song) that comes with a video of them at some of their favorite NYC places. One location is where CBGB's used to be and where the John Varvatos store is currently.
There's an article in the Observer website that covers the beginning of the group and a perspective on what they think now
---
RADIO......
Ron had a lot of fine punk on this Monday Late Risers Show... as usual. He played Pointed Sticks doing "Out of Luck"…we never stopped playing that record in 1979.
He was big on The Chives a relatively new (since 2020) Boston garage punk outfit. Their (there's 10 of them!) sound is punk and loose, the lyrics are wild and bordering on unhinged. They sound a bit different than most groups out there.
Supervision is their second album. The first The Chives, (digital or green cassette tape) came out in November 2020. That could have got lost in the Covid panic.
We would put them with Sapling as representatives of a next generation of punk. The Chives Bandcamp page. The Chives website.
Ron also played Split System from Australia. They have a garage sound and they are not quite as wild sounding as a lot of other Aussies. "Alone Again" is more traditional rock sounding.
Other worthy punk groups he played were: The Mono Men, The Dissidents, G.U.N., The Battlebeats, 18 Fevers, R.U.B…..we could go on.
To hear the show go to the WMBR archive page hit the LRC show for Monday 7/24.
---
PODCASTS.........
Blowing Smoke with Twisted Rico talks it up with Stop Calling Me Frank members Terry O'Mally, Dan Caspariello and Eddie Barese. Steeve makes the point that the group released their first single in 1984 and their first album in 2019!
Eddie grew up in Quincy and was around Springa during his crazy period. The sax sound is a prominent feature of SCMF. Terry said he thought he was just invited to jam with the band and at the end of the night they gave him a tape of the songs and the date of the next gig – he was now the sax player.
Even though the band broke up after their first run they remained friends and played a few parties. During the TT the Bears closing show they did a SCMF reunion and they stuck together since. Justine Covault made Lou Mansdorf check out the group and sign them.
They have a new song "Olly Oxen Free" Read about that in our New Music section below.
The Dogmatics were on the Born Too Late show on WFMU on 7/23/23 which is now up on their podcast. Jerry Lehane and James Young along with Malibu Lou were on the show.
Right off they let out of the bag that they are in the studio doing basic tracks for 5 songs. They're writing some of the songs collaboratively in the studio, which is new for them. Lou is asking them for more songs for the next EP. He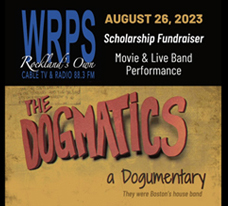 thinks it's not fair to the consumer to keep getting on 5 short songs per CD.
Jerry Lehane talked about how Malibu Lou Mansdorf and Justine Covault had livened up the Boston scene the last few years. He also said they have a show in New York on December 15 at the Parkside Lounge saying they will go in a RV and sleep in it in the club parking lot.
Jerry admtted that he is heavily influenced by the Lyres, Peter has that Rockabilly side and now new member Johnny has a Clash influence. One new song by Peter is called "Scarlet Letter."
The podcast does a great job giving the Dogmatics history and all the side projects through the years. Of course they talk a lot about the Dogumentary.
The Podcast is two hours. Half of that is a good selection of Dogmatics songs and other groups.
---
NEW MUSIC/CDs......
Stop Calling Me Frank has a new single out. It's been awhile since they released something. "Olly Oxen Free" has the identifiable SCMF sound. It rocks a bit harder than their past songs and we love that. The group is all fired up on this recording, which was done at Bang a Song Studios in Gloucester and they mixed it hot.
The band is a live favorite. You can catch them at their Booze Cruse on August 13 with Shang Hi Los and The Chelsea Curve
Kid Gulliver's new 8 song album is out now. It's what we expect of the band now…solid pop delights. We can imagine someone not familiar with the band hearing this album full of gorgeous pop nuggets wondering who are these people? and how do they do it? We know ... and it's talent and work.
Two of the songs are from their earlier EP Spree. We think they were right in putting them in the line-up. We didn't fully appreciate and give attention to them at the time, now we can see their craft and hear them anew.
Simone's voice gives so much character to the songs and emotional depth. The guitar work, especially those punky fills, are real ear candy.
We especially like "I Got a Picture of You." The best is to just listen to this from beginning to end and you can see that they never make a wrong move.
We heard the new Glowbox digital single "Go Like Hell." We got hooked on their pop and power pop songs hearing them live. This is a good example of what they can do.
We came across Paint Fumes album Real Romancer. It's a sharp pop that's not wimpy. It seemed so good we looked further. The producer is Don Dixon. Dixon has produced REM (Murmur and Reckoning), Marshal Crenshaw, Chris Stamey, Smithereens, Richard Barone….the list goes on. He works out of Chapel Hill, NC.
This is a good find for pop fans, it's got 12 strong tunes. Our fave choices are "Callin' Out", "Book of Love" and "Can't Stand It".
The album is on Dig Records Paint Fumes Instagram.... Facebook... Bandcamp
---
Here's some good shows coming up .....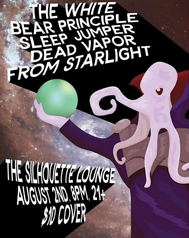 August 2, 2023 (Wednesday) The White Bear Principle, Sleep Jumper, Dead Vapor & From Starlight @ The Silhouette Lounge
August 3, 2023 (Thursday) Poison Ruïn, Home Front, Savageheads, Sinister Ward, Silver Dagger at Garage B Brighton Speedway
August 5, 2023 (Saturday) Huck 2, Alabaster Sons, Bobby Oakes and TV Models, Getaway Moon, Daisy at The Midway Cafe for a Matinee Show.
August 5, 2023 (Saturday) Crown Court, Violent Way, Oil!, Klaxon, Doc Marten Soundsystem at The Midway - 8PM
August 5, 2023 (Saturday) Scrivner, The Skrims, Mad Painter at The Jungle
August 5, 2023 (Saturday) Brix'N Mortar Record Release show with The Downhauls, Scumbari, and Wargraves at AOH Salem Tickets!!
August 5 + 6, 2023 (Saturday + Sunday) EARGASM Fest at VFW Peabody Ma, Fidelity Post 1011, August 5th Bands;Cannabis Crypt, Die Nameless, Eyes Pressed In and more...Vendors: Weird Media, The Creepy Coroner, In Between Shows and more. August 6th Bands; Scarecrow Hill, Street Trash,Choke Out, Scumbari and more....Vendors: SKINDRESS, In Your Face, Custom Finish' and Creepy Doll Lady. Facebook page for event.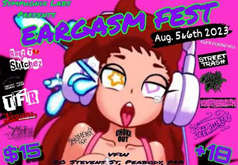 August 9, 2023 (Wednesday) Rawstrum, Horsehands, Big Howard, Joeypiff at The Silhouette FB page
August 9, 2023 (Wednesday) Sick of It All with Life of Agony at Brighton Music Hall Tickets
August 11, 2023 (Friday) Modern Day Idols at Exhibit A Brewing, Framingham. 7-9PM
August 11, 2023 (Friday) Tiger Bomb, Freeloader at The Burren FB page
August 11, 2023 (Friday) Andy California and Lupo Citta at Notch Brighton (bring shelf stable food donations and health supplies at this and every event to help fill our local community pantries.) 7PM
August 11, 2023 (Friday) KCUF record release with Jukebox Romantics, In the Meantime, Jeff Bousquet - 8pm All Ages at Faces Malden
August 11, 2023 (Friday) Salem Wolves, The Rupert Selection, The Endorphins at Deep Cuuts in Medford
August 12, 2023 (Saturday) Dyr Faser, Electric Street Queens, The Humaniods, Loretta at The Midway 8PM show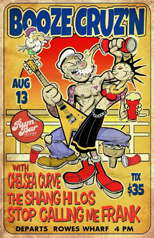 August 12, 2023 (Saturday) Soul Cake (NYC), Va Va Voodoos, Thigh Scrapers at The Square Root
August 13, 2023 (Sunday) Booze Cruz'n with Stop Calling Me Frank, The Chelsea Curve & The Shang Hi Los around Boston Hahbah...Boarding starts at 3:30pm and boat will be leaving at 4:00pm sharp! This event is 21+ Advance Tickets $35 on sale now!!! FB page
August 14, 2023 (Monday) Linnea's Garden, Drama Dolls and Hammered Saint at O'Brien's
August 14, 2023 (Monday) Former Critics, Riotcourse, Twelveyes, Bike Thrasher at The Silhouette
August 17, 2023 (Saturday) Andy California & Lupo Citta at Notch Bewery RSVP Tickets 7PM 21+ FREE
August 18, 2023 (Friday) The McGunks Turn 20!! - The McGunks, COB, Jason Bennett & The Resistance at The Midway
August 19, 2023 (Saturday) Once Block Party at Boynton Yards with Hasaan Barclay. Lonely Leesa & The Lost Cowboys, Trespasser, Moxie, The Far Out - Free - 4-20PM
August 19, 2023 (Saturday) 1.4.5., Ray Paul, 28IF's at The Square Root
August 19, 2023 (Saturday) The Nervous Eaters with special guest Girl With A Hawk at the Hopkinton Center for the Arts - FB page for directions/tix etc.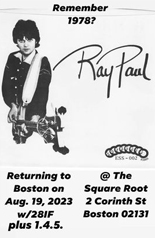 August 19 & 20, 2023 (Sat & Sun) In Between Days Festival - 2 Stages, 2 Days, 24 bands ... and Cool Vintage and Local Market Place, Vinyl Record Pop Up Shop, Food, Modest Mouse , Weakened Friends, Paper Tigers, Clarissa Johnson, Dutch Tulips and the South Shore's own Gypsy Moths. FB page
August 23, 2023 (Wednesday) The Supersuckers, The Rumours, Far Above The Ground, The USM at The C Note in Hull.
August 24, 2023 (Thursday) Generación Suicida at Deep Cuts Tickets
August 24, 2023 (Thursday) Headband, The Endorphins & Fantastic Trees at Notch Brewery & Tap Room - Brighton 7-10PM 7PM 21+ FREE RSVP Tix
August 25, 2023 (Friday) Bone Up Brewing Seventh Anniversary Festival Night 2 - 6pm -10PM with The Guilloteenagers, Blood Lightning, Lesser Glow
August 25, 2023 (Friday) The 5.6.7.8's, Sit n' Spin plus DJ Pokemonjeff of the group Lyres - at Sonia - 8PM doors
August 25, 2023 (Friday) Key of Caustic at The Square Root
August 25, 2023 (Friday) Diablogato, Devils Twins, The Shang Hi Los, Ruin The Night at The C Note in Hull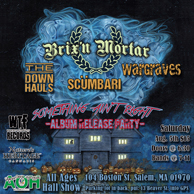 August 25, 2023 (Friday) Mach Bell Experience, The Cynz (NYC) at Back Room at the Burren
August 26, 2023 (Saturday) Bone Up Brewing Seventh Anniversary Festival Day 3 12:30pm- 10PM with from 1st to last: DnA's Evolution, Glacier, Sundrifter, Clouds Taste Satanic, North Star the Wanderer, SkyTigers (6PM), Brain Famine
August 26, 2023 (Saturday) Arsen Fest 2023 with Sophisticated Adult, Clock Out, Multiple Pieces, Louzy, Hung, Sike at The MIddle East Up - 6PM doors
August 26, 2023 (Saturday) WRPS Rocks - Scholarship Fundraiser: A Dogumentary & The Dogmatics at Rockland High School Auditorium - Doors at 6 pm, Movie at 7 pm (90 min), followed by The Dogmatics- Facebook page Buy tickets here!!
August 26, 2023 (Saturday) Rock N Roll Candlepin with U-Ey at the Buoy at the Cape Ann Lanes in Gloucester. FB page
August 26, 2023 (Saturday) The 5678's, Sit n' Spin, Tiger Bomb, Gamma Goochies at The Space in Portland, <E
August 27, 2023 (Sunday) Bone Up Brewing Seventh Anniversary Festival Day 4 - 12:30pm - 7PM - with Weisstronauts, Organ Meats, Hobo Wizard, Cortez, Major Stars, Crowfeeder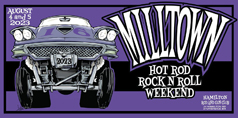 August 28, 2023 (Monday) Couch Sex, Alenka, Over Ends, Keep Ons at The Silhouette
August 30, 2023 (Wednesday) DEclaw, Erik Wormwood, Sunshine Riot at The Silhouette
August 31, 2023 (Thursday) Tsunami Bomb, The Dollyrots, The Shang Hi Los at Sonia
August 31, 2023 (Thursday) Time and Place, Micheal Kane and the Morning Afters, Bitter Pill at Notch Brewey Brighton. Free but reserve a space here.
September 1, 2023 (Friday) Rebuilder, No Trigger and Choke Up at The Sinclair
September 2, 2023 (Saturday) Hope Fest - A Benefirt for NAGLY (North Shore Alliance for GLBTQ+ Youth) with Mall Cops, Pink Navel, Circus Tree, Tattooine Punk Scene, and many many otgher bands - 39 bands across four venues, accompanied by lively vendor markets scattered throughout Downtown Salem. Noon to 11:45PM FB page.
September 3, 2023 (Sunday) Belvedere, One Fall, Oh The Humanity! - 7pm All Ages $15 at Faces Malden
September 4, 2023 (Monday) Scrivener, In Use, Happy Just To See You at The Silhouette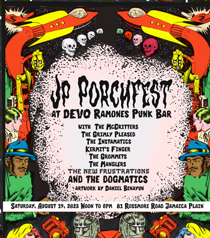 September 8, 2023 (Friday) Rum Bar Records Presents Local Boston Band Bash featuring Continental, U-ey At The Buoy, Stop Calling Me Frank, Jay Allen and The Archcriminals at The Magic Room FB page
September 9, 2023 (Saturday) Kelly Knapp, and Simon Ritt, 61 Ghosts, Hummingbird Syndicate at The Square Root
September 10, 2023 (Sunday) Somerville Rock + Roll Yard Sale Union Square 12 - 5PM. FB page.
September 10, 2023 (Sunday) Huck2 Album Release Party! With special guests Key of Caustic, Motel Black, and Acrylic Killers at , The Middle East UP Doors at 5:30PM
September 11, 2023 (Monday) Marvel Prone, Jean Paul Jean Paul, Big Rav, Cindy Crawford Cult at The Silhouette
September 14, 2023 (Thursday) Sorry Mister, Cold Expectations, Bad Verb at the Notch Brighton Tap Room 7-10PM - FREE bring some shelf stable food to donate.
September 15, 2023 (Friday) Booze & Glory, Avem, The Downhauls, Losers Circle at Deep Cuts Medford - Tickets
September 15, 2023 (Friday) The Chelsea Curve, Speedfossil, Hammered Saint at Faces Malden, 8PM All Ages
September 15, 2023 (Friday) The Daylillies, Memory Lame, Octavate, Trailer Swift at The Jungle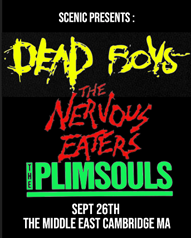 September 16, 2023 (Saturday) Thee Fightin' Fish, Zip Ups, American Ocelot at the Jungle for a MATINEE show at 4PM.
September 16, 2023 (Saturday) Stars Like Ours (Record release show!), Sidewalk Driver, Ruin The Nite at faces Malden.
September 16, 2023 (Saturday) L7 at The Brighton Music Hall
September 17, 2023 (Sunday) Komintern Sect, Cinderblock, Battery March, Grip Bite at NOON at the Middle East Up. TIX
September 17, 2023 (Sunday) Halfway to St. Patrick's Day 3 PM Matinee with The Gobshites, The Peelers, The USM, Jonee Earthquake Band at The Midway
September 17, 2023 (Sunday) Modern English at Sonia!!
September 19, 2023 (Tuesday) Punk Band (Bob Cenci) at The Midway Matinee Show- and Bob says:"Okay Jerry's Kids fans.. my band, "Rockin Bob From Jerry's Kids aka Jerry's Kids Forever and Ever Until we Die" has added Authentic Blazing Hardcore Versions of Jerry's Kids Classics like 'Build Me A Bomb' and 'I Don't Belong' and 'Lost' to our set list.. and there is still time to add more.. we are not going to do this all the time.."
September 19, 2023 (Tuesday) Ash Code, Pilgrims of Yearning, Ghost Painted Sky at The Middle East Up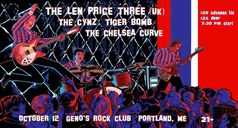 September 20, 2023 (Wednesday) Captain Easychord, Fast Tracks, Lohnny Plankton, Glowbox at The Silhouette
September 22, 2023 (Friday) Hardcore Stadium Presents: Sheer Terror, A Poor Excuse, Nothing But Enemies, American War Machine, ICU, The Rejekts, Poor Impulse Control - Middle East Down - tix
September 23, 2023 (Saturday) TJ Welch and the Wasted, The Lookout Honeys, Hilken Mancini Band, Christian Kids at The Midway
September 23, 2023 (Saturday) 2023 Punks for Pets (#16!!) with The Agents, Vague, Sourpunch, Starbath, Shirley Drive, Musclecah, Crossbite - outside at NickANee's (Indoors if it rains) Something from the wish list is your ticket in. See the Wishlist on the Facebook event page.
September 23, 2023 (Saturday) Muzak, Foxy Grandpa, Ski Club at The Silhouette
September 26, 2023 (Tuesday) Dead Boys, Nervous Eaters, The Plimsouls at The Middle East Up FB page.
September 26, 2023 (Tuesday) Anti-Heros, Legion 76, The Antagonizers - Middle East Down
September 28, 2023 (Thursday) Dead Boys, GLiDER, Midnight Creeps, One Fall at Alchemy Provi RI. FB page.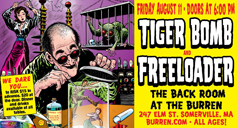 September 29, 2023 (Friday) Kurt Baker record release show with Bad Idea USA and Nate Doyle at Faces Malden TIX!
September 29, 2023 (Friday) Anti Heros, Legion 76, Antagonizers, Blood Stained Brindle, Absuctors - Middle East Down.
September 29, 2023 (Friday) The Fleshtones + The Nervous Eaters at Cafe Nine - New Haven CT- FB page
October 7, 2023 (Saturday) Agent Orange, Spice Pistols at The Middle East Down
October 7, 2023 (Saturday) The Long Wait, The USM, Josephine With A Cause at Faces Brewing
October 9, 2023 (Monday) Black Beach, Saturniids, Astral Bitch, Bad//Verb at The Silhouette
October 11, 2023 (Wednesday) The Mission UK & The Chameleons: Deja Vu Tour 2022 Rescheduled to 2023!!! also on the bill Theatre of Hate
October 12, 2023 (Thursday) The Len Price 3, The Chelsea Curve, Cynz, Tiger Bomb. at Geno's Portland, ME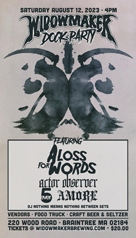 October 13, 2023 (Friday) The Len Price 3, The Chelsea Curve, Muck & The Mires at The Burren Backroom,
October 14, 2023 (Saturday) The Len Price 3, Palmyra Delran and the Doppel Gang, Steve Krebs and The Maynard G's at Parkside Lounge NYC
October 20, 2023 (Friday) The Jacklights, Double Star (EP Release Party!), Harry & The Hot Flashes at The Square Root
October 21, 2023 (Saturday) Bicker Sins, Classic Ruins, Little Billy Lost at The Square Root
October 26, 2023 (Thursday) Mudhoney at The Brighton Music Hall 18+ TIX
October 27, 2023 (Friday) Darkbuster, Working Poor USA, Noi!se, Battery March, The Stress at Sonia. SORRY SOLD OUT already!
November 3, 2023 (Friday) Modern Day Idols Single Release Party with Tad Overbaugh and the Late Arrivals at Square Root, Roslindale.
November 3, 2023 (Friday) Sex Zombies (NJ), The Spackles, Hammered Saint, Hixx at The Midway FB page
December 8, 2023 (Friday) Huck 2, Gretchen Shae and The Middle Eight and Key of Caustic at Koto Underground, Salem
CONTACT US AT....misslynbgn@yahoo.com Send us your gig listings, your anything else you've got!! You want your CD reviewed?? Contact us for that too.
---
---