The BGN News Archive
August 2, 2021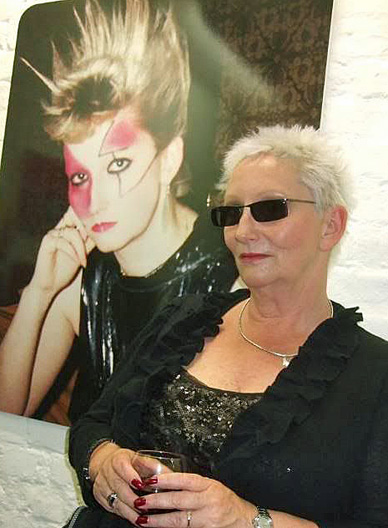 Jordan - The Face of Punk
Even as inside gigs are happening there's a surge in Covid cases. Somerville now requires masks indoors again. We figure that means the many music venues there too.
The Middle East is slowly opening it's variety of rooms. They made a statement on Monday that they will require proof of vaccination to get in. They are worried about the spread of the Delta variant. The Plough and Star also require proof of being vaxed.
Meanwhile at The Vault in New Bedford, a restaurant/pub in the day and club at night, had 39 cases of Covid from a July 10 show, 34 of those people were unvaccinated. There you have it, people who are not vaccinated still think it's alright to go into a crowded venue!! The story is here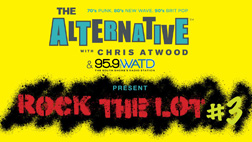 There was some good news for the South Shore as the C Note in Hull announced that they have made it through the quarantine and will be having shows. They are having a grand reopening on August 13. You can keep track of the shows on their Facebook page
Another chance for music on the South Shore is Rock the Lot #3 show (August 20th) in the parking lot of WATD 95.5 FM in Marshfield. Showing good taste they have State of the Union (Bandcamp page) on the bill. This is put on by the 80's Alternative Underground Radio show (6:15 to 10 pm on Fridays.) with DJ Chris Atwood. (See Gig Listings below for links etc)
Once received a $400,000.00 federal grant. This is a lifesaver for the club. JJ Gonson has done everything a person can do to keep her club going without its physical presence. Gonson says that the money will still not cover all the charges of starting in a new location but is a big boost. They've also received $25,000 by the National Independent Venue Association (NIVA), and $3,000 from the city of Somerville. That's a lot of money!! Vanyaland had the story
Boston Rocks for Julie Duffy Benefit featuring: Duncan Wilder Johnson, Jimmy Weeks, Chris Trapper, Scratch, Heretix, Stompbox, Sam Black Church, Only Living Witness and Tree on Saturday, October 2 6PM at the Paradise.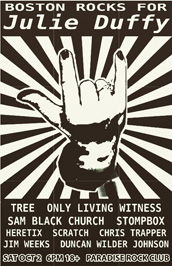 On Friday, December 18, Julie Duffy went to her doctor with what she described as the worst sore throat of her life. She was admitted to the hospital for exploratory surgery and they discovered a very rare infection (Descending Necrotizing Mediastinitis or DNM) which resulted in septic shock. After surgery, Julie was brought to The SICU (Surgical Intensive Care Unit), administered the strongest antibiotics, put under sedation, a ventilator, and dialysis. There was nothing Julie's family and friends could do but pray and wait on what was described as "a poor prognosis". She was fighting for her life......
This is where you can really help. Julie, as a respected and loved member of the Music Touring Community for decades, has not only lost her career due to COVID but her entire industry has been destroyed. Her medical bills are mounting and she is unemployed. Those of you in the industry may have worked with her through her most recent gig as Tour Accountant for Counting Crows, Tour Manager for Peppa Pig Live, or any of the many tours over the years including Stone Temple Pilots, Van Halen, Cristina Aguilera, Kelly Clarkson, Maroon 5, Linkin Park, Fresh Beat Band, John Cougar Mellencamp and so many others. And let's not forget her lifelong Best Friends from Westwood One Days and WBCN Radio – specifically production of "Oedipus' Nocturnal Emissions" and the Listener Line.
Here is her Go Fund Me page. Facebook Page Buy tix here.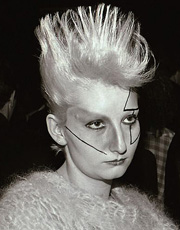 Remember the iconic punk woman Jordan from the early Punk days in London? She worked at McLaren's shop Sex and was phoitographed with just about every punk rocker out there!! She's still around!! She was recently interviewed by the folks at Please Kill Me
And here's an ...interesting... article: Who Really Invented Punk? on Far Out magazine website .
Boston Hassle interviewed Sapling this week. Sapling have produced some interesting post punk style material lately. They remarked that after the Covid shutdown they hope that DIY spaces proliferate rather than the music being linked to places that sell alcohol. That's always been an issue; when you have to be of age to buy alcohol to get in the door that limits the younger audience; that is a problem. Interview here. You can see Sapling at The Jungle on 9/25.
The Nation has an article that takes you through the main points of the book on punk called We're Not Here To Entertain by Kevin Mattson.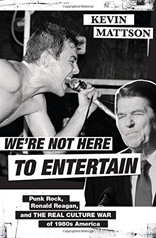 The book deals with punk politics starting in the Regan era. Punks had a fixation on Regan, which you could tell with all those record sleeves with caricatures of the president plastered over all of them. Kevin dismisses early punk as 'boomer punk'. WTF??? We take umbrage to that but we admit early American punk was not as politicized as say the Sex Pistols were. As the article states: "Mattson's book begins and ends with Cobain's death" Seriously?? Kurt Cobain?? Dude, Punk was founded on the Sex Pistols and the Ramones THAT was punk and you wouldn't have had those later years if it wasn't for the likes of the Pistols, Ramones and Patti Smith!!
The review in the nation says that Mattson reviews the scenes in a list of cities and one of those is Boston. It will be interesting to read that eventually. Here's the article in the Nation You can buy the book on Amazon
The sound is not good but it's nice to see the Guns of Brighton back on stage. They played the Breakaway in Danvers on July 23. Here they are covering "Jailbreak" by Thin Lizzy.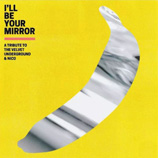 The fascination with the Velvet Underground goes on unabated. Now, 54 years after the release of their debut album, Verve Records (the original Velvets label) is releasing a tribute album; I'll Be Your Mirror: A Tribute to The Velvet Underground & Nico, with some notable musicians: Michael Stipe – Sunday Morning, Kurt Vile & The Violators – Run Run Run, Thurston Moore – Heroin, Courtney Barnett – I'll Be Your Mirror, Iggy Pop – European Son and Matt Berninger's doing "I'm Waiting for the Man", We're not familiar with Berninger's work in the Nationals but he manages to hold on to all its qualities. That can be found embedded on the Consequence web site that talks about this tribute album There's also a live version Berninger does on the Jimmy Fallon show which can be found here
VIDEOS......
Gene Dante and The Future Starlets released a video for their song "She's Outside". The visuals are as glammy as the song is. It's peppered with the glare of the striking Gene Dante himself. This is the first single from Dante's album DX/UX that will be released this fall. Here's an article about it
It's officially a thing: record companies celebrating their anniversary with cover compilation albums. Last week it was 4AD, this week it's the Velvets tribute mentioned above and Jagjaguwar with their 25th anniversary compilation Join the Ritual.
One unusual match they have is Bruce Hornsby taking on Dinosaur Jr's "Feel the Pain"!!! See the video above. We couple that with the original Dinosaur Jr. video of the song beside it. More details on Pitchfork
Did anyone other than Miss Lyn ever see the pre-punk glam band The Harlots of 42nd Street??? They were contemporaries of the New York Dolls and had many similarities with them and were active in NYC in the pre-punk days of the seventies. Miss Lyn saw them a couple of times at gay bar The Other Side, and some other Boston area clubs, way before seeing the Dolls. The Harlots did release an album, Refuse to Be Misused, back in the day. The master tapes have been found and the album will be reissued!! There's no release date for the album but they do have two songs from a 45 available on Bandcamp "Cool Dude/Foxy Lady" b/w "Spray Pain Bandit" Listen here.
You can get an idea of the Harlots from the video above.
And here's a short article on the StatikMusic blog ... and more on Dangerous Minds: The Lost Pioneers of NYC Glam Punk
ONCE's Boynton shows are getting lots of attention but they still have some live streams happening. Last Thursday they had a concert with Evil Felipe and Service.
Service had sharp and intense playing with much interaction between the guitarists. It was a post punk sound and there was plenty of dissonance in the interplay. The whole set comprised an enormous amount of playing and they had it down. They must rehearse a lot. They sound halfway between Gang of Four and Captain Beefheart. Even in a live stream they made the music have impact.
Their latest release is a 5 song EP titled High Speed Vomit.
Evil Felipe concentrate on personal relationships in their songs. That along with their very modern alt rock sound is a template for delivering material today. To us they should be gaining a big local following with a young audience. The material is first class.
PODCASTS........
Blowing Smoke With Twisted Rico has another behind the scenes guy on the show this week. "Nite Bob" Czaykowski has been a part of almost every phase of recording, stage and promotion for 50 years. Groups he was involved with are the Stooges, Dolls, Kiss, Aerosmith and Steely Dan. He shipped amps/drums back and forth to Europe as excess baggage. Can't do that now. He talks about the situation with albums. To him there is no incentive for a major group to record at this point.
CDs.........
The Chelsea Curve continue their winning streak of singles with "Drag". We're getting to a deeper appreciation of Linda Bean Pardee's voice with every one of these single releases. Here it really kicks in with the chorus when it sounds like she multi tracks the singing. It has a wonderful feeling that goes even farther than it's tunefulness. Then they coin the word 'draggermost'. There's some Beatle references here with tagging the 'most' at the end of the words, and later in the lyrics, the phrase "eight arms to hold you" which was the working title for the movie "Help!".
This has been a spectacular run of songs from Chelsea Curve!!
We feel lucky at the BGN because The Bambies record company keeps us posted on them. The second pre-release from their upcoming album is also the title of the album, "Summer Soon".
The group, from Quebec, says that summer is special for them, " That feeling at the end of winter when the sun is out, the snow is melting and last season's accumulated garbage appears below! The feeling is wonderful."
They have a punky trashy sound that we love too. We've heard the whole album and it's 12 songs that blast the same way "Summer Soon" does.
Release date is August 20 on Spaghetty Town Records
For now get your fix on "Summer Soon".
The Jacklights now have their whole 5 song EP out (on Red on Red). "Beach" and "Eat the Young" have already been released.
They've made a name for themselves and they did it in this last year of shutdown. Already the songs off this EP have been played on all the regular local shows. Their sound and Nilagia's voice are becoming a recognizable trademark on their own.
The Jacklights lyrics can are clever and wry at points. In "Monster" the singer is in love with a Frankenstein creation. He is ugly but she knows his "insides are fine". When the monster breaks her heart she doesn't worry, she'll just "dig another one up from the graveyard ".
It's been gratifying to see and hear the Dogmatics in their second go around not just gigging but being creative with new material on their 2019 EP She's the One. Jerry Lehane has also released some older material on a five song EP. He then had a collaboration with Simone Berk on "An Irishman for Chrismas." Now, he's got another unexpected pairing with Dicky Barrett of the Mighty Mighty Bosstones with "The Drinking Life." The singers intone with world weariness. You can feel the weight of those memories.
The guitar is cutting with a lot of whammy bar giving shakiness to the notes, as you can imagine the character of the song as an older lifetime drinker, is maybe shaky too. Brilliant! This is just another nugget in the continuing Rum Bar goldmine.
---
Here's some good shows coming up .....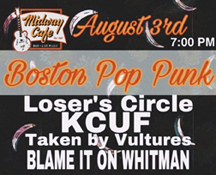 August 3 (Tuesday) KCUF, Loser's Circle, Taken By Vultures, Blame It On Whitman at the Midway
August 5 (Thursday) No Small Children, Thrust Club, Bad Larrys, Tiffy - ONCE Somerville @ Boynton Yards - a 6PM show. FB page
August 6 (Friday) The Furniture, Today Junior, Children of the Flaming Wheel + special guests Garden Party at O'Brien's
August 6 (Friday) End of Summer All ages hardcore show with The Woods, Witchita Hangman, Half Mast, Mont Clair, Rocket Gods and Loser Birds,at the VFW post at 95 Essex St. Whitman, Ma - 6PM. FB page.
August 7 (Saturday) Nice Guys, Zip-Tie Handcuffs, Boston Cream, Rick Rude at Once @ Boynton Yards a 6:30PM show.
August 7 (Saturday) The Worst (featuring Dana Colley), Swivel at O'Brien's
August 11 (Wednesday) BE FINE! featuring Sapling, John Powhida, Spotted Tiger, Yoni Gordon at Once @ Boynton Yards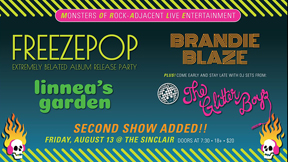 August 13 (Friday) Freezepop, Brandie Blaze, Linnea's Garden, The Glitter Boys at The Sinclair (Second show added due to overwhelming demand! 8/14 show is sold out!) TIX!!
August 13 (Friday) Liz Borden (w/Stormtress), Gene Dante & The Future Starlets, Little Billy Lost at Once at Boynton Yards. 6PM Doors, Music at 7PM Tix etc here.
August 14 (Saturday) The Indie Rock Flea Market at Once @ Boynton Yards starting at Noon. Tix are $15 in advance $20 day of. TONS of bands along with local vebdors and food. More info & tix here.
August 14 (Saturday) Double Star Ep Release Show w/ Service, BAABES, Bad Sandy at The Midway FB page
August 14 (Saturday) The Winter Project, A Bunch of Jerks, HIXX, Screwcart at The Jungle, 7:30 doors FB page
August 14 (Saturday) Paper Tigers, Luxury Deathtrap, Little Fuss, Papercage at O'Brien's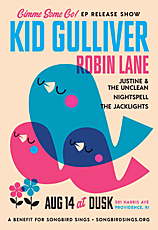 August 14 (Saturday) an evening with legendary rocker Robin Lane in support of her nonprofit Songbird Sings, which helps trauma survivors heal through songwriting and music. Performers include: Kid Gulliver, Justine and The Unclean, Nightspell,
The Jacklights ... and of course Robin Lane! FB page.
August 14 (Saturday) The Backporch Carousel 7:30 PM at Herter Park Amphitheater, Allston - with Linda Viens, Randy Black, Adam Sherman, Eric Martin, Larry Dersch, Sarah Levecque, Peter Zarkadas, Lauren Parks and Matt Gruenberg. More info etc here.
August 14 (Saturday) Sidewalk Driver, Freezepop, Worshipper at the Sinclair FB page
August 14 (Saturday) The Mal Thursday Quintet with special guests Tiger Bomb at Sun Tiki Studios Portland, ME FB page.
August 18 (Wednesday) Possum and Martin. Morrell, Fredette, The Chelsea Curve and Tsunami of Sound at The Midway -a matinee show 3-7PM
August 19 (Thursday) Tsunami of Sound, State of the Union, Disco Volante, Tsunami of Sound, The Only Thing sat The Jungle.
August 20 (Friday) Red on Red Records Presents Kameelah featuring Cruel Miracle, Linnea's Garden, The Chelsea Curve and Cold Expectations! at Once @ Boynton Yards - door at 6PM, music at 7PM!!
Tickets are HERE
August 20 (Friday) Bonecrusher, The Welch Boys, Riotgun at The Midway - doors are at 10PM. FB page
August 20 (Friday) ROCK THE LOT #3 with State of the Union! It's in the parking lot of WATD 95.5 FM in Marshfield - FB page with info.
August 21 (Saturday) The Concerns, Crow Follow, The Skirts, Connor Storms - Matinee show 3-7PM at The Midway
August 21 (Saturday) Mad Painter, Penny Outlaw, Shotgun Waltz, Glowbox at The Midway FB page
August 22 (Sunday) DNZL, Urban Waste, Controlled Substance, Grip Bite doing a matinee show at The Midway 3-7PM FB page
August 27 (Friday) Future Teens, Kitner, Color Killer at Once @ Boynton Yards 7PM music. $15 advance / $18 day of show
August 28 (Saturday) Magen Tracy & The Missed Connections, Lonely Leesa, Happy Little Clouds at Once @ Boynton Yards 1-4PM!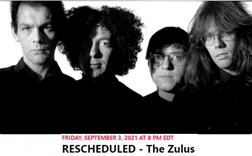 August 28 (Saturday) Ray's Occult, Coffin Salesman, CE Skidmore & the Damn Fine Band, Jeff Bousquet at The Midway (night show)
August 29 (Sunday) Johnnie G & The Royalty, Camelopard, The Stigmatics, Vanishing Point at The Midway MATINEE show.
September 2 (Thursday) Public Serpents, Threat Level Burgundy, Loser's Circle at O'Brien's
September 3 (Friday) Rebuilder, Choke Up and Old Soul at the Sinclair - Tickets
September 3 (Friday) The Zulus rescheduled show at The Paradise - doors 8PM, music 9PM. FB event page
September 4 (Saturday) Actor|Observer, Girih, Dreamwell at O'Brien's
September 10 (Friday) The DollyRots at the Middle East Up.
September 11 (Saturday) Rock and Roll Yard Sale, Union Square, Somerville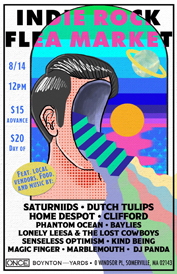 September 11 (Saturday) Lovelorn, Biproduct, Betties, DJ set by Octalisk at O'Brien's
We see that Tsunami of Sound has a poster for a show at Geno's Rock Club in Portland Me for September 24. We checked Geno's Facebook page https://www.facebook.com/genosportland/ and there's no info about the exact date of them starting up, but it must be coming.
September 11 (Saturday) Guided by Voices at the Sinclair. Tickets.
September 12 (Sunday) Mark your calendars! Frank Rowe's 70th Birthday Party featuring Classic Ruins, Unnatural Axe, and friends (more info soon) - at the Midway

September 16 (Thursday) Bob Mould is at the Paradise - Tickets here
September 17 (Friday) The Dents, Duck and Cover, Fullmoon Vagrants, Deprogrammer Cult at The Jungle FB page
September 18 (Saturday) Martin, Morell, Fredette are having a residency at The Midway. These are early shows - 3-7PM
September 18 (Saturday) Michael Kane & The Morning Afters, When Particles Collide, Adi Sun, Senseless Optimism at Once @ Boynton Yards...dorrs 6- music at 7PM....TIX here.
September 18 (Saturday) Rockin Bob Punk Band and Scotty Saints and the True Believers at Ralph's Diner 8PM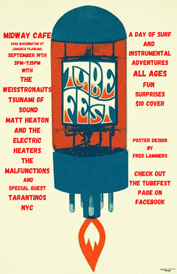 September 19 (Sunday) It's the return of Tubefest -New England Surf/Instro Showcase! Lots of surf and instrumental bands for your enjoyment! Tubefest Facebook page. This will be a matinee show - 3 to 7:30pm at the Midway. Groups are Tsunami of Sound, The Weisstronauts, Max Heaton and the Electric Heaters, The Malfunctions and the Tarantinos (good name) from NYC.
September 24, 25 and 26 The New England Shake Up is back. The rockabilly festival will happen this year in Framingham. The line-up of bands is way long. They also have a picnic record party 11AM-4PM on Saturday the 25th with Barrence Whitfield spinning vinyl. Get more details and ticket info on their website.
September 25 (Saturday) Stop Calling Me Frank, The Hi-End, The Idolizers, The Shang Hi-Lo's at The Midway
September 25 (Saturday) The Royal Arctic Institute Clamb, Home Despot, Sapling at The Jungle
September 30 (Thursday) Nervous Eaters/Barrence Whitfield/Willie Loco and the Boom Boom Band/Carissa Johnson at the Paradise . Get Tickets Here!
October 2 (Saturday) Oh the Humanity! record release show at O'Brien's
October 4 (Monday)Gary Neuman at the Paradise Tickets
October 14 (Thursday) Ministry at the House of Blues. Tickets
October 18 (Sunday) Martin, Morell, Fredette are having a residency at The Midway - 3-7PM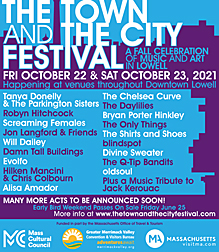 October 22 & 23 (Friday & Saturday) The Town & The City Festival, Lowell. Music by: Tanya Donelly & The Parkington Sisters, Robyn Hitchcock, Screaming Females, Jon Langford & Friends, Will Dailey, Damn Tall Buildings, Evolfo, Hilken Mancini & Chris Colbourn, Alisa Amador, The Chelsea Curve, The Daylilies, The Shirts and Shoes, Daisybones, blindspot, Divine Sweater, The Q-Tip Bandits, The Only Things, oldsoul, and Brian Porter Hinkley. Website for tix & info ... FB Event page.
October 24 (Sunday) Nervous Dater, Good Looking Friends, Tatoonie Punk Scene at O'Brien's in Allston
October 27 (Wednesday) Richie Ramone and Public Nature at Ralph's Diner Worcester
October 31 (Sunday) Dropkick Murphys At Hogan's Run again 7-11PM...best Tessie costume wins a free drinks bracelet for the night. FB page.
November 13 (Saturday) Field Day (x-Dag Nasty), Moving Targets, Lenny Lashley's Gang of One at the Middle East Up TIX!!
November 19 (Friday) Hardcore Stadium and Grayskull Booking Presents: Slapshot - Celebrating 35 Years of Hardcore Day 1- Stars & Stripes, Noi!se, COA, Patriot, Violent Way at Sonia - (already sold out!!)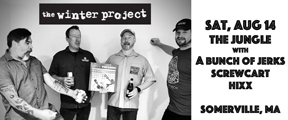 November 19 (Friday) Joan Jet & the Blackhearts will be at the Chevalier Theatre in Medford Square. Tickets.
November 20 (Saturday) Hardcore Stadium and Grayskull Booking Presents: Slapshot - Celebrating 35 Years of Hardcore Day 2 -Slapshot, Sheer Terror, Death Before Dishonor, Pummel, Count Time - at The Middle East Down. (already sold out!!)
November 27 (Saturday) Dinosaur Jr. at the House of Blues on Saturday Nov 27. Tix
March 13, 2022 (Tuesday) Reigning Sound at the Sinclair Tickets: https://www.axs.com/events/402182/reigning-sound-tickets
CONTACT US AT....misslynbgn@yahoo.com Send us your gig listings, your anything else ya got!! You want your CD reviewed?? Contact us for that too.
---