The BGN News Archive
August 9, 2021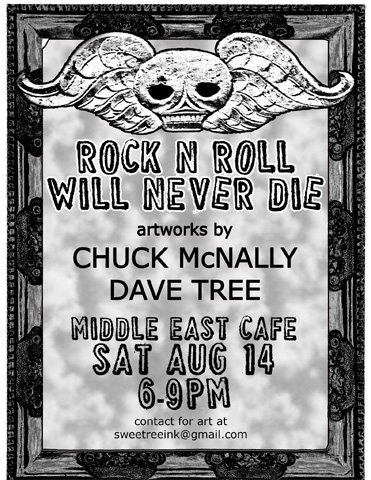 Art show at the Middle East
With clubs no seemingly in full swing or getting their .... Great Scott posted an update on their Facebook page and their website this week.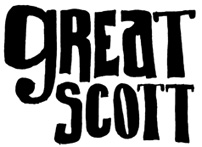 They had little to say about the specifics of the club, just a general statement that things are progressing a step at a time. They're offering some new merch in an effort to create more revenue, you can see/purchase it on their website.
There isn't too much more there now except for a list of past shows starting from 2005. That's a good idea! You can see them, and reminisce, here.
This Saturday, August 14 from 6 to 9 pm, is the opening reception for Rock'n'Roll Will Never Die, an art exhibit with works from Dave Tree and Chuck McNally, at The Middle East restaurant. Facebook event page. This is well worth a look! Dave is a super talented artist we saw some of his work back in December 2019.
We didn't expect it but the Fuzzstival is on for this year!! It's on for September 10 and 11 at a new venue – the Charles River Speedway at 525 Western Avenue in Brighton.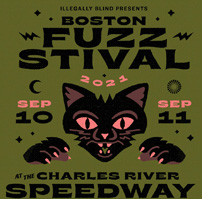 Check out the Speedway website to see their set up. Bands performing for the Fuzzstival are: Sweeping Promises, Landowner, Really From, Honey Cut, Editrix, Kominas, Strange Passage, Beeef, Seed, Lane and more to be announced.
Aeronaut Brewing Company, also on Western Ave but at 267, is throwing Beach Party 2021 with Tsunami of Sound, on Saturday August 21 from 1 pm to 11pm. That's 10 hours!! Suggested attire??: "a party like this is incomplete without your beachwear best, so come dressed to impress!" Here's the FB page.
Coming in November is From the Floorboards Up, a book of Paul Weller "photos live on stage from in the UK and overseas, taken from 1990 to 2019. Containing many unseen shots all taken by the fans! with narrative by Pat Gilbert (MOJO), interviews with fans and reflections from some bands lucky enough to have supported Paul on tour during those 30 years." It will be limited to 500 copies, so diehards act fast!! Read more on Turn Up The Volumn and order here!!
This is a short article that is an appreciation of the Gun Club and specifically the Mother Juno album. It may inspire you to give it a listen here on the Lit Hub website.
---
RADIO......
On The Rising, Skybar will have Smitt E Smitty and Gene Dante talking up their Once/Boynton Yards show on Friday the 13th. The Rising is on WMFO, Tuesdays at 8 pm. It's 91.5 Fm or on the internet https://www.wmfo.org/

It was short but it happened!! After a year and a half Joanie Lindstrom did a Concert Report on the Late Risers Club (Mon-Fri 10am to noon 88.1 FM). It was a nice feeling hearing that. WMBR has their concert report page here.
Joanie played a revenge song that you want to sing along with. It was by Suzi Wong's "Special Place in Hell".
---
PODCASTS....................
The Rat Tales podcast puts Tim Jackson in front of the microphone. Tim was drummer for Robin Lane and the Chartbusters, he's also an actor and film maker! Who knew!! Tim starts with the story of him being in the audience with the first appearance of the Beatles on the Ed Sullivan Show and with that the stories never end.
He has a lifetime of rock before he ever gets to Robin Lane's band. Very interesting and he can be very frank.
Kids Like You & Me interviews Tim Devin, artist and zine publisher. Tim has used zines to connect to community projects. He's used zines to illuminate some radical and counter culture history in Boston/Cambridge area. He published the zine Long Gone Illegal Venues which is about the house shows in Boston.
We started The BGN as a fanzine in 1975 and zines still have the characteristic that made them useful then. Tim is showing that zines can be still be a dynamic way of passing information. The main theme of the talk was about artists and the striving for space and opportunities versus the forces of gentrification. Here's Tim's website
Above the Basement talks with one of the year's most visible club owners – JJ Gonson. She says that since Once has their Virtual Venue they'll keep that going after the quarantine restrictions are gone. Now, they are setting up a weekly local live stream every Wednesday.
Listening in, it doesn't take long to hear the energy Gonson has, and the stream of ideas that she is acting on. She's juggling a lot of efforts simultaneously and getting it done. She did say that the new Once club, when it comes, will be in Somerville. She's planning on finding a space and opening a finished club in the Spring of 2022.
CDs.....
Rum Bar has another compilation album out: XOXOXO Volume One. They have such an avalanche of new releases that even these sample compilations are frequent.
The highlight for us is the Kowalski's doing "I Love You Baby, But I Hate Your Friends". That hasn't been on a previous Rum Bar release and it's a real taunt. It's a crunching pop punker that's hard not to love. We're figure there is a new Kowalski's album coming? Please, say yes!!
All the 15 cuts are a rocking good introduction to the current Rum Bar releases. If you aren't familiar with what's going on with Rum Bar this is good way to jump in and get a good listen.
When you're talking rockabilly in Boston you talk about The Raging Teens…even though they only do reunion gigs now. Rum Bar has just released a generous 33 track that are billing as the Melody Roundup – The Complete Collection. It's classic rockabilly with the outstanding guitar work of Miss Amy Griffin.
"That's How I Like It" should whet your appetite.
We're always on the lookout for something new. We received a promo for an artist named Tiffy and her new EP saying it's 'soft punk'. That was a new term, they also called it 'fuzz pop' we think that's more appropriate, punk ain't soft. Tiffy was born in California but has been active in Boston. The band just played Once's Boynton Yards venue last Tuesday.
We would agree she's playing with a new slant on things. It sounds mostly like lo-fi alternative bedroom punk…which is stretching the label thing, we know.
The point is that it's different and interesting and it seems like this is maybe just the beginning. The self-conscious lyrics work well with the arrangements. There's a little Jonathan Richman influence in there too.
We liked her earlier song "Something for Nothing" and the way it transitions the feel of the song as it goes on. It goes through a few guitar tones. Interested? YOu can buy her new EP here.
We're picking the more rocking "I'm Not Equipped for This" to spotlight of her latest EP .
---
Here's some good shows coming up .....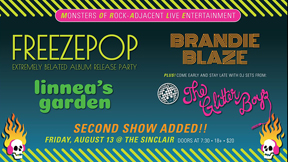 August 11 (Wednesday) BE FINE! featuring Sapling, John Powhida, Spotted Tiger, Yoni Gordon at Once @ Boynton Yards
August 13 (Friday) Freezepop, Brandie Blaze, Linnea's Garden, The Glitter Boys at The Sinclair (Second show added due to overwhelming demand! 8/14 show is sold out!) TIX!!
August 13 (Friday) Liz Borden (w/Stormtress), Gene Dante & The Future Starlets, Little Billy Lost and Venom and Mayhem at Once at Boynton Yards. Music at 7PM Tix etc here.
August 14 (Saturday) The Indie Rock Flea Market at Once @ Boynton Yards starting at Noon. Tix are $15 in advance $20 day of. TONS of bands along with local vendors and food. More info & tix here.
August 14 (Saturday) 6 to 9 pm, is the opening reception for Rock'n'Roll Will Never Die, an art exhibit with works from Dave Tree and Chuck McNally, at The Middle East restaurant. The Facebook event page
August 14 (Saturday) Double Star Ep Release Show w/ Service, BAABES, Bad Sandy at The Midway FB page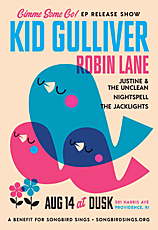 August 14 (Saturday) The Winter Project, A Bunch of Jerks, HIXX, Screwcart at The Jungle, 7:30 doors FB page
August 14 (Saturday) Paper Tigers, Luxury Deathtrap, Little Fuss, Papercage at O'Brien's
August 14 (Saturday) an evening with legendary rocker Robin Lane in support of her nonprofit Songbird Sings, which helps trauma survivors heal through songwriting and music. Performers include: Kid Gulliver, Justine and The Unclean, Nightspell,
The Jacklights ... and of course Robin Lane! FB page.
August 14 (Saturday) The Backporch Carousel 7:30 PM at Herter Park Amphitheater, Allston - with Linda Viens, Randy Black, Adam Sherman, Eric Martin, Larry Dersch, Sarah Levecque, Peter Zarkadas, Lauren Parks and Matt Gruenberg. More info etc here.
August 14 (Saturday) Sidewalk Driver, Freezepop, Worshipper at the Sinclair FB page
August 14 (Saturday) The Mal Thursday Quintet with special guests Tiger Bomb at Sun Tiki Studios Portland, ME FB page.
August 18 (Wednesday) Possum and Martin. Morrell, Fredette, The Chelsea Curve and Tsunami of Sound at The Midway -a matinee show 3-7PM
August 19 (Thursday) Tsunami of Sound, State of the Union, Disco Volante, Tsunami of Sound, The Only Thing sat The Jungle.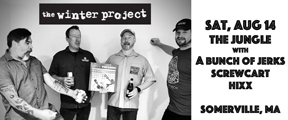 August 20 (Friday) Red on Red Records Presents Kameelah featuring Cruel Miracle, Linnea's Garden, The Chelsea Curve and Cold Expectations! at Once @ Boynton Yards - door at 6PM, music at 7PM!!
Tickets are HERE
August 20 (Friday) Bonecrusher, The Welch Boys, Riotgun at The Midway - doors are at 10PM. FB page
August 20 (Friday) ROCK THE LOT #3 with State of the Union! It's in the parking lot of WATD 95.5 FM in Marshfield - FB page with info.
August 21 (Saturday) Diablogato, Jittery Jack & Miss Amy, Devils Twins at the SUM Studios Malden Music Summer Series. 2-6:30PM 88 Pleasant St, Malden, MA FB page
August 21 (Saturday) The Concerns, Crow Follow, The Skirts, Connor Storms - Matinee show 3-7PM at The Midway
August 21 (Saturday) Mad Painter, Penny Outlaw, Shotgun Waltz, Glowbox at The Midway FB page
August 22 (Sunday) DNZL, Urban Waste, Controlled Substance, Grip Bite doing a matinee show at The Midway 3-7PM FB page
August 27 (Friday) Future Teens, Kitner, Color Killer at Once @ Boynton Yards 7PM music. $15 advance / $18 day of show
August 28 (Saturday) Magen Tracy & The Missed Connections, Lonely Leesa, Happy Little Clouds at Once @ Boynton Yards 1-4PM!
August 28 (Saturday) Ray's Occult, Coffin Salesman, CE Skidmore & the Damn Fine Band, Jeff Bousquet at The Midway (night show)
August 29 (Sunday) Johnnie G & The Royalty, Camelopard, The Stigmatics, Vanishing Point at The Midway MATINEE show.
September 2 (Thursday) Public Serpents, Threat Level Burgundy, Loser's Circle at O'Brien's
September 3 (Friday) Rebuilder, Choke Up and Old Soul at the Sinclair - Tickets
September 3 (Friday) The Zulus rescheduled show at The Paradise - doors 8PM, music 9PM. FB event page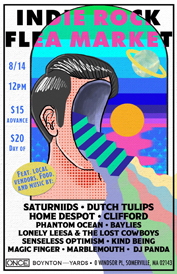 September 4 (Saturday) Actor|Observer, Girih, Dreamwell at O'Brien's
September 10 (Friday) The DollyRots at the Middle East Up.
September 11 (Saturday) Rock and Roll Yard Sale, Union Square, Somerville
September 11 (Saturday) Lovelorn, Biproduct, Betties, DJ set by Octalisk at O'Brien's
September 11 (Saturday) Guided by Voices at the Sinclair. Tickets.
September 12 (Sunday) Mark your calendars! Frank Rowe's 70th Birthday Party featuring Classic Ruins, Unnatural Axe, and friends (more info soon) - at the Midway

September 16 (Thursday) Bob Mould is at the Paradise - Tickets here
September 17 (Friday) The Dents, Duck and Cover, Fullmoon Vagrants, Deprogrammer Cult at The Jungle FB page
September 18 (Saturday) Martin, Morell, Fredette are having a residency at The Midway. These are early shows - 3-7PM
September 18 (Saturday) Michael Kane & The Morning Afters, When Particles Collide, Adi Sun, Senseless Optimism at Once @ Boynton Yards...doors 6- music at 7PM....TIX here.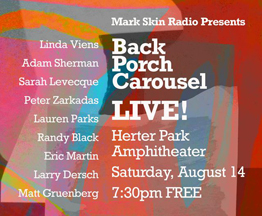 September 18 (Saturday) Rockin Bob Punk Band and Scotty Saints and the True Believers at Ralph's Diner 8PM
September 19 (Sunday) STORE 54 POP UP another moving event - 9 AM EDT – 6 PM - FB page
September 19 (Sunday) It's the return of Tubefest -New England Surf/Instro Showcase! Lots of surf and instrumental bands for your enjoyment! Tubefest Facebook page. This will be a matinee show - 3 to 7:30pm at the Midway. Groups are Tsunami of Sound, The Weisstronauts, Max Heaton and the Electric Heaters, The Malfunctions and the Tarantinos (good name) from NYC.
September 24, 25 and 26 The New England Shake Up is back. The rockabilly festival will happen this year in Framingham. The line-up of bands is way long. They also have a picnic record party 11AM-4PM on Saturday the 25th with Barrence Whitfield spinning vinyl. Get more details and ticket info on their website.
September 25 (Saturday) Stop Calling Me Frank, The Hi-End, The Idolizers, The Shang Hi-Lo's at The Midway
September 25 (Saturday) The Royal Arctic Institute Clamb, Home Despot, Sapling at The Jungle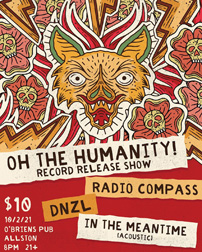 September 30 (Thursday) Nervous Eaters/Barrence Whitfield/Willie Loco and the Boom Boom Band/Carissa Johnson at the Paradise . Get Tickets Here!
October 2 (Saturday) Oh the Humanity! record release show at O'Brien's
October 4 (Monday) Gary Neuman at the Paradise Tickets
October 14 (Thursday) Ministry at the House of Blues. Tickets
October 18 (Sunday) Martin, Morell, Fredette are having a residency at The Midway - 3-7PM
October 22 & 23 (Friday & Saturday) The Town & The City Festival, Lowell. Music by: Tanya Donelly & The Parkington Sisters, Robyn Hitchcock, Screaming Females, Jon Langford & Friends, Will Dailey, Damn Tall Buildings, Evolfo, Hilken Mancini & Chris Colbourn, Alisa Amador, The Chelsea Curve, The Daylilies, The Shirts and Shoes, Daisybones, blindspot, Divine Sweater, The Q-Tip Bandits, The Only Things, oldsoul, and Brian Porter Hinkley. Website for tix & info ... FB Event page.
October 24 (Sunday) Nervous Dater, Good Looking Friends, Tatoonie Punk Scene at O'Brien's in Allston
October 27 (Wednesday) Richie Ramone and Public Nature at Ralph's Diner Worcester
October 31 (Sunday) Dropkick Murphys At Hogan's Run again 7-11PM...best Tessie costume wins a free drinks bracelet for the night. FB page.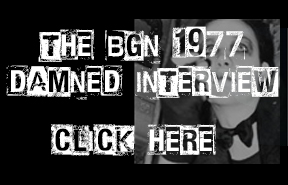 November 13 (Saturday) Field Day (x-Dag Nasty), Moving Targets, Lenny Lashley's Gang of One at the Middle East Up TIX!!
November 19 (Friday) Hardcore Stadium and Grayskull Booking Presents: Slapshot - Celebrating 35 Years of Hardcore Day 1- Stars & Stripes, Noi!se, COA, Patriot, Violent Way at Sonia - (already sold out!!)
November 19 (Friday) Joan Jet & the Blackhearts will be at the Chevalier Theatre in Medford Square. Tickets.
November 20 (Saturday) Hardcore Stadium and Grayskull Booking Presents: Slapshot - Celebrating 35 Years of Hardcore Day 2 -Slapshot, Sheer Terror, Death Before Dishonor, Pummel, Count Time - at The Middle East Down. (already sold out!!)
November 27 (Saturday) Dinosaur Jr. at the House of Blues on Saturday Nov 27. Tix
March 13, 2022 (Tuesday) Reigning Sound at the Sinclair Tickets: https://www.axs.com/events/402182/reigning-sound-tickets
---