The BGN News Archive
August 16, 2021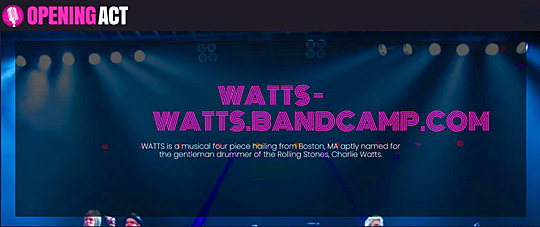 Watts needs your vote
WATTS is a finalist to play Audacy's opening slot at their annual show at the legendary Hollywood Bowl. What does this mean? They need your vote!! Oh and .... If they win they will not only be performing at the sold out concert alongside industry superstars, our Opening Act will receive: their own private dressing room, a ton of exposure on the radio, a meet and greet with the other artists, and $10,000! Come on folks...let's help the boys out and VOTE HERE!!!
---
Even though there are currently a ton of gigs happening ...we seem to be going backwards in the pandemic crisis. Now some clubs are restricting capacities and requiring proof of vaccination or a negative Covid test within the last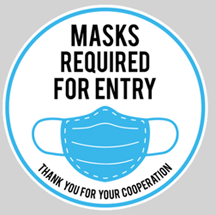 48 hours. That would be clubs like the Middle East, Sinclair and Passims. The Lily Black show at the Burren required proof of vaccination or mask.
The Midway posted on Facebook that they require patrons wear facemasks to get in and to wear them when not eating or drinking inside.
Some national tours have been cancelled. Fall Out Boy pulled out of the Fenway show last week with Green Day and Weezer because of someone with Covid in the work crew. Limp Bizkit has cancelled shows for fan safety concerns. Punk Rock Bowling in Las Vegas (in September) is requiring proof of vaccination. One piece of good news is that even though Lollapalooza drew 385,000 people it was not a superspreader event. 88% of the attendees were vaccinated according to reports. Non-vaccinated people had to show a negative Covid test taken within 48 hours of the event. More here.
Little did we know that the Porchfest idea would be so popular and to turn out to make a lot of sense in the Covid era.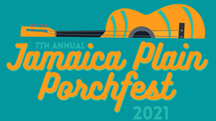 Jamaica Plain is having their 7th Annual Porchfest on August 21-22. The rain date is August 28-29. There are signs of the times in the regulation. with a cap on the amount of stages per day to 18 and will have many Sanitizing Stations around the neighborhood. Another idea to keep people safe yet engaged is the addition of Couchfest, an online performances in the days leading up to Porchfest ( Aug 16-20). Check out the JP Porchfest website
Roslindale Porchfest is September 25th FB page for updates.
Salem State University radio station WMWM 91.7 (http://www.wmwmsalem.com/ ) is always a source of good programing but on August 28 from 4 to 7pm they are going far and beyond with Live Music Day. They'll have 46 audio and video performances over the 3 hours.

Included are: Little Billy Lost, Greg Allen's Fringe Religion, The Jacklights, The Daylilies, Lily Black, Glowbox, Smitt E. Smitty and the Feztones, Scott Damaged, Devil Love, Kid Gulliver, Andrea Gillis, Adam Sherman, Linnea's Garden, Cold Expectations, Chelsea Curve, The Brigands, Justine and the Unclean, Lee Harrington & Lynda Mandolyn and more.
You can watch it on Facebook. The Facebook event page
Sadly this week the building that housed the beloved club Radio (and later Thunder Road), in Union Square Somerville, was torn down this week.
The latest Ugly Things magazine (#57) has an Kenne Highland Part I: O. Rex, the Gizmos, the Afrika Korps written by Laurent Bigot (he's French its pronounce Bee Goh). The article opens with the great quote: "We are living in a world in which James Taylor is in the Rock'n'Roll Hall of Fame but Kenne Highland is not????" then proceeds to cover Kenne's life and musical career through to the Afrika Korps. Part II will be in a future issue and will be written by Phil Millstein. You can order your copy here at Ugly Things.
Patti Smith did a show in Minneapolis on August 7. The Star Tribune writes about the show and the power that Patti still has. And they marvel at her dancing to her "Redondo Beach" at age 74. Read more here.
Far Out magazine examines whether Patti Smith is a punk or not. She insists she has never been "punk." There is also a video of the Patti Smith Group playing "Dancing Barefoot" at CBGB's in 1979. Check it out here.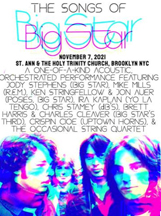 There's a Big Star Tribute show in NYC on November 7. The line up of musicians are just what you would hope for: Chris Stamey, Mike Mills, Ira Kaplan, Ken Stringfellow and Jon Auer. Big Star drummer Jody Stephens will be playing. It's at St. Ann's and Holy Trinity Chruch. Tickets are from See Tickets The story is on Brooklyn Vegan
Tiny Ghost Press has published Robyn Hitchcock's Somewhere Apart: Selected Lyrics 1977-1997. A book 73 song lyrics and 34 illustrations. But wait…it's sold out!! You'll have wait for a second printing. You can still see some of the really nice illustrations by Hitchcock on the site. Here.
Michael Evans has passed away. He played sax for Boys Life for a while but his credits as an improvisational drummer/artist is wide-ranging. There's more info here
---
VIDEOS...........................
Smitt E Smitt posted a video on Facebook for his show with Gene Dante and the Future Starlets and Little BIlly Lost at the Magic Room at the Norwood Space Center (83 Morse St., Norwood). We have the video below.
Des Desmond started work on his new Magic Room before Covid struck. But he's been back at it with a vengeance and the Smitty/DanteLittle Billy show is on Saturday October 16!! We interviewed Des in January 2020 after he broke the news that he had the club going. Read that here.
The Chelsea Curve played a half hour on The Local Show that usually has Gretchen Shae as host. They have higher quality recordings of the groups on this series compared to almost all other live streams. The video is above.
The Chelsea Curve played a lot of their new songs in their Singles Series and they are all sure winners!! What a great set they have, just in new material. You could see and hear Linda Pardee's vocals and how she works the lyrics. That's one of the main attractions of the band.
It seems like this is the band's time. They've worked within the restraints of the last year and have come out ahead in every way!!
Local Music Now started about two years ago. They had that WhistleStop Rock show from Once posted as well as a Gene Dante and the Future Starlets set and a Baabes set
Carissa Johnson is releasing Blue Hour, a new album on November 12. The surprise…it has a lot of synth action on it. Meanwhile there is a video of one song "Wasting Dreams" where you can hear the new sound. The video is below. There's more info about this on the Spill Magazine website
Jeff Hudson has been active these last few years and he has another electronic song and video: "You Got A Ticket" It has a smooth hypnotic beat. The video is above.
---
RADIO...............

Ron the Monday LRC DJ played an hour of radio that Mr. B (Mike Bastarache) and Chris Gilbert did on the Late Riser's Club on July 23, 2019 as quest DJ's. We thank Ron for finding and replaying this. There's nothing better than saluting Mike with playing the music he loved!!
This can be found in the WMBR archives for one more week. Check out the Late Risers Show for Monday August 9.
Suitable for yet another hot week of heat waves Sara J on Gorilla Got Me played all HOT songs, like: "Burn", "Burning", "Burn It Off", "Burnin' Up", "Burn it Down", "Hotter Than Hell", "I'm on Fire", "Burn Baby Burn", etc. It was, as the Stranglers sang; "Burning Up Time"!
You can hear the show for the next two weeks on the WMBR archive page
PODCASTS.......................
Blowing Smoke With Twisted Rico interviewed Nancy Barile who wrote the book I'm Not Holding Your Coat. Nancy has many stories from the beginning of hardcore. Most of that happened in Philadelphia and then later Boston. She was in the pit and she booked many shows. Things were real rough in Philly for some of those early shows and Nancy went through a lot. She relates some of those stories in the podcast. She's doing a book reading at the Trident Book Store on 11/6 but it's sold out, which is too bad but also awesome!
The effervescent Lou Mansdorf gets attention on the Born Too Late podcast. They get Lou's story from the beginning including his first time at the Abbey Lounge which was his 'struck by a ray of light' moment when all was revealed to him!
Asked if there was a band he wanted on his label that got by him, he mentioned the Gotohells, Andy Shernoff (of the Dictators), Scott Kempner (of the Del Lords) and Linda and the Kowalskis. He has a project with Linda and the Kowalski's in the works, which is great news!
---
MUSIC/CD's..................
Rum Bar Records let slip out a single by Indonesian Junk. It's a cover of D Generation's "She Stands There". It's a chaotic power glam performance. You would swear it's a live cut with the band playing their last song of the night and pouring it all out. Ironically they end it with a restrained soft ending that shows they were in control the whole time.
The D Generation version is here
Lily Black has a three song EP on the brink of coming out. They've pre-released one song "One More Mistake" on Bandcamp. It's wonderfully arranged. It has a very quiet beginning and they wait till the two minute mark to add some crunching guitar. There's so much talent in this young group.
They got some publicity in the Boston Herald on Saturday with an article by Brett Milano. The story may be behind a paywall.
Another example of tasteful songwriting and performance by the Back Porch Carousel with their new release "Don't Need To Make You Mine". Adam Sherman does the singing and composed the song. All the playing is impeccable and there is enough tasty guitar fills that they could be divided it up for a dozen other songs.
It looks like the new thing is to introduce new albums track by track! Gene Dante and the Future Starlets have their second song "High Time" from their upcoming album out on Spotify now. This one is a less glammy than the last song but has a more insistent beat and a driving bass. As always we love Gene's voice.
If you don't like this, as Gene would say in the song, "It's high time you leave".
You can read about the song on the Publisist website
Double Star have their second release with the Say Something Now EP. They are an indie rock band that expands the usual rock sound with two horns. That allows them to put a bit of ska into the set like they do with "Wasting Time".
The last song on the EP, "Holding Hands is for Lovers and Small Children" is as endearing as the title. The way the guitarist chunks out the chord changes, the keyboard fills and the tone of the singer all evoke an 80's new wave hit like Aha's "Take On Me".
Richard Mirsky fell short on his Kickstarter campaign so he's now going with the current trend and releasing one song at a time. This week it's "Let Me Down Easy". It's tasteful and flowing. Rich makes it all seem effortless.
---
Here's some good shows coming up .....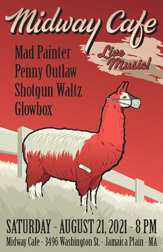 August 18 (Wednesday) Possum and Martin. Morrell, Fredette, The Chelsea Curve and Tsunami of Sound at The Midway -a matinee show 3-7PM
August 19 (Thursday) Tsunami of Sound, State of the Union, Disco Volante, Tsunami of Sound, The Only Thing at The Jungle.
August 20 (Friday) Red on Red Records Presents Kameelah featuring Cruel Miracle, Linnea's Garden, The Chelsea Curve and Cold Expectations! at Once @ Boynton Yards - door at 6PM, music at 7PM!!
Tickets are HERE
August 20 (Friday) Bonecrusher, The Welch Boys, Riotgun at The Midway - doors are at 10PM. FB page
August 20 (Friday) ROCK THE LOT #3 with State of the Union! It's in the parking lot of WATD 95.5 FM in Marshfield - FB page with info.
August 21 (Saturday) Diablogato, Jittery Jack & Miss Amy, Devils Twins at the SUM Studios Malden Music Summer Series. 2-6:30PM 88 Pleasant St, Malden, MA FB page
August 21 (Saturday) The Concerns, Crow Follow, The Skirts, Connor Storms - Matinee show 3-7PM at The Midway
August 21 (Saturday) Mad Painter, Penny Outlaw, Shotgun Waltz, Glowbox at The Midway FB page
August 22 (Sunday) DNZL, Urban Waste, Controlled Substance, Grip Bite doing a matinee show at The Midway 3-7PM FB page
August 27 (Friday) Future Teens, Kitner, Color Killer at Once @ Boynton Yards 7PM music. $15 advance / $18 day of show
August 28 (Saturday) Magen Tracy & The Missed Connections, Lonely Leesa, Happy Little Clouds at Once @ Boynton Yards 1-4PM!
August 28 (Saturday) Ray's Occult, Coffin Salesman, CE Skidmore & the Damn Fine Band, Jeff Bousquet at The Midway (night show)
August 29 (Sunday) Johnnie G & The Royalty, Camelopard, The Stigmatics, Vanishing Point at The Midway MATINEE show.
September 2 (Thursday) Public Serpents, Threat Level Burgundy, Loser's Circle at O'Brien's
September 3 (Friday) Rebuilder, Choke Up and Old Soul at the Sinclair - Tickets
September 3 (Friday) The Zulus rescheduled show at The Paradise - doors 8PM, music 9PM. FB event page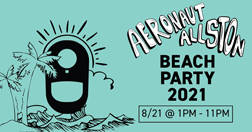 September 4 (Saturday) Stormstress and Lily Black are performing live at Herter Park in Allston. FB page for info and direction. It's FREE!! Music at 7:30.
September 4 (Saturday) Actor|Observer, Girih, Dreamwell at O'Brien's
September 10 (Friday) The DollyRots at the Middle East Up - Baabes have been added to this show!! FB page.
September 11 (Saturday) Rock and Roll Yard Sale, Union Square, Somerville
September 11 (Saturday) Lovelorn, Biproduct, Betties, DJ set by Octalisk at O'Brien's
September 11 (Saturday) Guided by Voices at the Sinclair. Tickets.
September 12 (Sunday) Mark your calendars! Frank Rowe's 70th Birthday Party featuring Classic Ruins, Unnatural Axe, and friends (more info soon) - at the Midway

September 16 (Thursday) Bob Mould is at the Paradise - Tickets here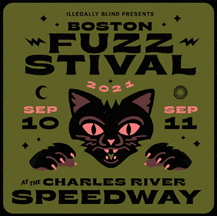 September 17 (Friday) The Dents, Duck and Cover, Fullmoon Vagrants, Deprogrammer Cult at The Jungle FB page
September 18 (Saturday) Martin, Morell, Fredette are having a residency at The Midway. These are early shows - 3-7PM
September 18 (Saturday) Michael Kane & The Morning Afters, When Particles Collide, Adi Sun, Senseless Optimism at Once @ Boynton Yards...doors 6- music at 7PM....TIX here.
September 18 (Saturday) Punk On The Patio at Ralph's Rock Diner! Rockin Bob Punk Band and Scotty Saints and the True Believers, Trash Muppets, Kermit's Finger at 8PM
September 19 (Sunday) STORE 54 POP UP another moving event - 9 AM EDT – 6 PM - FB page
September 19 (Sunday) It's the return of Tubefest -New England Surf/Instro Showcase! Lots of surf and instrumental bands for your enjoyment! Tubefest Facebook page. This will be a matinee show - 3 to 7:30pm at the Midway. Groups are Tsunami of Sound, The Weisstronauts, Max Heaton and the Electric Heaters, The Malfunctions and the Tarantinos (good name) from NYC.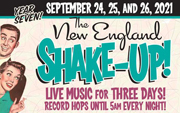 September 24, 25 and 26 The New England Shake Up is back. The rockabilly festival will happen this year in Framingham. The line-up of bands is way long. They also have a picnic record party 11AM-4PM on Saturday the 25th with Barrence Whitfield spinning vinyl. Get more details and ticket info on their website.
September 25 (Saturday) Stop Calling Me Frank, The Hi-End, The Idolizers, The Shang Hi-Lo's at The Midway
September 25 (Saturday) The Royal Arctic Institute Clamb, Home Despot, Sapling at The Jungle
September 30 (Thursday) Nervous Eaters/Barrence Whitfield/Willie Loco and the Boom Boom Band/Carissa Johnson at the Paradise . Get Tickets Here!
October 2 (Saturday) Oh the Humanity! record release show at O'Brien's
October 4 (Monday)Gary Neuman at the Paradise Tickets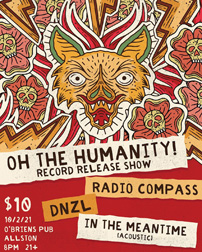 October 14 (Thursday) Ministry at the House of Blues. Tickets
October 18 (Sunday) Martin, Morell, Fredette are having a residency at The Midway - 3-7PM
October 22 & 23 (Friday & Saturday) The Town & The City Festival, Lowell. Music by: Tanya Donelly & The Parkington Sisters, Robyn Hitchcock, Screaming Females, Jon Langford & Friends, Will Dailey, Damn Tall Buildings, Evolfo, Hilken Mancini & Chris Colbourn, Alisa Amador, The Chelsea Curve, The Daylilies, The Shirts and Shoes, Daisybones, blindspot, Divine Sweater, The Q-Tip Bandits, The Only Things, oldsoul, and Brian Porter Hinkley. Website for tix & info ... FB Event page.
October 24 (Sunday) Nervous Dater, Good Looking Friends, Tatoonie Punk Scene at O'Brien's in Allston
October 27 (Wednesday) Richie Ramone and Public Nature at Ralph's Diner Worcester
October 31 (Sunday) Dropkick Murphys At Hogan's Run again 7-11PM...best Tessie costume wins a free drinks bracelet for the night. FB page.
November 13 (Saturday) Field Day (x-Dag Nasty), Moving Targets, Lenny Lashley's Gang of One at the Middle East Up TIX!!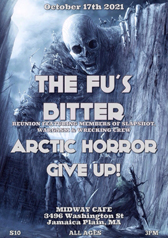 November 19 (Friday) Hardcore Stadium and Grayskull Booking Presents: Slapshot - Celebrating 35 Years of Hardcore Day 1- Stars & Stripes, Noi!se, COA, Patriot, Violent Way at Sonia - (already sold out!!)
November 19 (Friday) Joan Jet & the Blackhearts will be at the Chevalier Theatre in Medford Square. Tickets.
November 20 (Saturday) Hardcore Stadium and Grayskull Booking Presents: Slapshot - Celebrating 35 Years of Hardcore Day 2 -Slapshot, Sheer Terror, Death Before Dishonor, Pummel, Count Time - at The Middle East Down. (already sold out!!)
November 27 (Saturday) Jason Bennett & the Resistance, The Damaged, The Hagglers, & Chris Skel at The Middle East
November 27 (Saturday) Dinosaur Jr. at the House of Blues on Saturday Nov 27. Tix
March 13, 2022 (Tuesday) Reigning Sound at the Sinclair Tickets: https://www.axs.com/events/402182/reigning-sound-tickets
April 22, 2022 (Thursday) Circle Jerks at the Paradise
CONTACT US AT....misslynbgn@yahoo.com Send us your gig listings, your anything else ya got!! You want your CD reviewed?? Contact us for that too.
---