The BGN News Archive
August 23, 2021
So, it's not over. Shows are still happening ...but...more and more Covid restrictions are being instated. Even as some clubs made voluntary mask restrictions the city of Boston made it mandatory with a mask requirement for all inside places (takes effect August 27).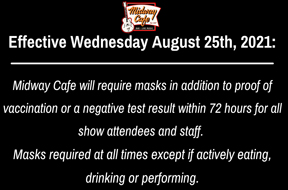 The Boston Globe noted "After an announcement late last week by major concert promoter and venue owner AEG, The Sinclair in Harvard Square has joined a rapidly growing list of Boston, Somerville, and Cambridge music venues requiring proof of vaccination that includes the Middle East, Jacques' Cabaret, the Plough and Stars, Club Passim, ONCE Somerville, and City Winery." Read more at The Boston Globe As of August 25 the Midway is requiring a proof of vaccination.
The Shang Hi Los pulled out of the Dogmatics show at the Plymouth World Tavern because of "health concerns". Their next show is at the Midway on September 25. On the national level Nine Inch Nails cancelled their tour. Their statement: "When originally planned, these shows were intended to be a cathartic and celebratory return to live music. However, with each passing day it's becoming more apparent we're not at that place yet."
The New England Shake Up, that has been advertising for months, has cancelled their event scheduled for September 24-26.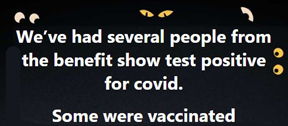 Brockton Hardcore Punk Shows put on an inside benefit show on the 14th, now they've posted on Facebook that "We've had several people…test positive for Covid. Some were vaccinated".
"Get Vaxed Get Tix!" is being held at The House of Blues (August 23) and The Paradise (August 24) if you get vaxed on site you get two free ticket to a show of your choice. Story here Additional venues and dates for the Get Vaxed, Get Tix! program will be announced soon!
Some good news…The Hong Kong in Harvard Square posted on Facebook that they would soon be announcing new shows. We were wondering about their status and we're more than glad to hear they will return to music. Their Facebook page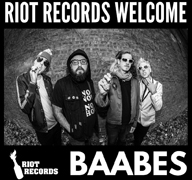 More good news…ManRay is soon to be reborn!! The new ManRay will open in October at 40 Prospect St in Central Square. More here. Holland, the owner, wants to have a close relationship with the Donut Villa Diner (previously The Fields) next door…or are we dreaming that?
Congrats to Baabes who have signed to Riot Records!! The Global spread of Baabes-mania is imminent. Baabes are at the Middle East on September 10 with the Dollyrots. Baabes Facebook page
It almost time for the Chelsea Curve's Single Scene #6. It will be "Inconceivable". You can read about it on a Publisist article here
The C Curve has all the singles lined up on Spotify which is a good preview of the album.
Nancy Barile, the author of I'm Not Holding Your Coat often has remarked that her punk experience helped her to be a better teacher later in life. Dominique Davidson of Spitboy (https://en.wikipedia.org/wiki/Spitboy) makes the same point in an article on the Draw website. Davidson is now in architecture.

She writes: "Four lessons in particular stand out: the DIY ethic, the conviction to follow your beliefs but be open to those of others, the learned skill of knowing how to work in groups (and appreciate everyone's contributions),and learning how to organize and get stuff done."
We would add that it's not just lessons that help people in work situations but also the life lessons we've learned that helped us live in society better. We were all so immersed in punk for so many years, it's only natural that we learned about life through punk experiences.
The New England Music Awards have cycled around again. Ballots for voting are posted. You can Vote here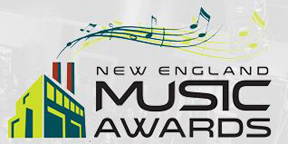 The NE Music Awards covers a wide variety of music. The groups we know are in the Punk Rock Act of the Year category. They include: Kid Gulliver, Andrea Gillis, Cold Expectations, Justine and the Unclean, The Jacklights, Linnea's Garden, Mallcops, Muck and the Mires, Sugar Cones and the Worst. Little Billy Lost gets the nod in the Hard Rock/Metal listings. Walter Sickert in in the Digital Performers line up. Powerslut gets listed in the Rock Act of the Year….but they didn't play this year?!
They got one thing very right – "Sway Little Player" by the Shang Hi Los is up for Song of the Year.
---
VIDEOS....................
Muck and the Mires go country and western!! Say it isn't so! Well, it isn't, but their new video of "Good Enough" has a western backdrop. Do they save Nelle (Linda) tied to the railroad tracks?
Another group that flies under the RumBar label, Cromm Fallon, has a new vid out. "Two Stroke Smoke" has a Lyres-ike pumping chord progression. This is a suitable introduction for Boston fans to Cromm. This garage rocker is the stuff us Bostonians love.
We have it on our Top Ten Songs
We heard The Upkeeps on Ron's LRC show last Monday doing "Saturday Night" the old Bay City Rollers song. The video shows a debauched Saturday night which is amusing but the song actually has better quality on Ron's archive in the LRC Archive page. …check out Monday at 10am.
---
RADIO.......................

We got this via a Facebook post by 'the mayor of Worcester' Brian Goslow. Keith Sawyer on WMBR has a show called 88 Rewound. He takes a playlist from some radio show in the past and recreates it. The last show picked a college radio show from March of 1978…the punk era. KWUR FM broadcast from Washington University in St. Louis.
It's not just the songs and artists but the way they are lined up one after the other that gives you the kick: Blondie, Jam, Devo, Eddie and the Hot Rods, Ramones, Pezband, Generation X, Dwight Twilly, Jam and Clash. They even have two Willie Loco Alexander and the Boom Boom songs, "Radio Heart" and "You've Lost that Lovin' Feelin'".
To listen, go to the WMBR Archive page and hit up 88 Rewound on Saturday 6am
PODCASTS....................
Blowing Smoke With Twisted Rico lines up Justine Covault this week. She covers her early career in bands and then the start up of the Red on Red label. She dropped the idea that David Minehan is thinking of doing a solo album!
You can appreciate again how amazing the Red on Red story is where it came out of the middle of the Covid shutdown.
A.J. Wachtel has a podcast: Wachtelligence. The current episode is an interview with Jimmy Harold the owner of the Rat.
When Jimmy talks about the days before the Rat you get an insight into the bars and clubs that were around Boston at the time. Jimmy tells stories about Mitch, Mr. Butch, The Runaways, Iggy and The Police. You get a good sense of the times and the club owner in this Podcast talk.
Upcoming will be a Willie Alexander interview.
---
MUSIC/CDs.....................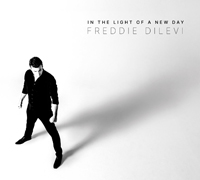 Over at Rum Bar they've let another song out of the soon to be released Freddie Dilevi album In The Light of a New Day. We're already fans of Freddie's distinctive. It's a voice like few others have ever had in rock. He's like a Roy Orbison, a voice you couldn't imagine before you heard it. On top of the voice, the group always sets up a suitable backdrop for the singer and that do that on "Dammed Love". If you haven't heard Freddie Dilevi, you're derelict in your duty.
---
Here's some good shows coming up .....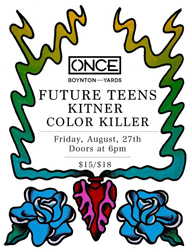 August 27 (Friday) Future Teens, Kitner, Color Killer at Once @ Boynton Yards 7PM music. $15 advance / $18 day of show
August 28 (Saturday) Magen Tracy & The Missed Connections, Lonely Leesa, Happy Little Clouds at Once @ Boynton Yards 1-4PM!
August 28 (Saturday) Ray's Occult, Coffin Salesman, CE Skidmore & the Damn Fine Band, Jeff Bousquet at The Midway (night show)
August 28 (Saturday) Kid Gulliver, Tiger Bomb, A Bunch of Jerks at The Hydeout at The Wharf, 1 Wharf St, in Hallowell, Maine!
August 29 (Sunday) Johnnie G & The Royalty, Camelopard, The Stigmatics, Vanishing Point at The Midway MATINEE show.
August 31 (Tuesday) Taken by Vultures, Blame it on Whitman, Owen Korzec, Fish Tricks at the Jungle
September 1 (Wednesday) High n' Heavy, Bone Church, Mother Mammoth, Death Pesos at The Middle East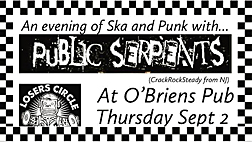 September 2 (Thursday) Public Serpents, Threat Level Burgundy, Loser's Circle at O'Brien's
September 3 (Friday) Thalia Zedek, Helen Money, Chris Brokaw, Hilken Mancini and Chris Colbourn at The Middle East
September 3 (Friday) Rebuilder, Choke Up and Old Soul at the Sinclair - Tickets
September 3 (Friday) The Zulus rescheduled show at The Paradise - doors 8PM, music 9PM. FB event page
September 4 (Saturday) Stormstress and Lily Black are performing live at Herter Park in Allston. FB page for info and direction. It's FREE!! Music at 7:30.
September 4 (Saturday) Actor|Observer, Girih, Dreamwell at O'Brien's
September 5 (Sunday) Scurvy Dog Parking Lot Megashow II - with Triangle Forest, the Fatal Flaw, Juggworld, Song Birds, Department of Teleportation, New Hell, D.N.R., the Paraplegics, Grip Bite, Poser, the Defectives - starts at 1PM and is FREE!!! FB page.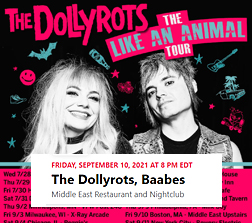 September 5 (Sunday) Bad Larrys, Leiko, Scare City, Shirts and Skin in Ralph's Parking Lot (Worcester) Music at 7PM.
September 10 (Friday) The DollyRots at the Middle East Up - Baabes have been added to this show!! FB page.
September 11 (Saturday) Rock and Roll Yard Sale, Union Square, Somerville
September 11 (Saturday) Kid Gulliver, Hired Men, Field Day at the Square Root
September 11 (Saturday) Lovelorn, Biproduct, Betties, DJ set by Octalisk at O'Brien's
September 11 (Saturday) New England Ska Summit II with The Skatalites, Bim Skala Bim, Void Union at The Middle East down.
September 11 (Saturday) Guided by Voices at the Sinclair. Tickets.
September 12 (Sunday) Mark your calendars! Frank Rowe's 70th Birthday Party featuring Classic Ruins, Unnatural Axe, and Kenne Highland's Air Force- at the Midway
September 13 (Monday) Field Day (x-Dag Nasty), Moving Targets at The Middle East 6PM!!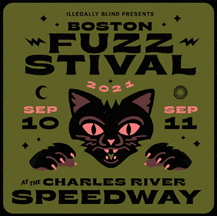 September 16 (Thursday) Richie Parsons at The Midway - 8:00- 9:15PM. September 16 (Thursday) Bob Mould is at the Paradise - Tickets here
September 17 (Friday) The Dents, Duck and Cover, Fullmoon Vagrants, Deprogrammer Cult at The Jungle FB page
September 18 (Saturday) Martin, Morell, Fredette with guests Field Day and Randy Black at The Midway. These are early shows - 3-7PM
September 18 (Saturday) Michael Kane & The Morning Afters, When Particles Collide, Adi Sun, Senseless Optimism at Once @ Boynton Yards...doors 6- music at 7PM....TIX here.
September 18 (Saturday) Punk On The Patio at Ralph's Rock Diner! Rockin Bob Punk Band and Scotty Saints and the True Believers, Trash Muppets, Kermit's Finger at 8PM
September 19 (Sunday) STORE 54 POP UP another moving event - 9 AM EDT – 6 PM - FB page He'll be selling stuff - like Miss Lyn's artwork!!
September 19 (Sunday) It's the return of Tubefest -New England Surf/Instro Showcase! Lots of surf and instrumental bands for your enjoyment! Tubefest Facebook page. This will be a matinee show - 3 to 7:30pm at the Midway. Groups are Tsunami of Sound, The Weisstronauts, Max Heaton and the Electric Heaters, The Malfunctions and the Tarantinos (good name) from NYC.
September 24 (Friday) Reagan Youth along with Rockin Bob Punk Band, Fat Chance, Neighborhood Shit, Sorry Mom at Sammy's Patio in Revere FB page.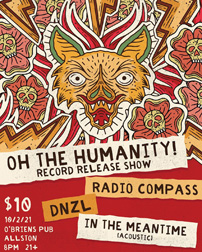 September 24, 25 and 26 The New England Shake Up is CANCELLED!!!! they announced it this week.
September 25 (Saturday) Stop Calling Me Frank, The Hi-End, The Idolizers, The Shang Hi-Lo's at The Midway
September 25 (Saturday) The Royal Arctic Institute, Clamb, Home Despot, Sapling at The Jungle
September 30 (Thursday) Nervous Eaters/Barrence Whitfield/Willie Loco and the Boom Boom Band/Carissa Johnson at the Paradise . Get Tickets Here!
October 1 (Friday) Sam Black Church, Stomp Box, Only Living Witness at the Paradise (a benefit for Julie Duffy) FB page with Tix link.
October 2 (Saturday) Oh the Humanity! record release show at O'Brien's
October 4 (Monday)Gary Neuman at the Paradise Tickets
October 5 (Tuesday)The Chops, Weatherworn, Louzy, Key of Caustic at The Midway
October 9 (Saturday) Little Billy Lost, Peppermint Kicks at The Square Root
October 9 (Saturday) NE Ska Summit doc w/ The Copacetics and Riki Rocksteady at the Regent Theater Arlington FB page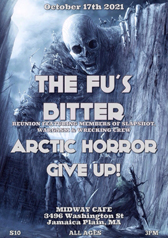 October 14 (Thursday) Ministry at the House of Blues. Tickets
October 15 (Friday) Tsunami of Sound, Jonee Earthquake Band, Doug Macdonald Band, Glider, The Thigh Scrapers at Pete's Grille Quincy. FB page
October 18 (Sunday) Martin, Morell, Fredette are having a residency at The Midway - 3-7PM
October 22 (Friday) Brad Marino, Geoff Palmer and Kurt Baker playing 2 sets of hits from all their bands with The Dents in the middle. At The Square Root.
October 22 & 23 (Friday & Saturday) The Town & The City Festival, Lowell. Music by: Tanya Donelly & The Parkington Sisters, Robyn Hitchcock, Screaming Females, Jon Langford & Friends, Will Dailey, Damn Tall Buildings, Evolfo, Hilken Mancini & Chris Colbourn, Alisa Amador, The Chelsea Curve, The Daylilies, The Shirts and Shoes, Daisybones, blindspot, Divine Sweater, The Q-Tip Bandits, The Only Things, oldsoul, and Brian Porter Hinkley. Website for tix & info ... FB Event page.
October 24 (Sunday) Nervous Dater, Good Looking Friends, Tatoonie Punk Scene at O'Brien's in Allston
October 27 (Wednesday) Richie Ramone and Public Nature at Ralph's Diner Worcester
October 31 (Sunday) Dropkick Murphys At Hogan's Run again 7-11PM...best Tessie costume wins a free drinks bracelet for the night. FB page.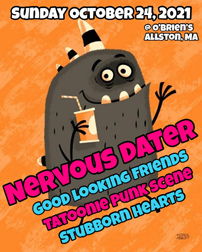 November 13 (Saturday) Field Day (x-Dag Nasty), Moving Targets, Lenny Lashley's Gang of One at the Middle East Up TIX!!
November 13 (Saturday) Tsunami of Sound, U-ey at the Buoy at The Square Root
November 19 (Friday) Hardcore Stadium and Grayskull Booking Presents: Slapshot - Celebrating 35 Years of Hardcore Day 1- Stars & Stripes, Noi!se, COA, Patriot, Violent Way at Sonia - (already sold out!!)
November 19 (Friday) Joan Jet & the Blackhearts will be at the Chevalier Theatre in Medford Square. Tickets.
November 20 (Saturday) Lurid Purple Flower, Verdegree, Motel Black, Shrink Ray at The Jungle
November 20 (Saturday) Hardcore Stadium and Grayskull Booking Presents: Slapshot - Celebrating 35 Years of Hardcore Day 2 -Slapshot, Sheer Terror, Death Before Dishonor, Pummel, Count Time - at The Middle East Down. (already sold out!!)
November 27 (Saturday) Jason Bennett & the Resistance, The Damaged, The Hagglers, & Chris Skel at The Middle East
November 27 (Saturday) Dinosaur Jr. at the House of Blues on Saturday Nov 27. Tix
November 30 (Tuesday) The Labor Pains, Disqualifier, Tensor, Bad Sandy, The Lost Boys at The Midway. FB page
March 13, 2022 (Tuesday) Reigning Sound at the Sinclair Tickets: https://www.axs.com/events/402182/reigning-sound-tickets
April 22, 2022 (Thursday) Circle Jerks at the Paradise
CONTACT US AT....misslynbgn@yahoo.com Send us your gig listings, your anything else ya got!! You want your CD reviewed?? Contact us for that too.
---
---